Editors Note: The 2021 NOBULL CrossFit Games are live. Check out the latest results and scores from the Games here.
Day 1 of the 2020 Reebok CrossFit Games has come to a close. After four events, Mathew Fraser and Tia-Clair Toomey — the reigning Fittest Man and Woman on Earth — lead their respective divisions by wide margins.
Canadian Patrick Vellner had a rollercoaster day with a poor showing in block 1, but a big comeback in block 2. Unfortunately, Ragnheiður Sara Sigmundsdóttir could not find her groove. She is in a 25th place overall, and her shot at the Games final may be no more.
Here's who finished top 5 for events 1-4, in order:
Friendly Fran Results
Men:
Mathew Fraser, 3:08
Noah Ohlsen, 3:55
Bayden Brown, 3:58
Scott Tetlow, 3:58
Jacob Heppner, 3:59
Women:
Tia-Clair Toomey, 3:40
Kara Saunders, 3:49
Brooke Wells, 4:28
Kristine Best, 4:33
Haley Adams, 4:36
1-Rep-Max Front Squat Results
Men:
Griffin Roelle, 490 lbs
Tyler Christophel, 457 lbs
Justin Medeiros, 437 lbs
Mathew Fraser, 425 lbs
Chandler Smith, 424 lbs
Women:
Tia-Clair Toomey, 313 lbs
Laura Clifton, 302 lbs
Kara Saunders, 294 lbs
Dani Speegle, 293 lbs
Amanda Barnhart, 291 lbs
There was a three-hour break between block 1 and block 2.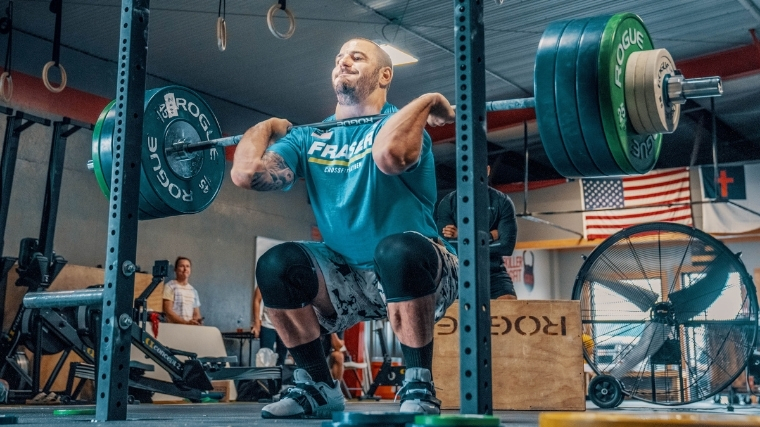 Block 2 consisted of Damn Diane — three rounds of 15 deficit deadlifts and 15 strict deficit handstand push-ups for time — and a 1,000 meter row.
Damn Diane Results
Men:
Mathew Fraser, 2:44
Noah Ohlsen, 2:56
Jonne Koski, 3:29
Samuel Cournoyer, 3:39
Jay Crouch, 3:45
Women:
Tia-Clair Toomey, 2:28
Carol-Ann Reason-Thibault, 2:31
Brooke Wells, 2:34
Kari Pearce, 2:40
Kristen Holte, 2:50
1,000 Meter Row Results
Men:
Roman Khrennikov, 2:48.90
Khan Porter, 2:51.70
Samuel Kwant, 2:53.30
Travis Mayer, 2:54.10
Brent Fikowski, 2:54.20
Women:
Karin Freyova, 3:15.80
Amanda Barnhart, 3:17.40
Dani Speegle, 3:18.10
Katrin Tanja Davidsdottir, 3:20.60
Brooke Wells, 3:21.10
There were some surprising performances — both good and bad — on day 1. Here is how it all went down:
View this post on Instagram
[Related: Check Out the Specifics of Each Event in Stage One of the 2020 CrossFit Games]
Men's Division
Mat Fraser unquestionably paced the field finishing Friendly Fran with a blistering time of 3:08. In second place was Noah Ohlsen who recorded a time of 3:55. Scott Tetlow, Bayden Brown, and Jacob Heppner rounded out the top 5 after event 1.
Griffin Roelle shocked everyone with a stunning 490 lb front squat to win event 2. Roelle's front squat and 9th place finish in Friendly Fran was good enough for 3rd place overall after two events, right behind Fraser and Brown. Tyler Christophel was the closest to Roelle in the front squat at 457 lbs. And in third place was Justin Medeiros, the youngest man in the field at 21-years old, with a 437 lb lift.
Noah Ohlsen landed 14th in the front squat event, but broke into the 400 lb club with this 401 lb PR:
View this post on Instagram
[Related: Here's Every Athlete Competing in the 2020 Reebok CrossFit Games]
In block 2, Fraser maintained his 1st place standing overall with a Damn Diane win — in 2:44 — and an 8th place finish in the row with a time of 2:55.2. Ohlsen was nipping at Fraser's heels during Damn Diane, finishing just 12 seconds behind him. He sits in second overall — 79 points behind Fraser. Brown held on to 3rd rank and is just a single point behind Ohlsen.
Jeffrey Adler holds 4th rank overall at 262 points. Jonne Koski of Finland rounds out the top 5 with 245 points — he will have to play defense tomorrow as Justin Medeiros and Chandler Smith are behind him by just 9 and 10 points, respectively.
2020 Rogue Invitational and Wadapalooza winner Patrick Vellner had a slow start in block 1. He finished 16th place in Friendly Fran with a time of 4:20, and front-squatted 383 lbs to tie for 21st. He needed to make some major moves in block 2 to stay in contention, and he did just that. An 8th place 4:10 time in Damn Diane and a 7th place 2:54.8 in the row rocket him all the way up to 8th place overall and within striking distance of the top 5.
Two-time CrossFit Games bronze medalist Björgvin Karl Gudmundsson had a lackluster day 1. His 24th place finish on the row (3:02.5) knocked him to the bottom half of the field at 17th overall after 4 events.
Women's Division
Tia-Clair Toomey was dominant from start to finish. She scored a big win out the gates in event 1 with a time of 3:40, ahead of Kara Saunder's second-place 3:49. Toomey mirrored her performance in event 2, posting a 313 lb max front squat for first place, again. Laura Clifton claimed second in that event with a 302 lb lift. Saunders stayed close to the top of the leaderboard with a 294 lb front squat for third.
In block 2, Toomey hit a hat trick with a third consecutive win in Damn Diane. She is the first Games athlete to win three events in a row and is leading the pack with 380 points — a full 56 more than Brooke Wells.
If not for Toomey, Wells would be the talk of the town. She finished in the top 5 of 3 events and is 43 points ahead of Amanda Barnhart, who currently ranks 3rd. Although possible, it is unlikely Toomey and Wells don't secure spots in the top 5 at the end of Stage One.
The 2020 Open winner Ragnheiður Sara Sigmundsdóttir had an underwhelming performance in the 1-rep-max front squat, coming in 18th place (255 lbs). Her Friendly Fran was even worse as she was towards the back of the field — 27th place with a time of 5:54. She was in 26th place overall after two events and needed to make some huge moves in block 2. She did not. Her 11th place finish in the row was a step in the right direction, but it was paired with a 21st place finish in Damn Diane. Ranked 25th overall after day 1, her path to the finals is likely out of reach.
For overall standings and results, check out BarBend's live leaderboard.
Feature image courtesy of CrossFit.