Day 1 saw some stellar performances. Sam Briggs had an insane effort of 211 power snatches in the last person standing event and the 19-year-old Haley Adams scored a major win in event 3. After 3 events, Tia-Clair Toomey and Patrick Vellner stood atop the standings heading into day 2.
Toomey, who won the 2019 Rogue Invitational, and Vellner, the winner of the 2020 Wodapalooza, each had a twenty-five point lead heading into event four. With three events left, could the big names towards the top of the standings to catch up? Or would Toomey and Vellner be able to stay the course and each claim the title of 2020 Rogue Invitational champion?
View this post on Instagram
Event 4
For Time (Tiebreak 1st):
7 Clean & Jerks (255lb/165lb)
Time cap: 1 minute.
5 minute rest.
Clean & Jerk Liftoff:
Men: 290lb — add 10lb each round
Women: 195lb — add 5lb each round
1 minute to lift, 3 minute to rest.
Men
Chandler Smith was able to take the win in this event (360lb) proving that he is a force to be reckoned with in any event involving a barbell. On day 1, Smith won event 2A — 50 power snatches as fast as possible — by doing all 50 reps unbroken. It ended up coming back to bite him in the last person standing portion, but he recovered nicely to start day 2 with a big win. He jumped into second place overall.
Vellner was one of five athletes to finish the liftoff at 350lb. He furthered his overall lead to fifty-five points.
Women
Toomey stood atop the field in this event hitting 270lb. Laura Horvath was ten pounds shy of that, but still managed to secure a second place finish. In order, Barnhart, Saunders, and Sigmundsdottir rounded out the rest of the top five.
Toomey held a fifty point lead heading into event 5.
View this post on Instagram
Event 5
Chipper for Time:
40 Calorie Row
30 D-Ball Squat Clean (100lb/70lb)
20 Box Step Over with D-Ball (24lb/20lb)
40 Strict Handstand Push-Ups
20 Box Step Over with D-Ball (24lb/20lb)
30 D-Ball Squat Clean (100lb/70lb)
40 Calorie Row
Time cap: 20 minutes.
Men
Colten Mertens scored a very fast 15:34 to win heat 1 with the aim of winning his second event of the competition. Nycolas Joyal beat out Lukas Höberg by three tenths of a second to lock up second place in the heat. Blair Chapman seemed to struggle with a tight back and was unable to complete the event within the time cap.
2x Fittest Woman on Earth Annie Thorisdottir on commentary did not believe that Mertens time of 15:34 would hold up through heat 2 and she was right.
It was a tight race between Noah Ohlsen and Björgvin Karl Güdmundsson.Ohlsen showed off his handstand push-up prowess and then performed the second set of box step overs unbroken. But it was Güdmundsson picking up the pace in the last round of D-Ball squat cleans to give him the event win with a time of 13:44.
Ohlsen slowed significantly towards the end of the heat, leaving the door open for Vellner and Panchik to pass him and take second and third in the event, respectively.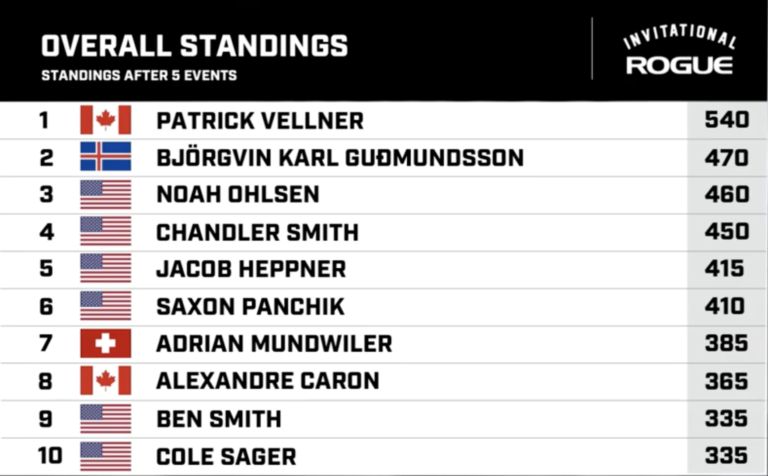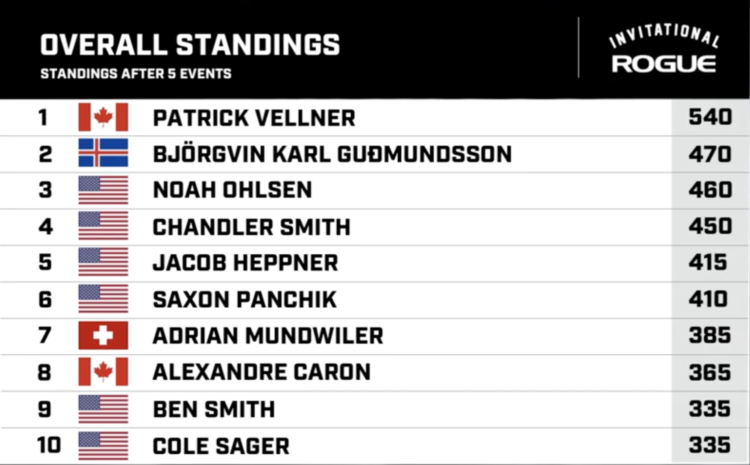 Women
Heat 1 was the Amanda Barnhart show. She had a double digit lead for the majority of the heat and hit the fastest time of 14:24. Katrin Davídsdóttir was in second position with a time of 16:13. The rest of the heat battled for third place. Brooke Wells pulled it out with a time of 17:38.
Heat 2 saw a mostly even field until the handstand push-ups when Sigmundsdottir's quick pace pulled her ahead by double digits. She held that lead all the way through to a finish time of 13:16 to win the event. That bumped her up into second place overall.
Toomey and Saunders battled it out for second position, with Toomey taking it with a time of 14:05. Saunders finished third in the heat and fourth in the event.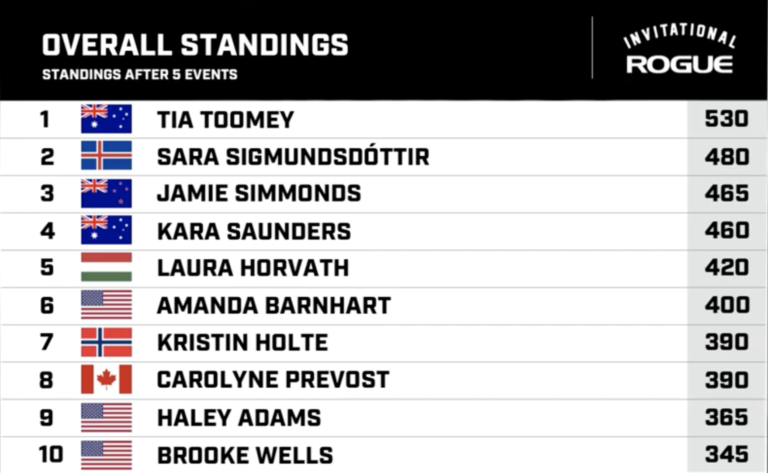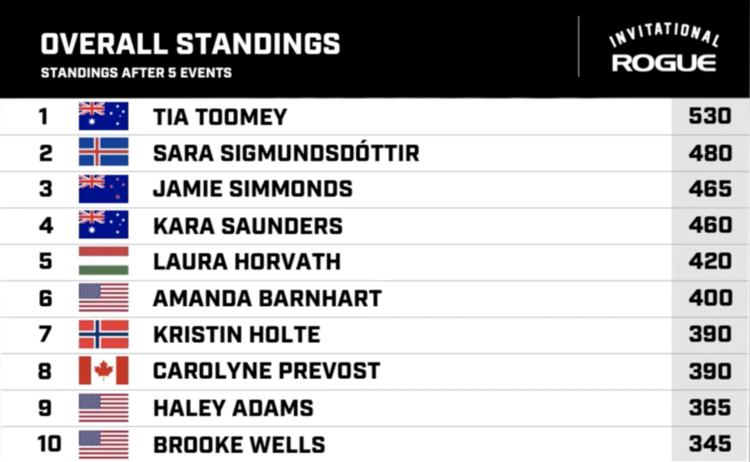 Event 6
21-15-9 For Time:
Time cap: 6 minutes.
Men
Once again, Mertens was the story of heat 1. He paced the field with a twenty-plus rep lead early and finished out a fast event with a time of 2:42 — nearly ninety seconds faster than the rest of his heat. Smith edged out Hoberg for second position by two tenths of a second.
Heat 2 was much more even, but it became a competition for second in the event as no one could come close to Mertens. Ohlsen locked in his position on the podium with a finish of 3:30. Vellner cemented the title with a third place time of 3:35.
Women
Heat 1 was close, but it was Barnhart who pulled away to take a heat 1 victory with a time of 3:18. Wells hit a time of 3:42 for second place. Davídsdóttir rounds out the top three with a 4:04 finish.
Toomey did not let up as she crushed heat 2 with an event winning time of 2:51, enough to lock up a repeat victory at the Rogue Invitational. Saunders time of 3:18 secured a third place finish overall.
Final Standings
Toomey and Vellner are the winners of the 2020 Rogue Invitational and the $50,000 prize that comes with it. They were each able to cement an insurmountable lead after event 5. They both secured two event wins over the course of the competition.
Men
The 22-year-old Mertens had a breakout performance on the weekend with two event wins. Smith narrowly missed the podium, but also had two event wins on the weekend. Güdmundsson and Ohlsen tied at 555 points for second place but Ohlsen falls to third as Güdmundsson won the tiebreaker due to having an event win.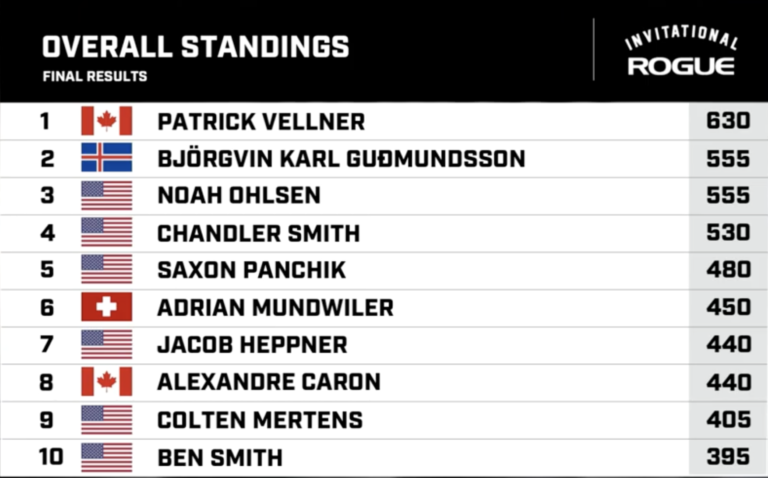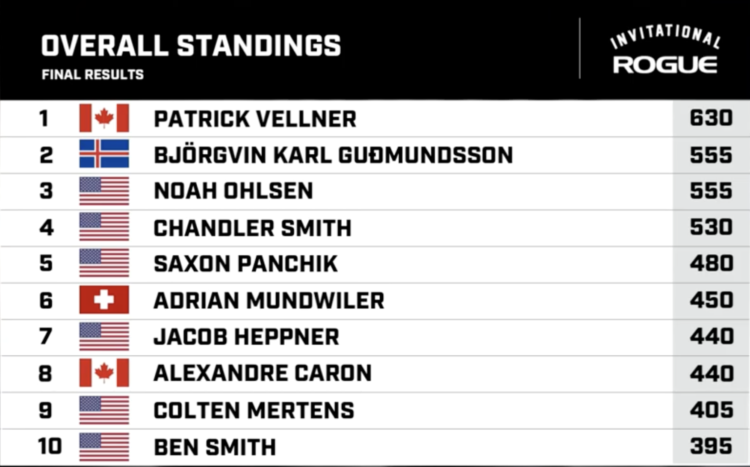 Women
Sigmundottir stayed consistent on day 2 to lock up a second place finish for the second year in a row. Saunders big third place finish in event 6 surged her onto the podium for a bronze finish.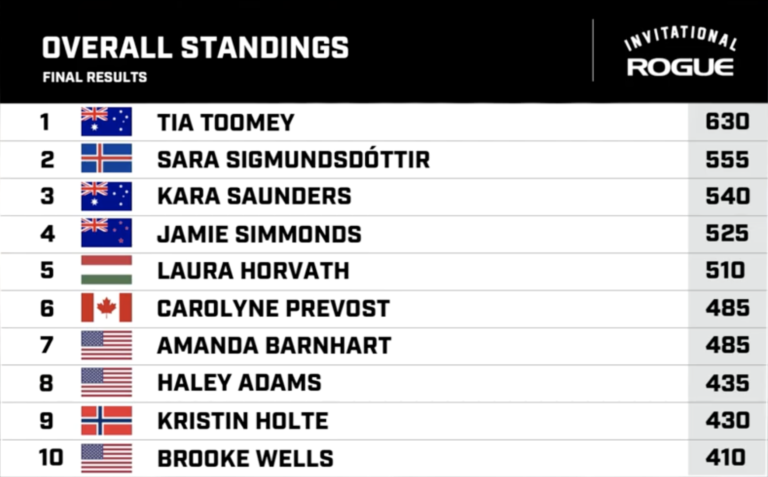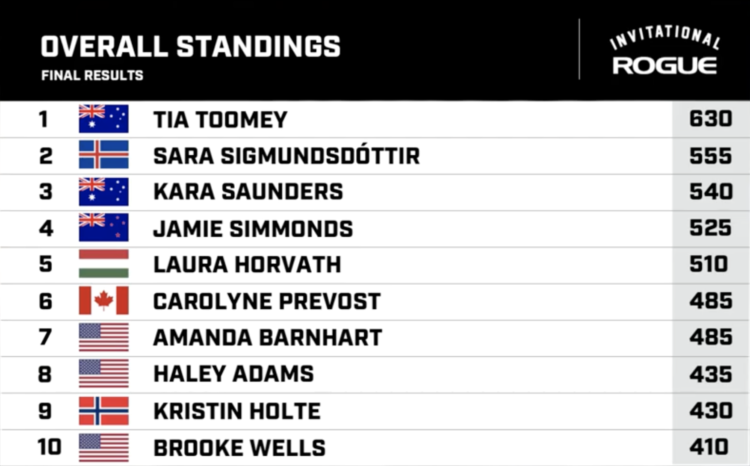 Feature image from Tia-Clair Toomey and Patrick Vellner's Instagram pages: @tiaclair1 and @pvellner