Day 1 of the 2020 Rogue Invitational is in the books. 36 athletes — 18 male and 18 female — competed in the live, online, entirely remote event. Due to the ongoing coronavirus pandemic, athletes competed in their own gyms and were live streamed simultaneously for viewers.
The timing of this event comes during an unsteady time for CrossFit. The Rogue Invitational removed the CrossFit logo from the event due to comments made by Former CrossFit CEO Greg Glassman, who recently retired, on Twitter regarding the Black Lives Matter movement. Reebok stepped in as the new partner for the event.
One of the big stories leading up to the event was the 2019 Rogue Invitational champion and reigning 4-time Fittest Man on Earth Mat Fraser withdrawing from the competition due to a previous injury hindering his preparation.
Day 1 saw athletes compete in three events. Due to the remote setups, athletes were unable to see each other or each others' times during their heats. This created some extremely close finishes throughout the day.
View this post on Instagram
Event 1
For Time:
21 Thrusters (135lb/95lb)
21 Burpee Pull-Ups
15 Thrusters (185lb/125lb)
15 Burpee Pull-Ups
9 Thrusters (205lb/145lb)
9 Burpee Pull-Ups
Time cap: 10 minutes.
Women
It should come as no surprise that the 2019 Rogue Invitational champion and 3-time reigning Fittest Woman on Earth Tia-Clair Toomey earned the victory in event 1 with a time of 7:14 — 18 seconds ahead of the Jaime Simmonds' second place time of 7:32.
In order, Kara Saunders, Amanda Barnhart, and Sara Sigmundsdottir rounded out the top five.
View this post on Instagram
Men
The headline in the men's division was the 22-year-old Colten Mertens who flew out of the gates in heat 1. His blistering 7:01 time held up for the event win.
Patrick Vellner came in second place with a time of 7:10. Jacob Heppner, Noah Ohlsen, and Chandler Smith finished out the time in five.
Event 2
Last Person Standing (2 scored events):
Power Snatch (95lb/65lb)
First 4 Minutes: 50 Reps for Time (2A)
Minute 5 Starts Last Person Standing at 11 Reps (2B)
Women
Heat 1 was undoubtedly about the United Kingdom's Sam Briggs. She was the oldest competitor in the field at 38 years old and absolutely crushed the last person standing portion of the event. Briggs hit 211 reps in 17 minutes — a full 36 reps more than the second place performance of Sigmundsdottir (175). They're scores held for a first and second place finish in event 2B, respectively.
In heat 2, Toomey added a second event win to her name (2A) after hitting 50 power snatches in 1:25. However, she came up short in the last person standing portion with only 115 reps (165 reps total), which allowed Saunders to maintain a 5 point lead heading into event 3.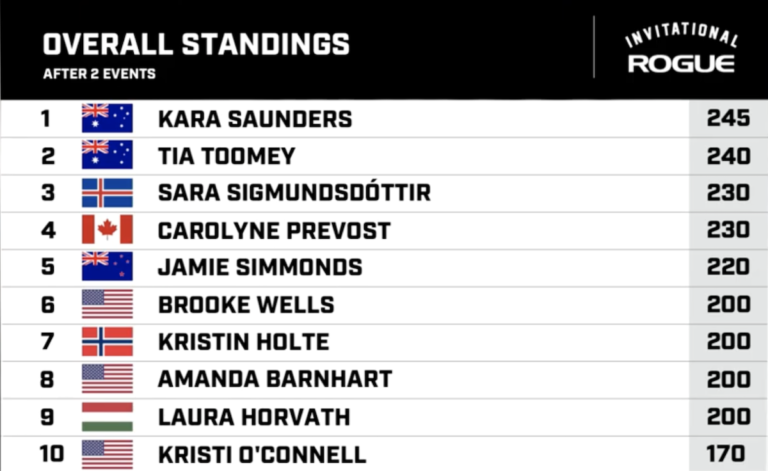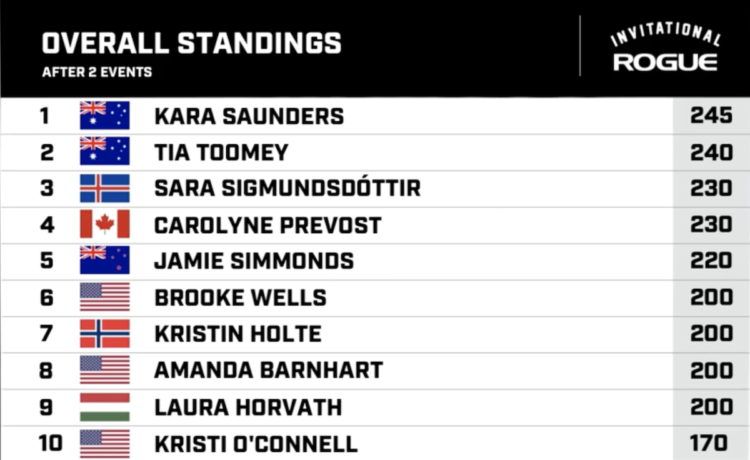 Men
Jonne Koski of Finland's time of 1:24 was dominant in 2A of heat 1 with an impressive cycle rate that moved him well ahead of the pack. His finish was just over ten seconds faster than Sean Sweeney's second place time of 1:35. In heat 2, Chandler Smith also hit 1:24, beating out Koski by four tenths of a second to take the event win.
2B saw Ben Smith hit a heat 1 best 110 reps. However, that did not hold up through heat 2 as Vellner hit an event winning 131 reps.
Vellner took the lead heading into the final event of day 1.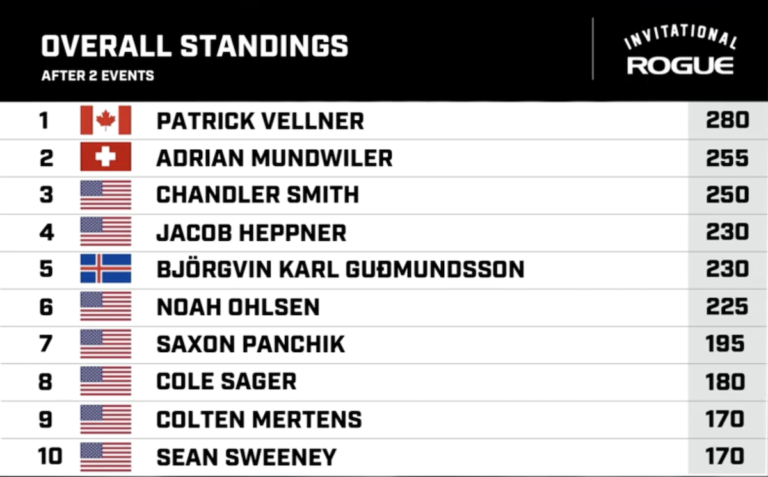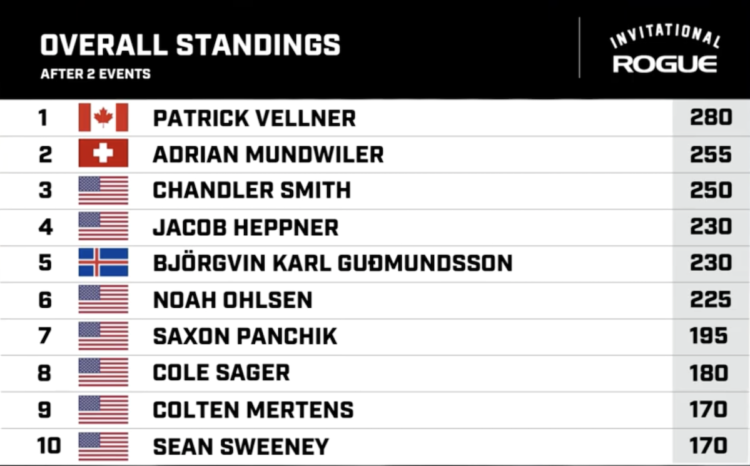 Event 3
For Time:
240 Double Unders with Heavy Rope
2 Rounds of:
60 Toes to Bar
30/24 Calorie Bike
Time cap: 13 minutes.
Women
In heat 1, Brooke Wells was the first to complete the requisite double unders, but it was Briggs who surged through and scored the best time of 12:04. Sigmundsdottir took second, and Kristi O'Connell took third. Everyone else, including Saunders was unable to complete the event within the time cap.
Heat 2 was saw the 19-year-old Haley Adams lead the pack in the toe-to-bar and never let up. She took first overall in the event with a time of 10:51. Toomey took second in the event with a time of 11:07.
Men
Smith, Alexandre Caron, Nycolas Joyal, and Koski were the first to make it through the double unders and were the top four all the way through heat 1. In an absolute nail-biter finish that saw those four men on the last round of the bike within seconds of each other, it was Caron who snagged first with a time of 11:09.
Vellner lead narrowly in heat 2 with Heppner right on his heels. It came down to an adjustment Heppner made to his grip on the last round of the bike that let Vellner pull away and score an event winning time of 10:39. Heppner took second overall with a time of 10:58.
Wrapping Up
Toomey leads the women by twenty-five points with Simmonds in second. Patrick Vellner leads the men by twenty-five points as well at the end of day 1. There were notable performances from Sam Briggs in event 2B, where she repped 261 power snatches, and Haley Adams' blazing pace in event 3. Day 2 will see the last three events give the rest of the field the opportunity to catch up.
Feature image from Tia-Clair Toomey's Instagram page: @tiaclair1