The fifth weight category to compete at the rescheduled 2020 Tokyo Olympic Games was the Women's 59-kilogram weight class. Group B competed on Monday, July 26th, 2021, at 10:50 p.m EST. Group A competed Tuesday, July 27, 2021, at 2:50 a.m. EST.
Women's 59-Kilogram Results
Kuo Hsing-Chun (Chinese Taipei) — 236 (103/133) (Gold, Olympic Record)
Polina Guryeva (Turkmenistan) — 217 (96/121) (Silver)
Mikiko Andoh (Japan) — 214 (94/120) (Bronze)
Dora Tchakounte (France) — 213 (96/117)
Thi Duyen Hoang (Vietnam) — 208 (95/113)
Yusleidy Mariana Figueroa Roldan (Venezuela) — 206 (91/115)
Izabella Yaylyan (Armenia) — 205 (95/110)
Zoe Smith (Great Britain) — 200 (87/113)
Tali Darsigny (Canada) — 199 (90/109)
Sabine Beate Kusterer (Germany) — 198 (91/107)
Maria Grazia Alemanno (Italy) — 185 (85/100)
Erika Yuriko Iris Yamasaki (Australia) — 170 (75/95)
Magdeline Moyengwa (Botswana) — X (70/X) Did Not Finish
Maria Alexandra Escobar Guerrero (Ecuador) — X (X/X) Did Not Finish
Note: the above stats are structured as — Total (Snatch/Clean & Jerk)
View this post on Instagram
[Related: The Full 2020 Tokyo Olympic Games Weightlifting Roster]
2020 Tokyo Olympic Games — Women's 59KG
Here are the fourteen athletes in the Women's 59-kilogram category who competed in Tokyo:
59-Kilogram Roster
Group A
Izabella Yaylyan — Armenia
Maria Alexandra Escobar Guerrero — Ecuador
Dora Meiriama Tchakounte — France
Zoe Smith — Great Britain
Mikiko Andoh — Japan
Polina Guryeva — Turkmenistan
Kuo Hsing-Chun — Chinese Taipei
Yusleidy Mariana Figueroa Roldan — Venezuela
Thi Duyen Hoang — Vietnam
Group B
Erika Yuriko Iris Yamasaki — Australia
Tali Darsigny — Canada
Maria Grazia Alemanno — Italy
Magdeline Moyengwa — Botswana
Sabine Beate Kusterer — Germany
Heading into the event, the only medalist from the 2016 Rio Olympic Games was Kuo Hsing-Chun, who won bronze in the 58-kilogram class (new weightlifting categories were approved by the IWF in 2018).
Hsing-Chun also entered the competition holding all three world records in the 59-kilogram class. She hit the snatch and total world records at the 2019 Asian Championships and the clean & jerk world record at the 2019 IWF World Championships.
59-Kilogram World Records
Snatch — Kuo Hsing-Chun, 110 kilograms (242.5 pounds)
Clean & Jerk — Kuo Hsing-Chun, 140 kilograms (308.7 pounds)
Total — Kuo Hsing-Chun, 247 kilograms (544.5 pounds)
[Related: New ITA Report Reveals Doping Violations, Corruption, and Cover-Ups in Weightlifting]
Session Recap
Snatch
The snatch session at the Women's 59-kilogram event was marred by a series of missed attempts, beginning with Zoe Smith of Great Britain, who failed 87 kilograms to initiate the session.
No athlete would successfully lift all three of their attempts, with many red lights in the 95-97 kilogram area, including three unsuccessful lifts from five-time Olympian Escobar of Ecuador, who bombed out of the event at 95 kilograms.
As expected, Taipei's Hsing-Chun was the final lifter to begin in the snatch, where she hit a comfortable 100-kilogram opener, and with no competitors having attempts remaining, followed herself with 103, but was called for a shaky elbow.
Despite extremely tight supervision from the jury in the session as a whole, the four-time Olympian came back out to make 103 on her final attempt, setting a new Olympic Record.
Clean & Jerk
The second half of the category saw more consistent performances across the board. With few misses until most second or third attempts, multiple athletes saw new personal bests, including Tchakounte of France and Guryeva of Turkmenistan.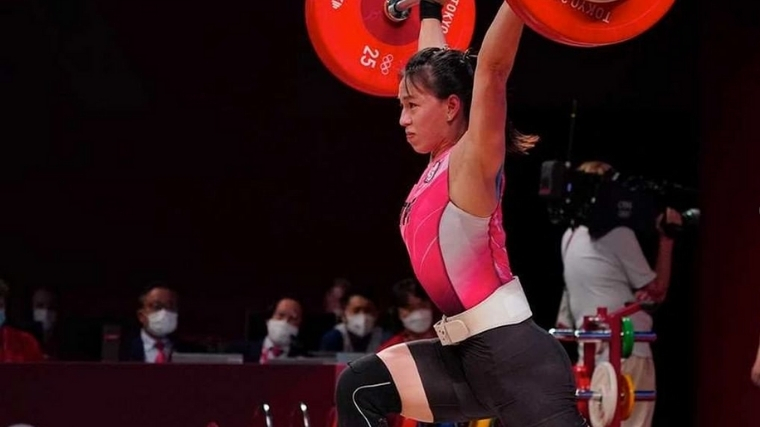 The weight on the bar rocketed up above 115 kilograms as middle-of-the-pack snatchers vied for podium position with strong jerks. Exceptional efforts from Andoh and Guryeva — the only athlete to make all three of her jerks — guaranteed them the bronze and silver medals, respectively.
Hsing-Chun was once again the final athlete to appear, nailing 125 kilograms on her opener, ensuring her possession of the gold medal. She returned to post 133 kilograms, a new Olympic Record in the jerk and total (236).
For the final lift of the event, 141 kilograms was loaded — a new World Record. Hsing-Chun failed to stand up the clean, but emerged from the platform with a smile.
The Games Continue
The next two sessions will feature the Women's 64-kilogram and Men's 73-kilogram categories. Group B for the Women's 64-kilogram occurred at 10:50 p.m. on Monday, July 26, 2021. Group A competes at 6:50 a.m. EST on Tuesday, July 27, 2021. The Men's 73-kilogram class competes on Wednesday, July 28, 2021, with Groups B and A competing at 12:50 a.m EST and 6:50 a.m EST, respectively.
Feature image: Stephen Galvan for the IWF