After a less than ideal performance from Tom Stoltman in the Log Lift event, he narrowly led four-time World's Strongest Man (WSM), Brian Shaw, by three points heading into the Deadlift event. Luke Stoltman — the elder brother to Tom — put on a show in the Log Lift event to claim his first event win of the Finals and propel him into third place, just a point behind Shaw. Maxime Boudreault nipped at Stoltman's tail just a half-point behind in fourth place after setting a Canadian log lift record earlier in the day.
On day two of the 2021 WSM Final, the second event was head-to-head deadlift heats for max reps of 345 kilograms (760 pounds) in one minute. Each barbell supported giant KNAACK toolboxes on each end. The temperature at the start of the event was 84 degrees.
Related: 2021 World's Strongest Man Results and Leaderboard
2021 World's Strongest Man Deadlift Results
Adam Bishop — 10 reps
JF Caron — 10 reps
Trey Mitchell — 10 reps
Brian Shaw — Nine reps
Bobby Thompson — Nine reps
Tom Stoltman — Eight Reps
Konstantine Janashia — Eight reps
Eythor Ingolfsson Melsted — Seven reps
Like Stoltman — Six reps
Maxime Boudreault — Three reps
View this post on Instagram
[Related: What You Need to Know About How to Increase Strength]
Strongman Travis Ortmayer, who was eliminated in the qualifying stage, was still attending to spectate the event. He predicted the winner of this event would pull "10 or 11 reps." JF Caron actually went into the lifting arena and performed a warm-up rep for the crowd despite nursing a hamstring injury.
Adam Bishop vs. Eythor Ingolfsson Melsted
Eythor Ingolfsson Melsted sported a singlet as he stepped onto the stage to battle Adam Bishop, outfitted in a lifting belt and straps. Bishop got to an early lead, but both men were moving the barbells quickly. It was ultimately Bishop who ground through several additional reps to win the heat with a score of 10 reps to Ingolfsson Melsted's seven reps.
Tom Stoltman vs. JF Caron
Stoltman was aware that a good performance in this event would likely lead to his first WSM title with his best event — the Atlas Stones — still to come. Both he and Caron chalked up their hands and got in position. Both men's barbells were flying. By his ninth rep, Stoltman got the barbell over his knees but could not lock it out. Caron took the heat with 10 reps to Stoltman's eight.
Brian Shaw vs. Konstantine Janashia
Shaw sought a big deadlift performance. With the knowledge of Tom Stoltman's eight reps, the potential was there for Shaw to match or overtake the overall lead. Janashia held a slightly faster pace than Shaw, but both men had the weights moving. Janashia withdrew before the whistle at eight reps, which opened the door for Shaw to win the heat with nine reps.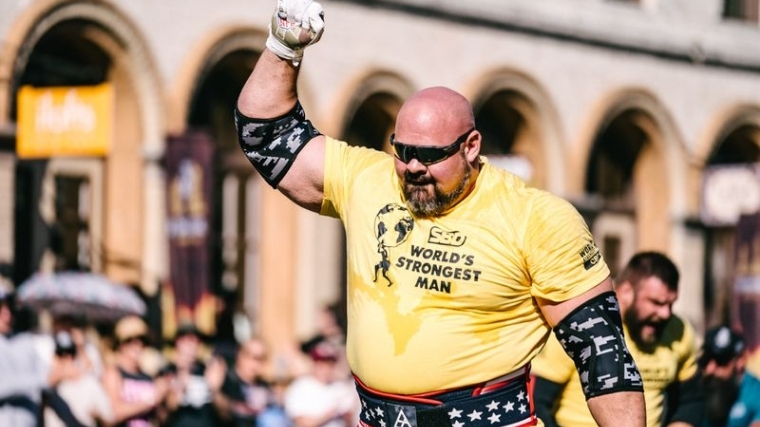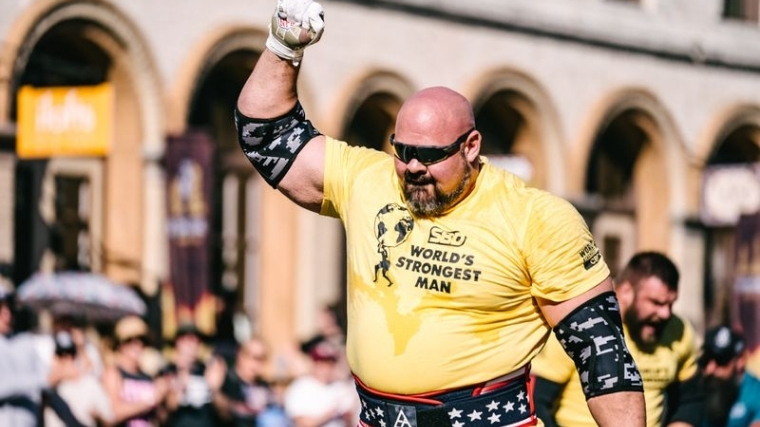 [Related: Best Pre-Workout Supplements for Strength, Cardio, and More]
Trey Mitchell vs. Bobby Thompson
The two American strongmen squared off in the fourth deadlift heat. Thompson took an early lead, but Mitchell was certainly holding his own. Thompson was the first to fail a lift. His following attempt was unsuccessful, and he collapsed to the ground (he did so earlier in the day following his final log lift attempt).
The medical team jumped into the lifting area and aided Thompson back to his feet. He scored nine reps. Mitchell scored a stellar 10 reps and narrowly missed his 11th. He successfully locked out the 11th rep, but it was a half-second after the whistle blew, signaling the end of the round.
Maxime Boudreault vs. Luke Stoltman
The event's final heat would have a significant impact on who was likely to earn a podium spot with only one event to go. Stoltman and Boudreault were separated by just half a point of each other on the leaderboard. Both men were repping the weight but struggled earlier in the heat than the strongmen before they did. The official score was three reps for Boudreault and six reps for Stoltman.
A Stone's Throw Away
There is just one event left in the 2021 WSM Finals, and things look good for the Scotsman, Tom Stoltman. He fended off losing his lead in the Deadlift event (remains one point ahead of Shaw) and has not lost an Atlas Stones event in two years. If he keeps that streak alive and wins the competition's final event, he will be the 2021 WSM champion.
The 2021 WSM contest has been filled with constant surprises. The majority of the 10 remaining strongmen are still in contention for a podium finish, including the potential for a Stoltman family photo at the top.
Featured Image Courtesy of World's Strongest Man