The eighth edition of the Arnold Classic Men's Physique contest will take place on the weekend of March 2-5, 2023, as a part of the Arnold Sports Festival in Columbus, OH. Ten IFBB Pro League competitors are scheduled to face the judges in this prestigious contest. Among them is the defending champion and Olympia champion Erin Banks. The full roster of athletes is listed below in alphabetical order:
2023 Arnold Classic Roster — Men's Physique
Erin Banks
Vitor Chaves
Carlos DeOliveira
Youcef Djoudi
Edvan Ferreira Palmeira
Myron Griffin
Juan Manuel Gomez
Antoine Weatherspoon
Past Champion — Erin Banks
Banks won the 2022 Arnold Classic contest; then upset three-time Olympia champion Brandon Hendrickson to win his first Olympia championship in Las Vegas, NV, in December 2022. Banks was the first man to win both the Arnold Classic Men's Physique and Olympia Men's Physique titles in the same season. Because of this, Banks is man to beat in the division. Unless someone knocks him off, he will be a favorite in any contest he enters.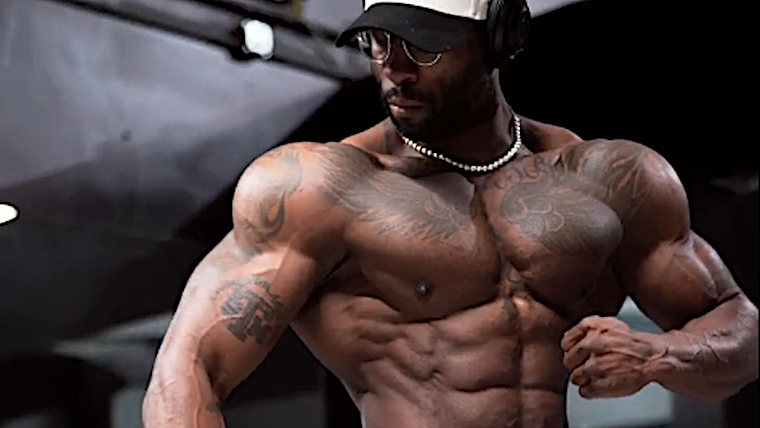 Banks focused on improving his upper body width while maintaining his small waist. This is a single-day contest, so Banks only has to keep his peak condition for a day. Unless he presents to the judges way off the mark, he'll likely leave Columbus with a second Arnold title. If he does, he would join the list of two-time winners that only includes Andre Ferguson, who won this show three times from 2018-2020.
Top Contenders
Below are the athletes who will most likely give Banks a run for the title.
Diogo Montenegro
Brazilian athlete Diogo Montenegro was third in this contest and the 2022 Men's Physique Olympia competition. This contest marks his ninth season in the IFBB Pro League. Montenegro has amassed five pro show victories over his career. This will be his third time competing on the Arnold Classic stage.
Montenegro and Banks will likely be compared together at least once during pre-judging. Montenegro's greatest strength is his lats, which are prominent in both his front and back poses. He will likely stand out further, given that Hendrickson will not be next to him on stage. Montenegro has already qualified for the 2023 Olympia thanks to his top three finish in the 2022 Olympia, but a win to start this year would certainly garner some desireable momentum.
Edvan Ferreira Palmeira
Palmeira was a breakout competitor at the 2022 Olympia, placing fifth in his Olympia debut. Palmeira is in his fifth pro season. Hs only pro victory thus far was the 2022 Musclecontest Brazil Pro show. Palmeira has big arms and a wide chest, both of which he'll need to have have sharpened and full to stand alongside Banks in a callout.
Emanual Hunter
Hunter was 2022 Arnold Classic runner-up to Banks as part of a mixed season. Hunter won the 2022 Fitworld Pro two weeks after the Arnold Classic contest, but fell to 12th at the Men's Physique Olympia. That Fitworld Pro victory is his only one since turning pro at the 2018 NPC Junior USA competition. This will be his second appearance in Columbus as a pro, and a first callout is on his horizon.
[Related: 2023 Orchid Pro Singapore Results — Bojana Vasiljevic and Alessia Facchin Win Figure and Bikini Contests]
Others to Watch
Below are athletes who have the potential to pull an upset on their best of days, and on stage in Columbus could be just that:
Carlos DeOliveira
DeOliveira wasn't in the 2022 Arnold Classic Men's Physique show, but placed fifth in the 2020 contest. DeOliveira has won four contests in his six-year career. His most recent was the 2021 Monterrey Pro.
DeOliveira's only 2022 contest was the Olympia, where he placed 15th. It was his lowest placing on that stage to date, as he had previously finished as high as sixth on two occastions at the Olympia.
Myron Griffin
American athlete Myron Griffin has won at least one pro show each season since 2020. He has three career wins, with his most recent at the 2022 Wasatch Warrior Pro.
Griffin made his Olympia debut in 2022, but he finished outside of the top 15 in the field that had over 60 competitors. This will be his first time competing in the Arnold Classic. Griffin is a 35-plus Masters competitor, who won the Pittsburgh Pro Masters Over 35 title in 2020.
[Related: The 2023 Masters Olympia Prize Purse of $229,000 Announced]
Antoine Weatherspoon
Weatherspoon has competed in five different pro seasons. After turning pro in 2016 and competing until 2018, he took the following two years off. He's been actively competing since 2021.
Weatherspoon won the Tournament of Champions Pro and the Mexico Grand Battle Pro in 2022. Weatherspoon was fourth in the Arnold Classic as well. He was on the Olympia stage, but he failed to make the finals.
Dark Horses
If an upset is destined for the Men's Physique division at the 2023 Arnold Classic, expect one of the following athletes to make it happen:
Vitor Chaves
Vitor Chaves was 13th in his Men's Physique Olympia debut, and he will begin his third professional campaign in Columbus. He won the DC Pro in 2022, which has been his only victory so far in his short career. He turned pro by winning the 2021 Amateur Olympia Brazil championship. This will be his inaugural Arnold Classic appearance.
Youcef Djoudi
Youcef Djoudi is a native of Algeria, and he has had three pro victories in three years. His most recent win was at the 2022 Mr. Big Evolution Pro show in Portugal. Djoudi finished out of the top 15 at the 2022 Olympia. He finished in 16th at the 2019 Arnold Classic Men's Physique contest, but he hasn't been back on this stage since.
[Related: A Preview of the Classic Physique Division at the 2023 Arnold Classic]
Juan Manuel Gomez
Rookie Juan Manuel Gomez has the advantage as the unknown of the lineup. He was invited via his win at the 2022 Arnold Amateur contest, also held in Columbus, OH. This will be his professional debut.
The 2023 Arnold Classic Men's Physique will be one of seven pro contests taking place in the Battelle Grand Ballroom of the Greater Columbus Convention Center. Tickets are still available at the Arnold Sports Festival website. All seven contests will be streamed live on pay-per-view, courtesy of Fanmio.
Featured Image: @e_bankssss on Instagram