The Teams put on a show for the packed lawn of the Tina Hills stage, lifting a series of heavy weights through three different movements. With just two attempts at their respective movements, it became a game of strategy as any missed lifts could be costly not only to their score in the event but their placing on the overall leaderboard.
Team Event Five — "3,2,1, Lift Off"
*30 seconds to lift; 45 seconds for transitions; two attempts per athlete.
Women's Team Results
The Girls — 761 pounds
Team BPN — 755 pounds
Misfits with Lady Bits — 754 pounds
The Dottirs ft. MOB — 743 pounds
All American Girls — 740 pounds (T-fifth)
GOWOD Girls — 740 pounds (T-fifth)
P10 Performance — 735 pounds
Queens of the North — 734 pounds
A.K.A. Humble Killers — 725 pounds
Spacers Angels — 720 pounds
Men's Team Results
Invictus Tiny Dancers — 1,155 pounds
Mexico — 1,115 pounds
Brazilian's Old School — 1,095 pounds
Canadian PB&J — 1,088 pounds
Big Body Boys — 1,085 pounds
Conquer / Lift Heavy Often — 1,082 pounds
Team GOWOD — 1,075 pounds (T-seventh)
Team Panchik — 1,075 pounds (T-seventh)
Zeus & The Dogs — 1,075 pounds (T-seventh)
The Three Wizards — 1,070 pounds
[Related: 2023 TYR Wodapalooza Results — Elite Individuals and Teams]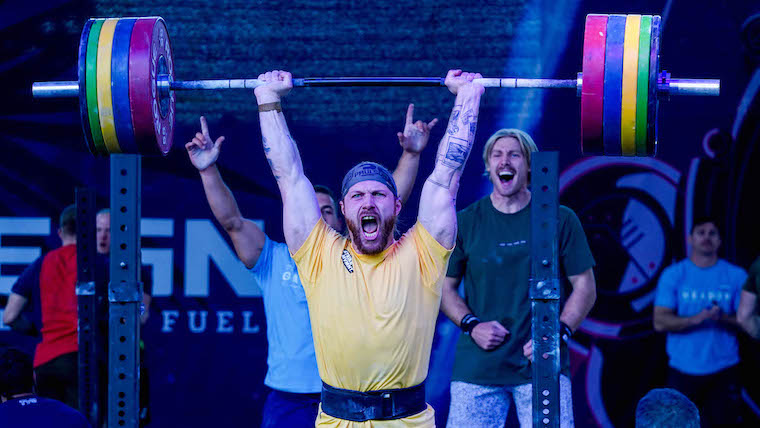 [Related: 2023 TYR Wodapalooza Individual Event 6 Results — Paige Powers and Ricky Garard Claim First Career Major Competition Titles]
Women's Event Five Highlights
"The Girls" picked up their second event win of the weekend, lifting a total weight of 761 pounds, highlighted by Christine Kolenrander's 257-pound clean & jerk and Fee Saghafi's 267-pound, two-rep front squat. "Team BPN" recorded another top-three finish, lifting 755 pounds to place second. "Misfits With Lady Bits," a team consisting of Paige Semenza, Caroline Spencer, and Erin O'Donnell, recorded their best finish in the competition, placing third, just one pound short of "Team BPN."
Men's Event Five Highlights
Twenty-six teams lifted over 1,000 pounds in this event, with "Invictus Tiny Dancers" leading that group with a combined 1,155 pounds. Their winning weight was 40 pounds more than runner-up "Mexico" despite the team missing two of their final three lifts. Sam Dancer highlighted his team's performance with a two-rep front squat of 435 pounds. "Brazilian's Old School" placed third with 1,095 pounds.
Featured image via Patrick Clark.