The 2023 World's Strongest Man (WSM) contest has ended, and the first Canadian in WSM history has been crowned champion. Mitchell Hooper won two of the three events on Day Four of competition to claim the crown and dethrone two-time WSM champion Tom Stoltman, who finished in second place overall.
Day Four of competition featured the Max Dumbbell, the Vehicle Pull, and the Atlas Stones. Jaco Schoonwinkel of South Africa suffered an injury during the Max Dumbbell event and subsequently withdrew from the competition. The overall standings at the end of the final day are below, followed by the results and recaps of each event that occurred on Day Four.
2023 World's Strongest Man Standings After Day Four
Mitchell Hooper — 53.5 points
Tom Stoltman — 49 points
Oleksii Novikov — 41 points
Trey Mitchell — 39.5 points — tiebreak winner (Atlas Stones)
Evan Singleton — 39.5 points
Pavlo Kordiyaka — 31.5 points
Brian Shaw — 27.5 points
Luke Stoltman — 21.5 points
Mathew Ragg — 18.5 points
Jaco Schoonwinkel — 5.5 points — withdrew
[Related: 2023 World's Strongest Man Results and Leaderboard]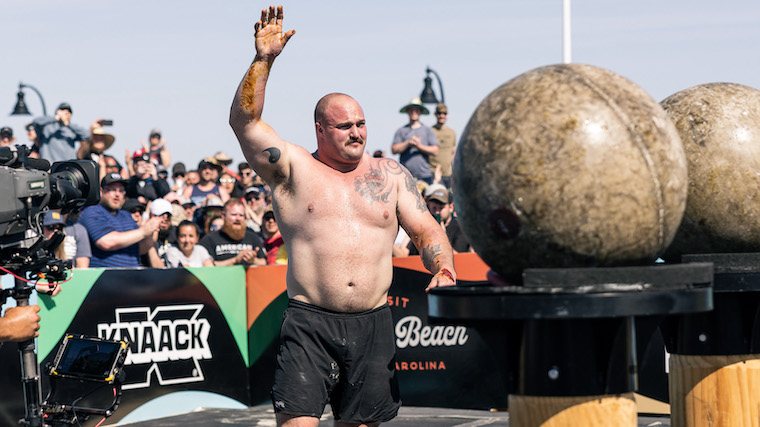 [Related: Cardio for Strongmen and Strongwomen to Supercharge Your Conditioning]
Max Dumbbell Results
The 10 finalists to clean and press ascendingly heavy dumbbells weighing 115, 125, 132.5, 140, 145, 151, and 155 kilograms (254, 276, 292, 309, 320, 333, and 342 pounds) to establish their max lift. The results were:
Mitchell Hooper — 309 pounds (T-first)
Evan Singleton — 309 pounds (T-first)
Oleksii Novikov — 292 pounds (T-third)
Tom Stoltman — 292 pounds (T-third)
Pavlo Kordiyaka — 292 pounds (T-third)
Luke Stoltman — 292 pounds (T-third)
Brian Shaw — 276 pounds (T-seventh)
Trey Mitchell — 276 pounds (T-seventh)
Mathew Ragg — 276 pounds (T-seventh)
Jaco Schoonwinkel — no lift — withdrew from competition
Schoonwinkel was first to the floor, and he left under tragic circumstances. On his second attempt with the opening weight of 254 pounds, he fell to the ground and yelled for help. Medical rushed to the stage, and it appeared a knee injury is what took the South African down. He withdrew from the competition shortly thereafter.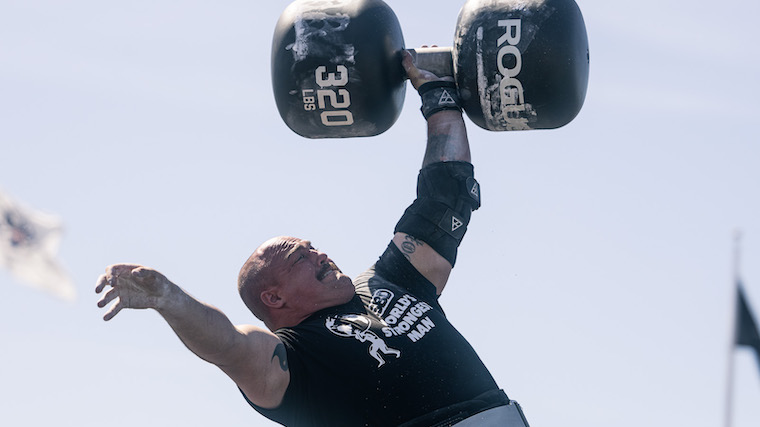 The other big stories in this event were Novikov's apparent underperformance. He had been on camera in training, lifting more than seven pounds over the world record in this event — he was surely the man to beat going in.
Vehicle Pull Results
The Vehicle Pull challenged the nine finalists to pull a 51,000-pound bus down a 25-meter course in the fastest possible time within the 75-second time cap.
Mitchell Hooper — 30.24 seconds
Tom Stoltman — 32.27 seconds (T-second)
Evan Singleton — 32.27 seconds (T-second)
Pavlo Kordiyaka — 32.46 seconds
Trey Mitchell — 32.49 seconds
Brian Shaw — 32.65 seconds
Luke Stoltman — 32.83 seconds
Oleksii Novikov — 33.35 seconds
Mathew Ragg — 36.29 seconds
Jaco Schoonwinkel — withdrew
The Vehicle Pull was a story of the leader's advantage. In the WSM Final, the winner of the previous event goes last in the turn order of the next event. Ragg was the first to pull the bus, and every subsequent athlete scored a faster time with strongmen who went before them, with the lone exception of Novikov.
Hooper scoring the fastest time by over two seconds was a testament to his training and exposure to this event since his WSM debut in 2022 — from having never encountered the event before at the 2022 WSM to winning it by over two seconds one year later.
Atlas Stones Results
The Atlas Stones event challenged the strongmen to load five increasingly heavy Atlas Stones weighing 330, 350, 395, 440, and 460 pounds to their respective 50-inch pedestals in the fastest time possible. The results were:
Tom Stoltman — five in 33.26 seconds
Mitchell Hooper — five in 36.96 seconds
Trey Mitchell — five in 45.72 seconds
Oleksii Novikov — four in 27.47 seconds
Evan Singleton — four in 28.16 seconds
Brian Shaw — four in 35.88 seconds
Pavlo Kordiyaka — four in 45.86 seconds
Luke Stoltman — four in 48.49 seconds
Mathew Ragg — four in 49.50 seconds
Jaco Schoonwinkel — withdrew
In the Atlas Stones, there were two known facts based on the overall leaderboard entering the event. The first was a half-point is all that separated Novikov and Singleton, and whoever won in their head-to-head heat would claim the bronze medal. The second was the 5.5-point lead Hooper had over Tom Stoltman meant that a sixth-place-or-better by Hooper would secure him first place regardless of how Stoltman performed.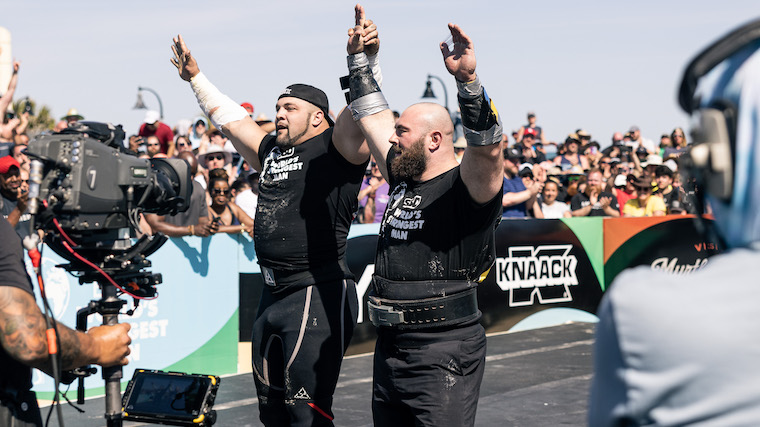 In the Novikov versus Singleton heat, a slight stumble on the first stone with the tacky by Singleton gave Novikov the window he needed to close the door. Up to their heat, the only athlete to load all five stones was Mitchell. Once Novikov recognized he was not going to load the fifth stone, he watched Singleton try but fail to load it as well. The three-fourths of a second that Singleton gave Novikov at the start of the heat was all it took.
Mitchell's time in the stones tied Singleton on the overall leaderboard and pushed Singleton down to fifth overall, as the tiebreaker is each athlete's Atlas Stone time. Singleton's performed exceptionally well through both days of his WSM Final debut, and being fingertips away from the podium should be a boon for his likely WSM return in 2024.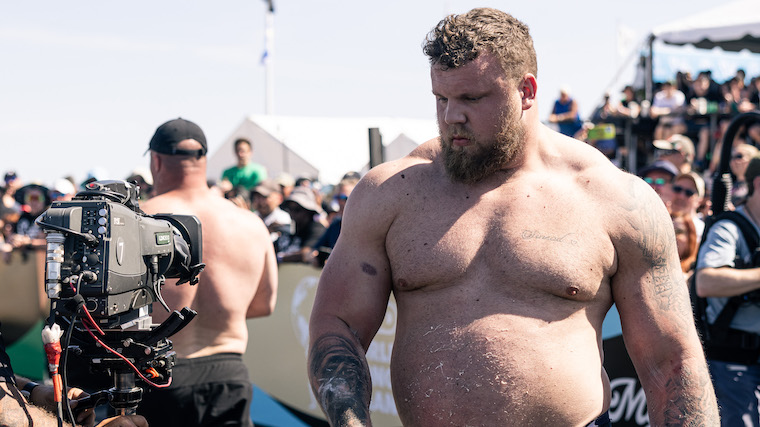 Hooper entered the field of play knowing that as long as he loaded four stones faster than any three other strongmen, he would become Canada's WSM champion. Tom Stoltman did everything he could with the amount of contest that remained — he locked in the fastest Atlas Stone time to live up to his nickname as "King of the Stones." However, after the fifth stone was loaded onto the pedestal by Hooper, the Scotsman could only congratulate the new champion.
Featured image courtesy of World's Strongest Man