Nutrition and fitness expert and Editor-in-Chief of Arnold Schwarzenegger's newsletter, Arnold's Pump Club, Adam Bornstein wants to change the stereotypes around diet culture. In his new book, You Can't Screw This Up, Bornstein presents a "guide to healthy eating and weight loss that reveals how the restrictive diets of the last 30 years…have left us more unhealthy."
Featuring a subtitle, "Why Eating Takeout, Enjoying Dessert, and Taking the Stress Out of Dieting Leads to Weight Loss That Lasts," Bornstein blasts constrictive diets and champions "a more flexible and judgment-free approach to eating." The book hits stores on May 23, 2023.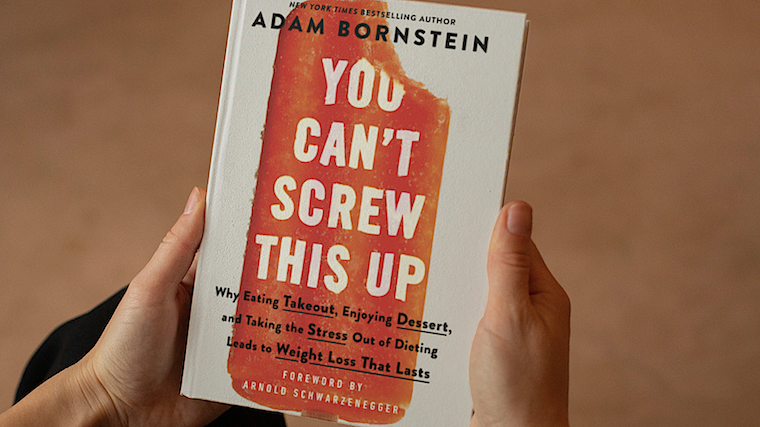 [Related: Whey Protein vs. Plant Protein — Similarities, Differences, and Benefits]
Editor's Note: The content on BarBend is meant to be informative in nature, but it should not be taken as medical advice. When starting a new training regimen and/or diet, it is always a good idea to consult a trusted medical professional. We are not a medical resource. The opinions and articles on this site are not intended for use as diagnosis, prevention, and/or treatment of health problems. They are not substitutes for consulting a qualified medical professional.
A Different Kind of Diet
The crux of You Can't Screw This Up is how vital behavioral science is when it comes to lasting health, including weight loss. Simplifying diet and exercise plans that are flexible while remaining challenging are likely to achieve desired results. The stance is that no sustainable diet routine is black or white:
Diets fail because they…completely ignore behavioral change. Dwell in the grey zone.
Bornstein provides five tools for effective adherence to a diet:
When to Eat — creating meal boundaries
Add a Plus-One — add a preferred carb or fat to the selected protein and fiber for a meal
How to Eat — consume meals slower
No Need to Overthink What You Eat
The book — published via William Morrow of HarperCollins — also features recipes for daily meals provided by Bornstein, as well as take-out and dine-in options at popular chain restaurants.
View this post on Instagram
[Related: Dr. Layne Norton Explains: Is Ice Cream Healthy?]
More on Adam Bornstein
Bornstein's expertise stems from years advising the nutrition of household-name celebrities, including Arnold Schwarzenegger — who wrote the foreword for You Can't Screw This Up — LeBron James, Lindsey Vonn, Cindy Crawford, and Joe Manganiello. Additionally, Bornstein is the former Fitness and Nutrition editor for Men's Health and Women's Health.
Bornstein has previously authored or coauthored six books, including Man 2.0: Engineering the Alpha, The Women's Health Big Book of Abs, and The Men's Health Big Book: Getting Abs.
Featured image courtesy of www.cantscrewthisup.com