Kettlebells are useful pieces of strength equipment that can be used for a variety of strength athletes. Whether your objective is conditioning or strengthening, using them unilaterally or bilaterally, a kettlebell can support your goals. Ader Fitness is a company that creates multiple types of strength equipment, and one of these types they're best know for is kettlebells.
In this article, we'll review and take an in-depth look at the Ader Pro Grade Kettlebell. This is a full steel kettlebell that's designed to be regulation size for use in kettlebell federations. For our review, we look at the Ader Pro Grade Kettlebell's construction, dimensions, performance, price, and much more.
Best Competition Kettlebell
Ader Pro Grade Kettlebell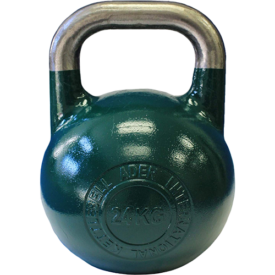 Ader Pro Grade Kettlebell
The Ader Pro Grade Kettlebell is a durable steel kettlebell that provides competition dimensions and a flat bottom finish.
Construction
Design & Finish
The Ader Pro Grade Kettlebell is relatively simple in design and finish. If you asked me to describe the kettlebell in two words it would be, "No frills." It's a fully steel kettlebell, which results in a heavy and durable feeling. There are no additional plugs, rubber inserts, or additional pieces of metal/iron. This is ideal for the longevity of a kettlebell because typically if a bell is made up of many materials, then it's more prone to break down prematurely.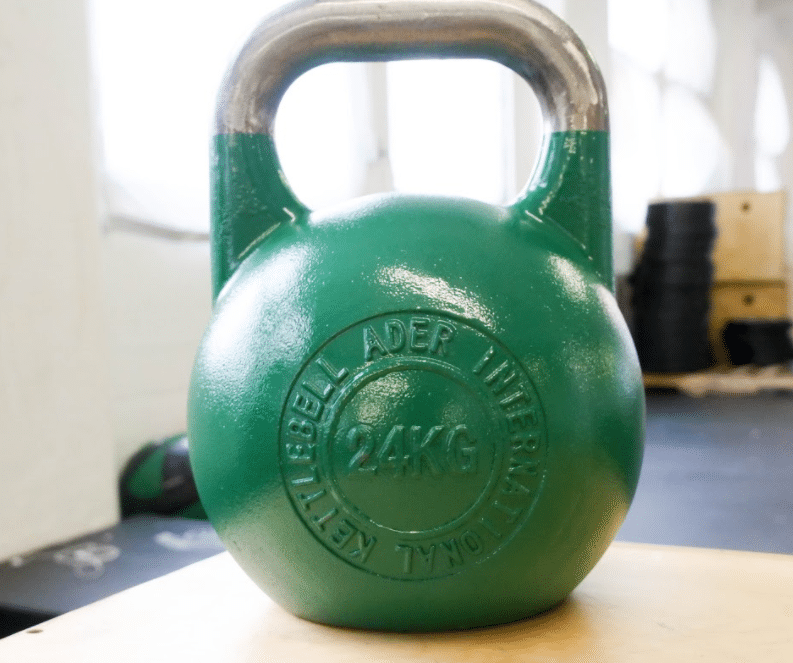 This kettlebell in our review weighs 24kg (53 lbs) and is almost fully covered (besides the handle) with a dark green paint that's used to signal the bell's weight. The paint covers the full bell and halfway up the handles, so even if you chip it often, then there should be sufficient paint left to tell the weight. In addition to the paint, there are weight engravings on each side of the kettlebell, so you'll always know what weight this kettlebell is.
Handle
The handle's design is pretty simple and has a smooth steel finish. This type of handle can sometimes be a double-edged sword. On the positive side, it's smooth, so it's a little gentler on the hands at first. But on the negative side, this same smooth finish can lead to wear and tear on the hands over prolonged uses when increased friction is present.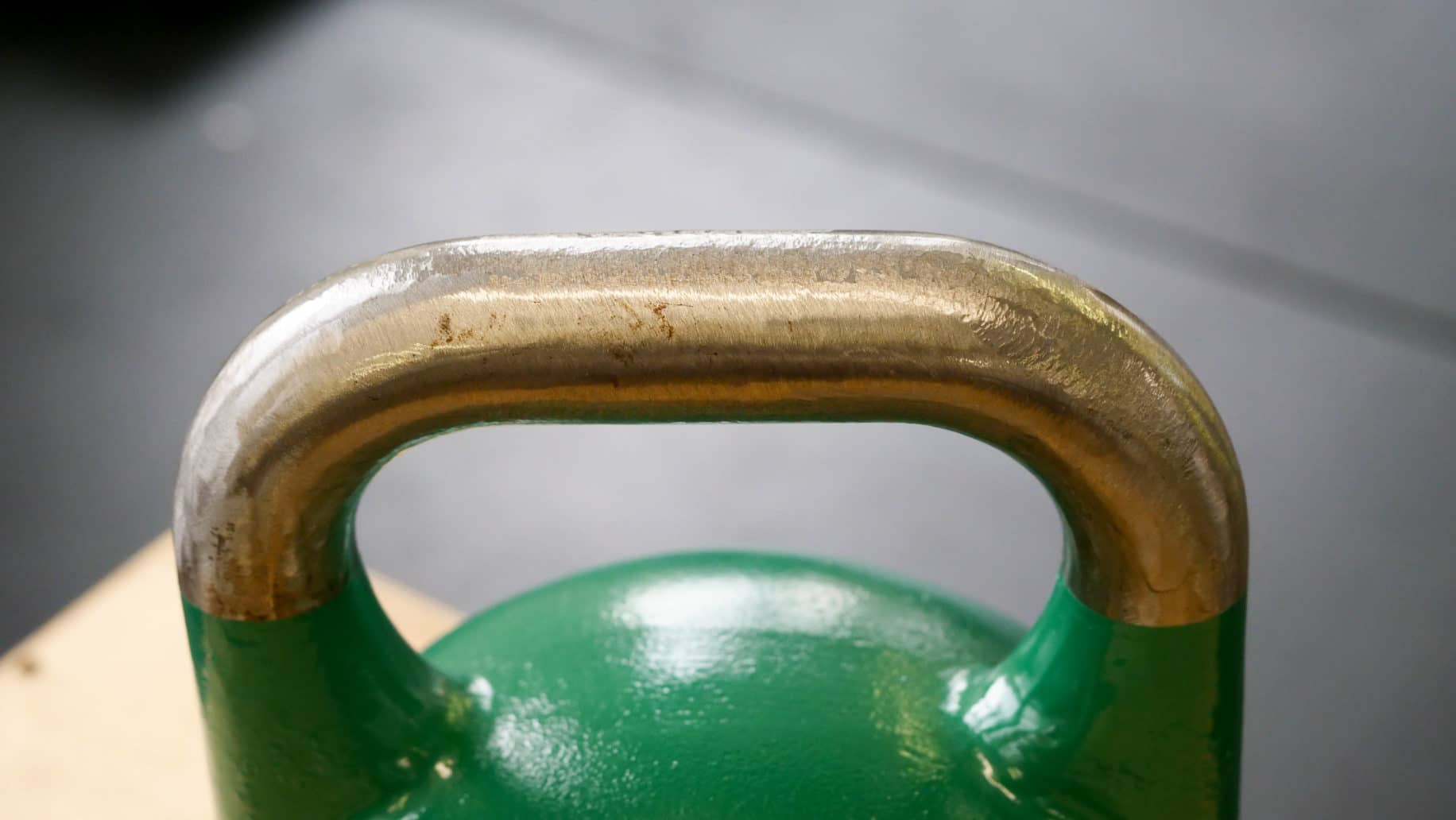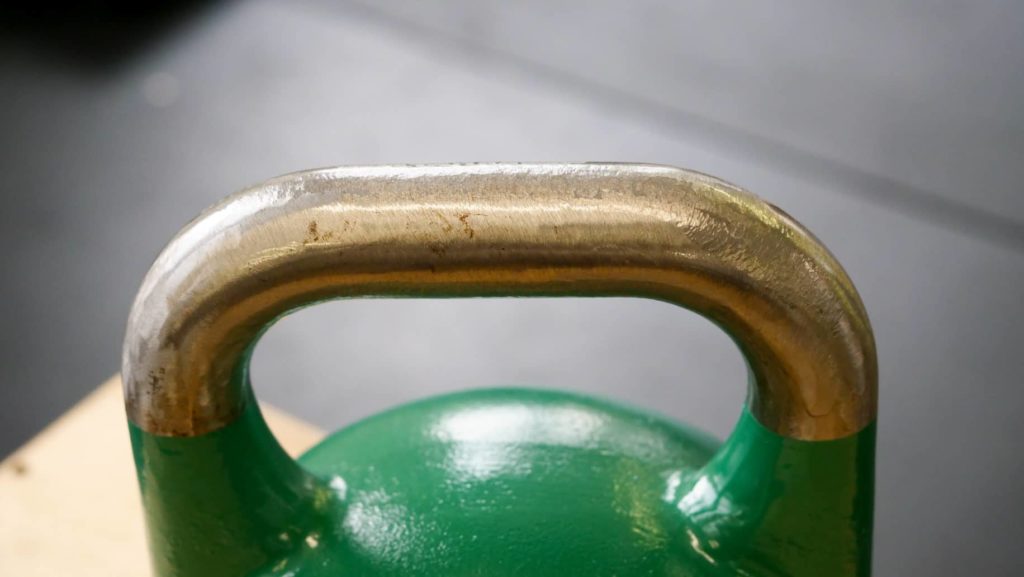 A powdercoat finish typically fairs better when it comes to hand health because it rotates a bit less in the hand. This kettlebell is tougher to hold on longer sets, especially in longer sweaty workouts. Personally, I didn't have an issue with the handle's material, though granted I have rougher hands, I could see someone who's worried about their hand health having issues with it.
However, this type of handle is pretty standard for competition kettlebells and is often the finish kettlebell athletes prefer for those settings.
Dimensions
A competition kettlebell will have consistent measurements, as in the handle and bell will all be similar. This is done to keep consistency in movements and focus on technique when in the competition setting. Below are the dimensions for this kettle, which are consistent with regulation sizes.
Handle Diameter: 33mm 
Distance Between Handles: 123mm
Base Diameter: 140mm
Width (Bell): 208mm
Height: 282mm
Note that some competition kettlebells can have a 1-2mm variance between their regulated sizes.
[Is the Ader Pro Grade Kettlebell the best competition kettlebell on the market? Check out all of our reviewed competition kettlebells!]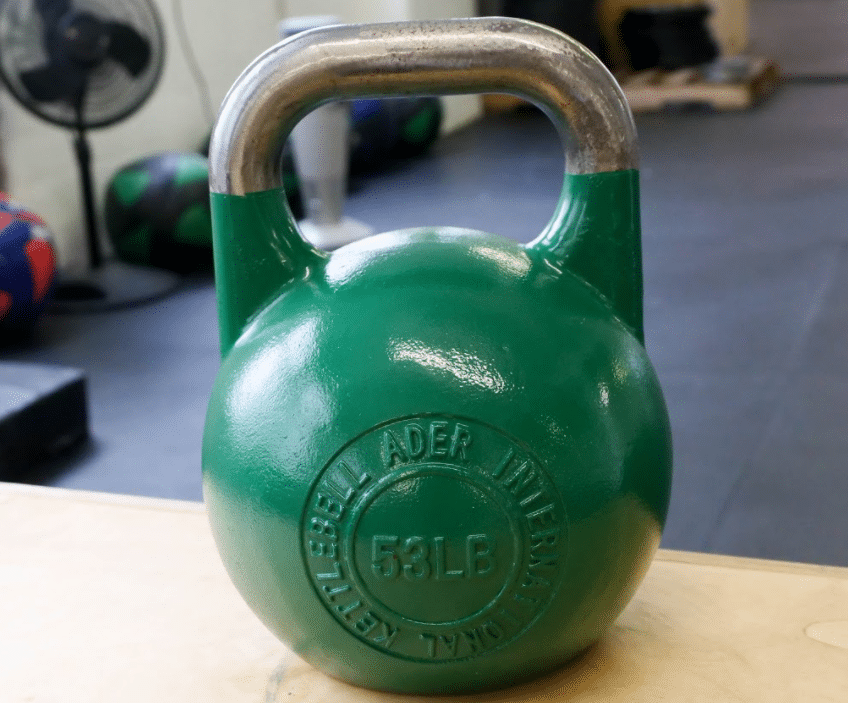 Performance
One way I like to check a kettlebell's consistency with workouts and performance is by doing multiple Russian Kettlebell Swings with and without chalk. We like this movement for these tests because it's a bit more basic (aka more people can perform them) and it's dynamic, so you can really assess how the handle feels in the hand while the kettlebell swings.
Without Chalk
This kettlebell performed pretty well without chalk and I didn't notice any alarming characteristics during the swing. It's a smooth steel handle, so it felt easy on the hands and swung pretty well. One thing to note about this handle is how much friction the smooth handle creates. If you have sensitive hands, then this kettlebell may be a bit tougher at first to adjust to over long workouts.
With Chalk
If you have the option, then I'd recommend using chalk with this kettlebell. It performed well without it, but for the sake of long-term hand wear and tear, I think it's a good idea to reach for some. I have a good grip, so I didn't notice too much hand friction caused by swinging. For context, this type of steel handle will be more prone to increasing friction compared to something like a powdercoat handle.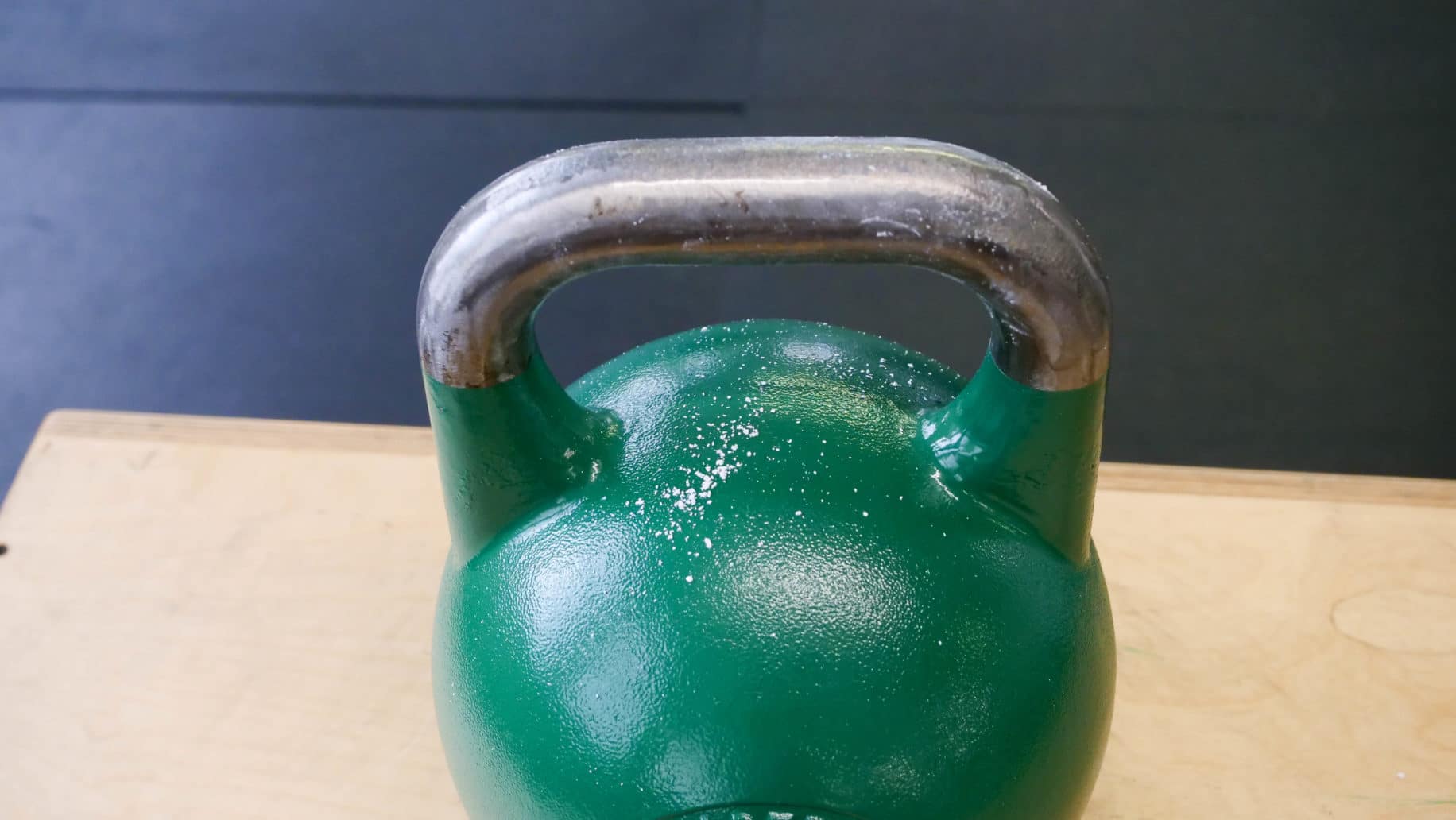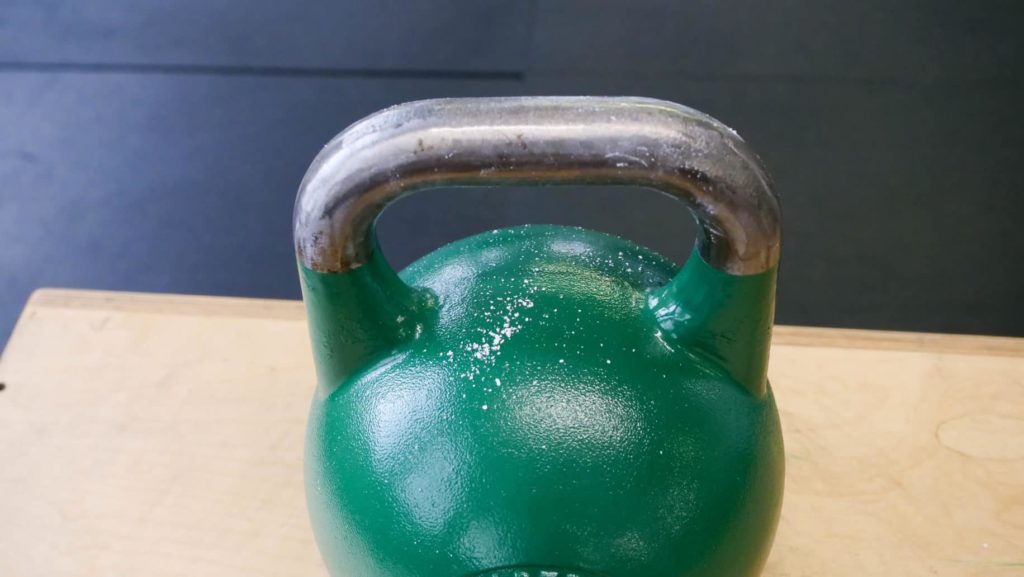 Who Could Benefit
Nearly everyone who works out regularly can benefit from the use of a kettlebell. Their use and function in your workout program is only limited to your creativity and goals. Although, when it comes to competition regulated kettlebells specifically, then I could see two populations finding great use for them.
First, this kettlebell is regulation size, so the first demographic will obviously be those interested in kettlebell-focused competitions. This is a durable bell and will hang a long life for the competitive kettlebell athlete. Second, I think anyone new to kettlebell movements can benefit with this bell. Since the handle and bell is consistently sized, it could make learning a bit easier when transitioning to heavier weights.
| | |
| --- | --- |
| Benefit to Whom | Rationale |
| Competitive Kettlebell Athlete | Regulation Dimensions |
| Beginner Kettlebell Athlete | Consistent Handle and Bell Size |
Durability
The durability of this kettlebell was solid throughout our review. Since it's a fully steel bell we didn't notice any immediate signs of wear and tear, or premature breakdown. Some cast iron kettlebells that are unfinished could experience rust in damper climates, but more often than not you won't have to worry about this with a steel kettlebell.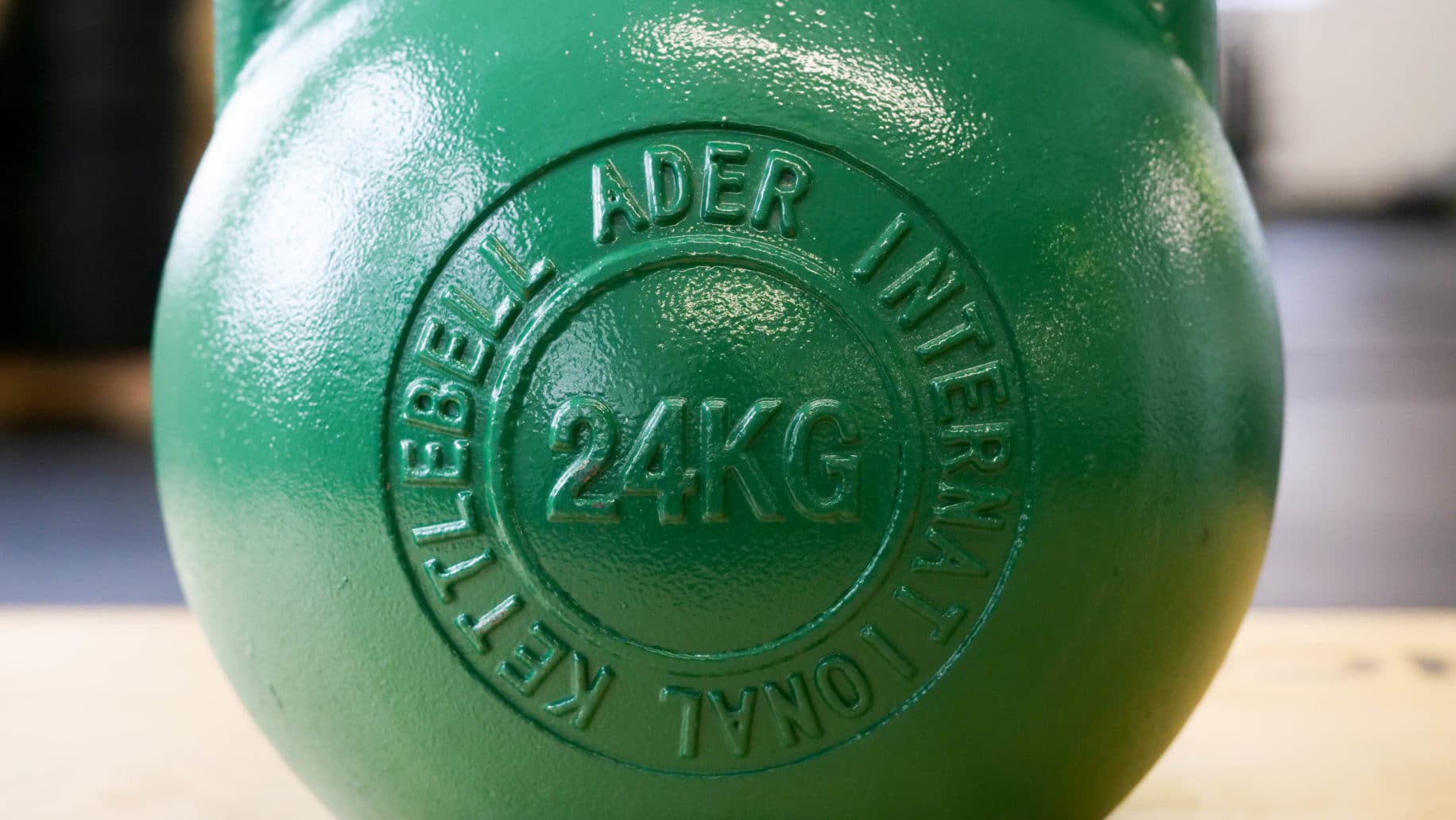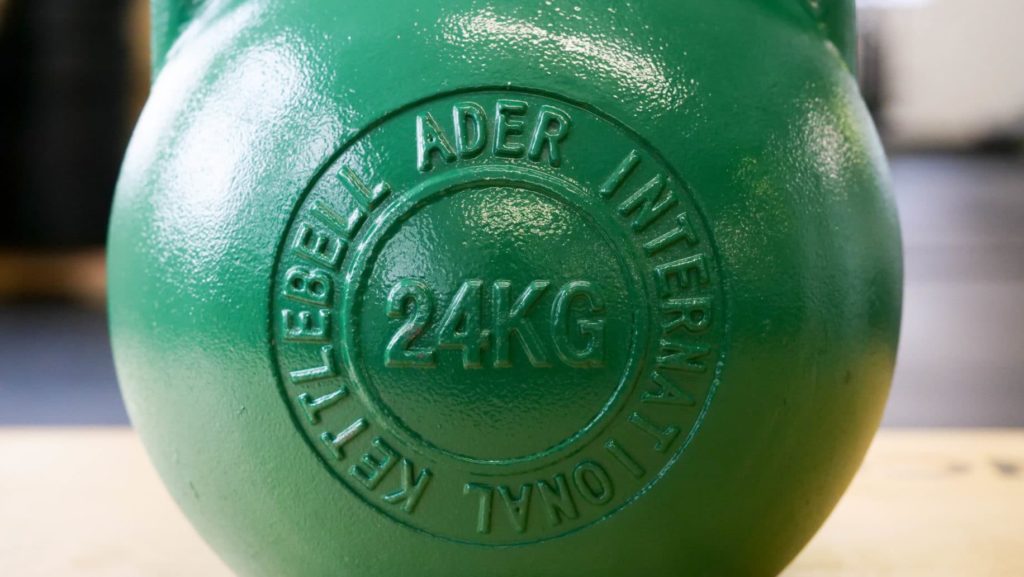 As mentioned above, since it's solid piece of steel there are no additional plugs, inserts, or other types of metal composed into one piece, so I have confidence in this bell long-term. The only real long-term durability issue I could see with this kettlebell is paint chipping over time. If you're dropping this kettlebell on hard surfaces, then I'd worry about the paint chipping off, but not the bell itself, and that's only a cosmetic concern.
Price
For this kettlebell, you can expect to pay around $109.95. When it comes to kettlebells at this weight this bell is a bit on the pricier end, but you have to take into account that it's regulation size. This being said, I consider this type of kettlebell a little more niche, so the price is somewhat justified by its specific purpose.
Outside of competition, I think this kettlebell was pretty solid and will last you a long time, but it's definitely not the cheapest if price is your only concern.
Best Competition Kettlebell
Ader Pro Grade Kettlebell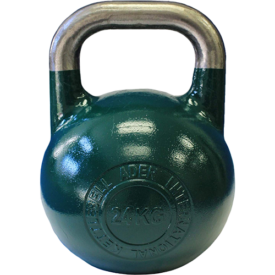 Ader Pro Grade Kettlebell
The Ader Pro Grade Kettlebell is a durable steel kettlebell that provides competition dimensions and a flat bottom finish.
Wrapping Up
All-in-all, I thought the Ader Pro Grade Kettlebell was a durable, well-made kettlebell. It's a full steel kettlebell and comes with competition dimensions. I have confidence with the kettlebell's durability, and wouldn't worry about it breaking down anytime soon. The only potential cons I could see someone having with this kettlebell is the grip and possible cosmetic chips of the paint.
If you're new to kettlebell training, or need a competition kettlebell, then the Ader Pro Grade Kettlebell could be a solid choice for you.