The Adidas Leistung 16 II is the newest shoe in Adidas's lifting shoe line. They're meant to be an updated version of the previously released Adidas Leistung Rio, which was released around the time of the 2016 Rio Olympics.
The Adidas Leistung shoes are designed to have weightlifting in mind, as they feature a higher 1″ heel. Between each model, there are a few key differences that separate the Adidas Leistung 16 II from the previous Leistung Rio model. First, the material itself was changed to a woven synthetic from the previous solid (david star-esque) synthetic material. Second, the BOA lacing system is re-vamped and is only present in the mid-foot, so there are laces as well. Third, the appearance is much more subtle than the previously louder one-color-fits-all Adidas Leistung 16 Rios.
How do the Adidas Leistung 16 IIs stack up against other hybrid models and Olympic lifting specific shoes?
How Much Do the Adidas Leistung 16.IIs Weigh?
The Adidas Leistung 16 IIs could be described as middle of the road to a little heavier when compared to other lifters. They weigh around 17 oz, which makes them heavier than the Nike Romaleos 3s, but lighter than the Reebok Legacy Lifters.
Adidas Leistung 16.II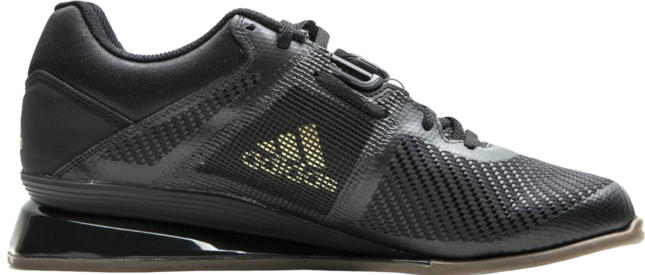 A weightlifting shoe that offers a sythetic weave outer construction, 1" TPU heel, and BOA lacing system.
This weight can be a good and bad thing when it comes to gym performance, and a lot of that is going to come down to a lifter's preference. Since this is a somewhat heavier shoe, then athletes who enjoy a solid base will most likely enjoy it. Also, the heavier nature may be a better thing for athletes who suffer from overactive feet in Olympic lifts. This shoe's weight is ideal for those who find the Legacy Lifters to be too heavy, but the Romaleos too light for a comfortable stable base
In terms of hybrid lifting, or functional style workouts (power and strength movements in one), for most people, this shoe likely falls a little short. It's not very light, so maneuverability won't be the easiest when compared to lower heeled shoes. In addition to poor maneuverability, a heavier shoe will also slow down foot turnover rate. Slow footed lifters may find issues with their ability to quickly slide their feet in lifts with heavier shoes.
[Want to find the best weightlifting shoe for you? Read our full rundown of the lifting shoes on the market to find the perfect model!]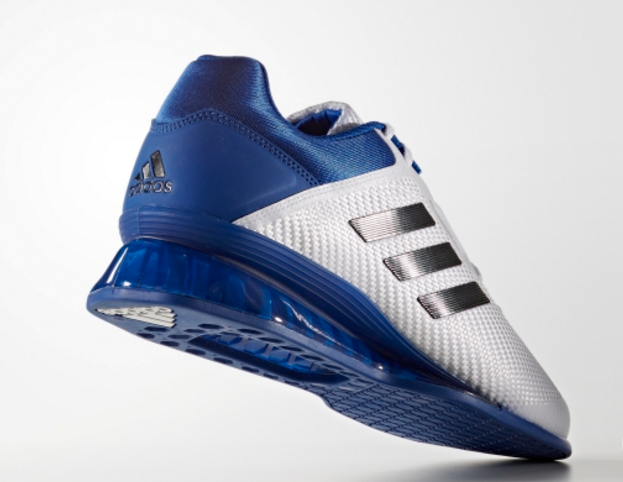 Image from Adidas Special Sports UK. 
Adidas Leistung 16.II Effective Heel Height
The effective heel height of the Adidas Leistung 16 IIs is 1 inch or 24.8 millimeters, which qualifies and puts this model in the 1″ heel category. 
The standard heel height for most modern lifting shoes is .75″, so the 1″ design for this shoe makes it a little different. When it comes to selecting a heel height that's best for you, I highly recommend trying out a 1″ pair of shoes before investing. Lifters often find a 1″ heel to be very beneficial or have the completely opposite effect on their lifts. A lot of this comes down to anthropometrics and lifting style. For example, athletes with longer lower extremities (femurs and shins) will benefit with a higher heel, as it will help them achieve depth easily. Also, lifters who suffer from ankle or hip mobility might find comfort with a higher heeled shoe.
On the flip side, higher heels can have a completely negative impact on a lifter due to their limb lengths. Athletes with short limbs may find the higher heel to hinder their ability to maintain certain postures throughout multiple positions in the squat. For example, they may have a difficult time maintaining an upright torso due to the shoe pushing them forward. In addition, lifters who suffer from slow arms, or catching may also want to stay away from 1″ heels. A higher heel will plant the feet faster or before you catch the bar, which can put your body in a less optimal forward position.
Heel Construction
The Adidas Leistung 16 IIs have a solid thermoplastic polyurethane (TPU) heel, which is a lightweight non-compressible material often used for its sturdiness and resilience to abrasions.
A lot of modern lifters utilize a hard TPU heel. This is because they're often more durable, sturdier, and lighter in weight when compared to wooded heel lifters. The Adidas Leistung 16 IIs TPU heel is very similar to the Adidas Leistung 16 Rio model. In fact, the actual design hasn't changed (from what we can see and find), as it's still externally solid with an inner honeycomb-esque construction.
The only notable and visible difference is the actual appearance. Unlike the previous Adidas Leistung 16 Rio, this model has a solid white, somewhat see through external coloring. Personally, I like this aspect because it provides the shoe with a solid look, and there's no bleed through of coloring. The Adidas Leistung 16 Rio was clear so you'd see the red/pink coloring into the heel. If you like a shoe with a subtly flashy look, then I think the Adidas Leistung 16 II could be both for you. The heel is brighter than the material, so it pops, but it's external coloring is subtle.
Upper Shoe Material
The upper shoe material is what truly makes this shoe different than other modern lifters. Unlike the first Leistung model, the Adidas Leistung 16 II has a synthetic woven material. When you really inspect the shoe you'll notice that the woven material almost looks like thin strips of a layered fiber glass (obviously it's not glass). This material makes the shoe more flexible than the previous model, which is a positive for many lifters. Lifters take time to break in, so an increase in flexibility will lessen your breaking them in time.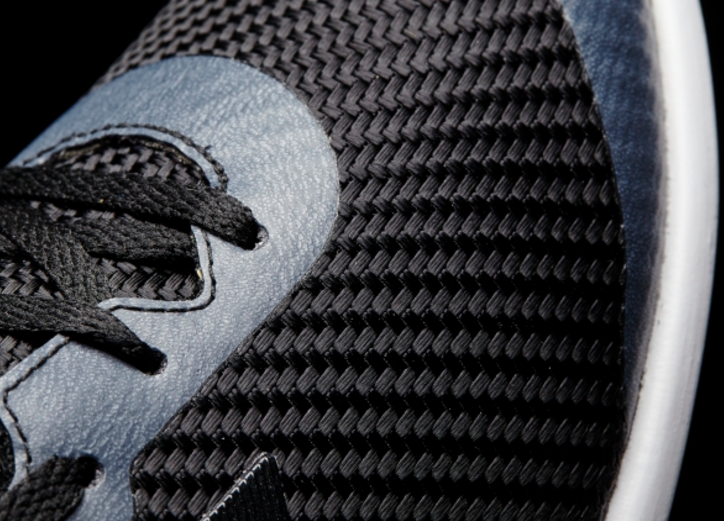 Image from Adidas Special Sports UK. 
Yes, this shoe does take less time to break in, but that's in comparison to the previous Leistung. If you compare it to leather constructed shoes or the Nike Romaleos 3, then you should account for an extra "breaking them in" grace period. The Adidas Leistung 16 II won't be the best choice for the lifters who want a flexible shoe that takes little to no time to break in.
Foot Straps
One of the most definable attributes to this shoe is the reconstructed BOA lacing system. The previous Leistung utilized the BOA lacing to tighten the whole shoe. While this is convenient, it's also problematic for many lifters who struggle to maintain total shoe tightness during long sessions. Adidas re-vamped this problem by putting laces back in with the BOA system. The new Leistung 16 II design now has the BOA closing system in the mid-foot, so it acts as a strap.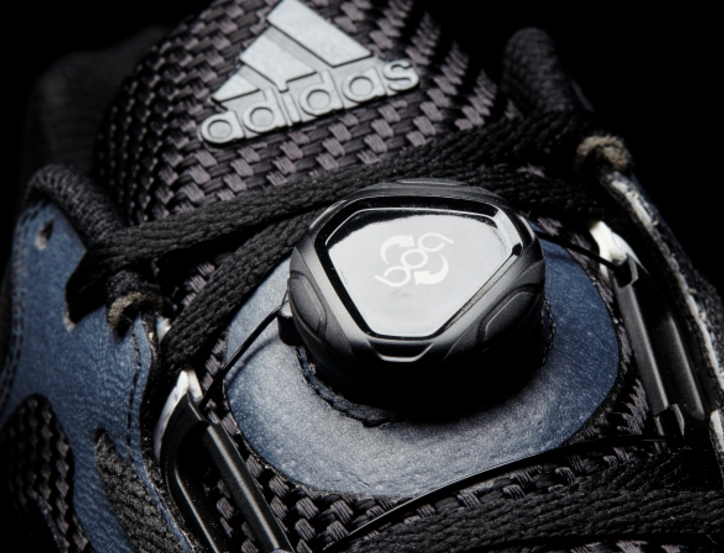 Image from Adidas Special Sports UK. 
If you want total shoe tightness, then you'll like the newly constructed BOA system with laces. There is one downfall to the BOA and that's in regards to the shoe's ability to maintain tightness over prolonged sessions. Even with the laces added, a lot of lifters have found this shoe falls a little short on maintaining tightness. This won't be a huge issue for those Olympic lifting with longer rest periods, but this factor can be counter-intuitive for the functional athlete. The last thing you want during a timed workout is adjusting your shoe's tightness.
Adidas Leistung 16 II Price
The Adidas Leistung 16 II price is on the higher end and starts around $224.99 on Rogue Fitness and at Adidas Specialty Stores. If you're interested in saving money, then the re-vamped Leistungs won't be ideal for you or your bank. Yet, if you know what you want and like the BOA lacing with a 1″ heel, then these shoes will be a great fit for you. The price is high, so it will come to your personal preferences.
An Athlete's Take
The Adidas Leistung models haven't seen the same amount of popularity with strength athletes as their previous Adipower and Powerlift models, but they've grown since their second model release. This shoe is often one that comes with a love/hate relationship for a lot of athletes. Those who enjoy the high heel and BOA lacing – love it, but those who like simplicity and lower heels have a hard time liking them.
Below are a few thoughts from athletes and coaches who use this shoe. Keep in mind, the athletes/coaches below work with or really enjoy Adidas, or have a formal relationship with the company. Their opinions may not be unbiased.
Mart Seim – Estonian +105kg Weightlifter
Seim lifted in the previous Adidas Leistung Rio lifters, but has since switched to the newer Leistung 16 IIs. He shared a few differences in the models and said, "This is the best model so far out of the two. I like how the ankle is more supported in this version."
He also added that they match his lifting style very well and pointed out, "I think this model allows me to be a little fast under the bar." In addition, Seim liked the upper shoe construction because it doesn't stretch out and fit his foot's width perfectly.
James Wright Jr. – Head Coach at CrossFit Prospect Heights
Wright Jr. used to use the Nike Romaleos 2, but made the switch this year to the Adidas Leistung 16 IIs. He points out multiple pros and likes lifting with a higher heel. He states, "The heel height for me is perfect and stable, and the toe box flexibility is the right amount to feel the platform and still be in control when landing for classic lifts."
Wright Jr. also likes how these shoes fit. He's used to training and coaching all day and says, "They're extremely comfortable for long sessions, and the inside contour fits very comfortably on the foot."
There were a few cons Wright Jr. pointed out and they involved the newly created BOA system. He mentions, "The BOA systems needs to be re-vamped as it needs tightening every few sets. They're also not the most aesthetic, as they lack different color varieties."
He did mention a few concerns he had with the shoe that are worth noting if you're interested in purchasing a pair. Wright Jr. mentions the newly constructed heel design, which may be an issue, "On the first version the fabric in the heel was meant to keep the heel locked in place, but they took it away when they added a shoelace."
Final Word
The Adidas Leistung 16 IIs are the re-vamped model of the previous Leistung Rio. They're a unique shoe that features key characteristics that often create a love or hate relationship for strength athletes. For example, some love the BOA lacing system and higher heel, because they find it enhances their lifting. In this model, Adidas also made an effort to create a better outer shoe material, which provides it with a little more flexibility.
This shoe falls short in some areas that can turnoff certain athletes. For example, functional athletes and those who are concerned with maintaining prolonged shoe tightness may find issues with the BOA lacing system. Also, a 1″ heel comes with an acquired taste, so if your anthropometrics or lifting style is a potential issue, then you may not enjoy this particular model.
To conclude, if you're a fan of the BOA system, like a higher heel, and don't mind spending a little extra money, then the Adidas Leistung 16 IIs may be your perfect fit.
Feature image from Adidas Special Sports UK.