Amazing Grass is probably best known for their wheatgrass-heavy Green Superfood supplement, but their organic Protein Superfood contains many of the same ingredients. Let's check out the nutrition panel.
Amazing Grass Protein Superfood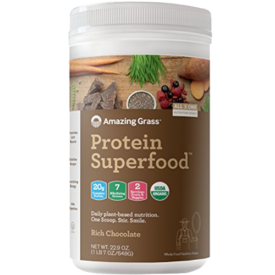 Amazing Grass Protein Superfood
A surprisingly tasty vegan protein drink with a great dose of fiber and vitamins.
Amazing Grass Protein Superfood Nutrition
One scoop has 120 calories: 20 grams of protein, 6 grams of carbohydrates (4 grams of fiber and under a gram of sugar), and 2.5 grams of fat (no saturated fat).
For a product that's jam-packed with fruits and vegetables, there's not a lot of information on the vitamins and minerals, just Vitamin A (20% of the RDI), Vitamin C (5%), Vitamin K (19%), calcium (11%), and iron (13%).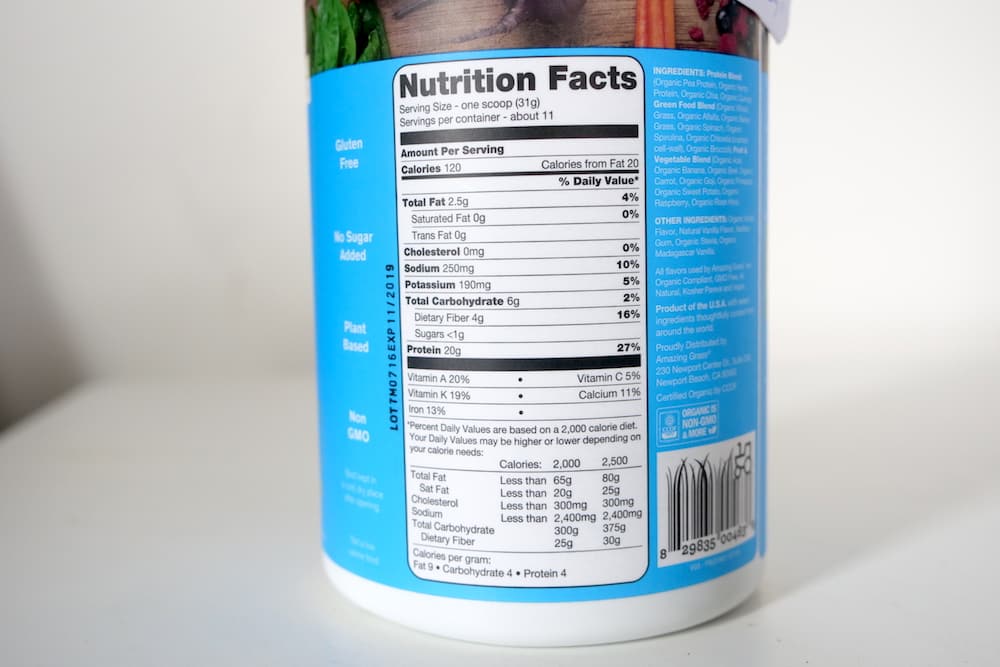 Amazing Grass Protein Superfood Ingredients
There are a lot of ingredients here, all of them organic, all split into three categories.
The Protein Blend has pea, hemp, chia, and quinoa.
The Green Food Blend is wheat grass, alfalfa, barley grass, spinach, spirulina, chlorella, and broccoli.
The Fruit & Vegetable Blend is acai, banana, beet, carrot, goji, sweet potato, raspberry, and rose hips.
Then there are the other ingredients, mostly flavorings: stevia, organic vanilla flavor, natural vanilla flavor, Madagascar vanilla — yep, three kinds of vanilla — and the thickener and stabilizer xanthan gum.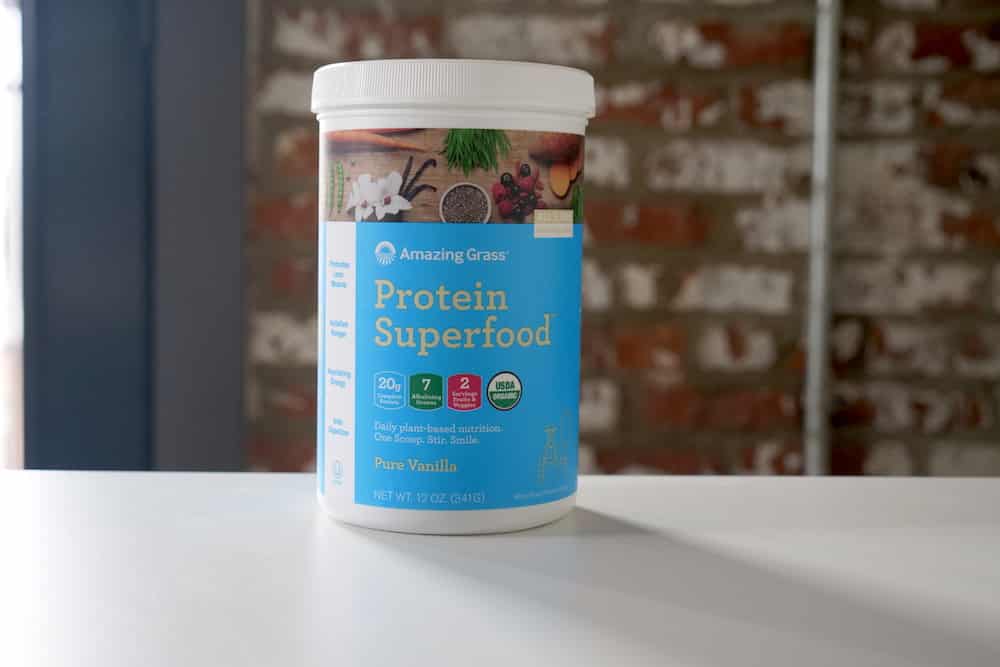 Amazing Grass Protein Superfood Benefits & Effectiveness
Since a lot of the ingredients are similar and Amazing Grass is probably best known for it, let's make a quick comparison between this product and their Green Superfood: it has a lower vitamin content but more minerals, which is to say it's a little higher in calcium and iron. A big difference is that Protein Superfood doesn't have probiotic bacteria or digestive enzymes.
The good thing about this product is that it's pretty low carb for a vegan protein shake and most of the carbs are fiber. The protein is complete, it's not too high in sodium, and there's a decent amount of vitamins A (20% and RDI) and iron (13%).
One would expect a product that contains powdered broccoli, raspberry, pineapple, beet, and spirulina to contain more than 5 percent of the RDI of Vitamin C, for example. What are all these fruits and veggies doing in there?
The packaging calls it an "All in One" drink that "alkalizes" the body and provides two servings of fruits & veggies. I don't see how it could be providing two servings of fruits and vegetables with so few vitamins and minerals, and it's controversial as to whether or not alkalizing the body is all that beneficial.
Amazing Grass Protein Superfood Price
You can pick up 11 servings for $22, which is $2 per serving or 10 cents per gram of protein. For an organic, naturally flavored vegan protein powder, that's expensive — they're normally around 6 or 7 cents per gram of protein. Of course, you're paying extra for all those fruits and veggies.
Amazing Grass Protein Superfood Taste
This product didn't smell amazing when I first opened it, so I was surprised to find that it tastes pretty decent in both almond milk and in water. The vanilla flavor mostly manages to overpower the earthy, grassy flavor of the greens. With water, there's a slightly floral, grassy hint of flavor, but it's actually very drinkable.
The Takeaway
Protein Superfood is an interesting product. All those fruits and vegetables presumably have some health benefits, but they're hard to quantify — there's next to no Vitamin C in the product and there's nothing to measure the alkalinity, antioxidants, or chlorophyll.
I don't doubt that Protein Superfood is more nutritious than your standard vegan protein powder made from seeds and legumes, but most of the nutritional benefits are something you appear to need to take on faith.
Nonetheless, it's a great source of protein, reasonably tasty, it has some Vitamin A and iron, and it's practically sugar-free. I like it, I just wish I knew more about it.