This past weekend at the Junior European Championships in Eilat, Israel, Italy's Antonio Urso declared his candidacy for the International Weightlifting Federation (IWF)'s presidency in elections to be held in May of next year. Urso, the current president of the European Weightlifting Federation (EWF), is the first challenger for the position currently held by Dr. Tamas Ajan of Hungary.
In comments made while addressing 33 member nations at the EWF congress, Urso blamed this past year's doping accusations and violations for leaving the sport of Olympic Weightlifting in a bad light.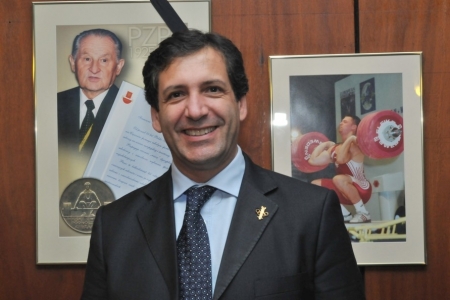 Antonio Urso; photo from the European Weightlifting Federation
According to quotes from Inside the Games:
"2016 has been the worst year ever for our sport, but I am not surprised. In 2008, 2009 and 2010, I wrote three editorials in the European Federation magazine and underlined that some of the results were not human results, that some women were becoming a man, that doping was beyond control. If we lose our place in the Olympic Games, weightlifting will be nothing."
Urso also laid out points of proposed changes for the sport he plans to back, if elected:
Dual-platform competitions to be running simultaneously. One for men and one for women.
In regards to doping violations, Urso believes the culture needs to change to hold coaches, doctors, and physiotherapists responsible for athlete doping. He says coaches of athletes who fail drug tests should also be sanctioned for these actions.
Coaching education is also a priority for Urso. Under Urso, the EWF is currently working to create a single coaching academy, where the coaches would gain qualifications at three different levels: national, continental, and international. In this regards, Urso is advocating for the IWF to have sole responsibility of coaching education, where currently the national federations educate their own coaches.
Urso advocates that money paid in doping fines by National Federations should go directly into strengthening doping controls in that same country.
Finally, Urso expressed concerns about the efficacy of 2008 and 2012 Olympic Retests. In his opinion, many failed retests were for "really, really old products" such as Turinabol – a hormone used in the former DDR (East Germany). He asks how product dating back to the 1980's and earlier cannot be detected based on today's testing methodologies and technology.
In addition to his dissatisfaction over current IWF drug testing methodologies, Urso has been critical of Ajan and the IWF's financial management. In 2013, Urso was one of the auditors who found several million dollars of Olympic revenues were unaccounted for by the IWF. In 2013, the International Olympic Committee (IOC), with support from the Court of Arbitration for Sport (CAS), declined to act on the allegations.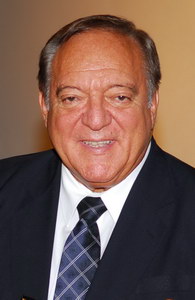 IWF President Dr. Tamas Ajan; photo from IWf
Dr. Ajan has been in a leadership position with the IWF since 1976. First his title was Secretary General, and he's held the title of President since 2000. In 2017, he will be running in his 4th campaign for the presidency of the IWF. In 2013, Urso also campaigned for the office of president, where he lost to Dr. Ajan.
Antonio Urso becomes the 2nd candidate we currently know of to declare a nomination for IWF executive office. On October 14th of this year, USA Weightlifting (USAW) declared the nomination of Ursula Panandrea as an executive board member candidate. At the IWF Congress, held prior to the IWF Youth World Championships in October 2016, the IWF Constitution and By-Laws were amended and approved by both the Executive Board and Congress. The new Constitution will provide a minimum of two positions solely for Women in the leadership of the IWF, one being a Vice President and the other an Executive Board member position.