Compression socks may help improve blood circulation and assist recovery, and they can be a stylish addition to any active wardrobe. Popular among athletes and people who work jobs that require them to be on their feet, these socks come in many different shapes and sizes that make them a major player in recovery gear. The main purpose of wearing compression socks is to apply pressure to the legs to improve blood flow. Over the years compression socks have stepped up their game from the early all-white stocking-like days, and buyers today have many solid options for sizing, construction, and aesthetics.
When shopping for the right pair of compression socks, comfort should be the priority. This means figuring out the right fit and finding the best material. Below, I'll give you a head start by introducing five of my favorite compression socks, all of which I've tried.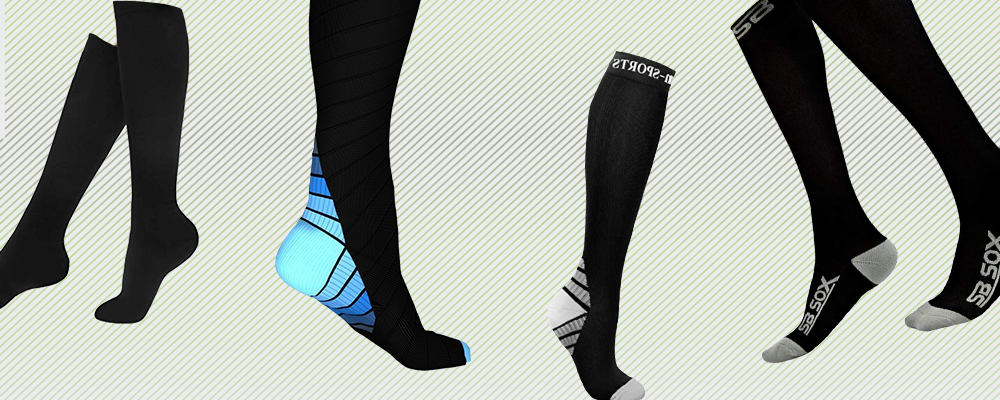 Editors Choice: Physix Gear Compression Socks for Men & Women
Physix Gear Compression Socks are great for all people with various activity levels. Thicker than your average socks, but not too thick to feel heavy, the comfort here is the best we've seen. They are made with quick-dry breathable fabric, antibacterial material, and come in men's and women's sizings.
Pros:
Comfort! Cannot enforce this enough. These compression socks are something I would wear every day. They are perfect to slip on during a long car ride, off on a run, or even just relaxing at home.
Attention to detail. From the top to bottom (heel to above the calf) the design is fit to maximize comfort and relief. The stitching around the foot is particularly pleasant, and moving up the leg there are no areas that pinch.
Durable. These really can be socks that are worn everyday. They are washable, sturdy, and stay fresh in tough conditions with its breathable fabric.
Cons:
Sizing. The Physix Gear Compression Socks pretty clearly lay out their sizing options, so make sure to pay attention to this when ordering. This isn't the one-size fits all pair, so if you do happen to order a size too big, expect a lot of extra fabric.
Appearance. While their are options to spice up the color, the only person who will be seeing that color is you. The socks run in black, white, and beige, however the only brighter color on them is at the heel and toe part of the socks.
Best Value: Laite Hebe Compression Socks for Women and Men
Laite Hebe Compression Sock are a great combination of quality and comfort. They also come in packs of six and are offered in several different colors and designs. These socks also give the buyer the freedom to mix and match and get six socks all in different colors. The price tag for the pack of six is a total steal, especially in terms of how top shelf the quality of these socks are.
Pros:
Price. For under $20 you can get six pairs of compression socks. This is a total steal, since there are some compression socks on the market that are at this price point for just a single pair.
Comfort. Compression, ankle and arch support, and a non-slip cuff, these socks are comfortable and reliable.
Material. These socks are made from 85% Nylon and offer 360 degrees of stretch. The material is thin, yet durable, and is also perfect for any weather with its breathable fabric.
Cons:
It's possible that six pairs might be too many compression socks. Unfortunately all of their packages include six.
Detail. For its price point these are a steal, however they lack in specific detail/careful design around the toes and ankle areas where other brands focus on.
Best Quality: SB SOX Compression Socks
The SB SOX Compression Socks are great for preventing lactic acid build-up, and could improve recovery. They are made with graduation compression technology which provides the best compression to improve blood flow.
Pros:
Design. These socks use graduation compression technology and have a cushioned heel and toe support to provide a well balanced and match comfort from bottom to top.
Fit. Form-fitting, but also lightweight in the material. These socks will feel secure, but won't compromise comfort because of the breathable fabric.
Choices. There are several colors and designs to choose from which makes selecting a go-to pair a fun investment or a gift for your active friend!
Cons:
One pair per package. This isn't a value pack, so be aware that you are spending $12-15 for two socks.
I found myself having to pull on the fabric by the toe here and there as it felt tight. The rest of the sock fit well, but I noticed extra tension by the toe which may be something to consider going a size up to prevent.
Best Everyday: CHARMKING 3-Pair Compression Socks
CHARMKING is a popular player in the compression socks game, and with good reason. They make their socks with a special silver fibre helps keep your feet dry during bad weather conditions. These socks won't give you blisters, and shouldn't slip or roll down.
Pros:
Fitl. These socks fit snug, and didn't pinch my skin at all. The compression felt consistent and I liked that they are made out of 85% nylon so they were easy to stretch and slip on and off.
Breathable. Compression socks need to be breathable and wearable in all temperatures. What I liked about these socks is that they are comfortable to wear during cold days, and warmer days. They had a cooling effect when it was hot outside, which I liked.
Money back guarantee. If for some reason these socks don't do the trick, CHARMKING will provide a 100% money-back guarantee.
Cons:
Design. Besides a few color and design options, the basic look of these socks are very simple. They resemble a pair of tube socks, just longer.
Material. I didn't mind the ribbed material, however there are other socks on the market that have a completely smooth/more spandex-feeling material.
Best Design: CHARMKING Multicolor 7-Pair Combination Pack
The combination pack allows the buyer to select a weeks worth of socks in different colors. The combination pack we got had seven different pairs, with colors from bright green and orange, to a simple black and grey.
Pros:
Quantity. What's nice about selecting a combo pack is that for an entire week you don't have to worry about reusing or washing your socks. With seven pairs in the pack, I didn't have to be bothered by the time spent washing and drying, and could just throw on the next best pair.
Color scheme. I loved that I could pick out a pair each day to wear and sport a different color.
Comfort. I liked the quality of these even more than the 3-pair set. Their material wasn't as ribbed, and felt more durable during unforgiving climates.
Cons:
Font. All of these socks do say "SPORTS" on them. I could see that being distracting or off putting to someone who may be using these compression socks in a non-sports environment.
Quantity. I know this was also a pro, but seven pairs may be too many for someone who isn't looking or needing to wear compression socks every single day.
How We Picked
Now that we've gone over five of my favorite picks, let's go over how I made my selections. This is also to serve as a reminder that what may work for me, may not for you, so please keep this in mind as I go over the methodology for a few of my favorite compression socks.
Comfort
Compression socks in general shouldn't pinch, itch, or remind you that something aches. They should be a way to relieve pain, prevent swelling, and something you can sport proudly. When selecting these compression socks I made sure that not only the socks fit, but were something I could wear throughout the day. I examined how the socks felt from the moment I slipped them over my foot to the very top just below my knee.
Material
Finding compression socks that are breathable, not too thick, but also not too thin is key. They should be that happy medium between thick and thin. The material shouldn't hold on to moisture, and should be perfect for outdoor and indoor activities. I found that Nylon and microfibres are the frequent material used to make compression socks. Microfibre helps keep out moisture, and nylon is what gives the socks a good stretch.
Design
Compression socks are not always going to be hidden. Marathon runners, nurses, and all kinds of people proudly wear compression socks to be seen. I looked closely at the colors, design, and font on these socks to get a since of which ones are best for the modest person, and which ones could make a fun gift, or fashion statement.
Price
Because compression socks aren't just an average pair of tube socks or dress socks, their prices can run steep. I looked at the quality and quantity of many pairs, and tried to select certain makers that differed in their price tag and number of socks per package.
FAQs
Compression socks are designed to give extra pressure to the legs to enhance and maintain blood flow.
In general, compression socks are worn to reduce swelling and alleviate pain.
Compression socks come in all different shapes and sizes, and some are more advanced than others with advanced design technology.
Some compressions socks are graduated which means there is extra pressure at the ankle, and less as you move up the leg.
Although there is said to be little harm in trying compression socks, it's always worth talking to a doctor if there is any hesitation.
While there is little harm in wearing them all throughout the day, it is advised to take them off before bedtime.
BarBend Tips
In the strength sports world, we're always looking for the next best accessory or gear to help with recovery. Compression socks are a frequent clothing piece that we see in the strength sports space, from CrossFit athletes, to powerlifters, to just the typical gym-goers. When we're looking at buying compression socks we consider the following things:
Comfort. No surprise here, but like anyone, finding a comfortable pair of compression socks is key because these are a staple in a recovery routine.
Quality. These need to be able to last in hot gyms and outside depending on whatever the weather situation is. They should be breathable and not hold onto moisture. In general, they should match the temperature of your skin.
Effectiveness. Pick a pair that when they are on, you feel actual compression. These shouldn't be like a pair of tube socks pulled extra high, there should be real pressure and in direct points from the ankle to the top.
Wrapping Up
Now that we're finally here, it's probably obvious that there's a lot that goes into selecting the perfect pair or pairs of compression socks. But, hopefully, after going through a few of my favorites, providing some tips, and facts, I have eased up your compression sock shopping process.