Compression shorts are a piece of apparel that often go unseen; similar to underwear, compression shorts often sit underneath layers of shorts or pants. However invisible they may be, they can play a crucial part in any form of athletics. From helping with groin support to decreasing chafing, as well as providing warmth and supporting blood flow, compression shorts can benefit an athlete in a number of ways.
Though compression shorts may look similar to the naked eye, there are a number of factors that may make one pair a better match than others. Paying attention to the fabric blend, the design of the seams, and the overall shape of the shorts can give clues as to how comfortable and useful the product may be. We have picked out our favorites; read on to find out more: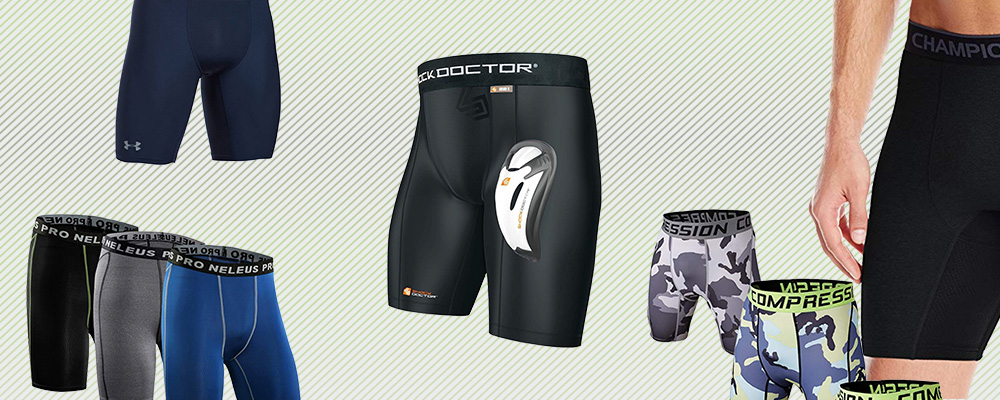 Best Waistband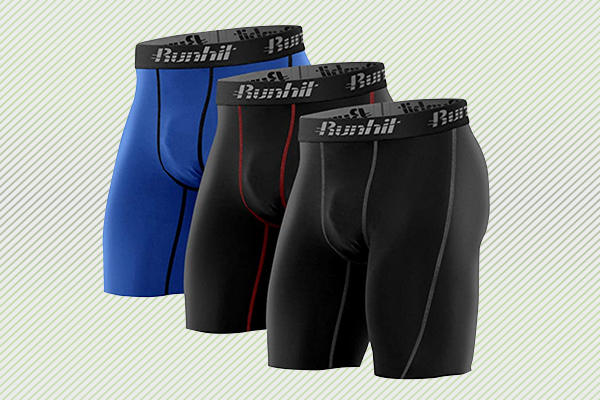 Thick waistband for secure fit.
Pros: 
Blend of polyester and spandex provides adequate stretch and compression for most setting.
Snap buttons provide security for different sized cups.
Thicker waistband hugs waist and promotes security and sliding when doing various activities.
Reinforced stitching provides added of compression and support.
Cons:
Bottom of the compression shorts may stretch overtime.
Material might not be the softest compared to other high-end brands.
Runhit Men's Compression Shorts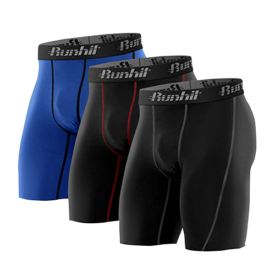 Runhit Men's Compression Shorts
These compression shorts are fantastic for the casual athlete or the athlete that needs additional during physical activity. Made with a reinforced stitched polyester and spandex blend, these shorts are equipped with a thick waistband to maintain position during rigorous exercise.
Best Sweat Wicking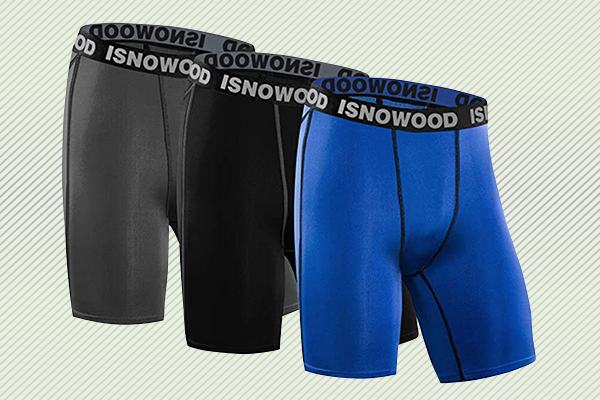 Great for outdoor sports.
Pros: 
Variety of sizes for athletes ranging from small to triple XL.
Sweat wicking material helps prevent a ton of build up of moisture during activities.
Blend of polyester and spandex provides a lightweight feeling with a lot of elasticity.
Legs are reinforced with stitching to prevent early wear and tear.
Cons:
Not the softest for some when compared to other high-end compression shorts.
Fit may vary from standard sizing, so check the size guide before purchasing.
isnowood Compression Shorts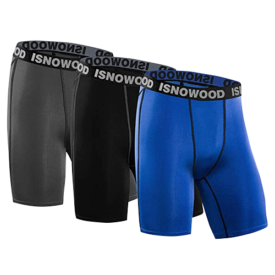 isnowood Compression Shorts
These compression shorts are great for the athlete that needs a pair of shorts for a variety of activities in higher temperatures outdoors. Made with a polyester and spandex blend, the stitching is reinforced for added durability.
Editor's Choice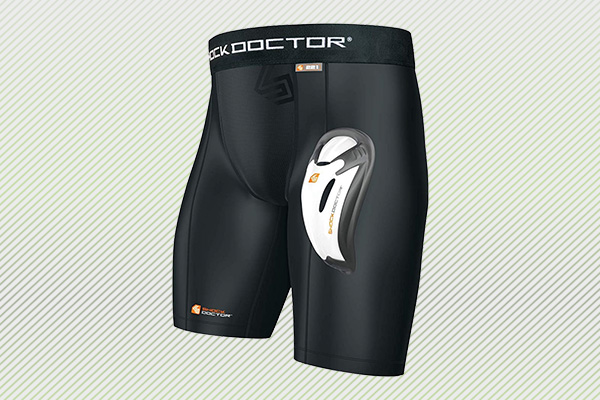 Stretchy and anti-slip.
Pros: 
12 sizes. These compression shorts are available in one of the wider ranges one can find. The sizes range from youth XS to adult XXL.

Cup. Included with these compression shorts is a slip-in cup that has ample ventilation and padding along the rim. This is great for those who compete in sports that require a cup, such as lacrosse, baseball, and hockey.

Design. While he black and white versions of this line of compression shorts sport a traditional look, the USA flag version is unique and artistically styled. It might be the perfect pair to wear on gameday.
Cons:
Cup may move position. Depending on the type of motions the athlete is performing, the cup may get misaligned during play and therefore will be less protective.

Sizing. The cup doesn't always match the proportions of the shorts properly; those who order smaller sized shorts may get a cup that is too large.
Shock Doctor Compression Shorts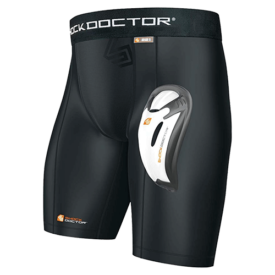 Shock Doctor Compression Shorts
These compression shorts are stretchy, durable, and breathable. Available in white, black, and flag-themed, these shorts come with a cup that can slip in and out of the shorts.
The Contender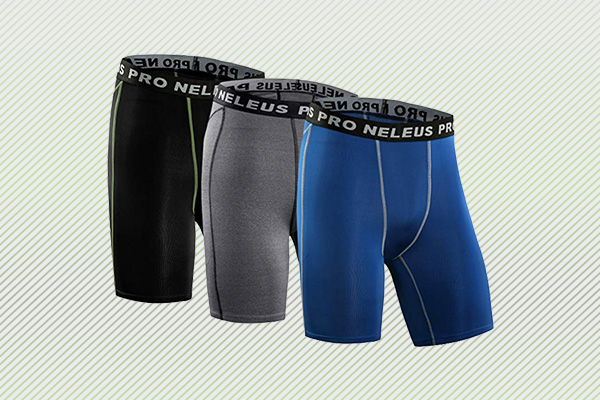 Long inseams for better security.
Pros: 
Long inseam. These compression shorts have one of the longer inseams one can find among similar products. For some athletes, this will make them feel more secure and keep more of their legs warm during rest.

3-pack. This offering from Neleus includes three pairs of shorts per pack. Athletes can choose between three of the same color or a variety pack with three unique colors.

Flat seams. The way the seams are sewn makes them lay flat against the skin. This can be more comfortable, especially when performing aerobic movements.
Cons:
Stitching is in another thread color. For whatever reason, the seams of these shorts are stitched with a thread color that differs from the base color. This may not look great if the seams start to fray.

Support. The compression in these shorts may not be ample enough for some athletes unless the shorts are hiked up higher toward the torso. This may not be comfortable for everyone, however.
Neleus Men's 3-Pack Compression Short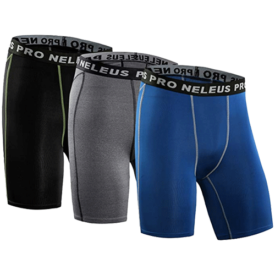 Neleus Men's 3-Pack Compression Short
This line of compression shorts come in a three-pack with colors ranging from neutral and dark to bright and loud. They have a rather long inseam that covers and warms more of the legs.
Best Ventilation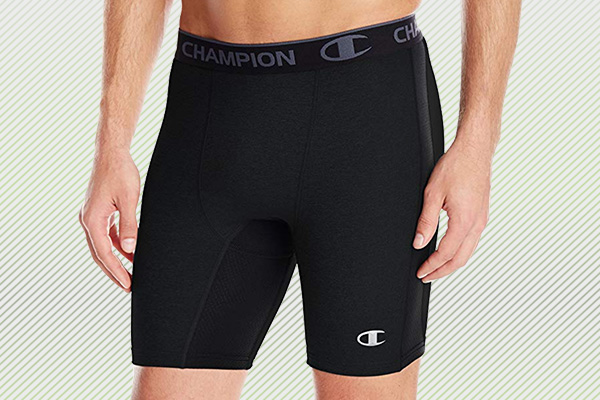 Breathable for added comfort.
Pros:
Stretchy. While most compression shorts are made of polyester and spandex blend, this pair has a higher proportion of spandex (16%) than most competitors. This is great for those hoping for maximum mobility as well as for increased compression.

Mesh inserts. Saddled in the interior of each trunk is a mesh insert. This is placed where it is to provide extra ventilation; this keeps the area cool and helps with odors.

Stays in place. Some compression shorts, due to their shape and the fact that they are somewhat elastic, will have a tendency to ride up the torso or to pinch certain areas. These shorts stay in place.
Cons:
Waistband folds over. Sometimes while exercising, the waistband will fold out and over itself. This may occur when the shorts are a size too small.

Sits high. These shorts are meant to sit a bit below the belly button; for some, this may be higher than they are comfortable with.
Champion Men's Powerflex Compression Short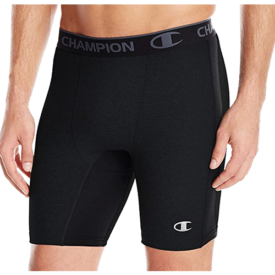 Champion Men's Powerflex Compression Short
These compression shorts are an affordable and comfortable option available in white, black, navy, red, blue, and gray. They have mesh inserts that help with ventilation and have a bit more compression and elasticity than other compression shorts.
Best Style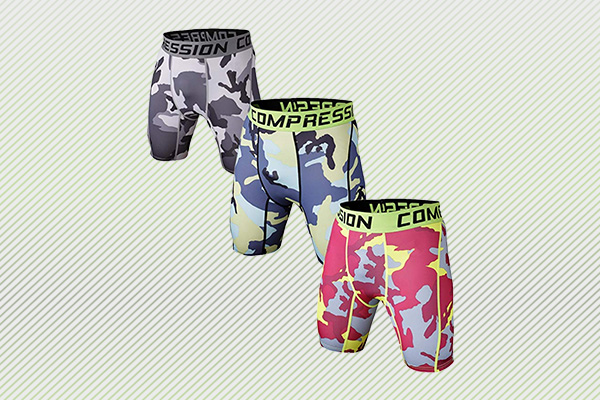 For the fashionable athlete.
Pros: 
Large sizes. These compression shorts might be a great choice for people looking for big and tall sizes. These shorts range from small to XXXL.

Camo. This line of shorts is available in a few different variety packs that feature stylish camo printed in a fun mix of colors. There are solid colors available as well.

Soft to touch. While some compression shorts have a rough feel to them, these are soft and smooth to the touch. This can help prevent chafing while running.
Cons:
Can see sweat. Some pairs of these shorts have a white lining, which doesn't hide sweat very well.

Thin material. These shorts are made of a rather thin material. While this may allow for more mobility, it may make them less durable and provide less warmth for various leg muscles.
Holure Men's 3 Pack Performance Compression Shorts
Holure Men's 3 Pack Performance Compression Shorts
This offering comes in a three-pack of either variously-colored camo or solid-colored shorts. Available in large sizes and made of a smooth fabric blend, these shorts should satisfy a wide range of athletes.
Most Comfortable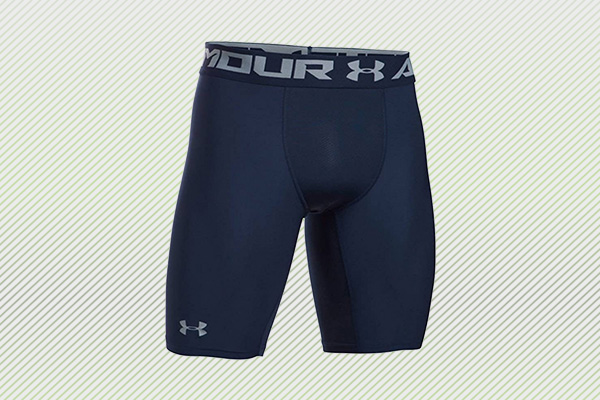 Non-abrasive fabric blend.
Pros: 
Well-placed seams. The way these shorts are designed, there are no seams on areas that may cause the most friction. The stitching is angled in a way to prevent irritation.

Nylon. The fabric blend of these shorts (nylon and polyester) is a bit different than what is usually found in other brands. Nylon has nice elasticity and durability and has a nice non-abrasive texture.

Stretch-mesh gusset. There is a lining of stretchy-mesh fabric placed at the crotch. This helps with circulation and for ensuring a comfortable fit.
Cons: 
Shorter than other compressions shorts. These shorts have an inseam that is a few inches shorter than other offerings from Under Armour, which is what some may be expecting.

Run small. These shorts may be a bit too tight for people when ordering their normal size. If you are between sizes, it might be best to get one size up.
Under Armour Men's HeatGear Armour 2.0 Compression Shorts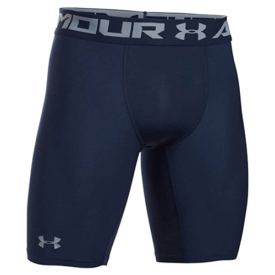 Under Armour Men's HeatGear Armour 2.0 Compression Shorts
These compression shorts have comfortable placed seams, ventilation panels at the thigh, and a ventilated crotch. The shorts are made of a soft and stretchy nylon and polyester blend.
How We Picked
Compression shorts can be an everyday clothing item for athletics and even for more casual uses. They can help solve issues with chafing on long runs or long days at work, help secure the groin area during aerobic exercises, and help keep leg muscles warm when resting. With this wide range of benefits in mind, here are the most important features of compression shorts that we have identified:
Compression
Though the competing brands of shorts will all label their products as offering compression, that doesn't mean they all offer the same amount of compression. Depending on the fabric used and the shape of the shorts, there can be a slim but noticeable difference in how snug this type of shorts will fit. The type of material offers the biggest clue.
Most compressions shorts are made out of a polyester and spandex blend; the polyester usually hovers in the 80-90% range. However, a pair of shorts made out of 20% spandex will definitely have more compression than one made with 10%. While it is true that anyone buying compression shorts will be looking for some level of tightness, not everyone will feel comfortable with shorts that are on the tighter end of the spectrum.
Shape
Again, while compression shorts may mostly look similar at first glance, there are some important differences in how they are shaped that may determine which pair is best for a certain athlete. Though it is a given that these shorts will tightly hug the legs, buttocks, and hips of whomever is wearing them, the length and positioning of the shorts on the body will differ between competing brands
The inseams on compression shorts can range from anywhere around 5 inches all the way up to 9 or 10 inches. This means that more or less of the leg is covered with compression from the crotch downward. While some people are looking for maximum coverage, others may find a longer inseam to be constraining and even uncomfortable. Additionally, some compression shorts are shaped so that they will need to sit near the belly button in order to provide support; some may find that "riding their shorts" that high creates too much tension on their abdomens..
Comfort
There are a number of ways in which a pair of compression shorts can be comfortable or uncomfortable for certain users. One aspect we already covered a bit; how tightly they fit. Some may find that compression shorts in general fit too tightly for their frames and may want to opt for a larger size than they normally wear.
Further, some may find that compression shorts generate too much heat as they engage in various athletics. If this may seem like a potential problem, it is wise to look for compression shorts that have mesh ventilation panels, either in the leg or around the crotch. Most compression shorts are made of quick-drying and moisture-wicking material, but for those who tend to sweat more than usual, it is wise to find the most breathable and water-resistant pair available.
Tips
Not sure which pair of compression shorts is right for you? Here are some guidelines that may help with your purchase:
What type of activity will these be for?

High-impact sports such as hockey, lacrosse, and baseball may require you to wear a cup; some compression shorts have pockets for cups or even include them.

Longer shorts may be more appropriate for sports that involve motions where legs rub against each other often; the shorts can prevent chafing.

How often will you be wearing these shorts?

Some athletes may be looking for a high-end pair of compression shorts to wear at matches, during competition, or while doing certain training exercises.

Those who will be wearing them every day may want to find a multi-pack that provides dependable results for a lower price-per-unit.