Push-ups are a classic upper body building exercise that can be done almost anywhere. Push-up bars are a way to add a variety of grips, positions, and difficulty levels, not to mention making it easier on athletes' wrist joints.
The market is flush full of push-up bars fashioned with different features to stand out from the field. Most of those push-up bars highlight their choice of rotational or stationary base and style of grip. Let's get in position and find the best push-up bars for you.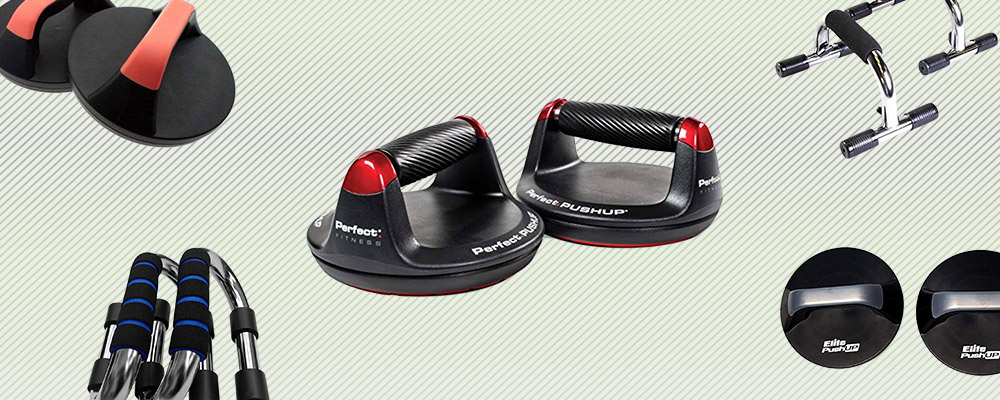 Editor's Pick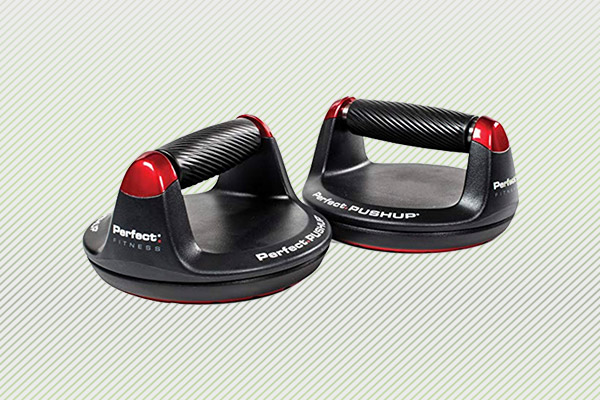 Perfect Fitness Perfect Push-Up Elite
Pros:
Treads on the bottom of each base can allow for better grip on a wider variety of surfaces.

Can support up to four hundred pounds which can benefit more experienced athletes who want to add weight to their push-ups (via weight vests and the like).

Ergonomic grips distribute weight more evenly, potentially relieving pressure on the wrist and elbow joints.
Cons:
The handles do not have any cushioning.

May arrive with a strong cleaning fluid odor.
Perfect Fitness Perfect Push-Up Elite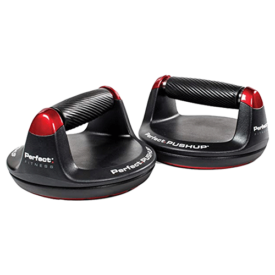 Perfect Fitness Perfect Push-Up Elite
The Perfect Fitness Perfect Push-Up Elite push-up bars are a pair of ergonomic handles each of which is on a rotational base. They pair has a combined weight of four pounds and employ a steel ball bearing system to ensure smooth rotation over the long-term. 
Contender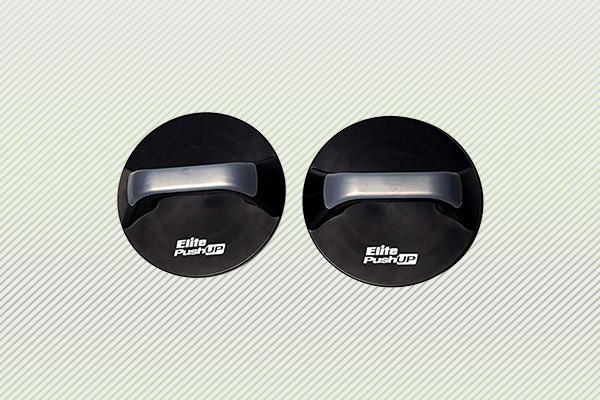 Elite Sportz Push-Up Bars
Pros:
Non-textured grip might be softer on palms and ease pressure on wrists.

May fit the lifestyle of an avid traveler as they are lightweight and portable.

The package includes a free jump-rope.
Cons:
Flat-top handles may make wide or narrow push-ups more difficult to perform.

May rotate too easily, making stabilizing more difficult.
Elite Sportz Push-Up Bars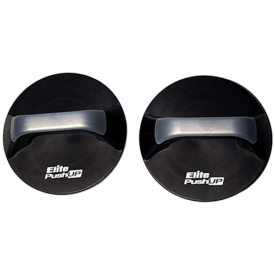 Elite Sportz Push-Up Bars
The Elite Sportz Push-Up Bars are built with plastic flat-top handles with a smooth grip with rotating bases. They are lightweight at only one pound each with additional gripping on their bottoms for better traction. A jump-rope is included.
Also Consider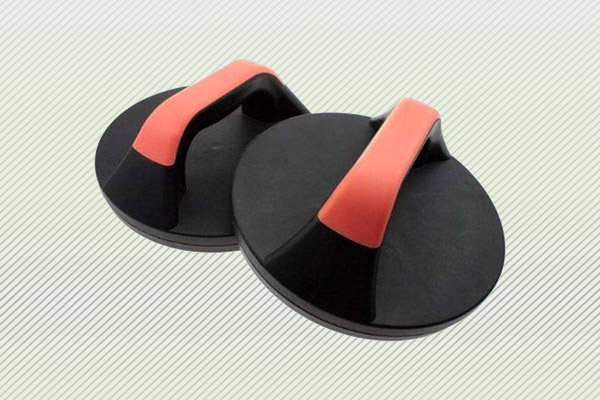 Rotate Push-Up Bars
Pros:
Utilizes five textured rubber grip pads under the base to prevent slips.

Includes a trio of weighted ring grips to assist beginners. 

On the more affordable end of the market.
Cons:
Might not rotate quite as smoothly as comparable options.

Handle size likely not compatible with athletes with larger hands.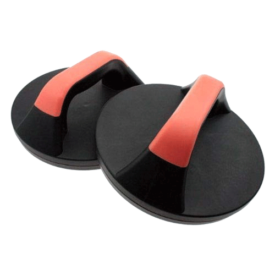 Rotate Push-Up Bars incorporates a steel roller framework to sustain clean rotation during exercise. The slight curve of the handle aims to disperse weight uniformly throughout the push-up movement. The pair is just over two pounds and is designed to function on all floor surfaces.
Best Non-Rotating Base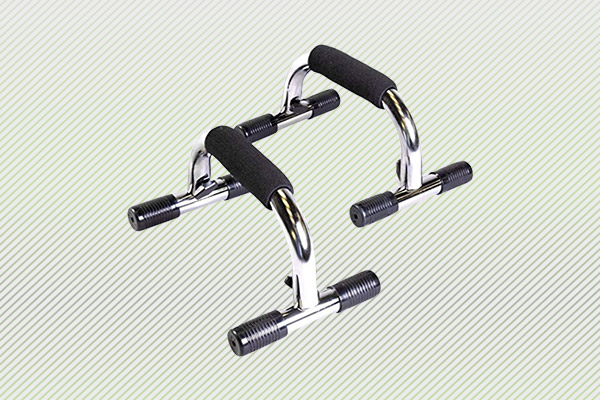 CAP Barbell Pair of Push-Up Bars
Pros:
Elevated handles can make it easier to target the lower chest and to a depth lower than floor parallel.

Non-rotating bars assist the wrists in staying straight throughout the movement, which may help prevent injury.

Much more affordable than most competitors on the market.
Cons:
The foam cushion covering the handles may if not kept in cool, dry environments.

The rubber footpads might loosen over time.
CAP Barbell Pair of Push-Up Bars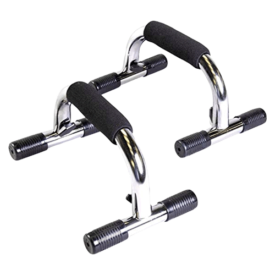 CAP Barbell Pair of Push-Up Bars
The CAP Barbell Pair of Push-Up Bars are chrome plated holders each with a foam cushioned grip and T-bar shaped bases on both ends. The bases have non-slip rubber footpads for safety and traction. Each bar is three inches long and there is a black painted alternative available.
Best for Storage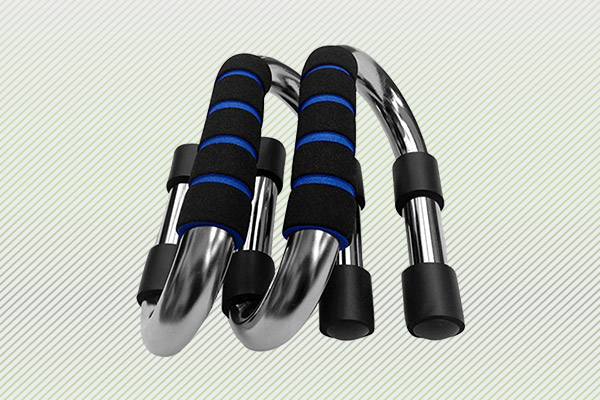 Garren Fitness Maximiza Push-Up Bars
Pros:
Foam-padded grips are textured to help with hand positioning.

The frames of the bars can fit snug alongside each other making for easier storage.

Elevated frame allows for further depth during push-ups.
Cons:
The base may be too narrow for beginners.

Grips are likely to slide along the bar after extended use.
Garren Fitness Maximiza Push-Up Bars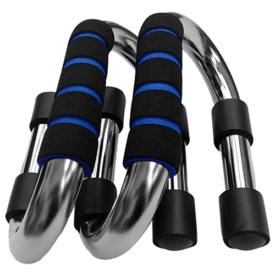 Garren Fitness Maximiza Push-Up Bars
The Garren Fitness Maximiza Push-Up Bars come in two sizes: 25mm and 22mm to accommodate both larger and smaller athletes. Their design does not make use of any welding and is one curved bar to counterbalance weight applied on the foam cushioned handles. 
Methodology
Grip
The major discrepancy between grips will most likely depend on whether or not the base rotates. For stationary push-up bars, a cushioned grip seems to be standard, but the kind of cushioning varies from product to product.
If you are someone who prefers less pressure on your palms, definitely seek out the heavier cushioned push-up bars. They may make the grip thicker, which can make push-ups more difficult for athletes with smaller hands, but being comfortable throughout the movement is more important.
For push-up bars with bases that do rotate, padding may be a bit more scarce. However, there are push-up bars available with ergonomic handles that can move with your wrist, relieving pressure both on the wrist joint itself and your palms.
Base
As mentioned above, if there is a preference for a static base vs. a rotating base, that will help narrow the options down significantly. From there, the choices get a tad more subjective, but there are still some factors to be on the lookout for.
For those that prefer stable bases, keep an eye out for the height of the push-up bars. There isn't a standard height on the market and some are high enough that using them with your feet on the ground positions you more so for incline push-ups rather than standard push-ups. If you're comfortable propping your feet up to level out the height of the push-up bars, the benefits of the added depth can go a long way in training.
When it comes to the rotating bases, the main factor to focus on is the shape of the handle. Fixed handles that are not cylindrical in shape are going to be a bit tougher to perform anything beyond standard push-ups without significant effort.
Wrapping Up
No matter the style of push-up bars you prefer, one thing is for sure: they are capable of improving your push-up form and help you gain upper body strength. So find the right pair, an open floor space, and start pushing.
FAQs