A versatile, comfortable, and attractive tank top is a staple item in a wardrobe. And while there are plenty of tank tops to choose from on the market, it can get overwhelming with so many different styles, materials, and cuts. 
There are so many options when it comes to design: racerbacks, scoop cuts, flowy, tight, and more. From all of these styles and fits, we've curated a list of five of our favorites. We looked at tank tops specifically for working out, but also more basic styles that can be worn every day. Please keep in mind that the style that works for us, may not be the correct fit for you. 
Now let's go over five of the best women's tank tops!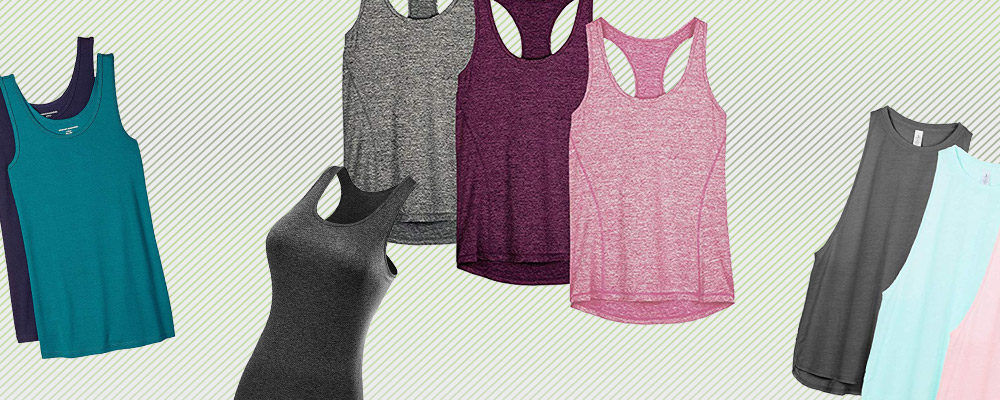 Editor's Choice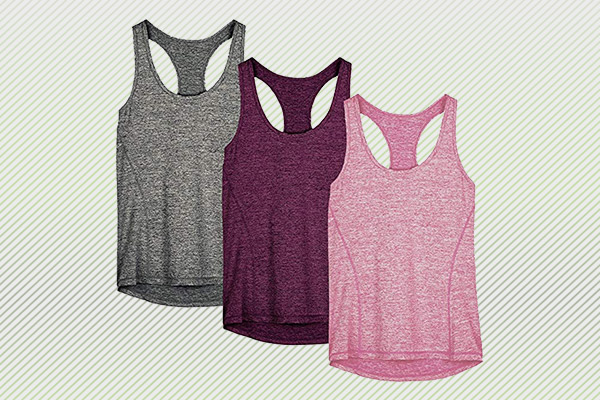 icyzone Workout Tank Tops for Women (Racerback, 3-pack)
The icyzone racerback tank top is one of the best we've seen with its sporty, yet simple racerback, light-weight material, and variety of color options. This pack comes with three tank tops and in various colors. Some of the colors are cool like black, granite, and green, but there are also more vibrant packs with orange, blue, and granite. 
Pros:
Variety. Although all of the tank tops come with a racerback, the colors vary which allows the buyer to have some fun when shopping for the right three-pack. 
Fit. This tank top has a crew neckline, and is made out of 95% polyester and 5% spandex making it stretchy and lightweight. 
Design. This tank top has a simple design that makes it suitable for any workout or lifestyle. It can easily function as a workout tank, or just be an easy item to throw on to wear throughout the day.
Cons:
Color. All of the tank tops come in color. There aren't any packs of just white or black.
Sizing. There isn't one size that fits all, so make sure to look at the sizing chart before purchasing. 
Best Comfort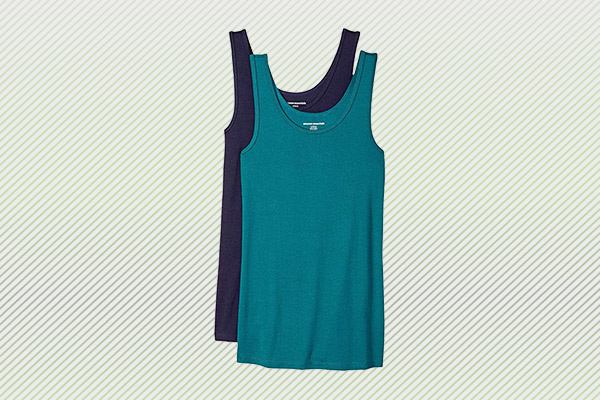 Amazon Essentials Women's Slim-Fit Tank (2-pack)
The Amazon Essentials Women's 2-Pack Slim-Fit Tank has a simple design and comfortable fit. This two-pack is offered in several colors and various shades, and has a scoop neck making this an ideal item for everyday use. 
Pros:
Use. This tank top has a modest design that makes it ideal for everyday use. It comes in all the basics in terms of colors, and fits snug.
Packaging. All of the tanks are offered in packs of two, which means for the price of one in a lot of places, this seller provides two.
Fit. It has a slim fit, which isn't suffocating, but rather secure and comfortable. Being made out of primarily cotton and modal, this tank top hugs in all the right places. 
Cons:
Availability. Not all of the color options are always available.
Material. This tank is made with a cotton blend, so if cotton is a sensitivity concern this is something to be mindful of before purchasing.
Best Design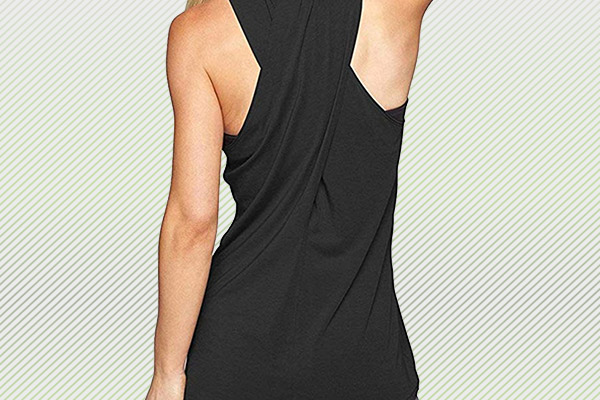 Mippo Women's Yoga Tops
The Mippo Women's Yoga Top has a simple higher-neck front and creative cross back. While this tank top is primarily designed for yoga flows, this could also be a key everyday staple. It's made out of 95% modal and 5% spandex, which makes it comfortable, lightweight, and ideal for any occasion. 
Pros:
Appearance. This tank top looks good on its own, and doesn't need much layering to make an outfit. The cross design in the back is unique, and the high cut front makes it tasteful and professional at the same time.
Fit. This tank top fits tighter at the top and flows at the bottom making it something flattering to all body types.
Comfort. The lightweight material makes this tank top an easy go-to. It can handle sweaty yoga sessions, and also the cut is an ideal length, meaning it isn't too high to feel suffocating. 
Cons:
Price. This tank top is only sold as a single, so this is more of an investment in a cool tank than a bulk purchase of several basic ones. 
Sizing. Make sure to read the sizing chart because not all of the tank tops are the same and the sizing does vary. 
Best Performance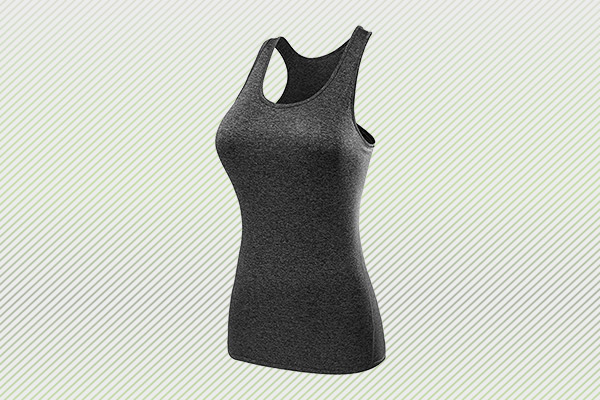 Neleus Women's Compression Base Layer Dry Fit Tank Top (3-pack)
The word dry fit and performance just go together, and this is why the Neleus Women's Compression Base Layer Dry Fit tank is our pick for crushing all kinds of workouts. This tank top comes as a three-pack, and is offered in various colors, from basic to brighter like a flaming hot pink. They are made out of 85% polyester and 15% spandex, so it's comfortable, breathable, and easily washable.
Pros:
Activity. Tackle all types of workouts and activities in this tank top. It fits snug, is moisture resistant, and has a racerback that offers extra support.
Variety. Going the basic route and buying a three-pack of all black tanks is a possibility here, or deciding to get all different colors is also an option. These tank tops come in a wide variety of colors and packs.
Price. For a pack of three, and a dry fit material this price is incredibly affordable compared to other products and packages in this space.
Cons:
Sizing. This tank top runs larger, so if looking for a tighter fit, it is recommended to jump down a size. 
Appearance. If looking for a basic tank with thinner straps, this tank top won't do it. It has thick straps and a racerback designed to enhance performance and comfort. 
Best Value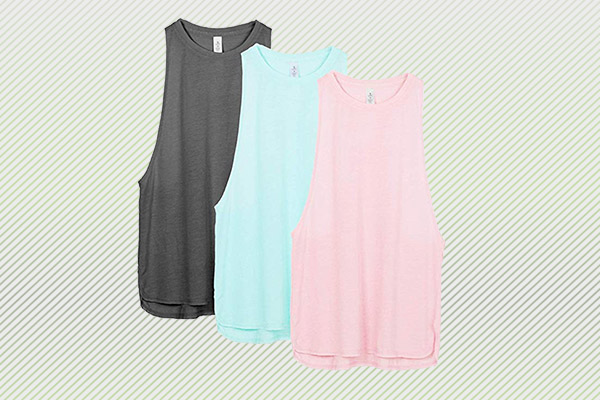 icyzone Workout Tank Tops for Women (Muscle Tank, 3-pack
Made out of a lightweight and soft material (70% Polyester and 30% Rayon), this three-pack is an affordable choice with comfort as its priority. The design is different from others we've seen, with a muscle-tee fit, however it hangs loose and has a lot of room on the sides.
Pros:
Fit. This tank top looks different than others on the market because of the high neck and big arm holes on the side. The high neck is complemented by less material on the sides to show off a cool sports bra or killer arms. 
Variety. With three to a pack, there are also a wide range of color options. Some of the colors include charcol, pearl blush, and aqua. 
Use. This tank top is machine washable, which isn't the case with all tank tops and materials.
Cons:
Design. With the holes on the side and a racerback, this tank top is more revealing than others we have seen.
Sizing. Since the design is different than a lot of other makers, keep this is mind when deciding on sizing. A bigger size may seem safe, but this could also mean the side holes will be more exaggerated. 
How We Picked
With so many women's tank tops on the web, we prioritized versatility. We selected tank tops that could be perfectly suited for a workout class or as loungewear during the day. We selected tank tops that we found comfortable, affordable, and that were made to last. Now let's go over the methodology we used when selecting five of the best.   
Material. We chose tank tops that were made with lightweight and breathable material. We looked at tank tops that were designed for all kinds of activities, and found the most common and best materials for the everyday tank were nylon, polyester, cotton, and spandex, in no particular order. Also, a lot of the tank tops were made with a few different materials. 

Design. When looking for an everyday tank, it has to have a simple design. Tank tops should be made to wear as is, but also easy to wear underneath a sweater or layer of choice. We explored different cuts, backs, and also looked at tanks that were tight and loose.

Price. As an everyday staple, we looked at different tank top packages. A lot of sellers include packs of two or three which is the best way to get a few staple items for a cheaper price than a single product. 

Pairing. Since a tank top is only a part of an entire look, we also considered how the tank would look with pants, leggings, shorts, etc. This is important to keep in mind when purchasing a single item since usually it's made by the other clothing pieces around it. 
BarBend Tips 
At BarBend we review a lot of sportswear, and are always looking for items that look fresh, are comfortable, and affordable. When shopping for tank tops for women, we would certainly prioritize comfort since this is a piece of any wardrobe that shouldn't cause any fuss and should be versatile. Here are a few of our tips:
Design. There are so many different designs out there, from muscle tanks and racerbacks, v-neck vs. scoop neck. With so many options, it can feel overwhelming so be sure to try on all types and figure out which not only looks the best, but feels good too.

Comfort. Above all else, feeling good is key. Find a tank top that doesn't feel too snug, doesn't pinch at the breast line, and makes your best self shine through. Look for materials like nylon, cotton, and spandex that are light-weight, breathable, and are good for most occasions.

Value. Certainly look for tank tops that come in packs of 2 or more. As a staple item it doesn't hurt to have more than one. Also, most of the time it is cheaper to buy a few together than just a single.

Purpose. A lot of tank tops are designed for particular activities. Some are labeled specifically for yoga, spinning, and running, while others are characterized under basic. Be sure to read labels and descriptions to make sure that the one you're selecting will complement your lifestyle.
Wrapping Up 
Tank tops are an item of clothing that will never go out of style. Shopping for this staple wardrobe piece shouldn't add any stress into your life, so hopefully after going through five of our favorites for women on the internet, you're feeling well informed and ready to get shopping.