BN Labs is based in Irvine, California, and while they have a variety of products under different lines, including your standard whey protein powders and branched chain amino acids, a lot of their offerings are natural health supplements like ashwagandha and spirulina.
When you visit their site, however, the first thing that appears is their organic vegan protein. It comes in four different flavors, and I decided to take the Chocolate Fudge flavor for a spin.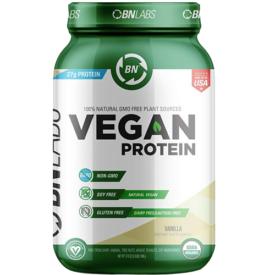 This protein powder is packed with 28 grams of protein per serving and is vegan friendly.
BN Labs Vegan Protein Nutrition Facts
One scoop is 140 calories: 28 grams of protein, 3 grams of carbohydrate (1 gram of fiber and no sugar) and 3.5 grams of fat (0.5 grams of saturated fat), with no cholesterol.
There doesn't appear to be any vitamins or minerals — at least, the label states that there's no Vitamin A, Vitamin C, iron, or calcium — and it's a little high in sodium with 13 percent of the daily intake (300mg) per scoop.
BN Labs Vegan Protein Ingredients
Every ingredient is organic. The ingredients list starts with a protein blend of pea protein, brown rice protein, hemp protein, and spirulina.
The rest of the ingredients are cocoa, guar gum (a thickener and stabilizer made from guar beans), natural flavors, coconut cream, and stevia.
It's worth pointing out everything is non-GMO and there are no artificial ingredients.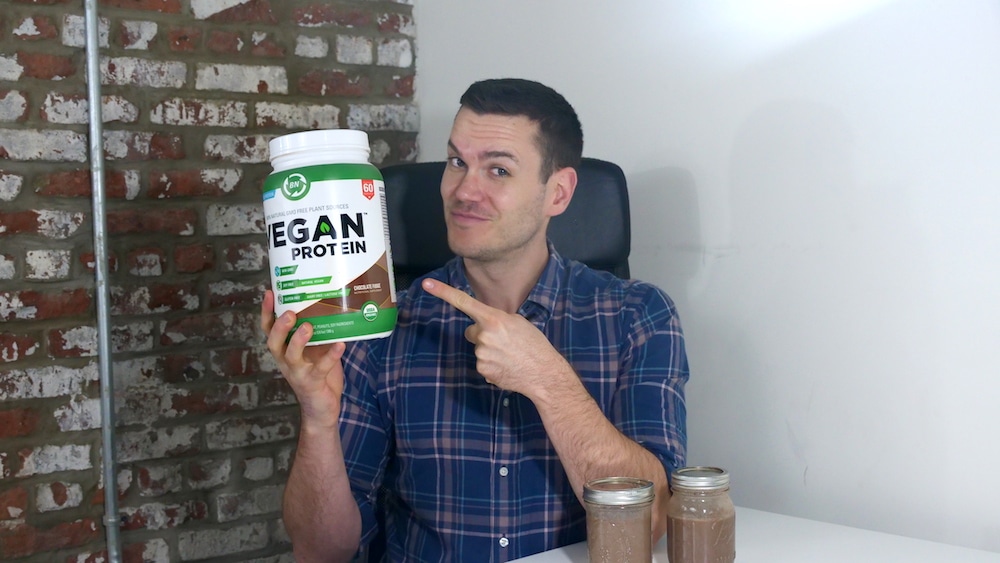 BN Labs Vegan Protein Benefits & Effectiveness
The first thing I noticed is how remarkable the macro split is: 28 grams of protein with just 3-ish grams of carbs and fat each, with no sugar. Finding a low-carb vegan protein can be tough, so I was pretty impressed with the split.
I was a little surprised that there aren't any vitamins or minerals advertised, particularly since the product contains spirulina, a pretty nutritious kind of algae.
It's also interesting that not only is this product made in a Good Manufacturing Practices facility, which means they're subject to rules enforced by the FDA for product purity, but it's also been third party tested for purity and banned substances. This could bring some peace of mind to competitive athletes.
There is a notice on the tub that it's made in a facility that handles eggs, fish, shellfish, and crustaceans, so if it's important that your products are made in a totally vegan environment, that may give you pause.
[See our complete list of the 6 best vegan protein supplements!]
BN Labs Vegan Protein Price
You can buy 2.6 pounds for $50, which comes to $1.67 per serving or 6 cents per gram of protein. That's very reasonably priced compared to other organic vegan proteins, which range from 5.7 to 7.5 cents per gram.
Browse flavors for BN Labs Vegan Protein HERE.
BN Labs Vegan Protein Taste
The Chocolate Fudge flavor makes for a very thick shake that's not as "dark cocoa" flavored as I was expecting for a naturally flavored supplement. I'd say it tastes a little more like cocoa with a dash of artificial sweetener. (Even though there are no artificial sweeteners in the product.) While it's not very earthy, it's not sweet, either — it borders on savory.
Mixability
I tried it with unsweetened almond milk, and like many vegan protein powders, it didn't particularly well. But it mixed a lot more easily with water.
The Takeaway
Given the macros and the ingredients, this is a seriously high quality protein powder. It doesn't have vitamins or minerals and it doesn't as good as some whey proteins, but for serious dieters, people looking to minimize soy, vegans, or people who try to eat as organic as possible, this is a good — and reasonably priced — option.