This fall, our favorite time of the week has been when Brute Strength publishes another installment of their hugely popular YouTube series, "Brute Showdown."
If you haven't been following the show's progress, it's in its second season and it pits against one another four athletes at the top of their game: an Olympic weightlifter, a powerlifter, a bodybuilder, and a CrossFit® athlete.
Last year the showdown was between bodybuilder Lawrence Ballenger, powerlifter Steve Gentili, Olympic weightlifter Luis Mosquera, and CrossFit® athlete Jacob Heppner. You can watch a recap of that series here.
This year it's World Weightlifting Championship silver medalist Mattie Rogers, former Ms. Olympia Dana Linn Bailey, powerlifter Maddy Forberg, and former CrossFit® Games competitor Brooke Ence.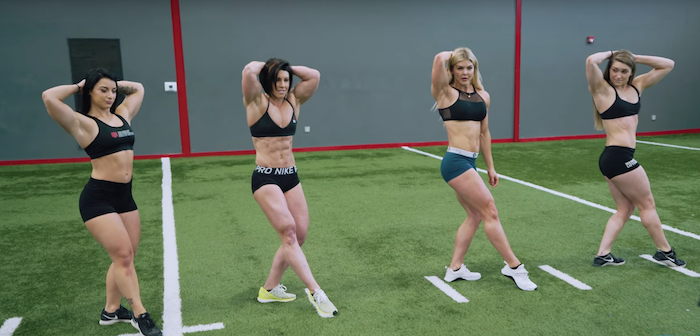 Image via Brute Strength on YouTube
Thus far we've enjoyed watching the athletes compete in a max clean and max deadlift event and last week was the CrossFit workout. This week we've got a twofer: the long waited physique show and one of the mystery events that host Adrian Conway has been teasing for a while, a football combine.
The combine includes a vertical jump, broad jump, shuttle run, and a 40 yard dash. It doesn't include a max bench press event but hey, John Cena thinks that test is worthless for football anyway.
Watch it all go down below. The physique show starts at 4.50 and the combine at 11.27, but it's really worth watching the women learn the finer points of posing in the video's first few minutes.
It was certainly interesting to see how much athleticism Mattie Rogers has compared to Brooke Ence, but many underestimate the kind of training it takes to become an elite level Olympic weightlifter.
There are three events left and we're unsure whether or not they'll all be packed into a finale or if we'll have two more episodes left. While nothing's been announced, previous episodes have made reference to soccer and hitting softballs — but we think there will be a few more surprises in store.
Featured image via Brute Strength on YouTube.