Over the weekend up in the quiet city of Aberdeen, South Dakota, the Massenomics team were making noise hosting their third annual Massenomics Strongman Showdown. At the 2018 Arnold Classic, I had the chance to meet up with Tommy Defea, Tyler Stone, and Tanner Baird, three guys from the Massenomics team, and right away I knew they were in the industry for the right reason — these guys all genuinely love strength sports.
Every year, the Massenomics team host what's now known as the Massenomics Strongman Showdown, and every year the showdown continues to grow. This year, the Showdown exceeded the team's expectations and Baird told us, "One of our best metrics for judging the success of the event is the crowd attendance and participation. This year the crowd was estimated at 900-1,000. That's our biggest yet, and we were excited about that."
That's a pretty phenomenal turn out for a small town niche strength competition that's only in its third year of life. Currently, Massenomics host a podcast and have their own gym, which is what helped foster and develop the idea of having their own epic strength showdown. What's most interesting is that their showdown isn't like your typical powerlifting or strongman competition, in fact, it's almost the opposite.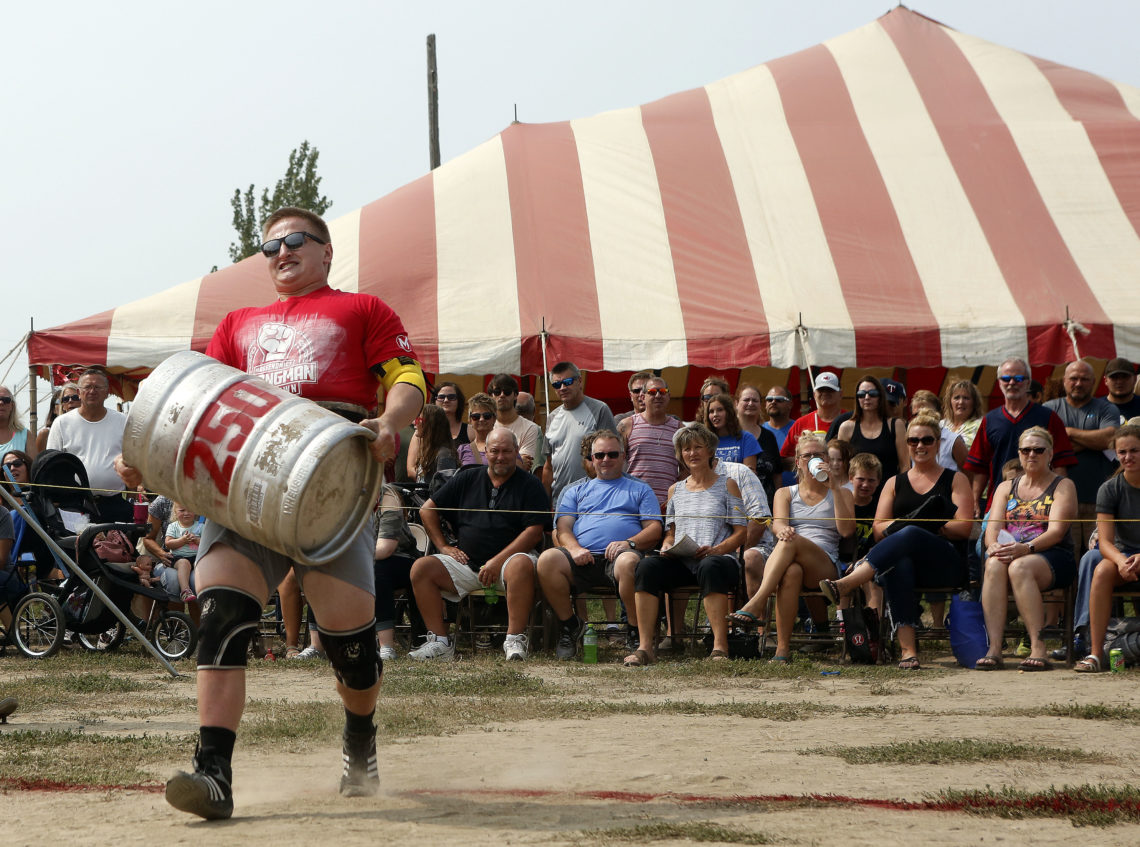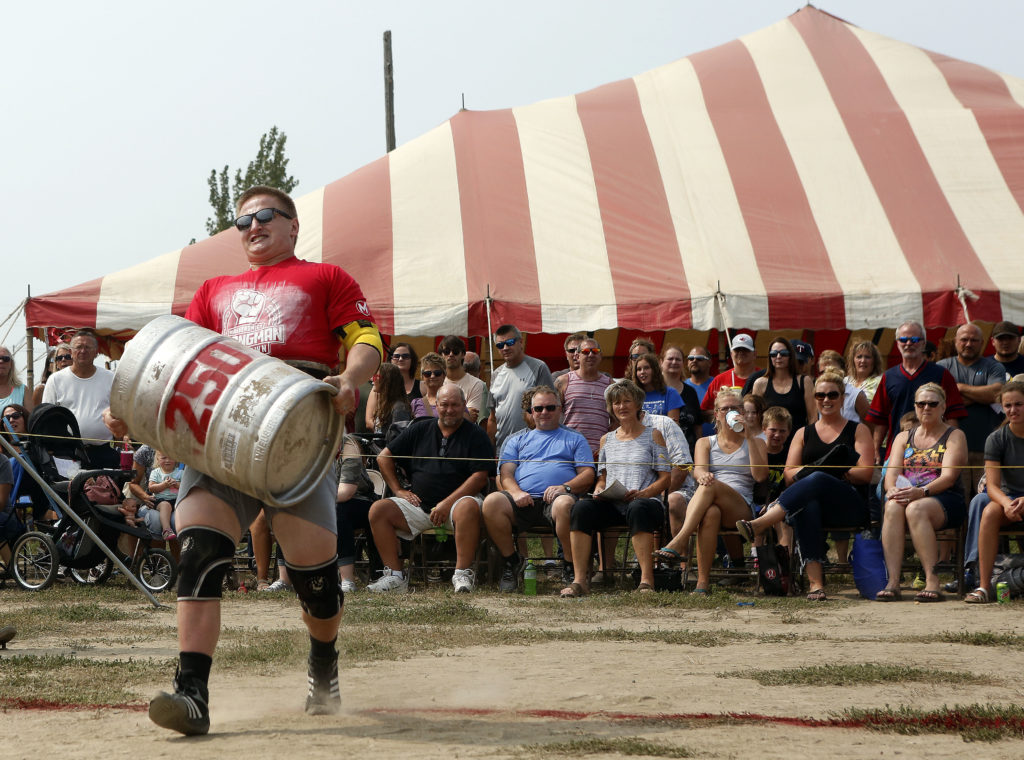 Baird told us that they wanted to make it different from what's out there now. How could they draw in a crowd's attention without losing them with a day long endeavor? Baird said, The goal was to make it a spectacle for the audience. We like to think of our event as a cross between a typical weekend strongman competition, and the WWE. Most other strength events are day-long endeavors.
That wasn't going to work for us in order to draw AND KEEP our crowd into it. We treat it like a sporting event, so 2 hours or less is always our goal. Anything longer than that, and people lose interest.  Long breaks between events are also not an option for us. The action needs to keep rolling."
That unique approach could be credited to three successful years, but their success could also contributed to careful planning and calculated decisions. That being said, first steps are crucial for an event like this, and Baird explained, "In order to put the kind of event together that we like, it requires money, so securing sponsors is always our first step.  We bring in a good amount of money in sponsorships from local businesses, and as our event grows each year, that job becomes easier and easier."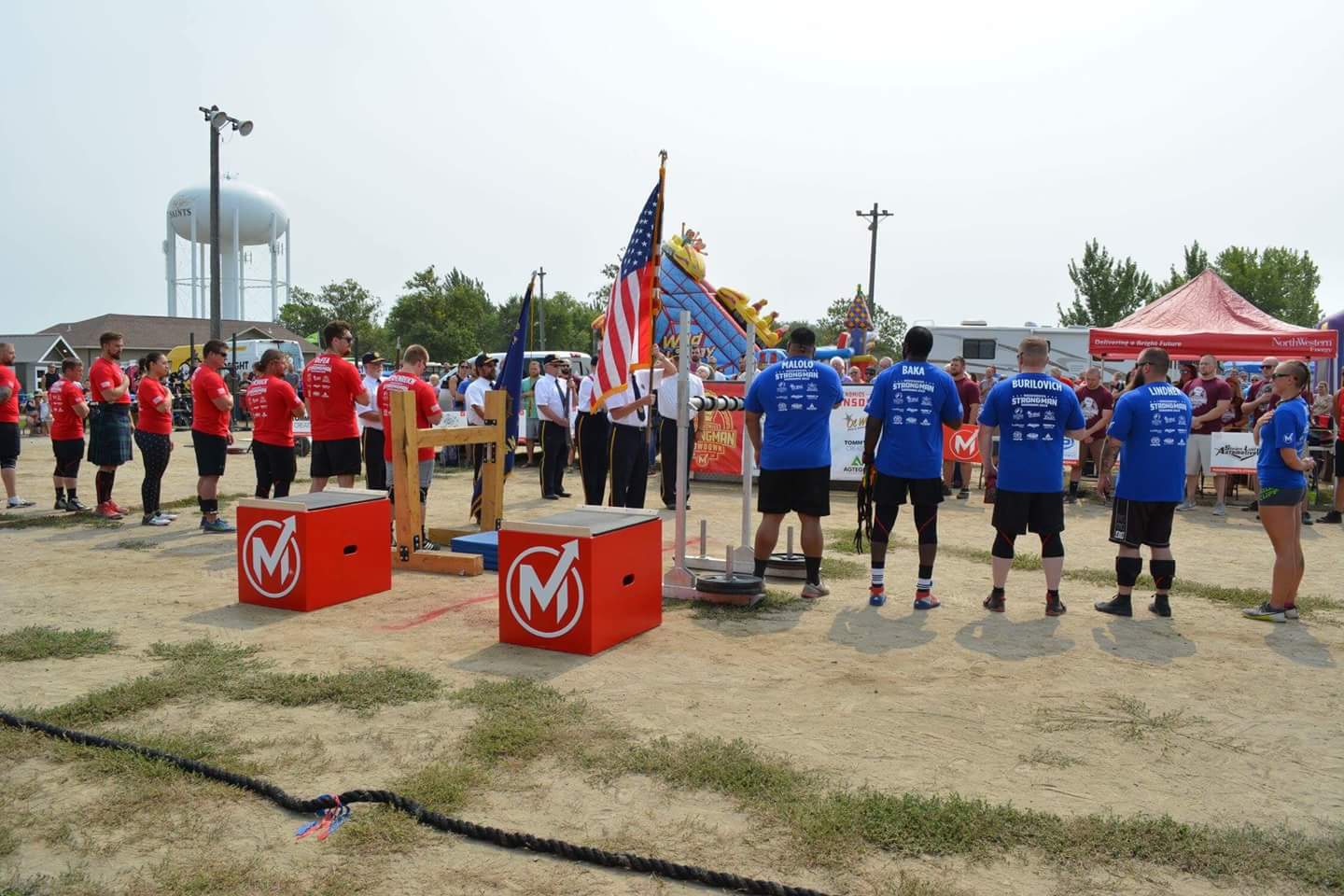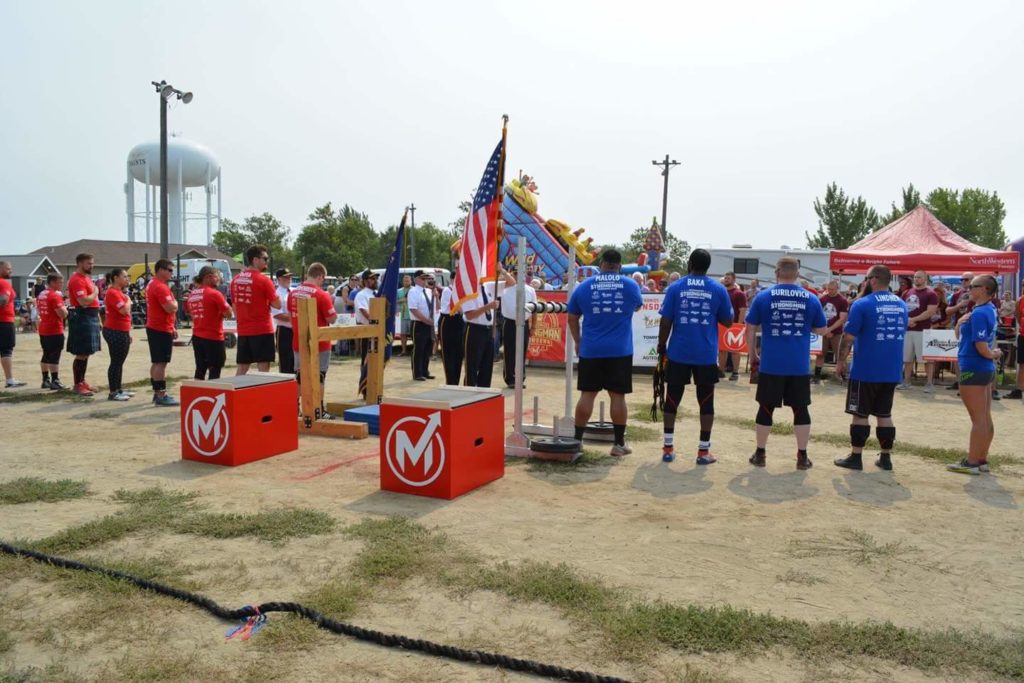 As you can imagine, the planning process is a massive multi-person hands on project. Baird explained that they usually start orchestrating and planning roughly 6-months out from the competition's date. He explains that as the event gets closer things ramp up, and "Having a plan in place is everything for an event like this. The more you map it out, the less headaches you run into down the road."
This year, the Massenomics guys changed up the entire format of the event, which featured two teams of ten athletes (Red vs. Blue), then had competitors from each team go head-to-head. Each head-to-head face off was based off of a predetermined schedule that followed the ten event showdown. Baird told us that they keep the roster to an invitation only event and like to keep it small to ensure the event takes the time allotment they had in mind.
From there, Baird told us that they hire the judges, score keepers, loaders, spotters, emcees, and photographers. The total amount of personnel came out to 50 this year, Baird said, "Getting 50 people all on the same page is no joke."
To add to the complexity of their planning process, this year's event required the Massenomics guys to borrow and buy more equipment than last year to build out the ten event showdown, and that's in addition to stocking their 2018 Massenomics Strongman Showdown gear.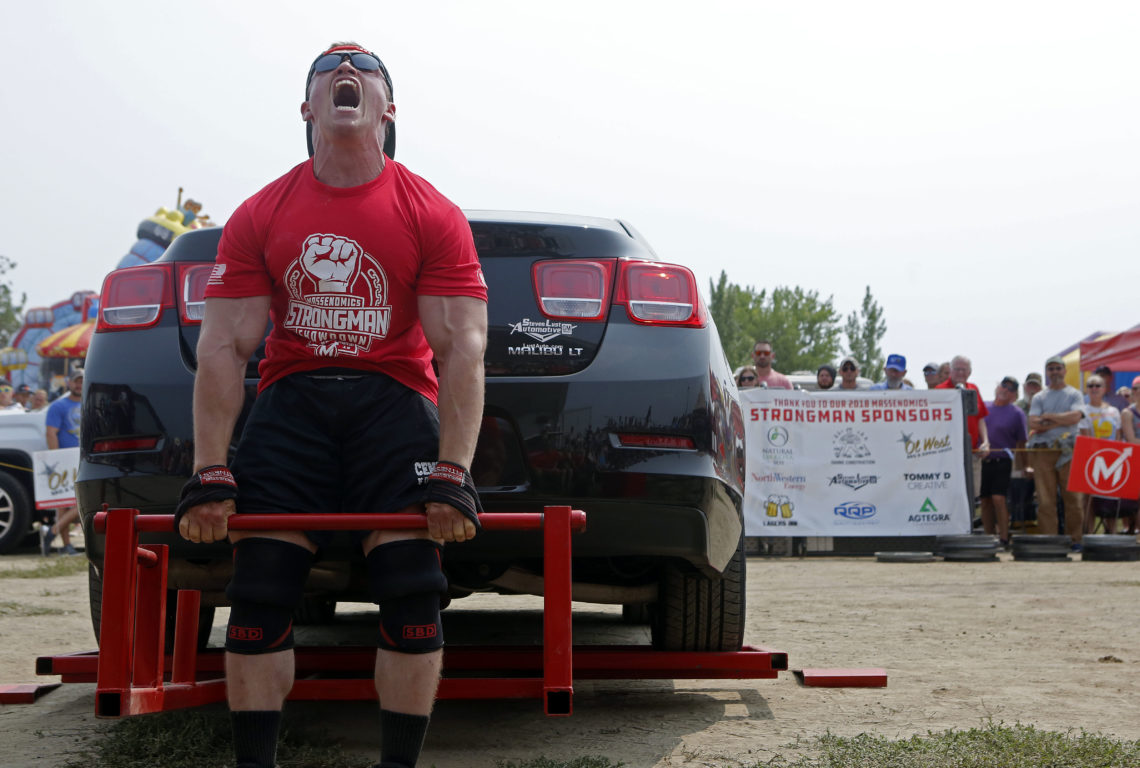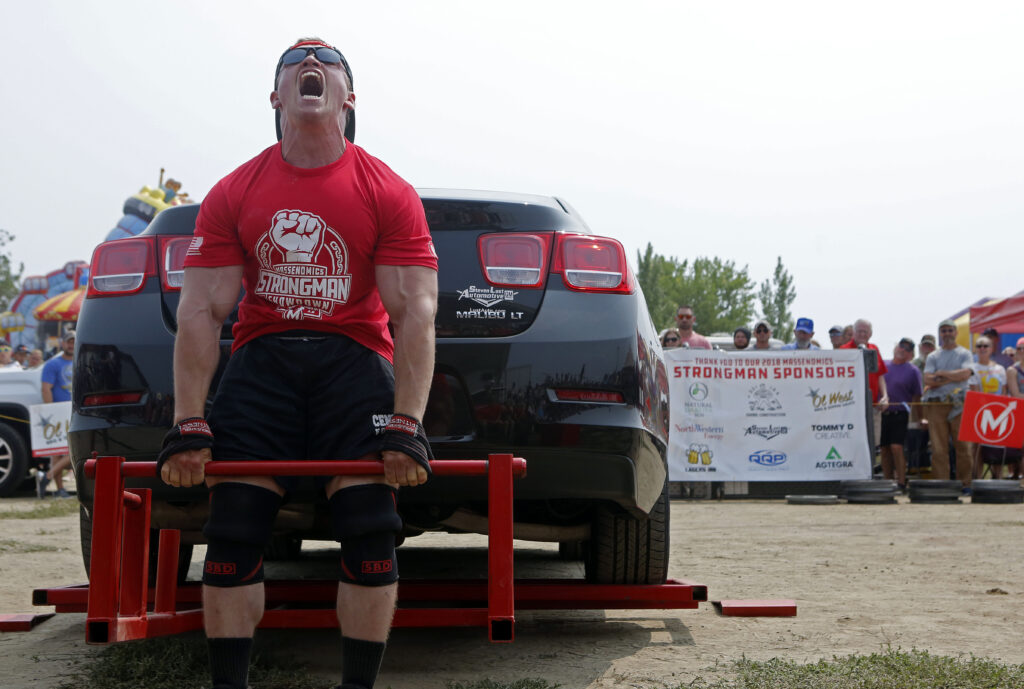 Every year, the Massenomics team designs a new logo for the event, which requires even more supplies like,
Posters for hanging up locally 
500-1,000 programs to hand out at the event
200 shirts for competitors, volunteers, and to sell
Signs and banners for all the sponsors
Cow bells/noise makers and other crowd giveaways
And this is all within the first few steps of making their vision a reality. The next steps involve including local news media, Baird told us, "Then we work with the local newspaper and radio stations to get interviews out there about the event. As far as how we make it a reality, we have to just go step-by-step. We literally write them [the steps] down and start marking them off a list. There's too many moving parts to wing it."
Outside of having a detailed game plan, there are a ton of lessons Baird told us they've learned from the last three years. Honing in on this year specifically, Baird gave us three 2018 takeaways that include,
You can't have too much help.  It takes a lot of man power to run this. Don't turn anyone down that offers a hand. Show appreciation and thank everyone.
Think from the viewpoint of an average spectator. Most of the people that come to watch us are not die hard strongman enthusiasts. What looks cool to them? What are they impressed by?
It's great to have strong competitors, but for a show like this it's equally important that they are good people, and fun to be around. Everyone feeds off the positive energy. It also makes for a fun after party.
There's no denying the fact that the Massenomics team has now ran three successful Strongman Showdowns, but that's not to say that these years happened with the complete avoidance of adversity. In fact, the takeaways above are pretty inline with the pitfalls the Massenomics team have encountered over the last three years.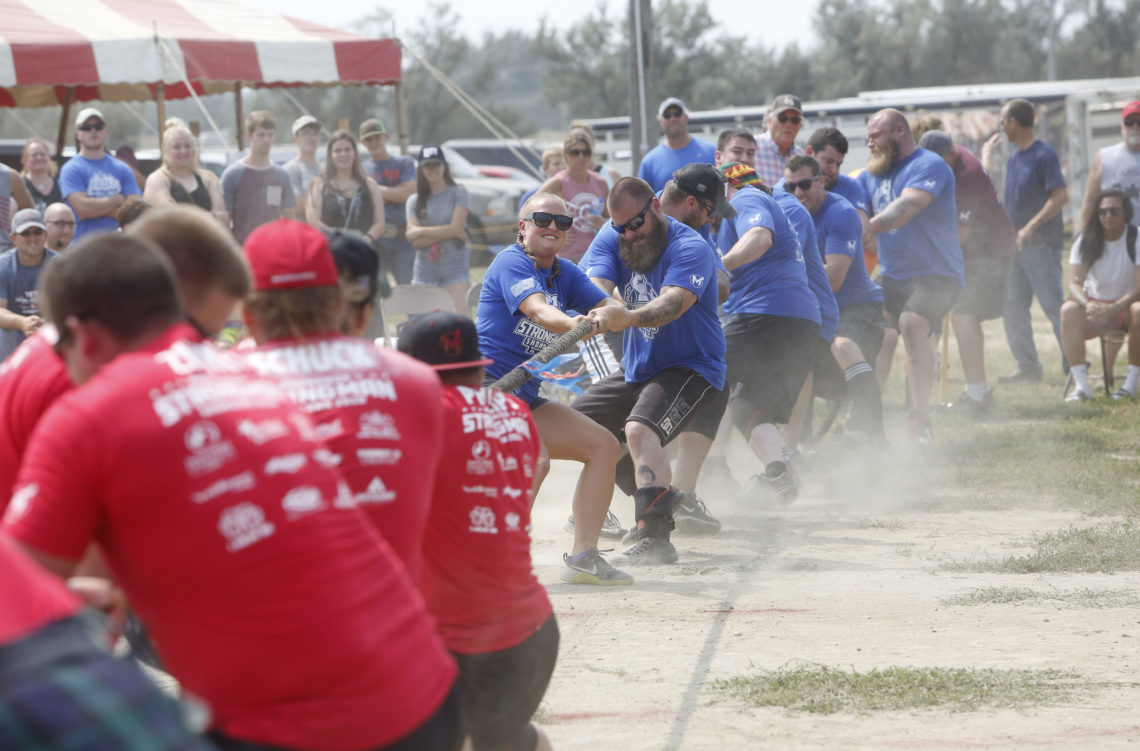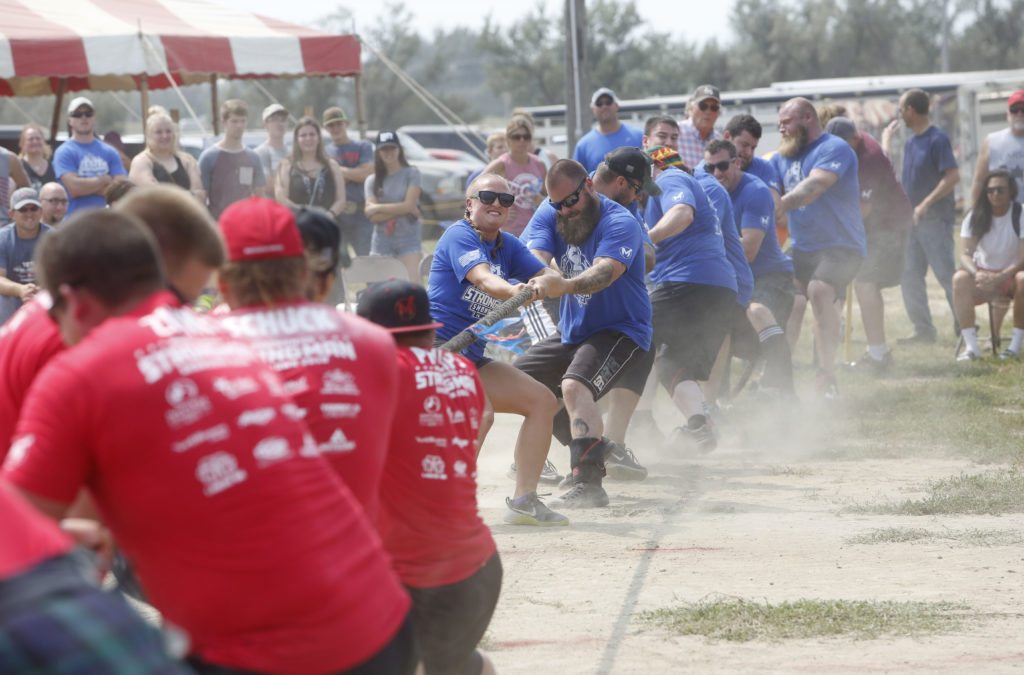 Baird said, "One or two things happen every year that are a real shot to the crotch. Competitors and helpers can back out on you.. you can pretty much count on that happening at least once. Sometimes is for very legitimate reasons, but you still have to deal with it. Equipment can break. Misloading can happen."
So, how do you counter the above issues? We're going to bring it back to the first concept we discussed in this article, and that's having a calculated game plan for when stuff hits the fan. Expect for the unexpected, Baird elaborated saying,
"I think the important thing is to have as many backup plans in place as possible, because you will probably end up needing them. But probably the biggest problem we have had has been having enough seating each year. Our audience keeps growing, and we have a hard time securing enough bleacher seating for them. I guess as far as problems go, that's not the worst."
Besides the smaller pitfalls above that Baird listed, too many fans in the crowd doesn't seem like the worst problem to have. After all, Baird said one of the highlights of this year, "It had to have been the crowd…the size of it, and how into the events they were."
Although, what helps the crowd's energy is that the Massenomics team picked a great lineup of events and divided the teams pretty fairly. Outside of the crowd, Baird told us that you couldn't have written a better script for the event's neck-and-neck competitiveness.
In fact, on the final event Baird said, "If I had to highlight one event in particular it was the wagon wheel squat for reps. 500 pounds on the bar, and they both got 16 reps, and almost died trying their 17th."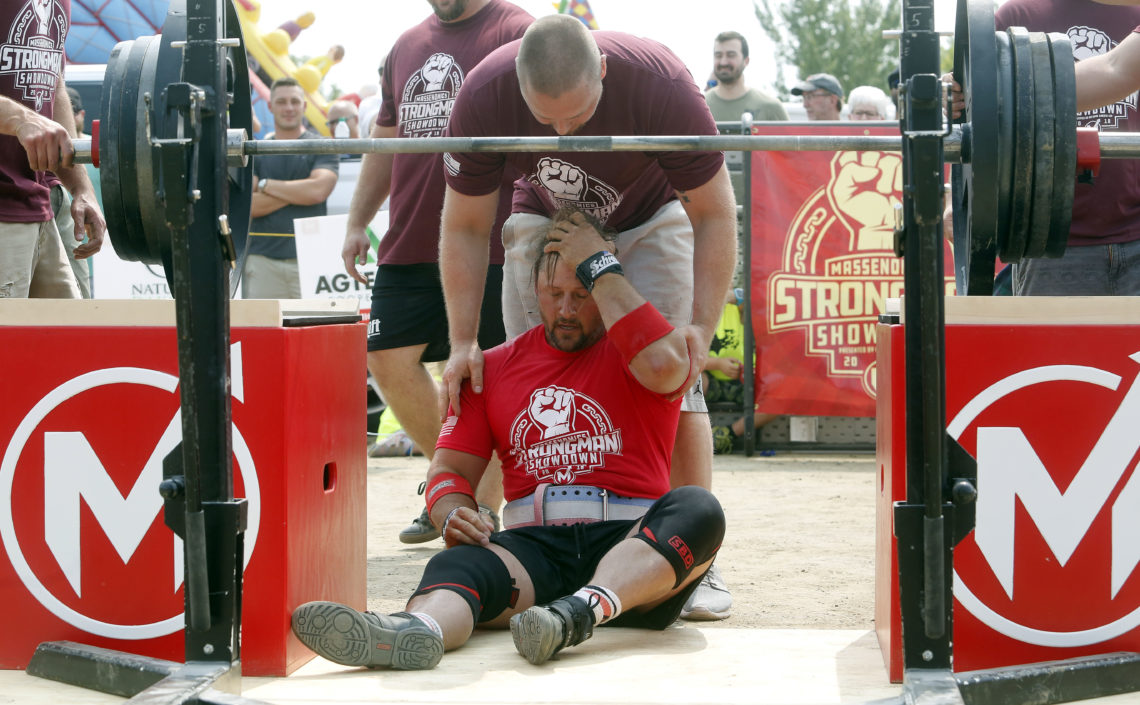 A large crowd could be considered a luxury problem to have, and on the flipside of that topic, bringing in a crowd can be very difficult for someone just starting out trying to build their own contest. Since a crowd can often equal success for event like this, how exactly should one go about starting their own strength sports [strongman] event?
Baird shared some tips with us and said, "You could start smaller, and it would be easier to get going in comparison to the production we put on. All you really need is 5-10 strongmen and/or strongwomen that are passionate about it, and a few that are willing to take on the responsibility of running the show.
You can turn damn near anything heavy into a strongman implement, so you don't NEED to spend a lot of money on equipment. If you want the event to run smoothly, take the time to get as much volunteer help as you can. You can't have too many people for moving implements, running stopwatches, judging etc."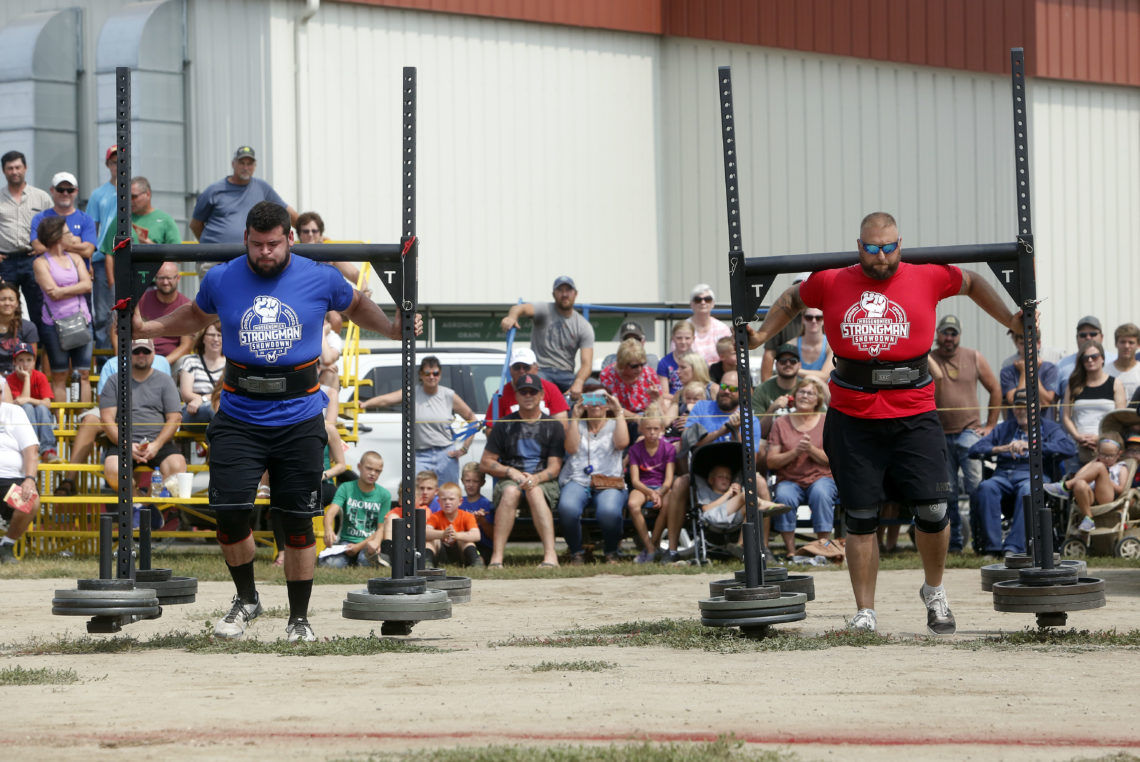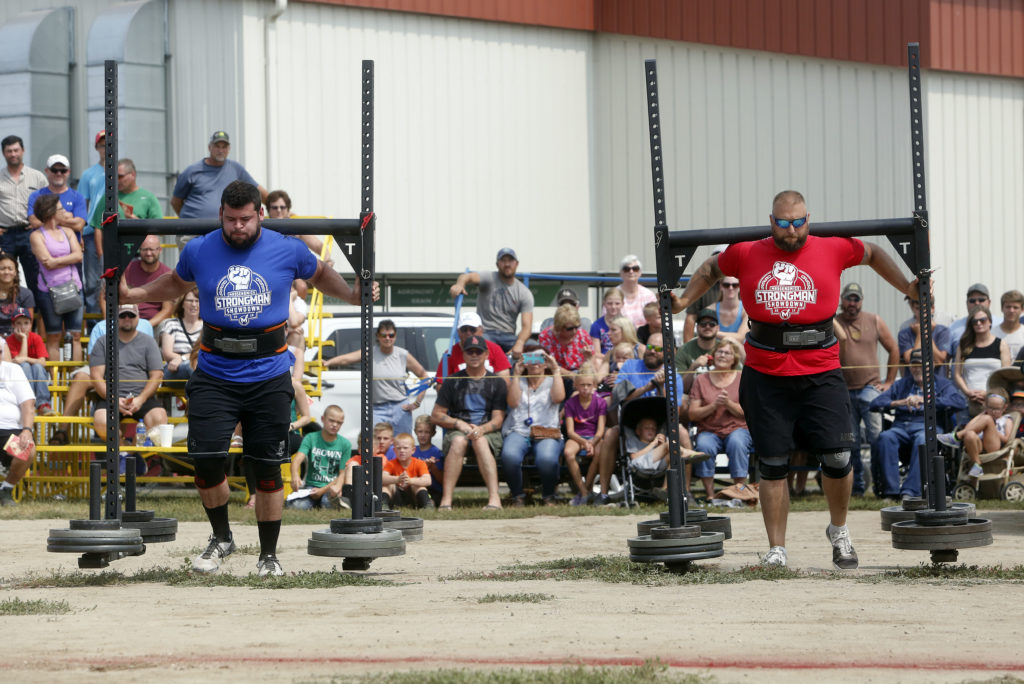 Now you may be thinking, "Wow, these guys have it all figured out," and that may be true, but the Massenomics team is far from perfectly happy with their event. Like every strength athlete Baird told us they want to be, "Bigger, better, and more massive. We have the same mentality as any good lifter out there.. a PR is cool, but it's never enough. We had a lot of success with the team format this year, so I think that will continue."
"There are plenty of tweaks we can make to put together a better final product.  We learn something new every year."
So what's their next move for future showdowns? Hopefully, moving more mainstream and upping the video quality of the event. It's going to be interesting to see how next year compares to this year's successes, and if the Massenomics team can up their game once more. Will we see a 2019 Massenomics Strongman Showdown live stream?
If you've taken one thing away from this article, hopefully it's that hosting a strength event is possible for everyone with the right planning, support, and effort.
Feature image provided by Massenomics.