The popularity of pre-cooked and ready-to-cook food delivery services has grown in the last few years. Meal services such as these have become increasingly popular in the busy health conscious population that need healthy meals on-the-go. BurgaBox is a Boston based company that provides ready-to-cook meals — mostly burgers and macaroni and cheese — that ship nationwide.
Unlike most health conscious and paleo focused companies, BurgaBox markets a meal — among other things — focused on providing a splurge or "cheat day" meal for athletes. We assessed BurgaBox's "Cheat Day Champion Feast" through a variety of review categories including taste, appearance, nutrition, convenience, customizability, and price.
Taste
The Cheat Day Champion Feast we received came with two sizable burgers, a 2-lb tray of Buff Mac & Cheese, Boston Famous Baked Beans, cole slaw, and FRAN fries, which are essentially chili cheese fries. The burgers contain nine optional ingredients including two 8 oz beef patties, eggs, pulled pork, bacon, sautéed peppers/onions, mushrooms, onions, cheddar cheese, and barbecue sauce. To gain the full burger effect, we used every ingredient provided for our burgers.
Besides struggling to keep them from falling apart in our hands, the taste was really good. Possibly the best part was the varied textures with every bite. A few of the standout ingredients were the dense 8 oz. juicy patties, the egg with dripping yoke (if you fry it), and the crispy bacon (our preference). The combination of these in every bite take your taste buds through a variety of crunches and smooth textures.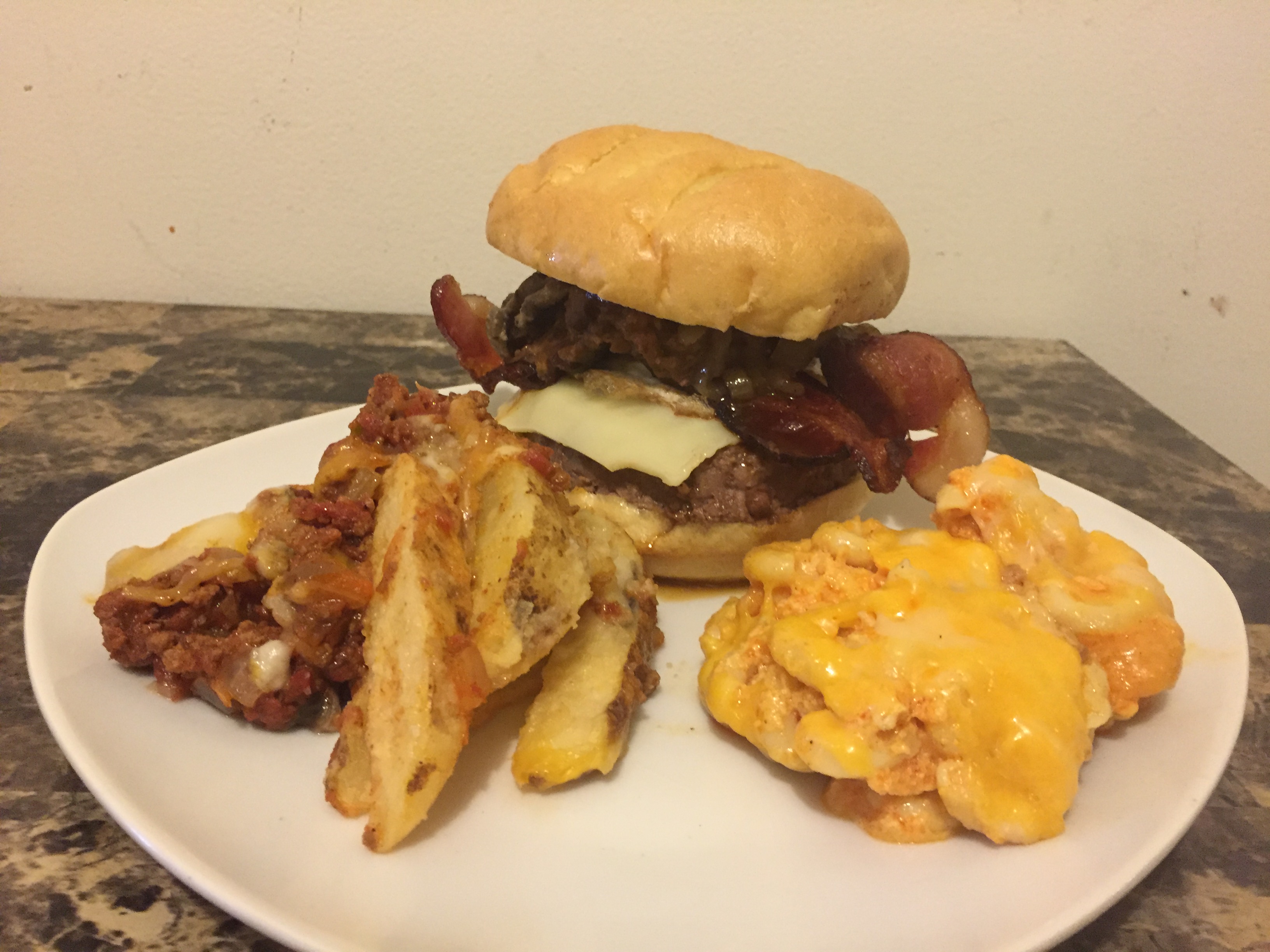 The pulled pork and barbecue was also an interesting addition by BurgaBox. They gave the burger a summer barbecue type of taste, which I really liked. It provided a little experience with the actual taste. Yet, if you're someone who likes a simple burger, then you may be turned off by the overwhelming amount of burger additions. This isn't a good option for those who want a simple burger with little variation in taste.
The Buff Mac & Cheese comes in a 2-lb foil tray that you heat up in your oven to your desired preference. If you like you mac & cheese a little more crispy, or on the softer side, then you have the option to cook it so. In the terms of taste, the Buff Mac & Cheese was middle of the road. Their cheese was nice and sharp, but the actual spice of the buffalo sauce was lacking. If you're someone who desires a lot of bite with their buffalo sauce, then you may find the BurgaBox Buff Mac & Cheese to be mediocre. Also, it takes a while to heat up correctly, so take this into account if you're prepping the burgers with the mac & cheese and want them ready at the same time.
The FRAN fries, which we're guessing is a nod to the popular CrossFit® workout, were your standard potato wedge fries with chili and cheese. BurgaBox provides you with the cup of chili and cheese on the side, so you can decide how much you'd like to put on your fries. Once you've decided how much chili and cheese you desire, then you pop them in the oven and heat them up to your personal preference. The chili and cheese both tasted good in combination with the thick potato wedges. BurgaBox's potato wedges were on the thicker side too, so if you like a thicker fry, then you'll be a fan of their FRAN fries. Another positive to these fries was that they weren't prepared with a ton of salt, so you can really taste the potato.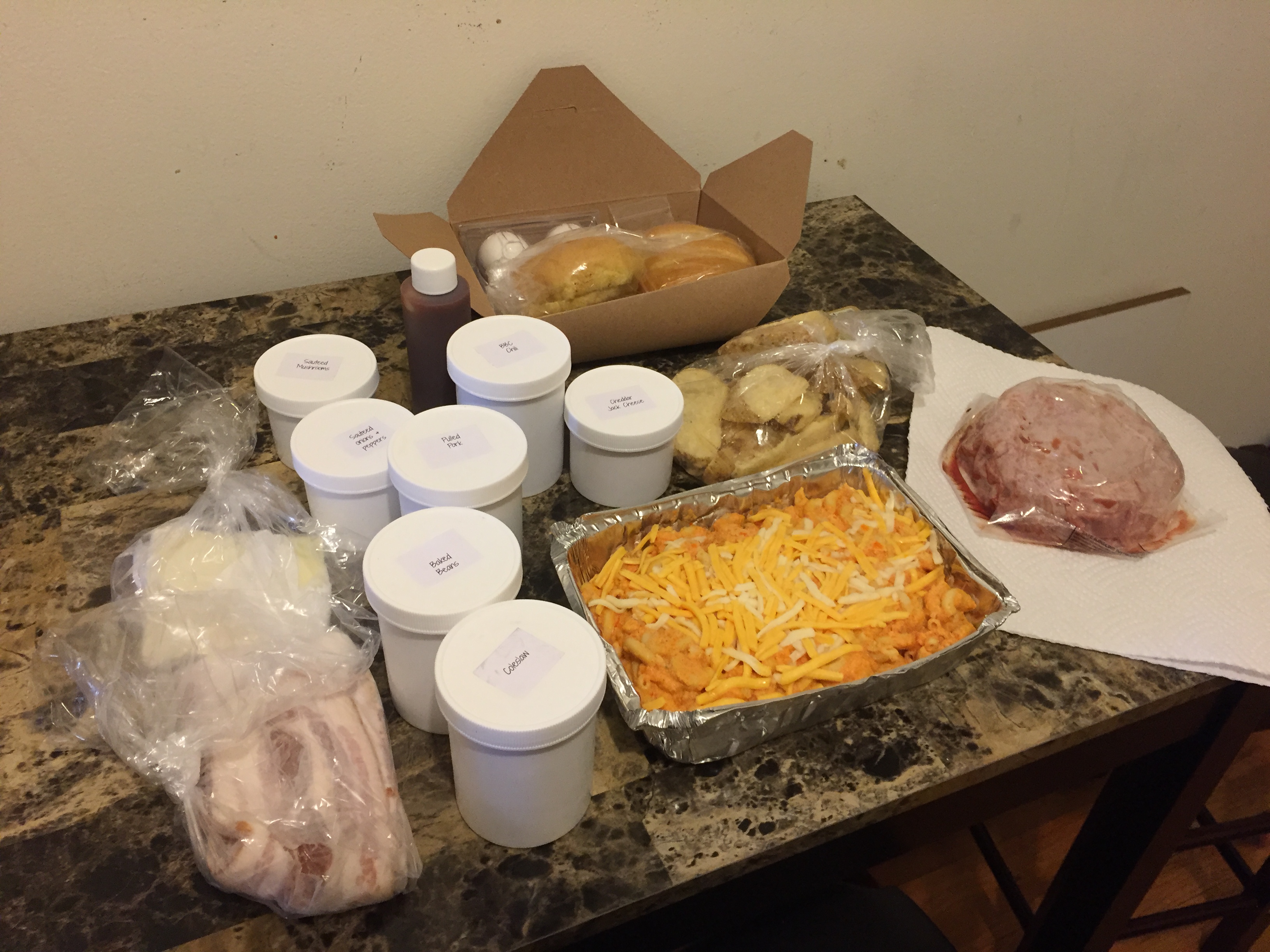 The Boston Famous Baked Beans tasted like your standard baked bean. Personally, I didn't find them to be much different than regular baked beans I've tried. They had a little more bite to them, but not enough to call them famous in my eyes. The homemade coleslaw was similar to the baked beans. It tasted good, but lacked anything that would receive special attention from my taste buds. These were both tasty additions, yet were minor details compared to the other foods included in Cheat Day Champion Feast.
Appearance
The appearance of BurgBox's Cheat Day Champion Feast is very hit or miss. Since it's a ready-to-cook meal, a lot of the appearance falls on the person prepping the meal. The burger itself is the highlight of this meal, so we'll begin by talking about its appearance. With nine ingredients, this burger provides a lot of room for perfection and error. If you choose to use all nine ingredients as we did, then we found there are two appearances you might experience. One burger we built stacked perfectly and could be considered photo shoot ready. On the other hand, the second burger wasn't as simple and looked like a mini tornado hit the plate. This won't be a problem for many, but if your goal is a photogenic meal, then take into consideration the depth of ingredients this burger contains.
The Buff Mac & Cheese comes in a foil tray and in our case looked good when taking the lid off. One issue some might find is the displacement of the mac & cheese dish if the shipping is rough. Ours looked good in the tray, but I could definitely see an issue with the aesthetics if your box shifts upside down during shipping. Once plated the mac & cheese looked appetizing regardless its appearance in the tray. The FRAN fries appearance will be dependent on those prepping the meal. Since you plate the fries and add the chili and cheese, then a lot of their appearance are up to the cook.
BurgaBox Nutrition
The biggest problem I had with BurgaBox was the lack of nutritional information. I didn't find nutritional information on their site, so it was troubling for me to truly immerse into this cheat meal. As a strength athlete who likes to maintain a weight that stays around a respective weight class, I found the lack of nutrition information to be a big problem. For most athletes, a cheat meal is a way to splurge, but we like to have some idea on the damage being done.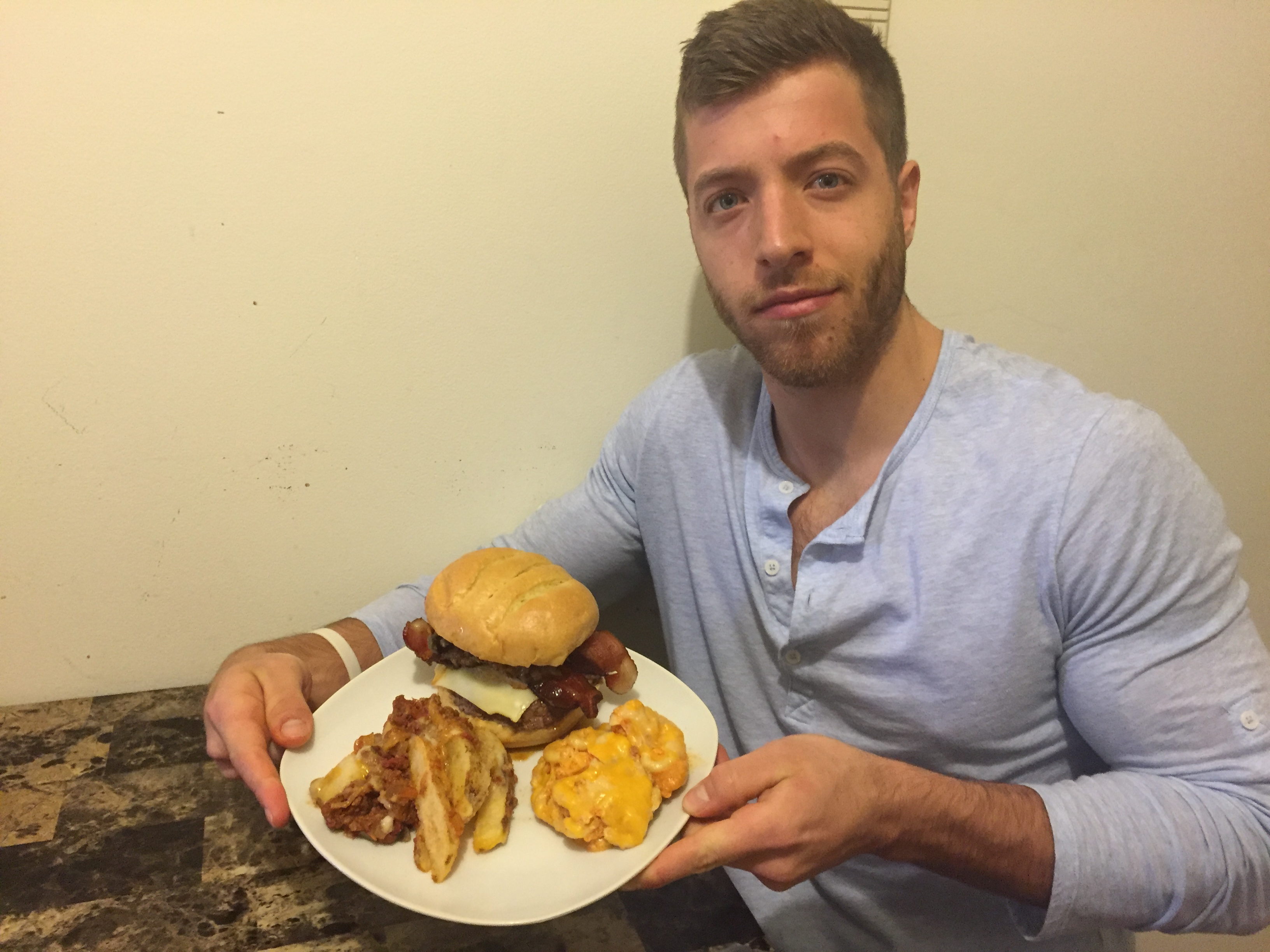 With no nutritional information, an athlete has no idea how many macronutrients and calories they're getting from this meal. For example, on days I typically would have a normal cheat meal I manipulate my other foods and meals around that particular meal. This way I can accurately assess damage control, please my taste buds, and stay on course to my goals, especially for times when weight is a bigger issue. Also, the two serving boxes are massive servings for two people, which could be a good or bad thing depending on what you're looking for.
I couldn't recommend any athlete eating this amount of food or cheat with regularity.
BurgaBox Calories
As mentioned above, the lack of nutritional information was troubling for me. This meal has a ton of calories (even without knowing exacts), so if weight loss or maintenance is your goal, then you should account for the amount of volume and ingredients this meal entails.
If you want to truly splurge and don't care how many calories are in the meal, then this is a good option. Yet, as stated above, I wouldn't recommend any athlete eating this on any form of a regular basis.
Price
The price for BurgaBox is on the higher end and depends on what type of food you choose to purchase. For single meals like the Cheat Day Champion Feast, you're looking at a price tag of $65.00 for a serving size of two, and $75.00 for a serving size of four. The $75.00 is a little more reasonable, as that's about $19.00 per serving, but the two serving $65.00 meal is very high. That's over $30.00 for one serving, which is higher than most restaurant prices.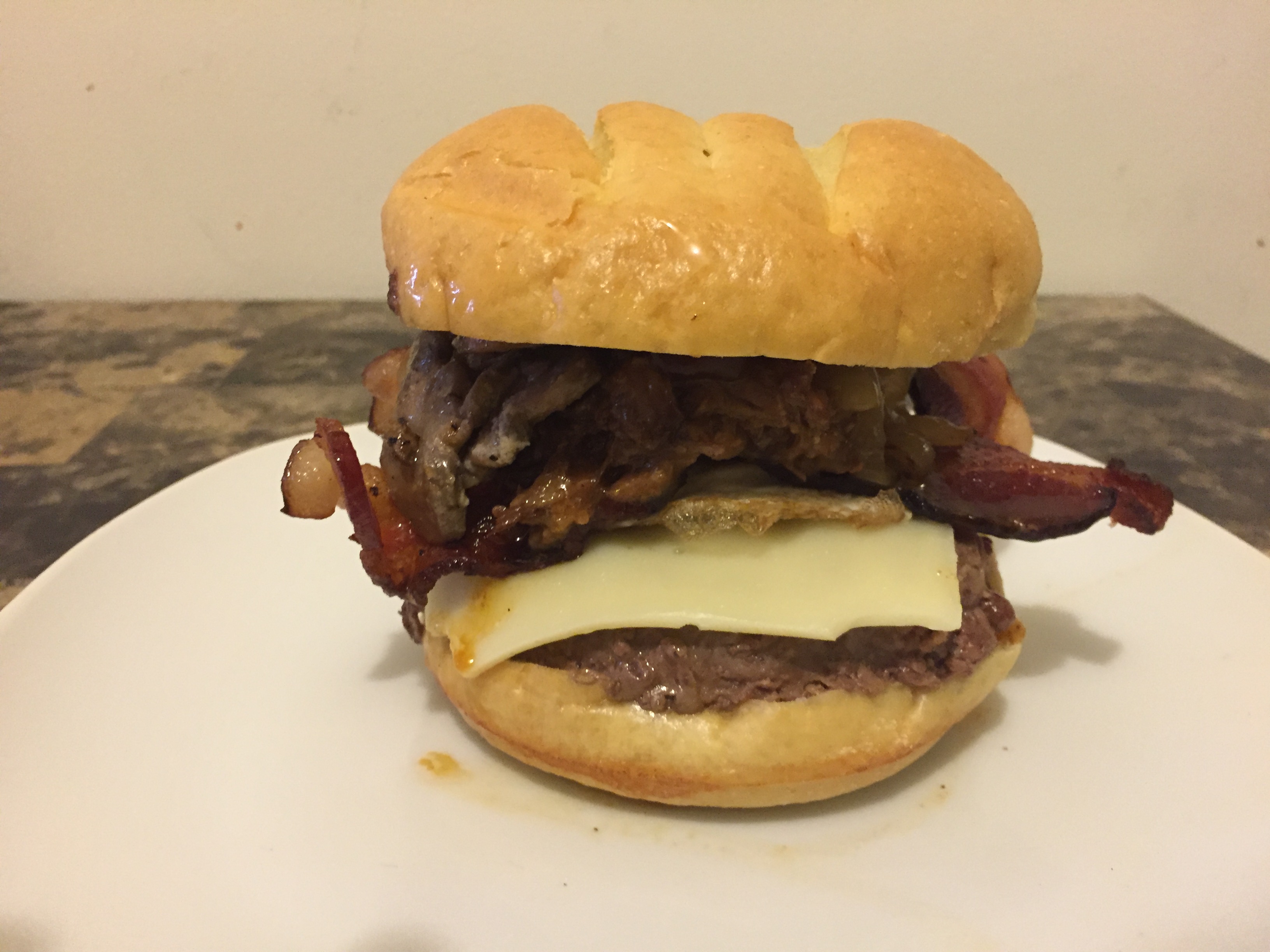 BurgaBox's mac & cheese options are $25.00 for a 32 oz size, which is a fair price for a large tray of mac & cheese. Their fries are moderately priced at $16.00 for a 16 oz serving of fries. That's $1.00 per ounce of fry serving and is a little high since their wedges are thicker. If you're interested in the BurgaBox of the Month Club (their subscription option), then you have three options to choose from including: one month, three months, and six months.
| | |
| --- | --- |
| Subscription | One-Time Purchase |
| One Month – $67.00 | Recurring – $59.00 |
| Three Months – $177.00 | N/A |
| Six Months – $354.00 | N/A |
Their monthly boxes come with different themed burgers, which change each month. If you want a particular month's theme, then you must order from the 1st and 10th of the month. These boxes include: two burgers, a 16 ounce tray of mac & cheese, a 16 ounce tray of fries, two sides of coleslaw, and two sides of baked beans. Like the individual burgers, I thought this price was high.
Convenience
BurgaBox's ordering process is simple for individual burgers, fries, and mac & cheeses. You simply choose the option you'd like and it will ship 1-2 days. Keep in mind, BurgaBox ships everything between Monday and Wednesday. They provide perishable shipping, which is at no extra cost to your order. In addition, they ship nationwide, so no matter where you are in the country you have access to their foods.
If you choose to order their subscriptions, then you have a few more rules and options to follow. To receive the burger of the month, you must order between the 1-10th of each month. If you order after you'll receive the next month's burger. An aspect about this option that I liked was once you've chosen a subscription option BurgaBox allows you to plan when you'd like your box delivered. This is a cool option for those who are ordering their box for a special occasion.
Vegetarian
BurgaBox doesn't offer any options that are designed for vegetarians specifically. Their burger boxes all include meat, so a vegetarian will have a tough time, or nearly impossible time picking a burger box.
They do have fries and mac & cheese options that don't include meat, like their 32 oz. BBC Famous Mac & Cheese and 16 oz. Cajun Fries. Most of their options include meat, so vegetarians will have a slim list of things to choose from.
Customizability
BurgaBox offers little personal customization in their monthly subscriptions because these are rotating and depend on the month. If you want a changing meal with customizable ingredients that you can add or take off, then this could be a good thing for you. Their fries and mac & cheese offer little customization, which is to be expected since these are single food options.
Their themed burger boxes offer the most amount of customization. Once you've decided on your box, then you have three options, which include box size, mac & cheese, and specialty fries. First, you can select a box size that serves two or four. Second, you have the option to choose between their mac & cheeses flavors that come in a 16 oz. tray. Lastly, you have the option to choose a specialty fry that also comes in a 16 oz. serving size.
Is BurgaBox Good for Weight Loss?
No. These foods are higher in caloric totals and are marketed as cheat meals. If you're interested in low-calorie options and meals, then you won't find that among BurgaBox's options. On the flip side, if weight loss isn't a concern of yours, then BurgaBox will provide you a tasty meal with a large volume of food.
Final Word
BurgaBox offers a variety of tasty burgers with creative themes that come equipped with mac & cheese, fries, baked beans, and coleslaw. Each box contains a large volume of food designed with servings for 2-4 people. For most strength athletes, a cheat meal is designed to be a calculated splurge, so for this reason I can't recommend their options on a regular basis. In addition, their options are on the expensive side, so those on a budget may be turned off by their prices.
If you want a lot of taste, and you're not concerned at all about caloric totals, nutrition, and price, then BurgaBox could be a viable option for you.