Cellucor is a Texas-based sports nutrition company and we've tried quite a few of their products: their whey protein, their branched chain amino acid supplement, and their flagship pre-workout called C4.
We wanted to try out Cor-Performance Creatine, a flavored creatine that comes in Fruit Punch and Icy Blue Razz flavors. Here's what we thought.
Shop Cellucor Creatine HERE.
Cellucor Cor-Performance Creatine Ingredients
For the Icy Blue Razz flavor, the main ingredient in each scoop is 5 grams of micronized creatine monohydrate.
The rest of the ingredients are mostly flavorings: the natural flavorings citric acid and malic acid, the artificial sweeteners sucralose and acesulfame potassium, the anti-caking agent silicon dioxide, some generic "natural & artificial flavors," and blue food dye.
Creatine confused? Take a look at our best creatine supplements page.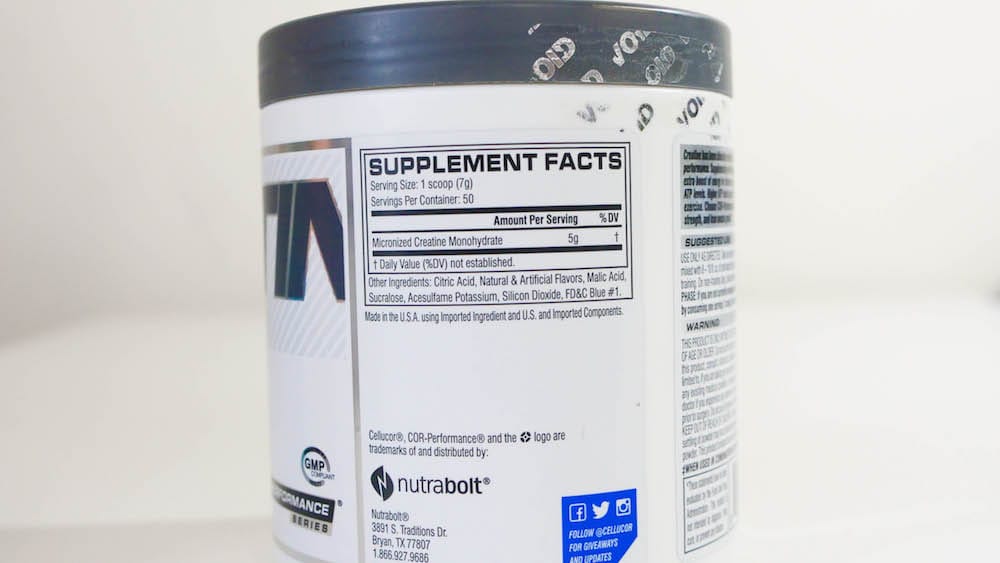 Cellucor Cor-Performance Creatine Benefits & Effectiveness
Creatine is strongly linked to improved power output, greater muscle size, better muscle endurance, and possibly cognitive benefits. Cor-Performance uses creatine monohydrate, the most widely used and well researched form of creatine. It's also micronized, which means it's fluffier in texture and it disperses in water a little more easily than your standard creatine.
Note that it does contain the artificial sweeteners sucralose (also called Splenda®) and acesulfame potassium, which some people try to steer clear of.
One thing I liked about Cor-Performance Creatine is that it's made in a GMP compliant facility. That stands for Good Manufacturing Practices — GMP facilities must adhere to certain regulations, enforced by the United States Food and Drug Administration, that help ensure the quality and purity of drug products. A lot of cheaper creatine products aren't GMPc, but the fact that Cor-Performance Creatine is may bring some peace of mind to athletes who are concerned about ingesting banned substances.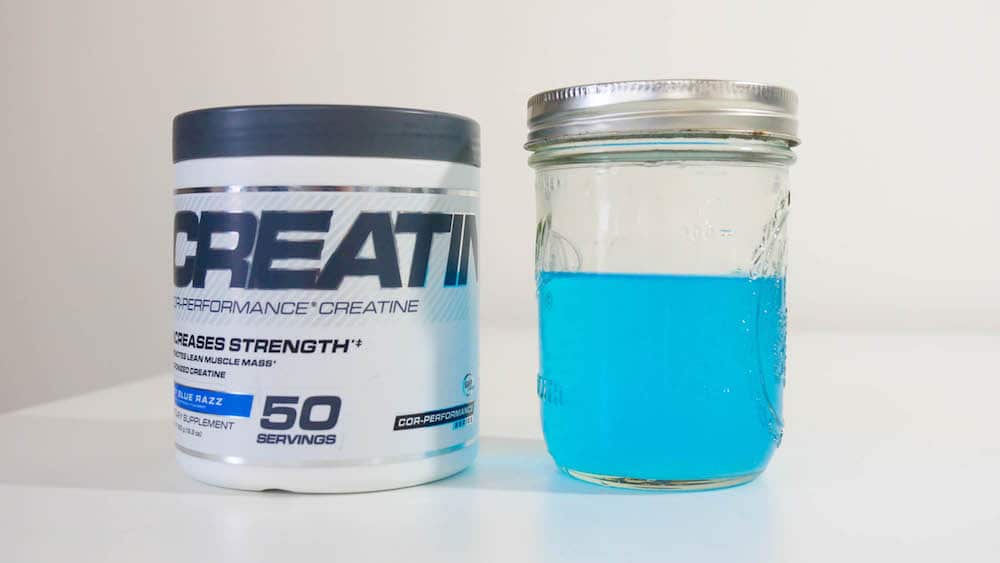 Cellucor Cor-Performance Creatine Price
For Icy Blue Razz or Fruit Punch flavors, you can pick up 50 servings for $18. That comes to 36 cents per serving or 7.2 cents per gram of creatine. That's a little bit pricier than a lot of plain creatines, which typically clock in at around 3 or 4 cents per gram, but of course you're paying extra for the flavorings and anti-caking agents.
If you prefer to go all-natural, Cellucor also offers an unflavored Cor-Performance Creatine that costs $10 for 72 servings, which comes to 2.8 cents per gram — that's extremely cheap, particular for a GMPc product.
Cellucor Cor-Performance Creatine Taste
Ice Blue Razz tasted like a raspberry gummy candy. It was pleasant, but one scoop dissolved in 1.5 cups of water was a bit too sweet for my liking. In 2 or more cups of water, it would go down more easily.
The Takeaway
For a flavored, micronized creatine that's certified GMP, I was pretty impressed with Cor-Performance Creatine. There are no extra inclusions like carbs or BCAAs and it does contain artificial ingredients, which may put some users off. But if you have no issue with that, this is a tasty and trustworthy way to get a creatine fix.
Cellucor Cor-Performance Creatine
Per Serving: $0.36