Editor's note: This article is part one of a three part series that will share insight into Charles Okpoko's lifting career. The series will cover Okpoko's athletic beginnings, his developing and changing mindset, along with what he's learned under the bar.
Have you noticed that most of the top athletes in the world have some background in many different sports? Take Odell Beckham Jr. for example. He's not only great at football, but he's also great at other sports like soccer and basketball, to list a few. These athletes didn't grow up participating in just one specific sport. They did a little or a lot of everything.
This enabled them to develop fundamental and complex motor skills that many people fail to develop. In other words, they had a better foundation from which to build upon. When put together and properly applied to a specific sport, they are more equipped to perform better than those that bring less to the table. The same concept applies to powerlifting.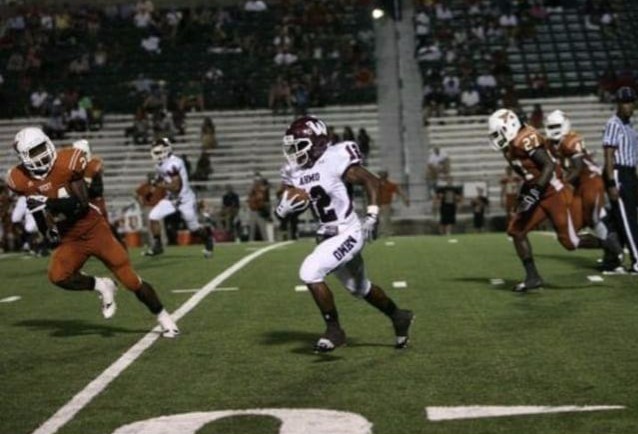 Image of Okpoko playing football in high school.
I know this isn't necessarily the case for everyone, but many people decide to try powerlifting with little to no background in resistance training because it's cool and you know everyone seems to be doing it.
[Want to learn more about this young accomplished powerlifter? Check out our interview with Okpoko from this spring.]
And hey, I'm all for that! I want the sport to grow as much as possible. However, the first thing new lifters do is hop on a powerlifting strength and peaking cycle, which primarily focuses on developing the three main lifts: squat, bench, and deadlift.
They don't realize that they skipped a very important step in this entire process. They failed to develop a strong foundation from which to build upon. Many people look at me and say,
"Man he's accomplished so much in so little time. It's only been 3.5 years and he already has multiple national and world championship titles and records under his belt."
Well, that isn't necessarily true. Yes, my powerlifting career is relatively new; but, my resistance training career began at the young age of 11, maybe 12, years old when I began playing football. I started building my foundation six or seven years before I was even introduced to the sport of powerlifting by my two close friends, Evan Moreno and Michael Davis.
[Watch Okpoko squat 317.5kg (700 lbs) at 2017 USAPL Collegiate Nationals.]
In that span of time playing football, I pushed my body to its limits in every way possible. I worked on endurance, hypertrophy, strength, and power for all muscle groups needed to excel on the field, not just the three main lifts. Additionally, there was a great deal of variability in my training to address weaknesses and imbalances in my body. This enabled me to develop both a balanced and well rounded physique, which not only separates me from the average lifter, but made me the ideal candidate for powerlifting. In other words, my body is better equipped to lift heavy weight. I had the edge from the start.
I feel like this is an important step that many people fail to recognize, and then sit and wonder why they're not lifting as much as they'd like to. And I'm not saying that you shouldn't want to increase the squat, bench, and deadlift exclusively. For example, my bench and squat were an important part of my resistance training growing up before becoming a world ranked powerlifter.
However, don't sleep on the benefits that come from developing all areas of the body, especially as a new lifter. An increase in strength in one part of the body will carry over to an increase in all three lifts. And remember, most athletes began their start elsewhere, like myself.
Editors note: This article is an op-ed. The views expressed herein and in the video are the authors and don't necessarily reflect the views of BarBend. Claims, assertions, opinions, and quotes have been sourced exclusively by the author.
Feature image from @charlesokpoko Instagram page.