Lifting at around 4:30am Eastern Standard Time, USA Weightlifting's CJ Cummings won his second straight Junior World Championship at the 2017 Junior World Weightlifting Championships in Tokyo, Japan. It's Cummings' fourth world title overall (2-time Youth, 2-time Junior) and included a third clean & jerk attempt that would have broken his own Youth World Record.
Lifting in the men's 69kg A Session, Cummings was 4th coming out of the snatch after a successful second attempt at 138kg, leaving him 9kg out of first after Japan's Masanori Miyamoto was successful with 147kg on his third attempt.
But it's become the norm in international competition for CJ Cummings to make up ground on the clean & jerk, a trend he repeated in Tokyo. 
Cummings clean & jerked 173kg and then 183kg to win the title by 1kg over Miyamoto. His second clean & jerk attempt was a full 10kg over the next heaviest lift in that portion (Miyamoto's). Cummings attempted 186kg — which would have been a new Youth World Record, breaking his own at 185kg — but it wasn't meant to be today.
Video of Cummings' second attempt 183kg clean & jerk is embedded below.
Cummings was the youngest competitor in the session.
USA Weightlifting CEO Phil Andrews messaged us early this morning and had this to say about Cummings' repeat performance:
It's just great. 9kg down going into the Clean & Jerk and still defending his World Championship – great performance and great way to fight!
https://www.instagram.com/p/BSGsxwghcu1
The full scoreboard is embedded below, courtesy of the International Weightlifting Federation.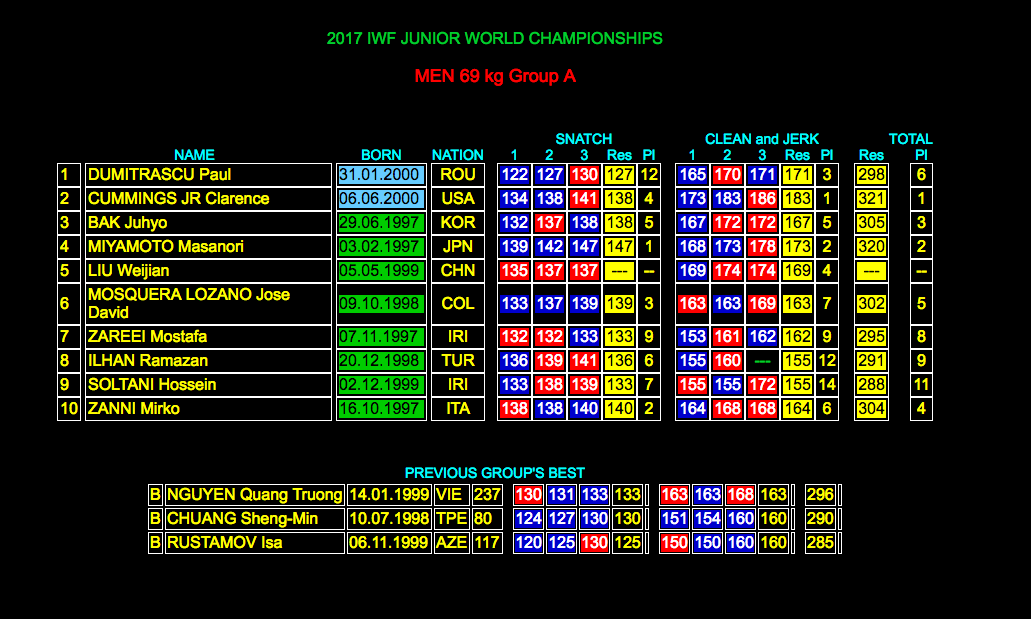 Featured image: @cj__cummings on Instagram