I first met Kari Pearce in early 2015. One of my star athletes at the time (Lindsay Bourdon), who I coached in the National Pro Grid League (NPGL), was a teammate of Kari's on the University of Michigan women's gymnastics team. Lindsay had been begging Kari for years, since her gymnastics career had ended, to try CrossFit. And since Kari now lived in New York City, where I owned CrossFit Dynamix. At the time, I had just coached Team Dynamix to its second consecutive CrossFit Games appearance, and we'd just won a championship with the Brawlers in the NPGL. I was busy running an affiliate, and coaching elite fitness athletes, but I trusted Lindsay when she told me Kari was someone I needed to meet.
Kari walked into our gym on a cold January day. She looked pretty unassuming wearing a gray sweatshirt and sweatpants. Nobody really thought twice about it…until she took off her sweatshirt. She was flat out ripped. And I thought to myself, "Ha. This must be Lindsay's friend Kari who she keeps talking about."
View this post on Instagram
Kari told me that after college, she had done a few figure competitions and some powerlifting, but was ready to make the switch to CrossFit. I remember putting her through a bit of a tryout that day. She didn't know much, but whatever movement I would show her, she would nail it within a few attempts. I distinctly recall thinking, "This girl is a coach's dream."
When Kari left that day, I was excited about her potential and about coaching her. One week after I started programming for her, Kari sadly informed me that the owner of the gym where she was employed told her unless she followed in-house programming, she would lose her job. I certainly didn't want her to lose her job, so that was that. It wasn't meant to be. We remained friends for the next few years, and I was happy to see her blossom as an athlete, but in 2018 our relationship took a turn.
By 2018, Kari had become an elite CrossFit Games athlete, one of the best in the world, but something was missing. She reached out to me and asked me to dinner after her CrossFit Games season was over. She said she was ready to make a coaching change, that she felt she had hit a plateau, and that she hoped I would consider taking her on. I honestly wasn't sure. My wife and I had a one year old daughter. I was busy running my affiliate. So, I asked her what her goals were.
She said, "I only have one goal. I want to be the next American female to make the podium at the Games." That was all the motivation I needed. I was in. Fast forward to the 2019 CrossFit Games, where our story begins.
[Related: The 5 Biggest Myths About CrossFit Games Athletes]
The 2019 CrossFit Games: Kari Pearce's Breakthrough Year?
Spoiler alert: Kari didn't make the podium in 2019, though in 2020 she did reach her goal of becoming the first American woman to do so since 2014. As her coach, I was proud of her performance both years. But a particular event from 2019 sticks out as a focal point in our relationship — and her development as an athlete.
Partway through the 2019 CrossFit Games in Madison, Wisconsin, catastrophe struck. Kari was kneeling quietly, staring off into space, with tears running down her cheeks. I'd never seen her like that. I held back tears trying to be strong for her. But we both knew her chances of making the podium were over. A year of hard work and sacrifice, a year with so much promise, over, after a sudden and unexpected fall from the rings.
When discussing our strategy for the events (Ringer 1 and Ringer 2 of the 2019 CrossFit Games), we decided to take a risk. She was in 4th place, in striking distance of the podium, and these events were in her wheelhouse. So we made the decision to speed up her cycle time on the toes to rings to try and steal the event. We, as a team, made that decision. Bottom line. We didn't come to finish in 4th, and we needed points.
The event was going exactly to plan. Kari was in second with 10 toes to rings remaining and about to stack 90 points and move up the leaderboard. But with two reps remaining, the unthinkable happened. Her grip gave way, and she fell. She fell hard. Disoriented and with her wind knocked out, she got back up and finished, but the damage was done. She finished 7th in the event and dead last in Ringer 2 due to the impact of the fall. I was numb. She was devastated. What were we going to do now?
It was at that moment, when my athlete was at her lowest, that I had to come through for her. Dave Castro had just announced the final event, "The Standard": 30 clean & jerks, 30 muscle-ups, 30 snatches, all in a row. Kari looked at me and said she wasn't sure she could get through it. She was physically reeling from the fall, and mentally reeling from the disappointment. Here was the toughest athlete I'd ever known, questioning herself to me for the first time. I took a moment to think. I knew what I said next, and how she would respond, would be the defining moment of our CrossFit Games.
After looking at the leaderboard, Kari had dropped to 7th, but was only a few points away from clawing back to 5th, and more importantly, from once again claiming the title of Fittest American Woman at the Games. So I looked her in the eyes and told her if she beat the women currently in 5th and 6th place in this final event, she would jump to 5th and once again be the Fittest Woman in the United States. I told her she was the toughest athlete I'd ever known. To trust herself, trust her preparation, and to trust me that I believed with every ounce of my being that she could do it.
The fire was lit. All she needed was that spark, that seed of motivation. The despondent look on her face was replaced by one of desire and belief. And what she did next was nothing short of heroic. With a broken and battered body, she did exactly what she needed to do in the final workout. She beat both women she needed to beat and jumped back up the leaderboard to finish 5th at the Games, once again claiming the title of Fittest American Woman.
Establishing Trust Between Coach and Athlete
Our story from the 2019 Games exemplifies what I consider to be the most important aspect of coaching a CrossFit Games athlete: TRUST. Trust is paramount. Without trust, there is no way a coach, in the most stressful and pivotal moments, can expect his/her athlete to achieve their maximum potential.
So how do we as coaches develop trust with an athlete? For me, it's something I try to establish as early in the relationship as possible. When an athlete chooses to work with me, I let them know I understand the gravity and importance of that decision.
Because, let's be honest. The shelf life of a professional athlete is relatively short. When an athlete puts their career, that which they hold most dear, in your hands, the responsibility a coach now has is monumental. Once I convey I will not take this responsibility for granted, and a solid level of trust has been achieved, the communication process can now flourish.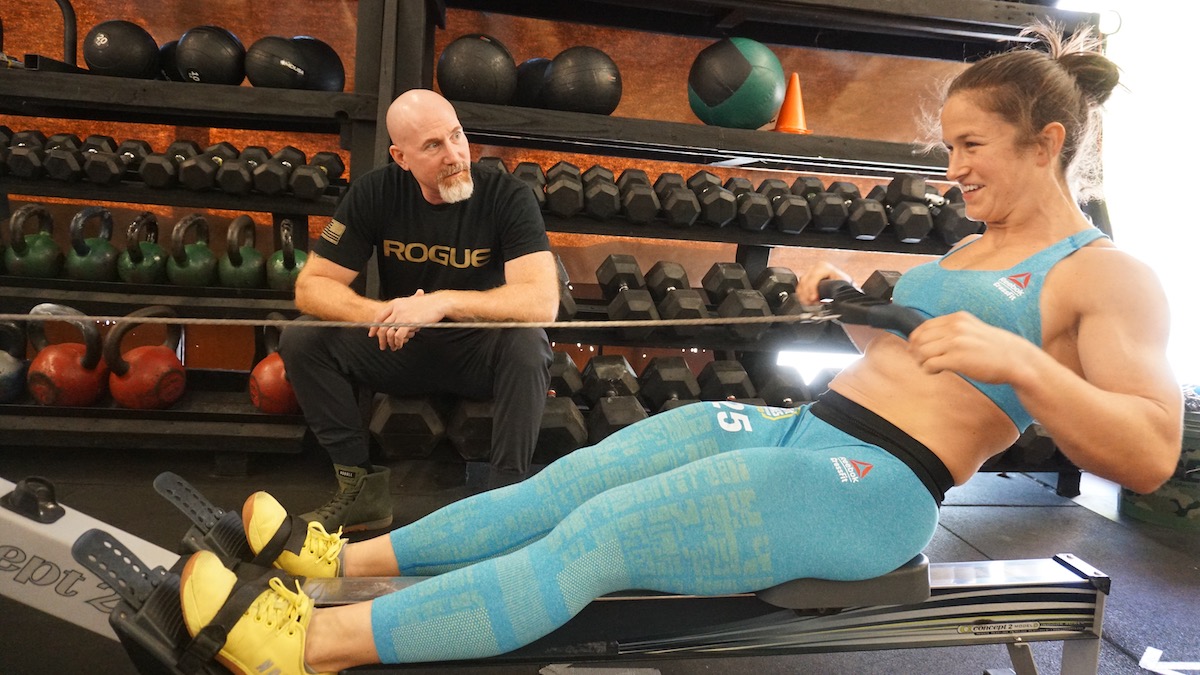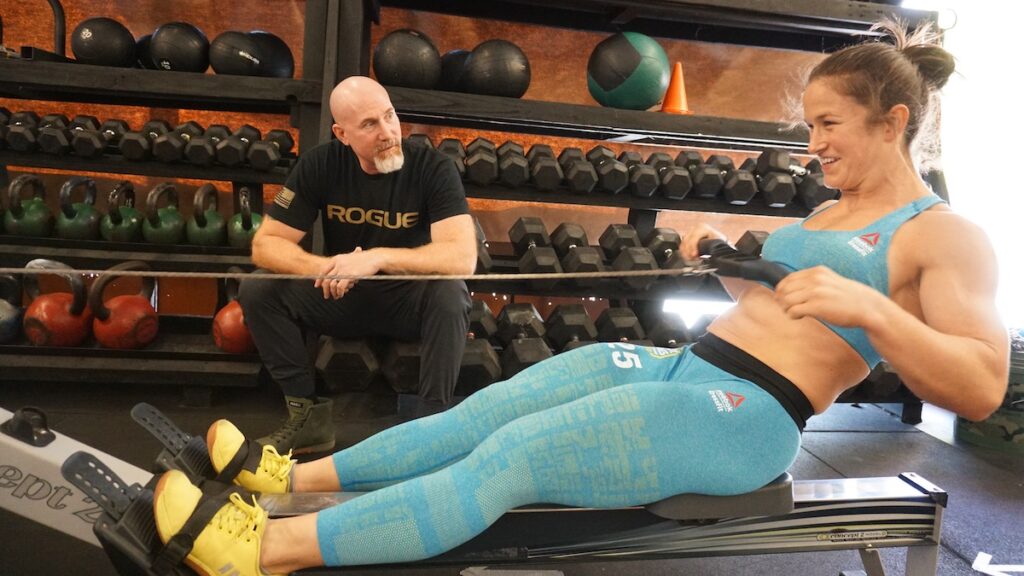 Communication, in my experience, is another integral part of coaching an elite athlete. What do I mean by communication? I mean meticulously discussing anything pertinent to an athlete's life that affects their performance. Sleep, nutrition, recovery, routines, habits, etc. We discuss what's working well, what changes need to be made, and how to successfully make those changes. Once trust and communication are strong, the next two essential aspects of coaching a Games athlete can thrive. Intention and Analysis.
Why does a coach have an athlete do a specific program or workout? What is the intention? As a Games level coach, you have to know why you are programming what you are programming. It allows you and the athlete, as a team, to create intention and focus during training. When an athlete understands why they are doing what's programmed, it's much easier for them to buy in and feel good about the process. But it can't stop just at intention. Every day in the gym is an opportunity to learn something and to get better. That only happens with in depth analysis.
With analysis and scrutiny of all aspects of training on a daily basis, the opportunity for an athlete's growth is immense. It's a coach's job to take the information from this daily examination, commend the athlete for what he/she is doing well, address which areas the athlete can improve, and tweak the program accordingly. As programming is an ever-evolving process, constant analysis is essential.
After the 2019 Games, Kari and I sat down to discuss and analyze every workout. What went well, what strategies held up, where we could have improved our game plan and execution, and most importantly, what we needed to improve to get her on the podium. I made the necessary adjustments to her program.
She put her trust in me and attacked every day with intention. And after a long, hard year of training, we achieved our goal. That same goal we talked about at the dinner table three years earlier, as she became the first American female since 2014 to stand on the podium.
Editor's note: This article is an op-ed. The views expressed herein and in the video are the author's and don't necessarily reflect the views of BarBend. Claims, assertions, opinions, and quotes have been sourced exclusively by the author.