The Do-Win Shoe is relatively well-known in the sport of weightlifting and originally rose to popularity in the 90s. The Do-Win Weightlifting Shoe originally started as the Pendlay Do-Win, but is now simply the "Do-Win" weightlifting shoe offered on Rogue Fitness.
There are a few attributes that make the Do-Win slightly different than other shoes on the market. For starters, they offer a double strap design, which few shoes currently do. Second, they're designed to fit a little wider to enhance a lifter's ability to splay their toes when catching weight. This helps a lifter increase their stability on the platform by allowing them to full grip the floor.
Shop Do-Win shoes and check out color options HERE.
How Much Do the Do-Wins Weigh?
The Do-Win shoe's weight is around 17 ounces, which puts them in the middle weight range for lifting shoes.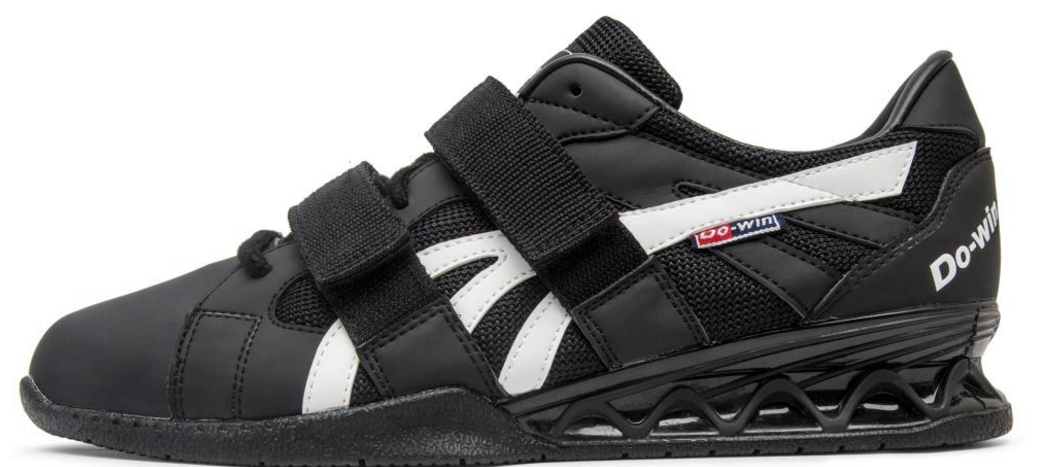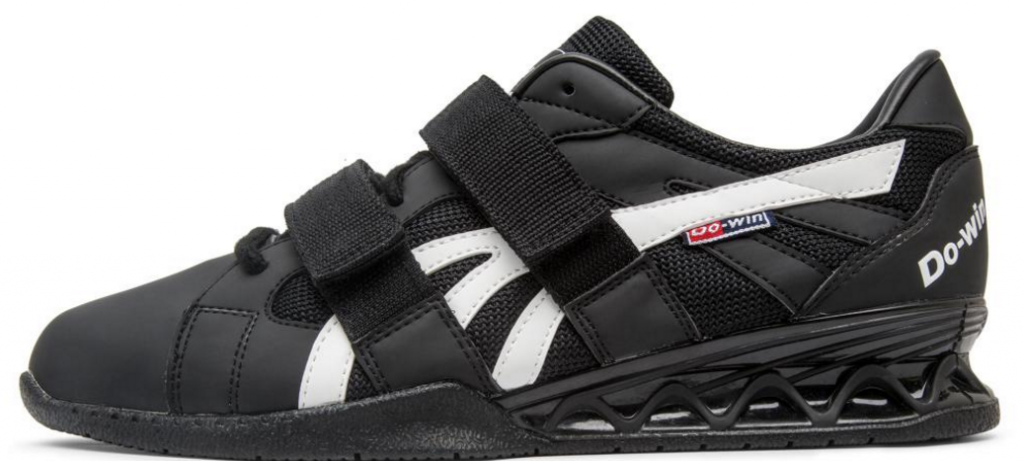 Image courtesy RogueFitness.com. 
A weight of 17 ounces makes this shoe good for a couple different scenarios. While it's not the lightest shoe on the market, 17 ounces makes for a fairly versatile weight. Some functional fitness athletes tap the Do-Win shoe for performing strength and power based movements in the same workout. Weightlifters also choose this shoe because it was initially made with weightlifters in mind with the help of Glenn Pendlay.
I feel 17 ounces tends to be an okay balance between a light and heavy shoe. A little extra weight can also naturally encourage the lifter to firmly plant their foot, so that could be a positive to a slightly heavier weight. But for the slower footed lifter, then foot turnover may slow down a bit, but that's for a very small population.
[Want to find the best weightlifting shoe for you? Read our full rundown of the best weightlifting shoes to find the perfect model!]
Do-Win Weightlifting Shoe Effective Heel Height
The effective heel height of the Do-Win Weightlifting Shoes is .75 inches or 18 millimeters, which puts this model in the standard .75″ heel category.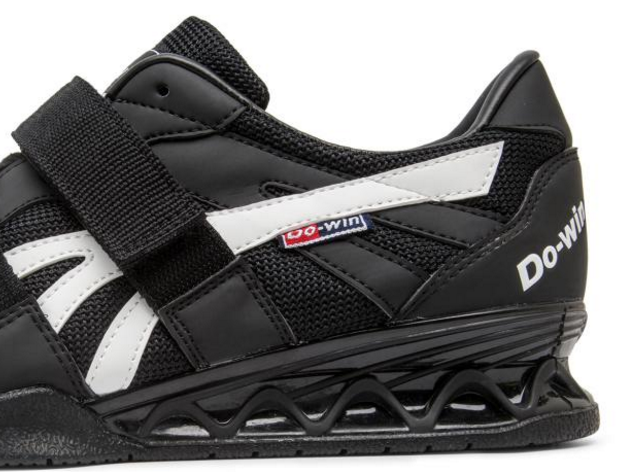 Image courtesy RogueFitness.com. 
The Do-Win shoes are similar to other popular models that offer the .75″ heel. This heel tends to fit a plethora of lifters with different needs and anthropometrics. For beginning weightlifters, a .75″ heel can often be a smooth transition when adjusting to a higher heeled shoe.
A .75″ works in most strength sport scenarios, but there are a few exceptions. If you're someone who needs a lower heel for powerlifting purposes, or low bar squats, then this heel may be a little high for you. Also, for the weightlifters who excel with a higher 1″ heel, then the .75″ may not satisfy your specific needs.
Heel Construction
The Do-Win Weightlifting Shoes have a hard thermoplastic polyurethane (TPU) heel, which is a lightweight non-compressible material often used for its sturdiness and resilience to abrasions.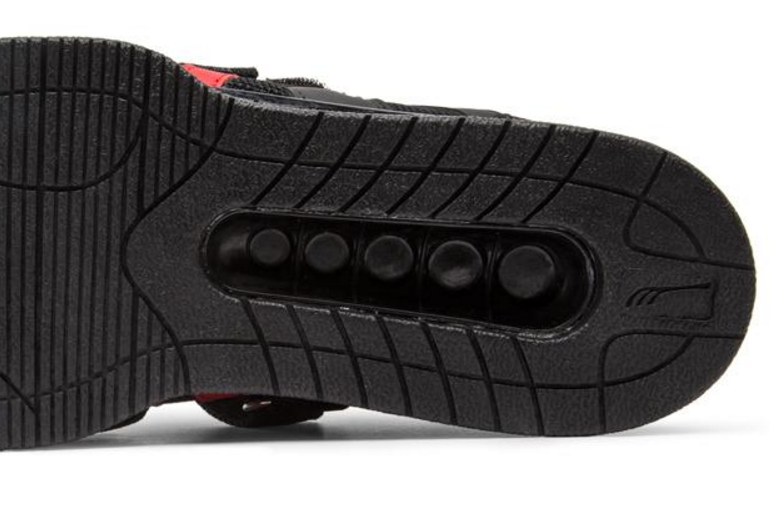 Image courtesy RogueFitness.com. 
TPU is a commonly used heel in weightlifting shoes because it's durable, lightweight, and doesn't compress easily. The Do-Win shoe has a TPU heel designed with a wave-like feature and extra heel support. This is a benefit for weightlifting because any form of heel compression could compromise a lift, especially in the bottom catching position.
The heels on the Do-Wins also have a pillar like structure down the mid-foot and heel, which allow you to the feel the platform pretty well, even though you're on TPU.
Upper Shoe Material
The upper portion of the Do-Wins is constructed with leather and a breathable nylon mesh. I like the leather because it gives the shoe a little stiffness, and it won't stretch out as fast over time. Years of lifting will always leave a shoe slightly stretched, so I thought the leather covering the toebox and heel were good additions. Along the arch and mid-foot there's a breathable mesh, which is also a plus.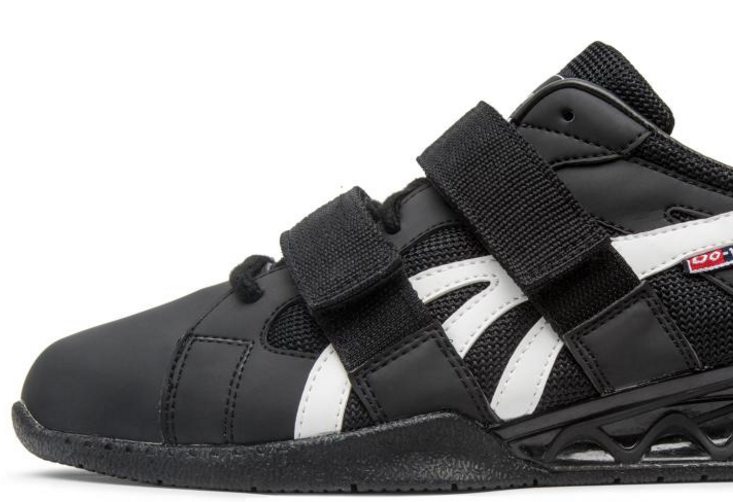 Image courtesy RogueFitness.com. 
Most likely a weightlifter will be wearing these shoes for a prolonged period of time, and the mesh will help them remain comfortable and cool. There will be limited slippage from an overly sweaty foot. The only downside to the Do-Wins material is the amount of time it takes to break them in. While the leather is stiff, and eventually breaks into fit perfectly, it's going to require some time to adjust.
Foot Straps
Something unique about Do-Win that few shoes offer (one of them being the Reebok Legacy Lifter) is the double metatarsal strapping system. There's a strap covering the bottom and top of the tongue. This is great for ensuring an equally tight shoe. A fully secure foot will be better at avoiding any form of lifting off the ground from excessive flexion.
Another cool aspect of these straps is their velcro strips. Some shoes like the Romaleos 2s have excessive straps that hang on the ground, but the Do-Win has a little overlap so this isn't an issue. Additionally, there's double stitching enclosing each strap, so they'll likely last a while without durability issues.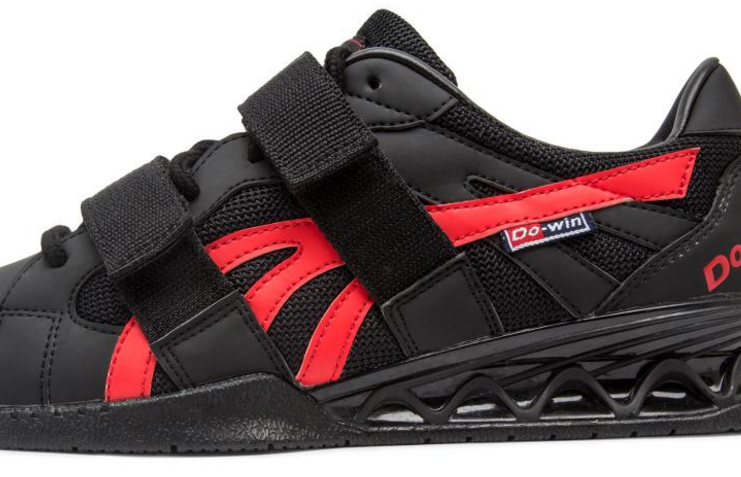 Image courtesy RogueFitness.com. 
Do-Win Weightlifting Shoes Price
The Do-Win Weightlifting Shoes can be found on Rogue Fitness for $95.00. This is a fair price for a weightlifting shoe offering double straps, a TPU heel, and leather build. Newer weightlifting shoes will typically run you $150.00+, so if you're interested in a cost efficient shoe, then the Do-Win is a good option.
Final Word
The Do-Win Weightlifting Shoe has had quite the history since its original release. These shoes have had multiple reiterations to perfectly tailor to a weightlifting athlete's wants and needs. I liked the double straps, TPU heel, and how cost efficient this shoe is. A downside to this shoe
The Do-Win Weightlifting Shoe could be a good option for the lifter needing a standard lifting shoe at a cost efficient price.
Feature image from RogueFitness.com.