Here's some silly fun.
At 6'6″ and 250 pounds, British boxer Anthony Joshua is currently a unified world heavyweight champion, holding the title in the International Boxing Federation, World Boxing Association, and the International Boxing Organization. He's won all his pro fights by knockout. He's legit.
To promote his upcoming fight with the Bulgarian heavyweight Kubrat Pulev, StubHub had him face off against the World's Strongest Man, Eddie Hall. Hall, of course, holds multiple strongman records including the heaviest deadlift ever at 500 kilograms.
Hall is 6 feet 3 inches and 406 pounds according to a recent Instagram post — a lot heavier than Anthony Joshua. Could that matter? No, it couldn't, because nobody wound up boxing anyone. The most physical part of their face off was a healthy game of tetherball. Take a look at the tongue in cheek video of Hall and Joshua's encounter in the ring below.
The two athletes played a series of kids' games that included tetherball, Jenga, and Connect 4, in addition to the classic challenge of trying to whistle with four crackers in your mouth.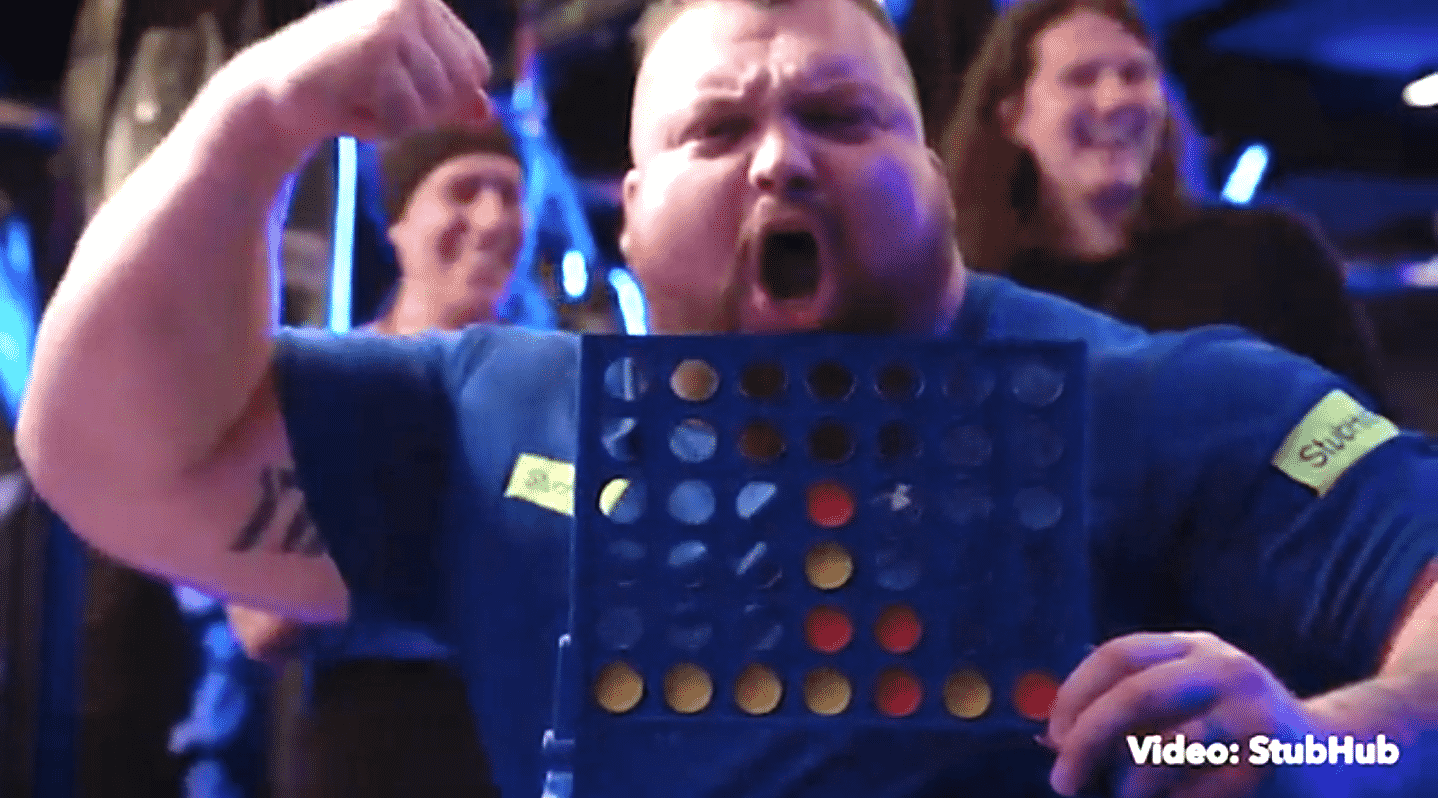 Featured image via StubHub/Sports Hub on YouTube.
We might watch Joshua's fight, but what is Eddie Hall up to these days? Earlier this year he publicly expressed an interest in competing in Olympic weightlifting but judging from his Instagram he's still spending plenty of time engaging in good old strongman and powerlifting workouts.
Take a look at a clip from last week where he deadlifts 450 kilograms (992lb) for a speed rep. And remember his record deadlift is 500 kilograms.
He said in June that he really wanted to lose a significant amount of weight so that he could feel more comfortable ("I want to get my life back, sleep properly and put my own shoes and socks on.") but at 406 pounds bodyweight, he's still pretty close to his heaviest. And he's still engaging in his hobby of lifting people.
Thank goodness the strength sports world still has Eddie Hall.
Featured image via Sports Hub on YouTube.