Element 26 is an online company that focuses on providing strength athletes with versatile nylon belts. Their belt is designed slightly differently from other models on the market, and the company's two founders created this belt hoping to provide functional fitness athletes with another option for torso support.
Since they're a relatively new company, we wanted to put their belt through our battery of belt review tests. In this article, we took an in-depth look at the stability, comfort, material, durability, and price. Over the course of a few weeks, I performed back squats, front squats, and power cleans in this belt to test performance.
Shop Element Weightlifting Belts HERE.
Stability
In regards to stability, this belt did an adequate job when compared to other nylon belts. It's 4″ wide, which is fair amount of material for most athlete's torsos, and tends to be standard with other nylon belts. The velcro strap is also decently thick, so that helps provide a little additional stability. In addition, the strap include a self-locking mechanism, which was pretty unique. If the velcro ever popped off the belt stayed put and didn't loosen up.
Keep in mind, when opting for a nylon belt that they'll almost always be less rigid than some of their leather counterparts, so when I went through my performance tests I compared this belt to other nylon options, and not leather belts. In the back squat, this belt felt pretty standard for a versatile nylon option and hugged me decently tight, there was never a point when I felt like it was to flexible or lose.
(Curious about the best lifting belt for you? Check out our full rundown of the best lifting belts here!)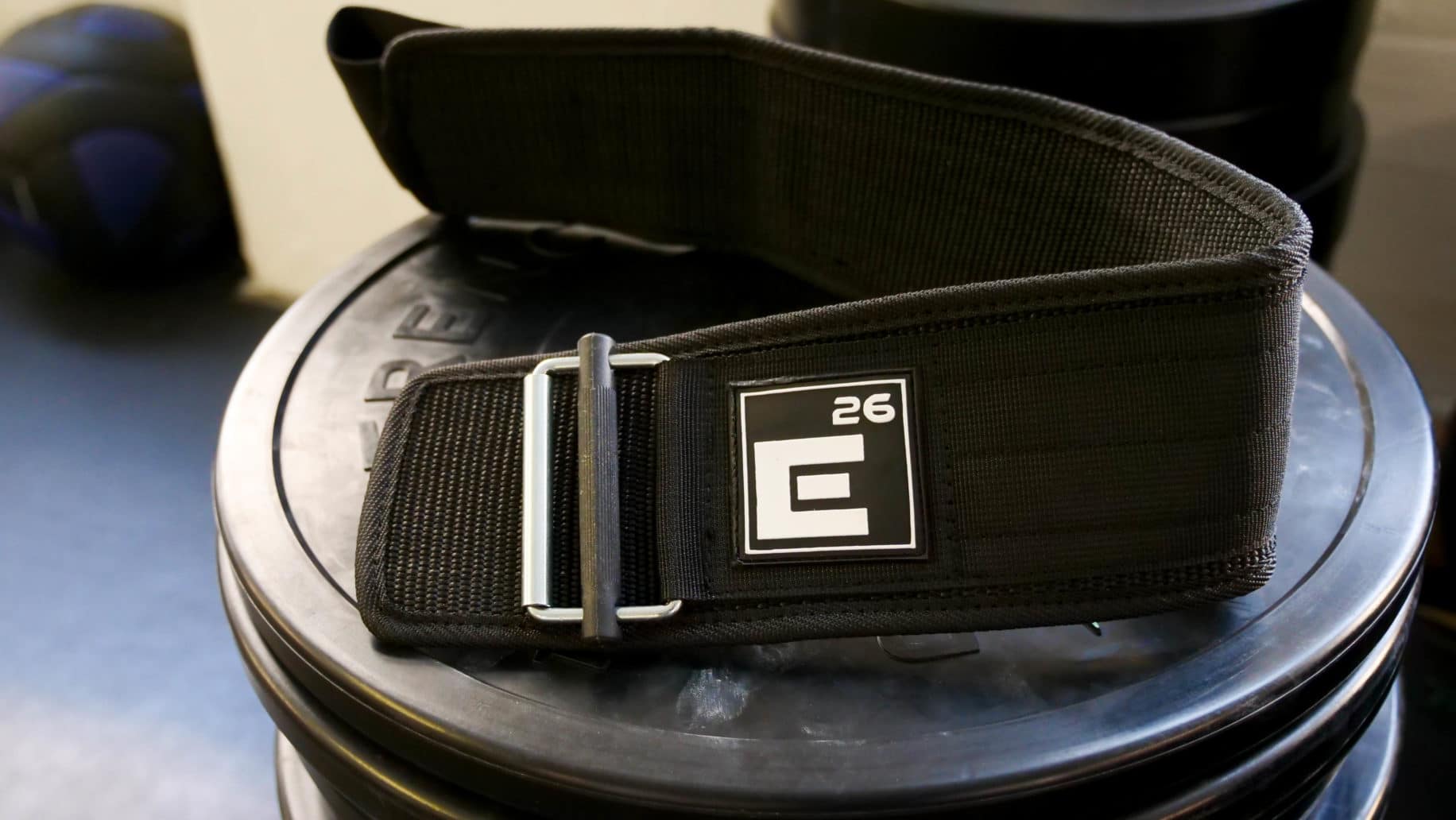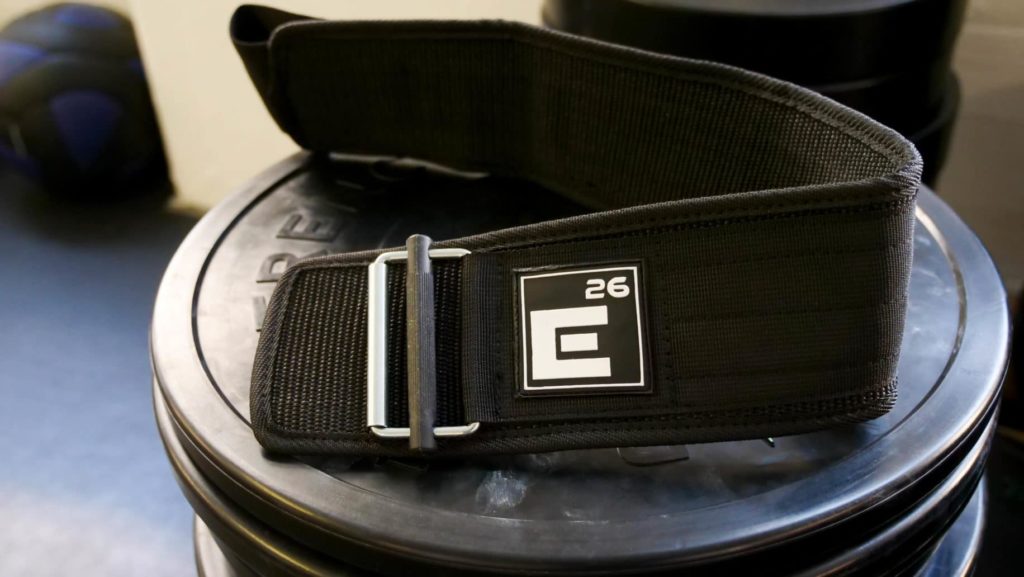 In the front squat and power clean, I liked how this belt felt. It wasn't the most rigid nylon belt I've tried, but for something like a WOD or functional fitness workout, I thought it performed well. Note, I didn't attempt any new 1-RMs in this belt, but I think it would hold up well for what it offers. I did heavier 3-RM front squats and I didn't notice any flexion around the anterior part of the torso.
Comfort
In terms of pure comfort, the Element 26 Weightlifting Belt felt pretty good. Some belts can get uncomfortable and dig into the skin, especially upon first uses and shirtless, but this belt was a good compromise of feeling this way. The edges are a softer nylon, and I liked how they felt on my torso when I got progressively sweatier in my power clean focused workout. The belt I used was a medium, which is supposed to fit a 30″-34″ naval, and I sit around 30″ with a tiny bit of daily variance. This belt fit true and comfortable to its size, even being on the smaller end of the range.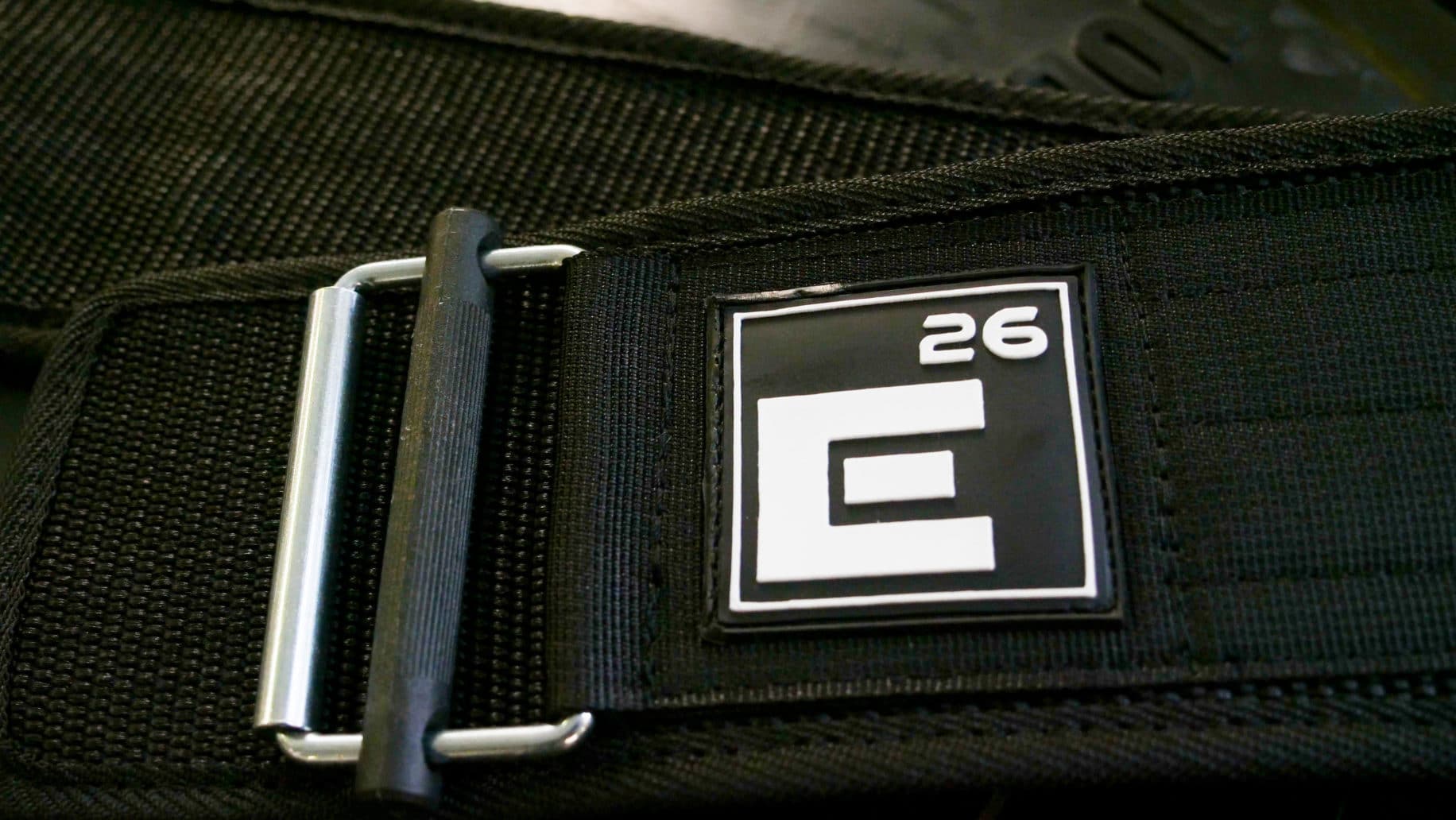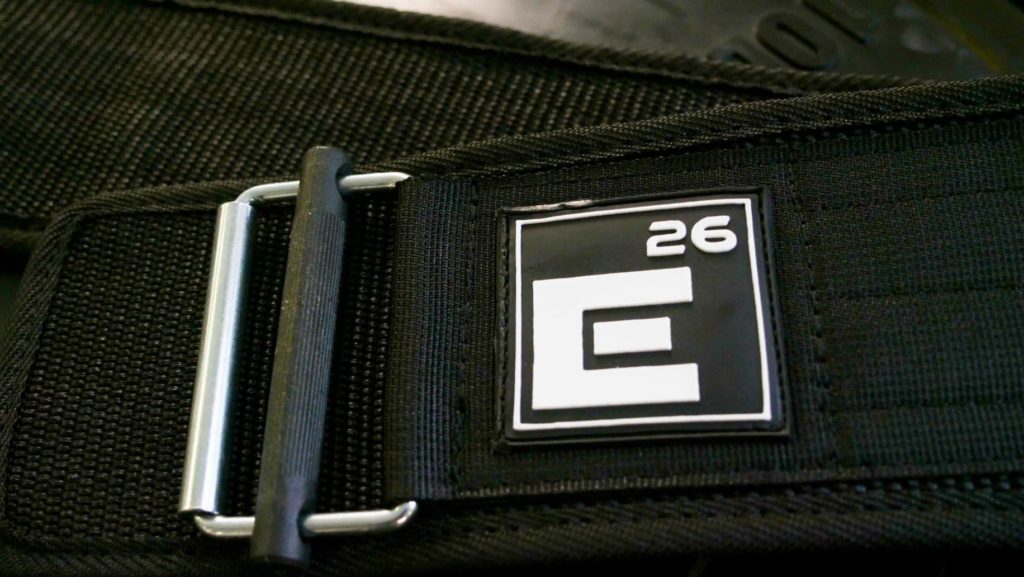 One thing to note about this belt is that there isn't any additional foam padding, or variance in material on the external and internal portions. Some nylon belts offer an additional foam padding around the inside, which makes them really comfortable no matter the scenario. This belt did not, but again, it was still decently comfortable and shouldn't turn off anyone newer to utilizing a belt for torso support.
Material
The material Element 26 is a 100% premium nylon, so its construction is relatively simple. There are no additional frills of rubber inserts, foam pads, or tapered edges. I personally like this characteristic because it gave me a consistent impression, and it felt even along my whole torso. The strap is decently thick with two places for velcro, so there's plenty of material to achieve a maximally tight hold.
I mentioned the self-locking mechanism on the strap above, but I feel like it's worth mentioning again in the material section. This belt has a plastic ribbed piece that is inside the buckle, so it has an additional layer of security in the event the velcro strap pops off.
Durability
This belt's 100% premium nylon felt pretty good, and like it would last a while. In the event it doesn't Element 26 offers a lifetime warranty, which is pretty unique for a nylon lifting belt. The only real concern I could see for this belt's durability is focused around two characteristics. First, the velcro degrading and losing some of it's freshness due to general wear & tear, along with chalk getting in it. Second, the plastic piece on the buckle breaking off if something like a weight falling on it at some point.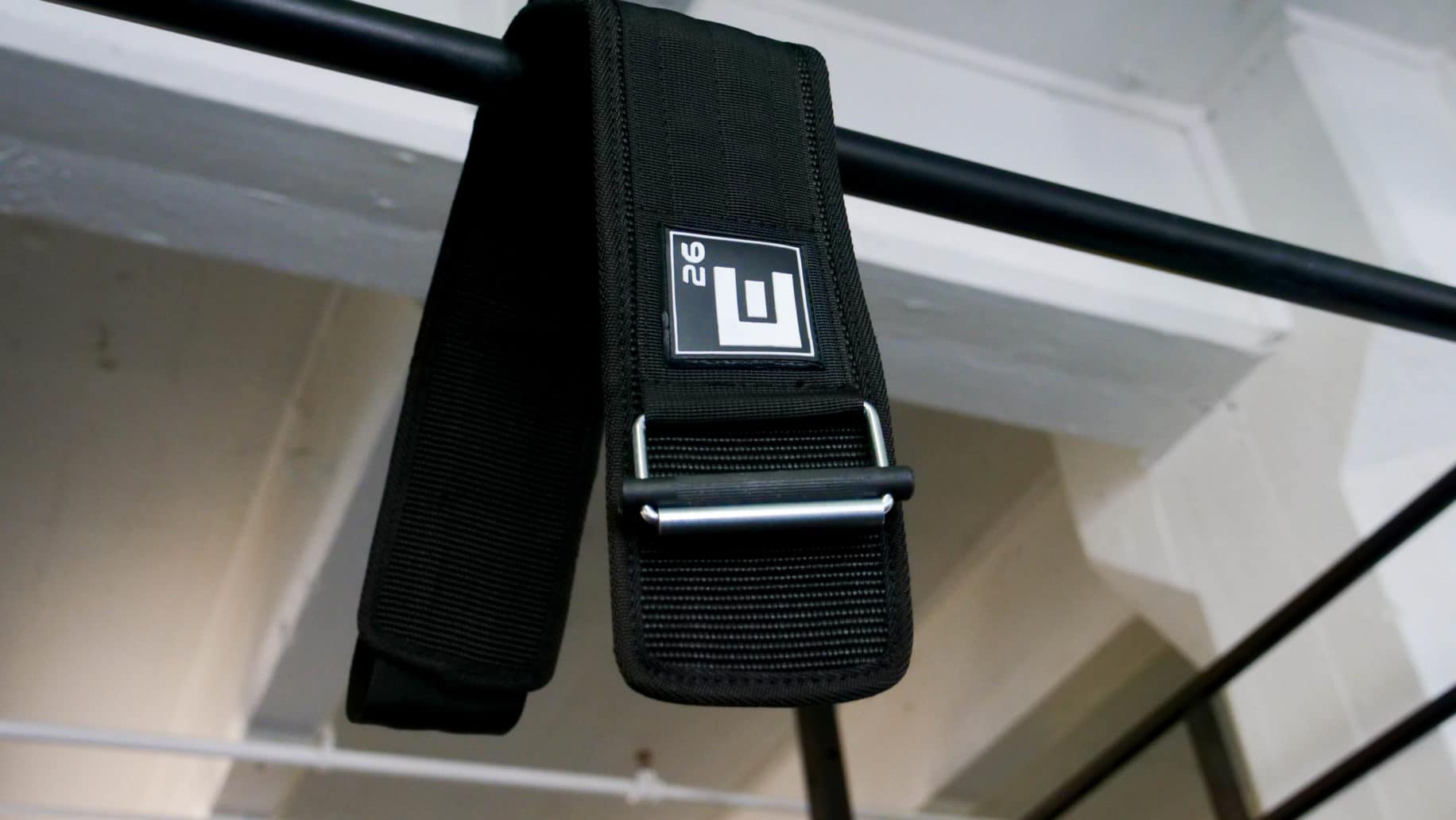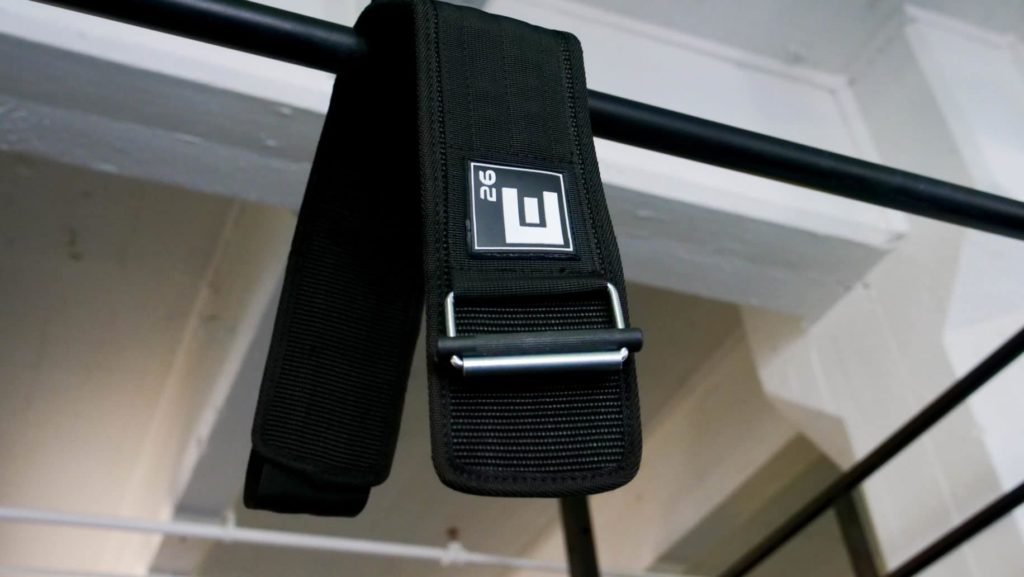 Final Word
The Element 26 Weightlifting Belt offers a comfortable fit for a wide list of workouts and movements. Personally, I enjoyed how this belt felt and fit my torso, and it didn't limit me or cause any digging into my body during compound movements. Also, the self-locking mechanism on the buckle could be a big win for someone who constantly has their belt's velcro pop off. The price is slightly higher than other nylon options, but it does come with a lifetime warranty.
For the functional fitness athlete, the Element 26 Weightlifting Belt may be a good option.