EPIC Protein Bars offer a unique take on the standard on-the-go protein focused snack. Compared to the traditional protein bar that often resembles a candy bar, or comes loaded with fiber, EPIC's bars are 100% animal based protein. In fact, EPIC is one of the few brands on the market that creates all of their protein bars with a fully animal focused protein.
When it comes to ingredients, EPIC states that they always try to use the freshest options available. They offer multiple bars that feature meat from animals that have been raised on open pastures, which could be a good thing for those concerned about their ingredient sourcing. For this review, I dove into multiple EPIC bars to figure it out if their taste matched their hype.
Throughout this review, I attempted to keep an open mind with the realistic meat-based expectations of each bar. Below, you'll find a review of multiple flavors, the nutrition, pros, cons, and price that come along with EPIC Protein Bars.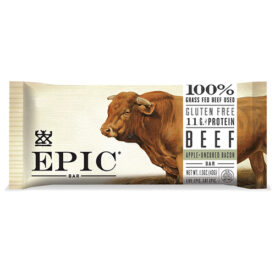 This natural meat-based protein bar is perfect for dieters who want to avoid carbs and lean into fats. Depending on the flavor you choose, they pack around 130 calories per bar, and between seven and 13 grams of protein, five to 13 grams of fat, and one and eight grams of carbs.
EPIC Protein Bar Flavor Review
Smoked Maple Bacon: 8.2/10
The Smoke Maple Bacon bar was pretty solid and I wasn't incredibly disappointed with the bacon taste it delivered. Does it provide you with a true deli-style bacon flavor? No, but it's subtle and tasteful, which is ideal for an on-the-go type situation. I was also a fan of the additional sea salt the bar offers.
Bison Bacon Cranberry: 8.7/10
The macros aren't incredibly great on this bar, but the taste was pretty awesome. First, it comes with bison and uncured bacon, which are two of my favorite meats. Second, it has cranberries and an apple juice concentrate to add a little zest and bite, so there's never a dull moment when consuming this bar.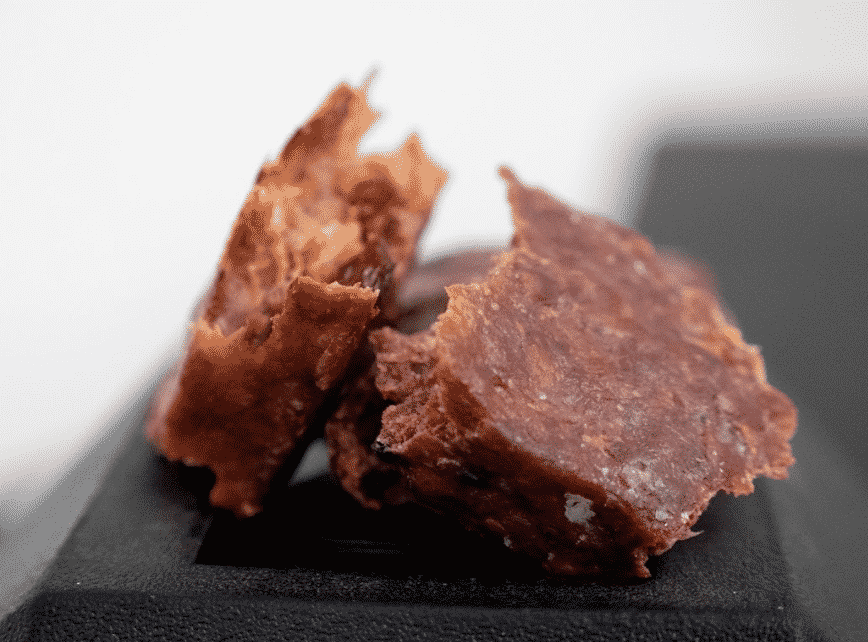 Venison Sea Salt Pepper: 8/10
In my opinion, I thought this was possibly the best bar, so why the lower score? Well, it was extremely dry and chewy, which I liked because it took me back to my childhood of eating deer sticks (this bar replicated that taste). Yet, I don't think everyone will have the same enjoyment as my nostalgia for venison deer sticks, thus the score.
Lamb Currant Mint: 7.5/10
The lamb-based bar was very hit or miss. Personally, I thought it was interesting and wasn't completely turned off by the taste, but it definitely didn't resemble lamb you'd get in a restaurant. The currants helped with the flavoring, yet I'd still recommend going into this bar with an open mind.
Turkey Almond Cranberry: 8.6/10
I was a fan of the turkey-based bar, as it hit multiple asks that I often have with protein bars. First, the turkey was flavorful and resembled a mix of normal cooked turkey and a turkey meat stick. Second, it had almonds which provided a little extra texture and bite. Third, the cranberries gave this bar a natural sweetness.
Beef Habanero Cherry: 8.3/10
This bar was definitely a roller coaster of natural-based flavors. The beef provided bite and a real meat-esque bite, while the cherry gave the bar additional texture and sweetness. Props to EPIC for meshing these two strong tastes together, and to top it off, they add a little habanero flavor for spice.
Wild Boar Bacon: 7.8/10
To be honest, this bar wasn't my favorite, but I could very well see others liking it. It comes with two forms of bacon: Texas wild boar and uncured bacon. Then, for sweetness EPIC adds a bit of brown sugar and cranberries, so the bacon not only gives off the meaty taste, but a sweet bite as well.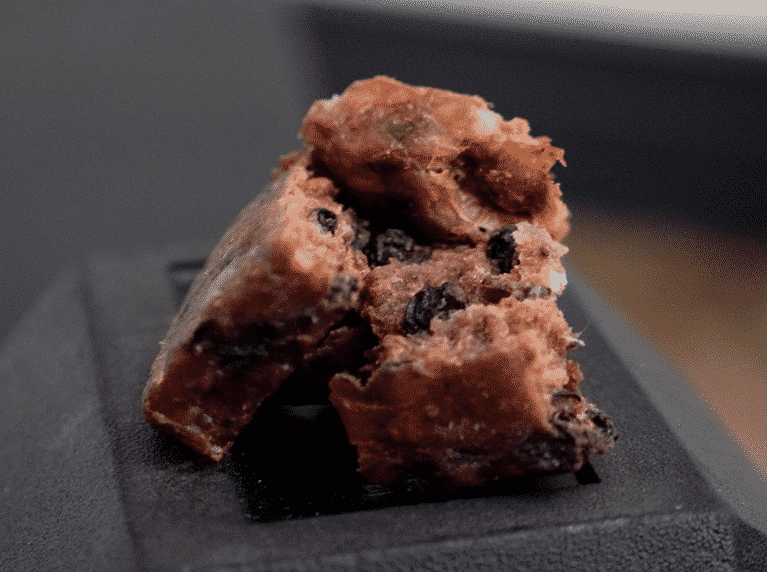 Chicken Sesame BBQ: 9/10
I might be a bit biased on this one, but I loved the chicken bar. Every day, I consume a ton of chicken, so having it in a bar is a big thumbs up from me. To flavor this bar, EPIC adds golden raisins and similar ingredients you'd find in popular BBQ sauces. In addition, I liked the subtly salty taste that came along with each bite.
Chicken Sriracha: 8.9/10
Similar to the other chicken bar, this bar was all around solid. The main difference is that this bar was definitely the spiciest on the list. It has red pepper flakes as it's third ingredient, so that alone already suggests the spiciness of this bar. If you like bite to your bars, then this is a good option.
EPIC Protein Bars Nutrition
Calories and Macronutrients
In respect to nutrition, EPIC Protein Bars do a couple things really well, and then have a couple things that are concerns in my eyes. Their bars are relatively low calorie, which is both a good and bad thing depending on your caloric and nutrition goals. Of all the protein bars reviewed you can expect to find between 80-150 calories.
For macronutrients, the bars offer a lot of variance, so again, that could both be a good and bad thing depending on what you're looking for. None of their protein bars exceed 20 grams of protein, so some may find that they're low. Of the bars reviewed, the fat varied between 3-10 grams, the carbs 1-12 grams, and protein 7-15 grams.
Below, I've included the nutrition information for the Smoked Maple Bacon bar, which has a varied macro breakdown.

Ingredients
One positive that comes along with every EPIC Protein Bar is that they use all natural ingredients. If ingredient sourcing is a big deal for you, then this will be a positive attribute. Additionally, some of the meats used in their bars come from open pasture animals and are actually available in limited quantities at times. Below, you can get a rundown of the Maple Bacon Bar's ingredient list. 
Uncured Bacon (Pork, Water, Sea Salt, Vinegar, Celery Powder)
Natural Pork
Lactic Acid
EPIC Protein Bar Pros
When it comes to pros that come along with EPIC Protein Bars I found a couple standout components that I really liked. First and foremost, I enjoyed the unique approach they have with their flavors, and that every bar has a unique take on their desired flavor. Second, I like that EPIC uses natural ingredients, so there's never a fear of what an ingredient does or where it's from.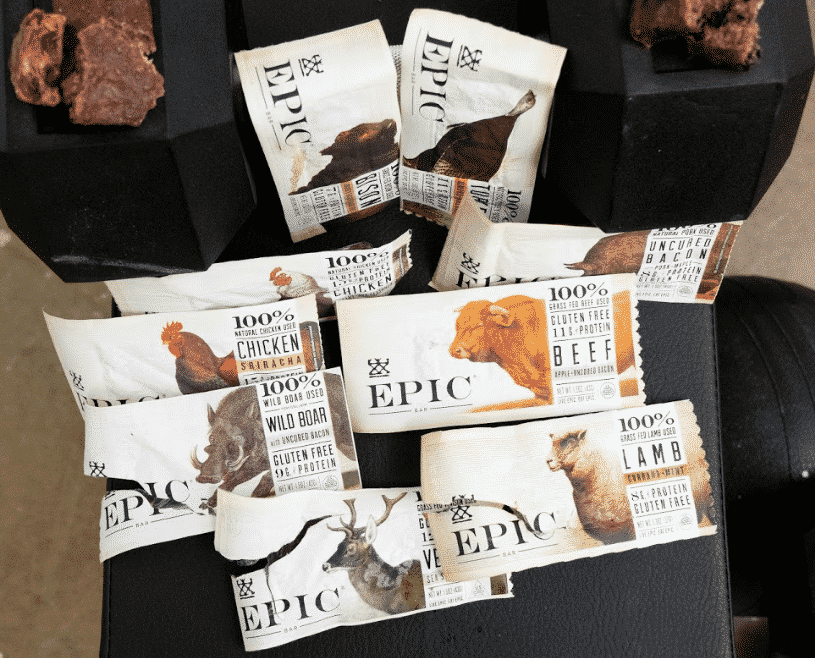 Third and lastly, these bars are relatively low calorie, so if you need a quick snack with relatively decent macros, then they're a good option. As an added bonus, these bars do travel pretty well, but be warned, I would NOT recommend leaving them in a hot backpack, or similar setting.
EPIC Protein Bar Cons
In respects to the EPIC Protein Bar and some practical cons I found two decently significant problems and one small issue. For starters, if you're a vegetarian, then none of these bars will fit into your diet, as they're all animal based. This limits the demographic these bars will be useful and beneficial for, but this point is kind of a given.
The other significant con is the variance in macros and calories. None of the bars have calories or macros that are "bad", but the variance may make it tough for some to hit their goals. For example, some athletes may not want a 130 calories bar that only has 8 grams of protein. Lastly, the price of these bars is slightly on the expensive side, yet that's pretty standard with all protein bars.
Price
When it comes to price, you can expect to pay around $2.50 – $4.00 for an individual bar, and that will vary on where you live. More urban areas will have higher prices on bars, but that's standard across every protein bar and brand. For a box of 12, the price is a bit higher and it will run you between $25.00 – $31.00. 
Wrapping Up
EPIC Protein Bars offer a unique approach to grabbing a protein focused on-the-go snack. Every bar they have has a 100% animal protein focus, so if you're a meat lover, then you'll most likely enjoy these bars. Each bar came with a different flavor, so I doubt you'll get bored when trying different flavors. The one thing I'd recommend keeping in mind is that these bars won't compare to meat you'd buy at a restaurant or cook.
For meat lovers who want an on-the-go snack, EPIC Protein Bars may be a great addition to your diet.