We receive free products and receive commissions through our links. See
disclosures page
.
Lifting gloves can be useful to a variety of strength athlete and gym-goers. Like most supportive strength equipment, gloves are tools used to protect and enhance performance across multiple strength movements. Typical folks who reach for a pair of gloves include functional fitness athletes, calisthenic athletes, and bodybuilders, or recreational lifters.
There are multiple iterations of lifting gloves, and every strength sport's gloves will have slightly different attributes. Today, we'll be taking an in-depth look at the Fit Active Sports Weight Lifting Glove. Along with our detailed analysis, we'll be putting them through a variety of in-gym tests.
In our gauntlet of five tests, we assessed how these gloves performed with: Grip, versatility, feeling & fit, construction, and price.
Grip
Our three grip tests include activities that would cover all of the major asks of different strength athletes. First, we perform a rope climb for the functional fitness athlete. Second, a pull-up for any calisthenic movement and athlete. Lastly, a dumbbell row, which is useful for the bodybuilder, or recreational gym-goer.
These gloves held pretty well in the rope climb. A major issue a lot of gloves have with matching a functional fitness athlete's needs is performing well in the rope climb. The rubber material that covers these glove's palm held the rope tightly, and provided me with enough grip to make it up and down with relative ease.
[In need of a different glove for cross-training and want to see other options? Check out this full list of the best gloves for CrossFit!]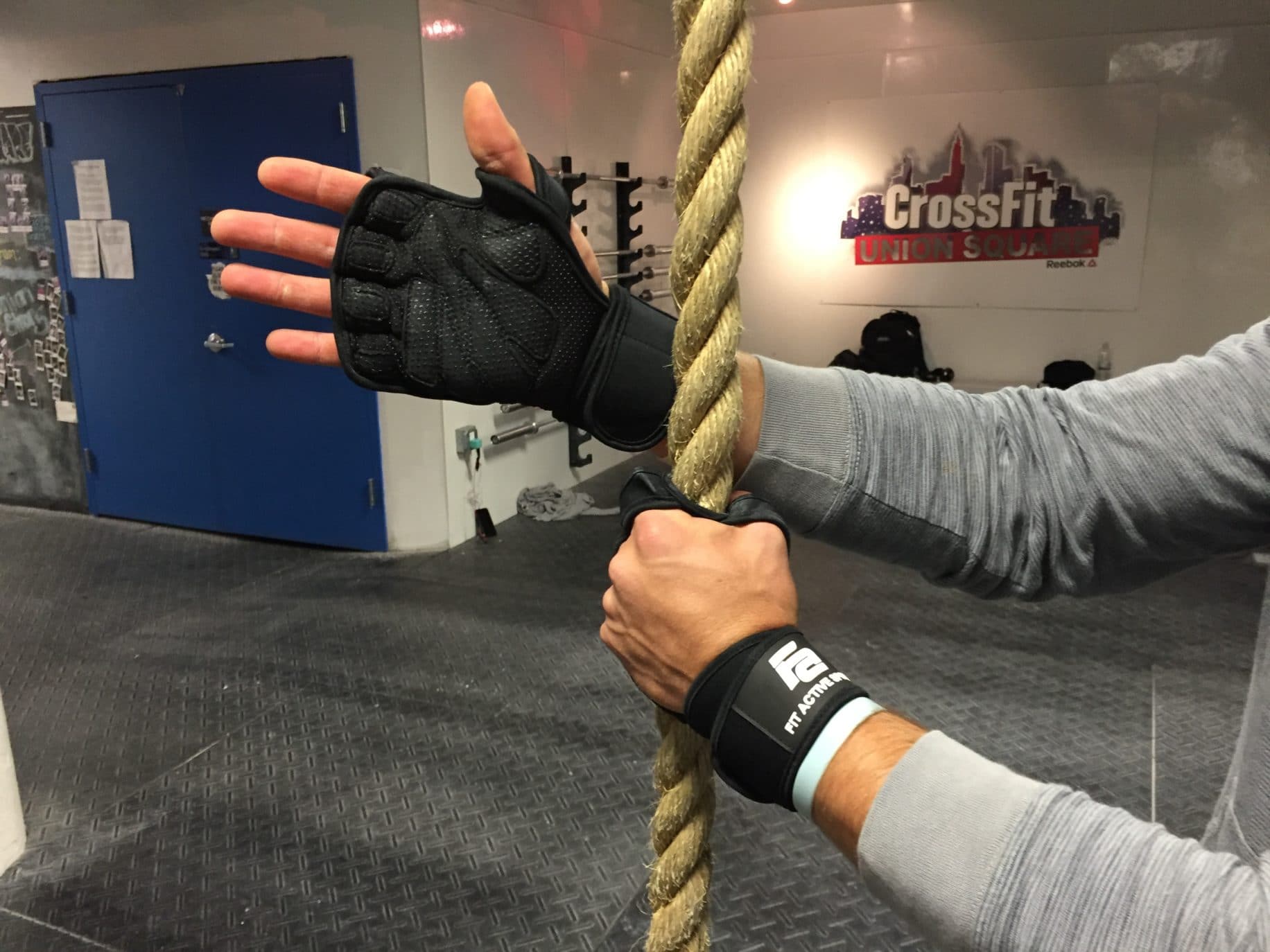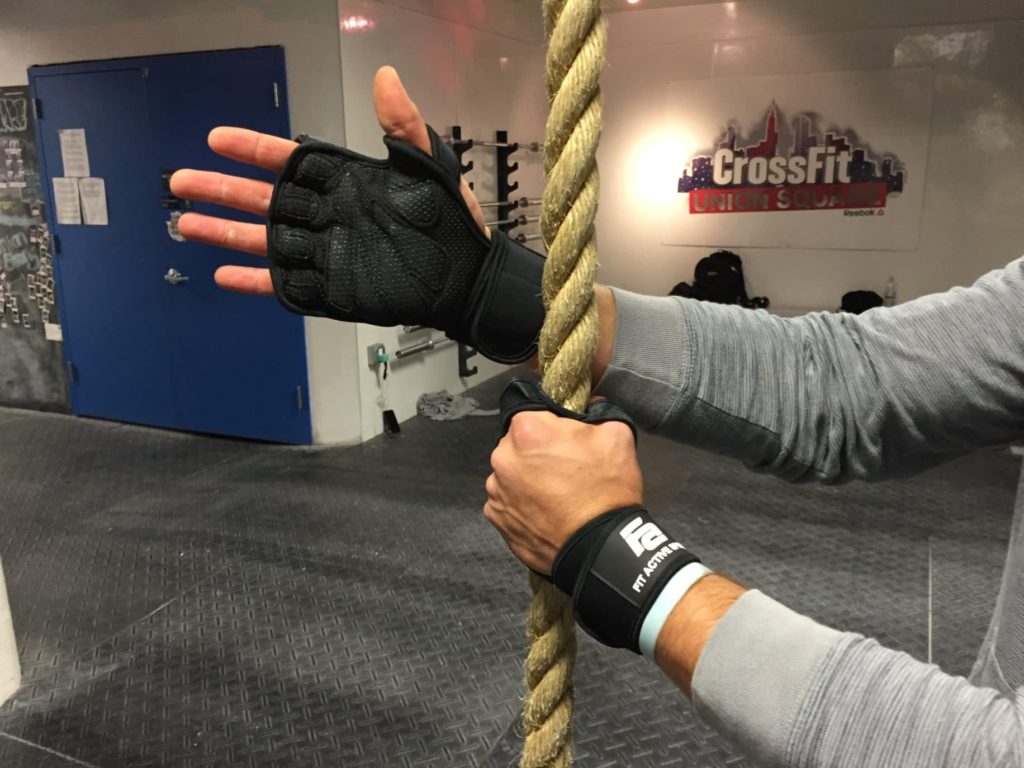 The gloves squeezed the pull-up bar pretty well, and gave me a "locked in" feeling because of the rubber material. These gloves have somewhat of a waffle-esque material to them, and have additional padding covering them thumb, which is somewhat unique for a cross training lifting glove.
Like the pull-up, these gloves performed pretty well on the dumbbell row. The only small issue I have with them was the palm moving slightly on the knurling, but that shouldn't be an issue if the glove hugs your hand really well.
Versatility
These gloves were fairly versatile, which is a pretty key for a cross training glove. Often times, gloves have a difficult time performing well on the rope climb, but these did pretty well. They also hugged smooth and knurling surface metal decently well, so multiple athletes can use them. Functional fitness athletes might also like how the thumb is protected with this style glove.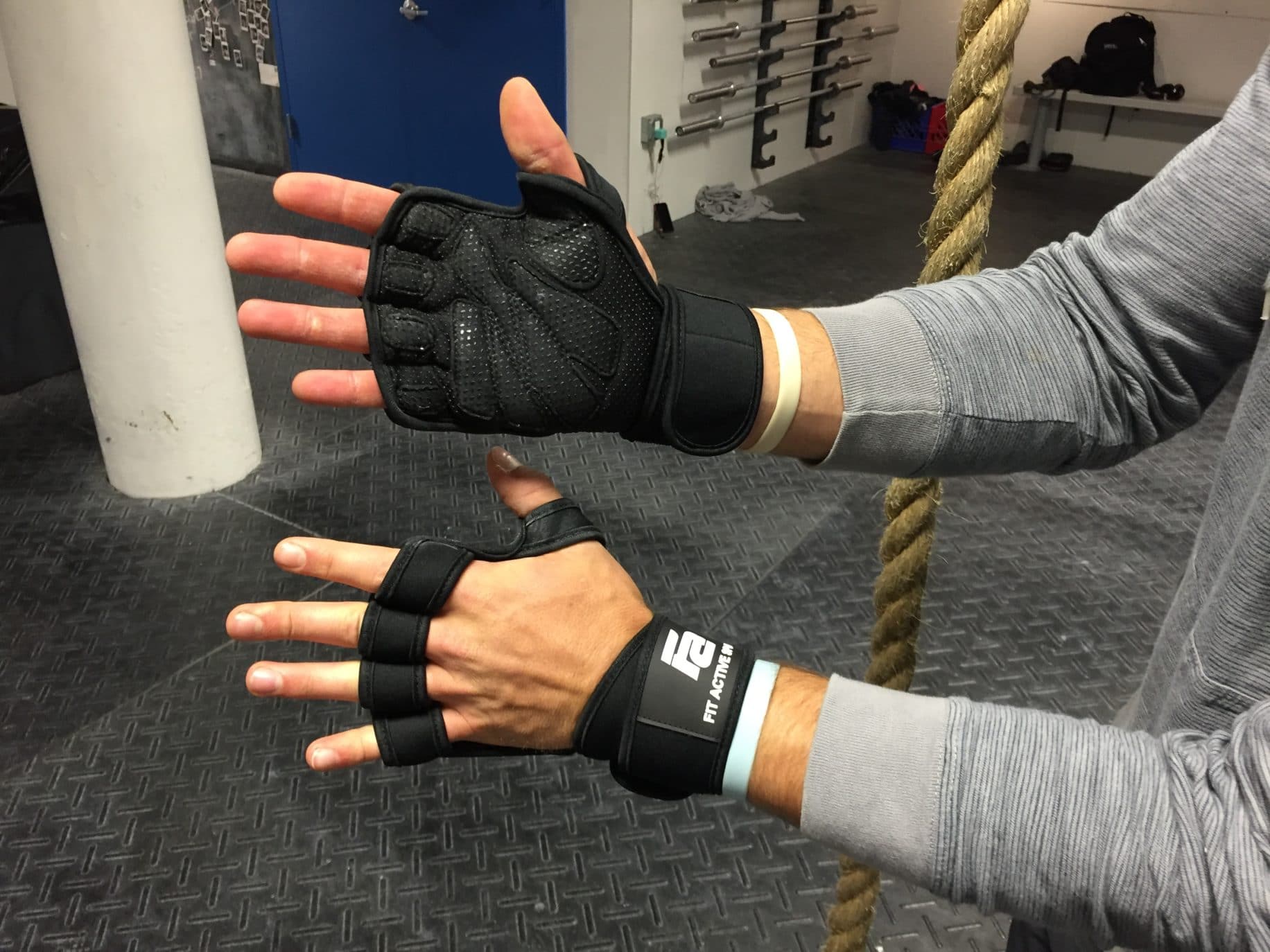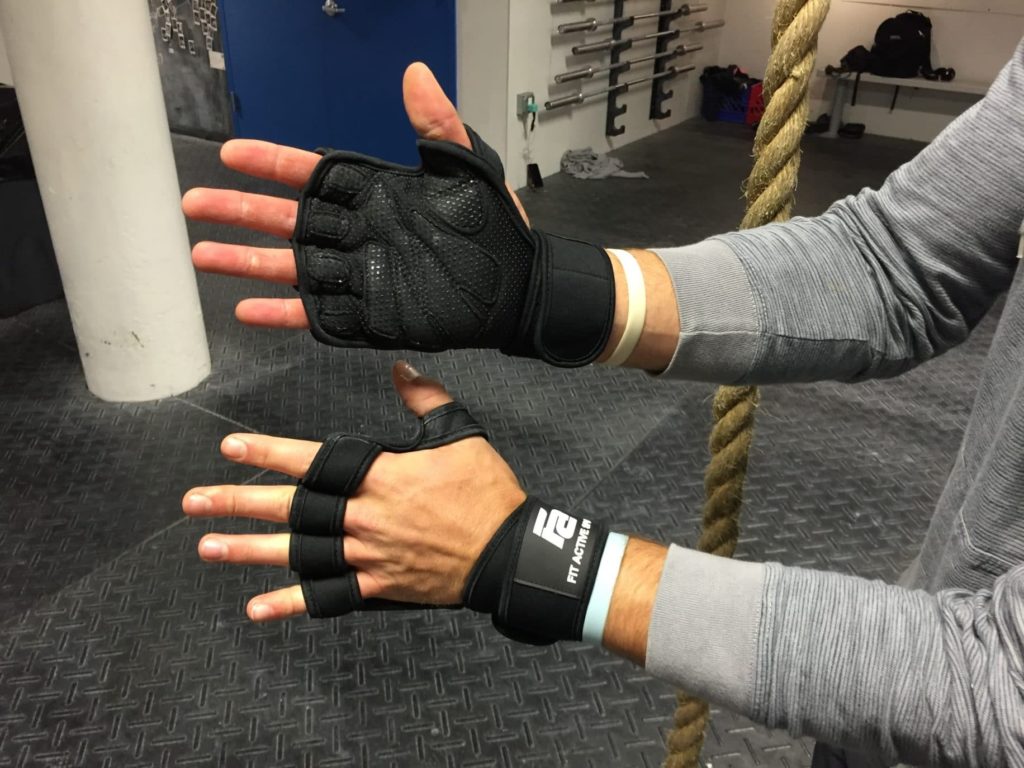 The only downside to this glove's versatility could be the open facing material on the back of the hand. I mentioned it in the video, but the glove slightly moved on my hand when coming down the rope, so any versatility issues may come down to properly sizing your hand with this glove's sizing. 
Feeling & Fit
These gloves size slightly different from most brands, as they determine their sizes off the palm and not the full length of a hand. Their large is intended to fit a 4″-5″ palm from top to bottom, and I have a 4″ palm. Even though I was on the smaller end of the sizing, I still thought they fit pretty well. In addition, the finger and thumb loops hugged really well, so the glove never felt "floppy".
My only beef with the feeling and fit of these gloves was the palm moving a little bit on the rope climb. As you can see, this glove has somewhat of a larger surface diameter on the palm side, so if it's a little large, then I'd be weary of it moving during certain exercises.
Construction
I liked them for the rubber material that covered the palm, and with how tightly they hugged my fingers. Additionally, the extra thumb padding could be a plus for someone with an interest in total hand protection. My knock on this glove's construction comes down to the open material on top of the hand. I would have liked a little bit more material locking in the palm area.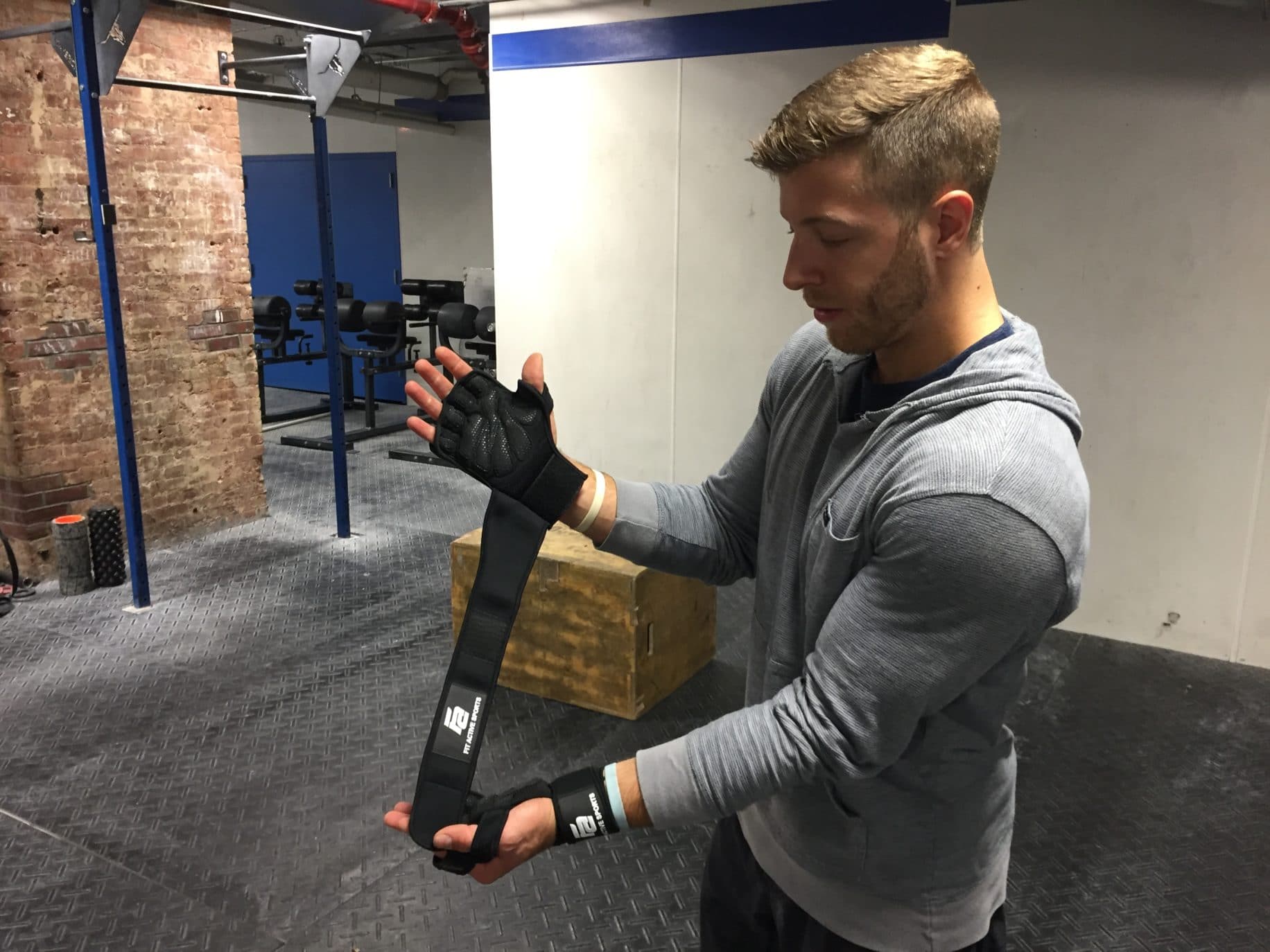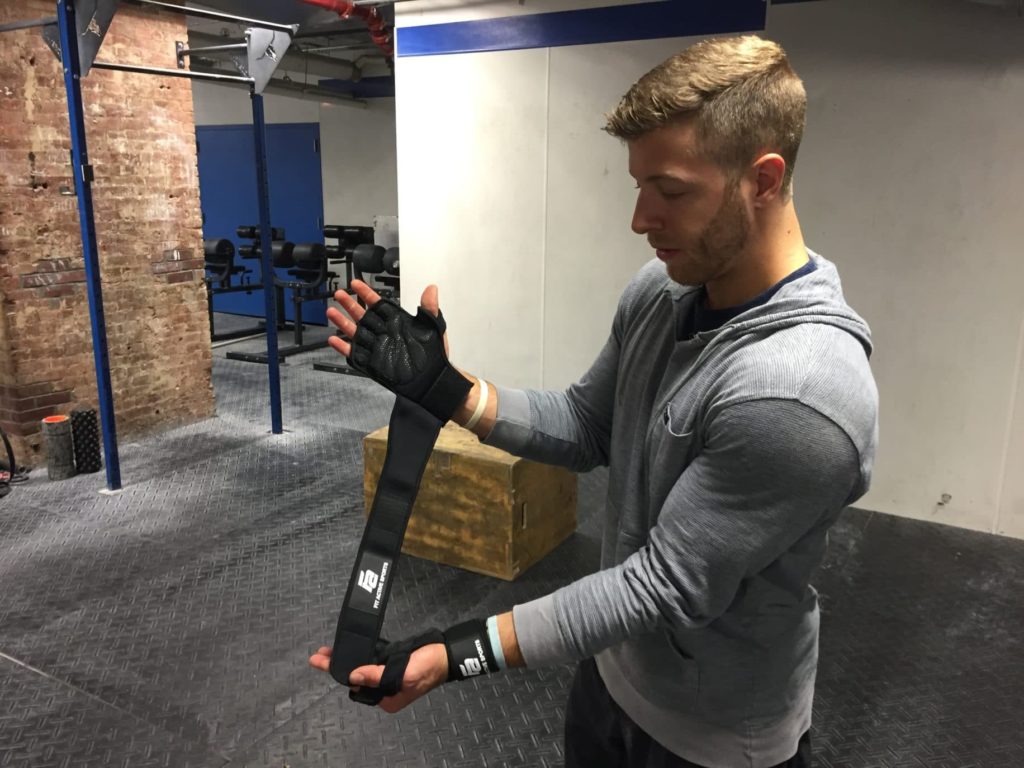 Price
The price of these gloves average around $19.95, which is a pretty good deal. These gloves have a specific purpose in mind, so for the money they fit the bill pretty well. Functional fitness gloves can sometimes be a little pricey due to their material and construction, but I feel as though these glove's do a good job at covering asks and keeping price decent.
In Closing
The Fit Active Sports Weight Lifting Gloves were a good glove when it came to versatility in the gym. Their rubber material and full hand protection could be beneficial for the functional fitness athlete who wants to avoid wear and tear on their palms. In addition, their price was on point for their niche. My only concern is the sizing of the glove, as the palm of the glove slid slightly in the rope climb.
For someone in need of a fairly priced cross training glove, then I think you'll like the Fit Active Sports Weight Lifting Glove.