GreenBlender believes everyone needs more fruits and vegetables, which is something just about everyone involved in health can get behind. That's why the company came to fruition (get it?), in order to help customers consume more healthy plants on a regular basis. Obviously, you need your fruits and veggies as often as possible for as long as possible, which is why GreenBlender launched as a smoothie subscription service.
The way it works is that every week you're sent an email with a list of eight potential recipes you can choose from, and you pick five recipes that you want to make. Then you get them all sent out to you in an insulated box, you throw the recipes — each sealed in its own bag — into your fridge, and you eventually throw them into a blender with some ice and water.
All the recipes are saved on their website and there are hundreds and hundreds of them in their "recipes" tab from previous deliveries. Here's what we thought of the ingredients we were sent.
GreenBlender Ingredients
We tried out two recipes for this review, one simple and the other a little more complicated. Here's what we blended up.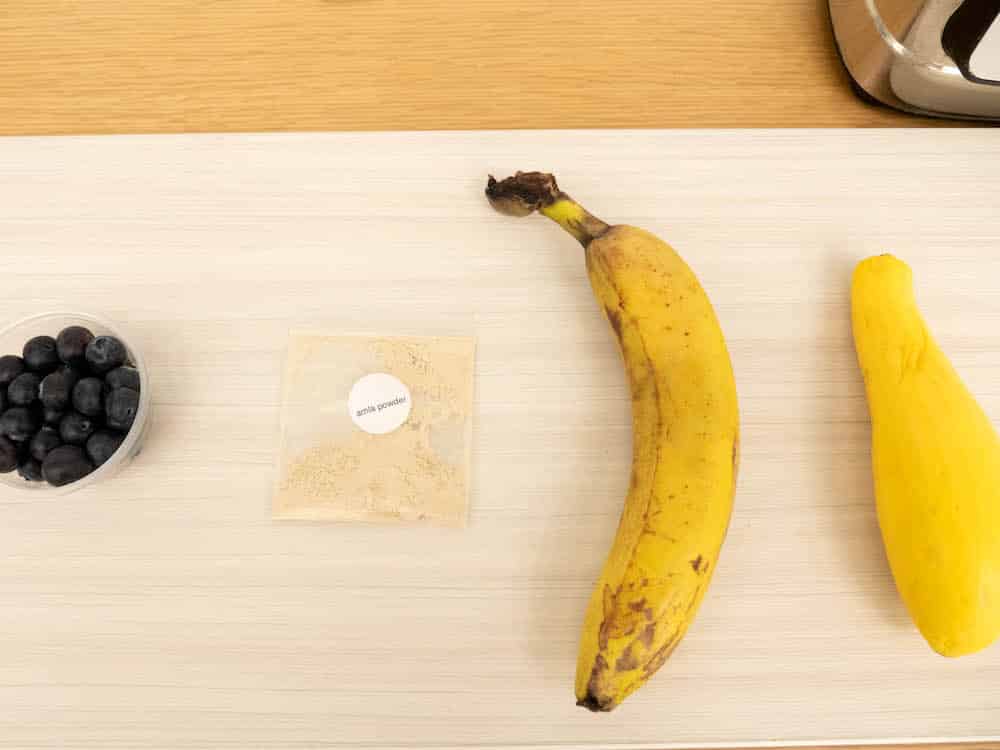 Blueberry Punch
1 organic summer squash, chopped
1 organic banana, peeled
2 oz organic blueberries
1 tsp organic amla powder
1 cup water, 1 cup ice
Green Cucumber Mint
1.5 oz organic collard greens
1 organic pear, chopped
2 mini cucumbers, chopped
1 bunch organic mint, stemmed
1 organic lime, juiced
1 tbsp organic chia seeds
1 cup water, 1 cup ice
GreenBlender Nutrition
So how nutritious are these shakes? Unfortunately, we don't get that much information on the label. Here's what is included in each serving (each recipe is two servings).
Blueberry Punch
64 calories
16g carbohydrates (4g fiber, 8g sugar)
1g protein
0g fat
Green Cucumber Mint
105 calories
22g carbs (8g fiber, 10g sugar)
4g protein
2g fat
We don't have any exact information about the vitamins and minerals present, but each recipe does come with about a hundred words describing the ingredients.
Blueberry Punch, for instance, has a bunch of content about how blueberries are low in sugar and great for brain health, though there's nothing about actual vitamins and minerals in the shake. Green Cucumber Mint's copy says that it contains "a healthy amount" of Vitamin C, fiber, magnesium, Vitamin K, and Omega-3s. No specific or ballpark percentages of the recommended daily intake, though.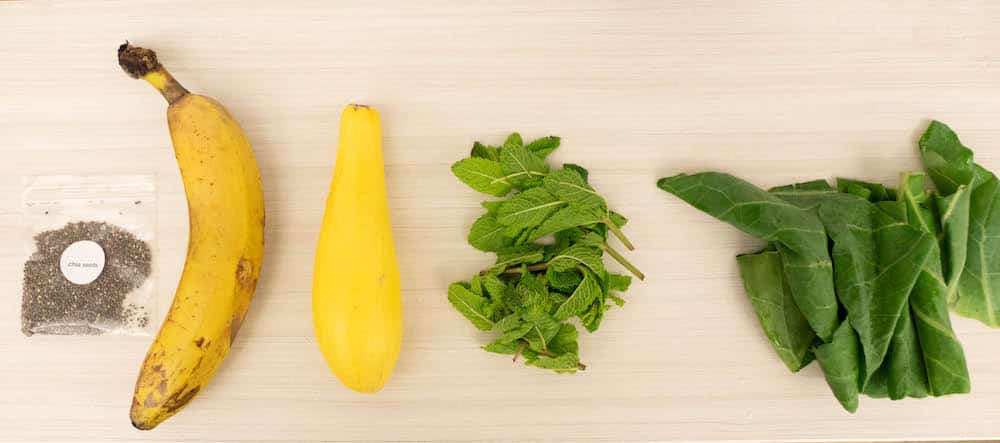 GreenBlender Ingredients
GreenBlender Benefits and Effectiveness
But the drinks are arranged with a legend that bestows upon them certain qualities. There are nine symbols that correspond with the following "benefits":
High protein
Glow
Immune Boosting
Low Calorie
Energy
Low Sugar
High Fiber
Calm
Anti-Inflammatory
Blueberry Punch is labeled Low Calorie, Low Sugar, Immune Boosting, and Calm.
Green Cucumber Mint is Low Calorie, Low Sugar, High Fiber, and Anti-Inflammatory.
Presumably, "Glow" refers to skin health, but it's a little frustrating that there's no information indicating why certain recipes get certain symbols and others don't. In their opinion, what makes something anti-inflammatory and not immune boosting? We're not told.
None of the options that were sent to us were High Protein. None were particularly high in calories either, with the highest calorie being "Kale Mango Glow" with 169 calories per serving.
Although they're low in protein and calories, all the recipes have a pretty solid hit of fiber and I found them pretty filling. I'd say that these shakes are a good idea for folks who are looking for a filling, nutritious, low-calorie beverage, but they aren't great for someone looking for an easy way to reach your protein or calorie goal. Indeed, chopping, stemming, and blending everything together does take a bit of time and labor.
GreenBlender Price
Each box is around $50 with shipping included in that price, and with that you get 5 smoothies. That's $10 per smoothie, which is awfully expensive for something you make on your own, but it's worth noting that most of the ingredients are organic and that each smoothie is meant to provide two servings.
GreenBlender Taste
Blueberry Punch, with just 64 calories per serving, was very mild. I was hoping the amla berry (also called Indian gooseberry) would provide an interesting flavor but the shake mostly tasted like banana and water.
Green Cucumber Mint had more going on and with the main flavors being cucumber and mint it made for a very refreshing drink. The pear added some light sweetness without being too overpowering, and I feel like some ginger would have made it even better.
I don't have the fanciest blender in the world (it's an Oster Classic Series 8 Speed Blender), but it does have liquefy and smoothie settings and it has worked fine for me over the years. The Blueberry Punch blended perfectly well but Green Cucumber Mint came out pretty chewy — collard greens are a little like kale in that they don't blend all that well, certainly not as well as spinach.
The Takeaway
GreenBlender is right when they say that people need to eat more fruits and vegetables. All the recipes they send out are extremely healthy, packed with vitamins and minerals, full of fiber, and low in calories. Most Americans probably could use a smoothie like this every day.
The downsides are the prep can be a little messy, it's a little expensive for something you make yourself, and while I'm confident that each recipe has a ton of micronutrients, I would have liked some rough estimates for the vitamin and mineral content and some reasoning for the benefits ascribed to the recipes.
It's also pretty low in protein and calories, but if you're looking for a healthy, filling, low calorie snack, this is a great option.