The coronavirus (COVID-19) pandemic has led to mass quarantines and in many states, closures of non-essential businesses including gyms. This has led to an increased demand for at home gym equipment and workout routines as well as some pretty ingenious ideas to use household items to fill in the gaps.
Some businesses, such as Rogue Fitness, are rising to the moment and trying to reduce the tremendous shortage of personal protective equipment and ventilators that medical personnel and hospitals need by dedicating their operations teams to making their own to reduce the shortage.
This combination of higher demand and lower output has led to Rogue Fitness occasionally halting orders for certain periods of time when necessary for their operations team to catch up.
So some athletes who are gym-less for the first time have had to get creative and built some makeshift squat racks. Check out some of the best ones we found below. (Note: We definitely recommend utilizing tried-and-true squat racks for your squatting needs. Making yours at home, while sometimes a viable option, can pose safety risks. Proceed with caution, and we're not endorsing the safety of any of the below!)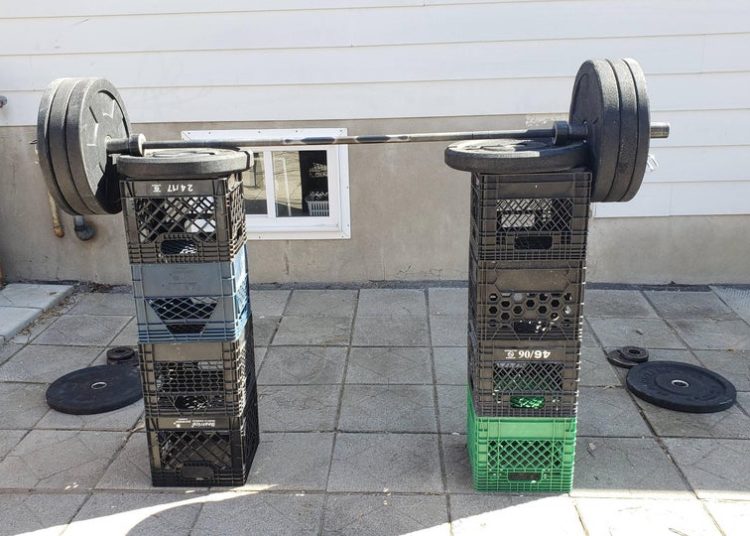 1. Crates and Weights
For starters, here is a pretty simple squat stand from Reddit user Murderous_squirrel that uses eight milk crates weighed down by a couple of weight plates. Sometimes simplicity is all you need to make a squat stand that looks like it would fit right in at a gritty old school gym where callouses on knuckles are considered trophies.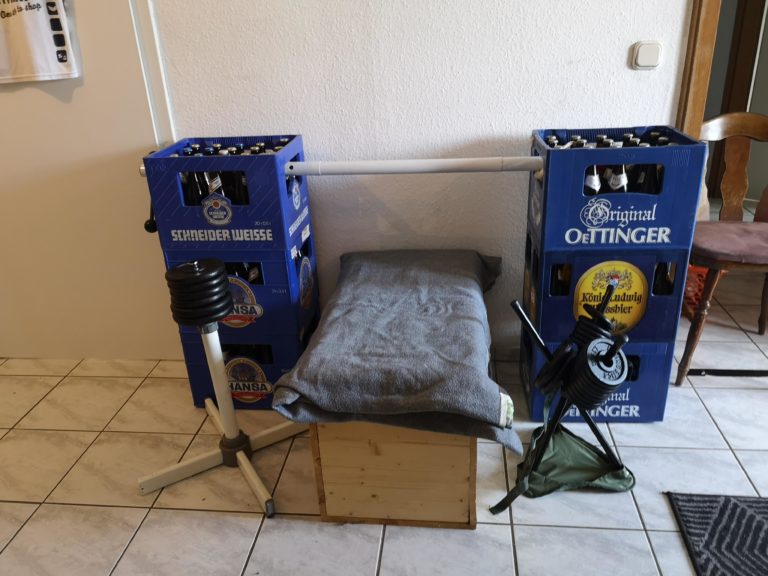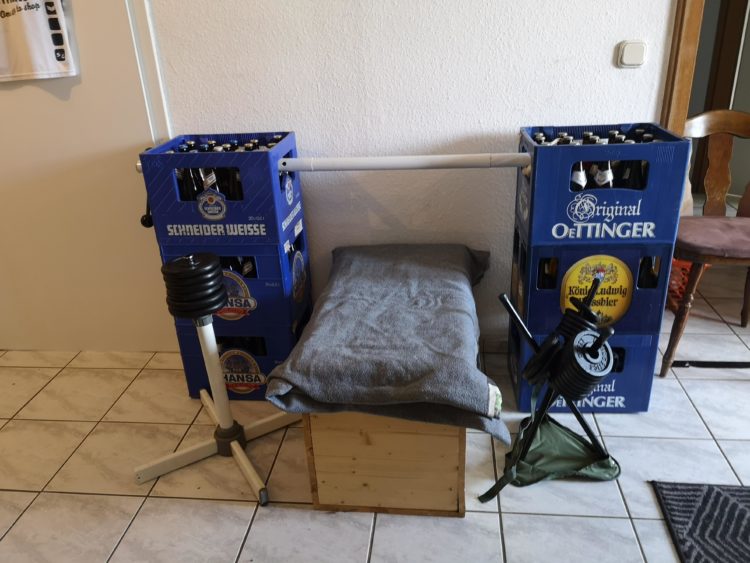 2. Benching Beers
Straying not too far from the building style above, here is a nice little brew from Reddit user burnasburn below. Burnasburn also decided to use crates in their setup but instead of using weight plates for stability and an actual barbell, they decided to just fill those crates with bottles of beer. After sliding a long PVC pipe through the crates as a replacement barbell, they use the weight of the beer to add to their gains instead of their gut. Check it out.
Perhaps the above photo sheds a bit more light on why liquor stores were considered essential and may remain open during the quarantine. Stack another couple of crates and remove the bench and were not too far away from a squat stand.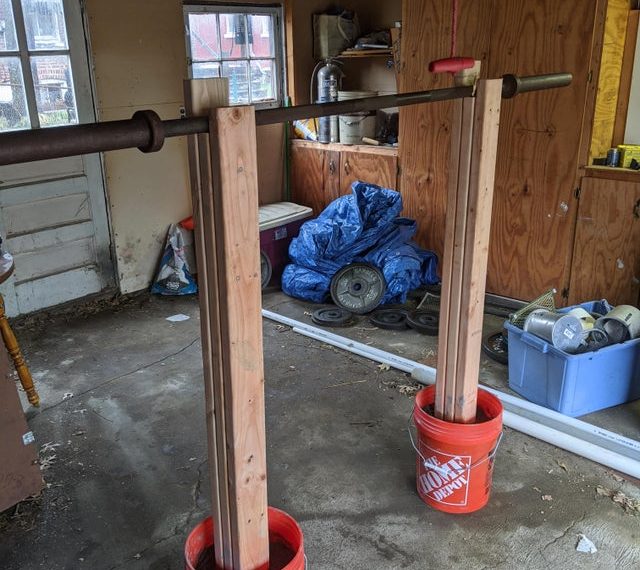 3. Barbell, Buckets, and Wood, Oh My!
Not everyone who endeavored to build homemade gym setups did so with crates. Some decided to actually incorporate legitimate building materials like lumber. However, they didn't really get too far beyond that. Here's Reddit user CeeezyP's attempt.
Two buckets filled heavy with dirt, each with three long pieces of wood at symmetrical heights to recreate the functionality of J-hooks, accompanied with a tried and true, worn and weary, trusty rusty barbell. The creativity is certainly there even if this setup is pretty darn unstable for a squat stand.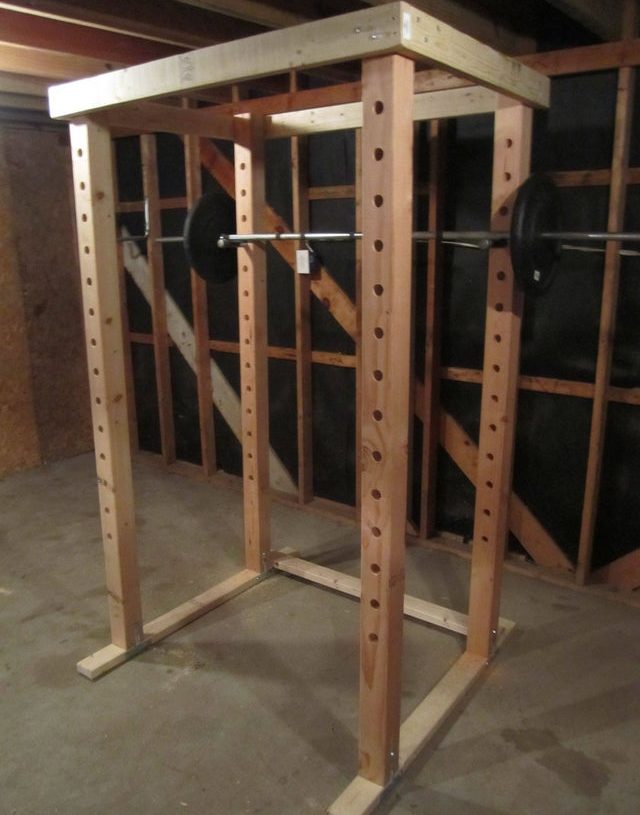 4. The Carpenter's Squat Stand
If you live in a world where you have the materials, the craftsmanship, and the patience to drill and sand peg-holes with precision, then the above photo of Reddit user tripleduece249's homemade squat rack should be inspiring. Change out the wood for steel and we wouldn't be able to tell the difference between this and a squat rack you would encounter at a commercial gym.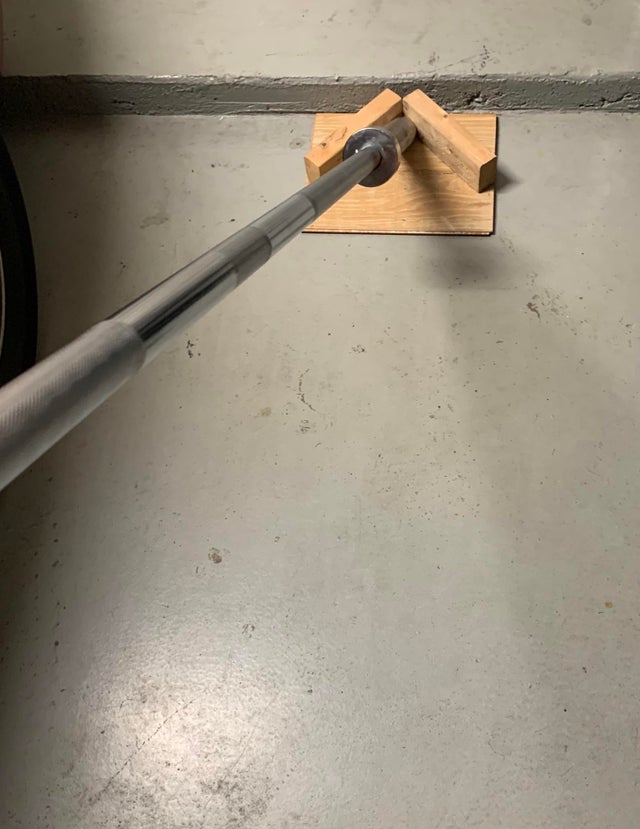 A Bonus Landmine
And finally, if the creativity or effort to build a homemade gym setup is too much but you want to get in the game somehow, check out the homemade landmine made by Reddit user DuubyDuubyDuba.
"Made myself a landmine corner so I don't have to bang up my actual corner in the garage."
It's not a squat rack, but building your own landmine is simple, elegant, offers the feeling of accomplishment, keeps the corners of the garage pristine, and becomes an excellent addition to a home gym.
Wrapping Up
These were just several examples we saw of athletes finding creative solutions while staying at home. Just please make sure that whatever idea you try, you take the necessary safety precautions first.