Knowing all the facts before purchasing a treadmill is key to making the right decision. Reviewing the Horizon 7.4 AT treadmill, we found it to be great for streaming fitness classes, while offering up-to-date amenities like a built in fan and speakers.
The 7.4 AT is part of Horizon's "Studio Series" making it a solid choice for users wanting to sync through Bluetooth to third party fitness apps to stream classes while they run. It's also a surprisingly great deal for the quality you're getting, which is one of the known upsides of Horizon's treadmills.
Main Takeaways
The Horizon 7.4 AT has 3-zone variable response cushioning that can mimic outdoor runs and also reduce impact on joints. 

This treadmill was created to supplement third-party fitness apps, so you can

stream while you sweat

. 

The feather-light hydraulic folding makes storing this treadmill a breeze.
$100 off
Horizon 7.4 AT Treadmill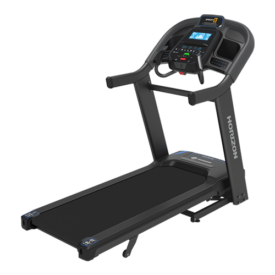 The Horizon 7.4 AT treadmill is ideal for anyone who likes to stream fitness classes throughout their workout. In addition to Bluetooth connectivity for streaming, this tread also features 3-zone variable response cushioning and feather-light folding to make storing this treadmill seamless. Get $100 off through 3/7 with code RUN100. 
Horizon 7.4 AT Treadmill Highlights
​
The Horizon 7.4 AT is great for a lot of things, including streaming fitness classes, reducing the possibility of injury on your joints, sprinting, walking, and price. But it's not as great if you're looking for a treadmill with a large touchscreen display or something that comes with a lot of pre-programmed workouts.
Who Should Buy the Horizon 7.4 AT
Athletes who desire a lot of app compatibility to keep their workouts interesting.

Runners who want adjustable cushioning for

long endurance training

.

Buyers who want to pay their purchase off over time.
Who Shouldn't Buy the Horizon 7.4 AT
Anyone who wants to interact with a touchscreen display.

Users who want a treadmill that folds up into something much smaller when it's not in use.

Runners who want a lot of options when it comes to pre-programmed workouts.
Price
​
You can get the Horizon 7.4 AT for $1,599, which is on the lower side of prices for treadmills of this quality. On top of that, Horizon also makes it possible to pay $45 per month for 36 months (without interest), making it practically the equivalent of a monthly gym membership for those three years.
Overall Build and Quality
​
This 318-pound tread has a sturdy build with most of the features you would expect in this price range. It's got your average speeds and inclines, some pre-programmed workouts, speakers, fans and a display that tracks your stats. It may not be super high-tech, but it will be a great supplement to any at-home workout.
Features
​
Among the great features on the Horizon 7.4 AT is its app compatibility. With its Bluetooth connectivity, you can easily sync to third party apps, track your stats and stream. If you're not into the third party workouts however, it does have a fairly low number of pre programmed workouts, so you'll have to be comfortable formulating your own sessions.
Incline range
​
This tread inclines from zero to 15 percent, which is average for most treadmills on the market in this price range and will most definitely help you increase your strength when it comes to climbing.
Speed range
​
You can go from 0.5 mph all the way to 12 mph on this machine, which will keep your HIIT intervals nice and spicy.
Included workouts
​
There are 10 built-in programs in the Horizon 7.4 AT. One of the programs is Sprint 8 training, which is a 20 minute HIIT workout broken up into 30 second all outs and 90 seconds active recoveries. But overall, 10 programs isn't that many in comparison to other treads on the market, so if you're looking for more variety than selecting a HIIT or fat burn workout, you may want to look elsewhere.
Display
​
This tread has a 8.25" LCD screen, which is fairly small in comparison to other tread options. It's also worth noting that this display is not touchscreen, so if you're looking for something that's high-tech and interactive, the Horizon 7.4 AT doesn't quite cross the finish line.
Speakers
​
This tread does have speakers, so you can sync your phone through Bluetooth and blast your workout playlist as loud as you want.
Fans
​
The Horizon 7.4 AT has cooling fans to keep the sweat from distracting you on your run.
Heart Rate Monitoring
​
There is heart rate monitoring through the contact grips or with the included Bluetooth chest strap to help you track your stats during interval sessions.
HDMI, USB and Other Inputs
​
This tread has a USB port to keep your device of choice fully charged throughout your workout.
Bluetooth and Audio Options
​
The Horizon 7.4 AT has Bluetooth connectivity, so you can sync your phone or tablet and play your music or third-party fitness app workout through the speakers. You can also sync the included chest strap to monitor your heart rate throughout your interval runs.
Water Bottle, Cup Holders, Tablet and Phone Holders
​
You can store all your goods easily throughout your session with the water bottle and tablet holders, and accessory trays.
Product Specs
​
Some of the important specs you can expect with the Horizon 7.4 AT are its large running area, quiet, but powerful motor, feather light folding and workout app compatibility. It may take up a good chunk of space, but it will definitely keep you running long term.
Motor Size
​
The 3.5 CHP motor is meant to be used by runners, making it ideal for interval training that gets up into that sprint range.
Running Area
​
The running area is wider than most treads in this price range, coming in at 60 x 22 inches.
Weight Capacity
​
This tread has an average weight capacity of 350 pounds.
Folding Options and Dimensions
When in use, the Horizon 7.4 AT is 76″ x 37″ x 63″, which is fairly large, but luckily, it folds into V which reduces its footprint to 42″ x 37″ x 71″. Plus, the hydraulic folding system makes getting it into that smaller space even easier.
Max Speed and Incline Range
​
The powerful 3.5 CHP is stronger than most average motors that are 2.5-3 CHP, which means it can withstand intervals and still change speeds and inclines quietly—in fact, you may not even be able to hear it over your workout jams.
Electrical Requirements
All you'll need to power this tread is your normal household power outlet, which is 120 volts, 15 amps.
Warranties
​
With your purchase, you'll get a lifetime warranty on the frame and motor, five years on parts and electronics, and two years on labor.
Belt Information and Roller Size
​
The tapered rollers are 60mm and 46mm (2.4 inches and 1.8 inches), which is about expected for this price range. The 1.6mm thick silicone belt is also average for a treadmill in this price range.
Cushioning and Feel
​
The ortho-lite belt has a soft feel that reduces impact on joints during runs, so you can build muscle without worrying about injury. With the 3-zone variable response cushioning, you can set your tread to this cushioned feel but also make it mimic outdoor running if you happen to be training for a trail run where you need to practice running tougher terrains.
Workout Apps, Compatibility
​
and Subscription Options
One of the best features of this treadmill is its workout app compatibility. Not only does it have a tablet holder and sync easily to third-party apps to track your stats, but you'll also get discounted rates for fitness apps, like Studio, Aaptiv and Daily Burn.
Places to Buy
You can buy the Horizon 7.4 AT through Horizon Fitness' website.
Company Information
​
Horizon Fitness is a subsidiary of Johnson Health Tech and known for building durable machines at affordable price points. Many of their machines are studio compatible treadmills, which encourages users to take fitness classes through apps like Apple Fitness+, without having to pay for the more expensive piece of equipment. They also make ellipticals and indoor cycles in addition to treadmills.
FAQs
Is the Horizon 7.4 AT good for streaming workouts?
Yes, the Horizon Studio Series (of which the Horizon 7.4 AT is a part) was created to make streaming fitness classes at home easy. It has Bluetooth connectivity that allows you to sync with third-party apps and a tablet holder to set your stream up front and center. Plus, you can get discounts on some of these third-party fitness apps with your Horizon purchase.
How much does the Horizon 7.4 AT weigh?
This tread weighs 318 pounds, making it a very sturdy option on the market—and also heavy to move by yourself, so we would recommend getting some help to maneuver it into your home.
Is the Horizon 7.4 AT the newest Horizon Fitness treadmill?
No, the newest treadmill in the Horizon Studio series at the time of this review is the 7.8 AT, which has a more powerful motor and a bigger display.