The reigning Men's Physique Olympia champion Erin Banks' entered competitive bodybuilding at age 31 in 2019 and turned pro within four months. Banks won the second-most prestigious bodybuilding title in the division, the Arnold Classic Men's Physique, in 2021 and earned ranked as the world's top Men's Physique bodybuilder via his win at the 2022 Olympia and subsequent 2023 Arnold Classic.
Banks has one of the widest, densest backs in Men's Physique, which gives him his edge over much of his top competition. On June 29, 2023, Banks took to his YouTube channel to share his back training 'secrets.' Check out the video below:
[Related: Chris Bumstead Shares His 10 Staple Exercises for Hypertrophy]
Erin Banks' Off-Season Back Workout
The reigning Olympia champ performed five exercises in his back workout:
[Related: 2023 Mr. Big Evolution Pro Results — Andrea Presti Wins Men's Open]
Straight-Arm Lat Pulldown
Banks opened with straight-arm lat pulldowns, an isolation movement that establishes his mind-muscle connection through his warm-up sets. The two-time Arnold Classic champ used a rope attachment, holding his hands together at the starting position, then spreading them during the concentric.
Banks' hands end up next to his thighs during peak contraction. Banks maintained a neutral spine with his torso at a 45-degree angle to keep the tension on his lats. After his first set, Banks did a muscle-up and dips complex to display his calisthenics skills. "I used to do 500 pull-ups a day easily, handstands, and backflips," said Banks before returning to his hypertrophy-focused back workout.
Chest-Supported T-Bar Rows
Banks' favorite exercise is the T-bar row. He keeps his elbows flared while performing this exercise to better engage his upper lats and rear deltoids. The reigning Men's Physique Olympia champ rests two to three minutes between sets to allow enough time for his ATP levels to replenish for maximal output each set.
Adjusting the amount of rest depends on one's goals, but as Banks is in his off-season hypertrophy phase, maxing out each working set to failure is more important than elevating his heart rate. Banks performed two warm-up sets and two working sets.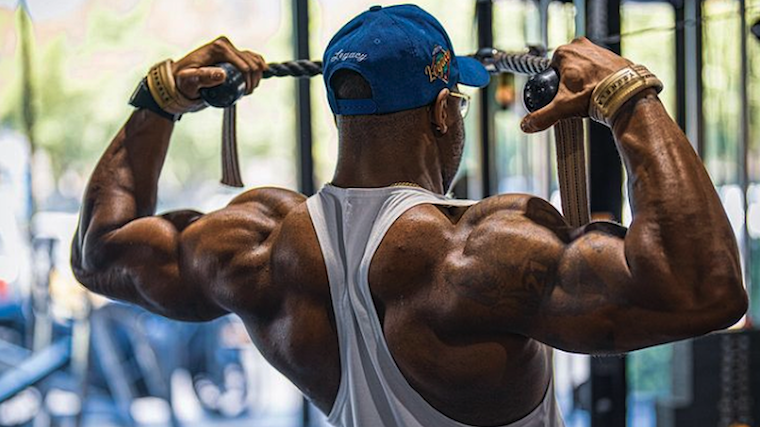 [Related: Brett Wilkin's 3 Go-To Exercises for Adding Mass to His Hamstrings]
Seated Machine Row
Banks performed seated rows on an Arsenal Strength plate-loaded iso-lateral row machine. He used a neutral grip and simultaneously pulled both handles by driving his elbows back for optimal lat engagement. Banks set the machine's seat low to tweak its movement trajectory. The angle of the pull allowed him to bias his upper lats, rear delts, and traps.
Rack Pulls
Banks adjusted the safety pins so the barbell was below his knees in the starting position. The Olympia champ credited this exercise for building his back thickness.
"It's not just an up and down movement," explained Banks, who opined that using a faster cadence biases the lower back. However, he uses this movement to develop his lats by lifting the barbell and extending his back slightly at the top. Banks arches his spine at lockout so the weight "sits" on his lats.
"EBanks Rows"
For the final exercise, Banks performed his signature back movement — the "EBanks rows." His namesake exercise is a hyperextension and cable row hybrid. He set up a hyperextension bench a few feet away from a cable pulley, set at the lowest setting.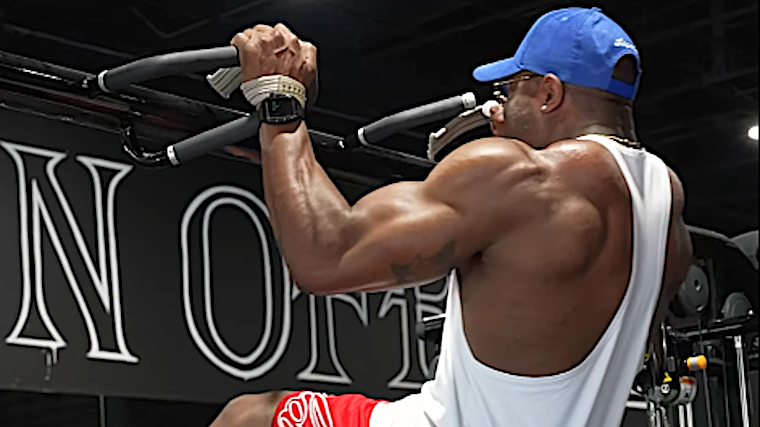 Banks' torso was perpendicular to his legs at the starting position. He grabbed an EZ bar with a wide underhand grip and extended his arms overhead. The Olympia champ pulled the bar to his belly button as he performed a hyperextension. Banks trains his posterior chain with this movement, including the hamstrings and glutes.
Road Forward
Banks is confirmed to compete at the 2023 Legion Sports Fest Pro, scheduled between Oct. 6-8, in Reno, NV. Since this show is four weeks before the 2023 Olympia in Orlando, FL, on Nov. 2-5, the defending Men's Physique Olympia champ is expected to be in his best shape as he vies to defend his throne.
Featured image: @e_bankssss on Instagram