These female weightlifters are training with the goal to win medals — and to have a source of income.
Al Jazeera has released a quick two-minute documentary about the challenges faced by Iraq's female weightlifting team. The clip was filmed at their gym in the notoriously violent and conservative Sadr City and involves interviews with the team's star -90kg athlete Huda Salim Al-Saedi, who holds multiple Iraqi records in the sport, and team coach Abbas Ahmed, who doesn't hold back as he discusses the financial hardships the team faces.
The best quote definitely comes from Salim:
Some say I challenge men, that women don't do weightlifting. I tell them women can do everything that men can do. If they participate in this sport then so can we. There's no difference between us.
It's also interesting that in a nation where the average monthly income per capita is about $330, Salim takes home $750 a month and the rest of her team earns $500, making the sport a source of income and empowerment for the women.
"Thank to this sport, I earn for myself and my family," says team member Khadija Ismail. "And in this gym here, we become champions."
[Check out another compelling short documentary from Al Jazeera about a 70-year-old's last powerlifting meet.]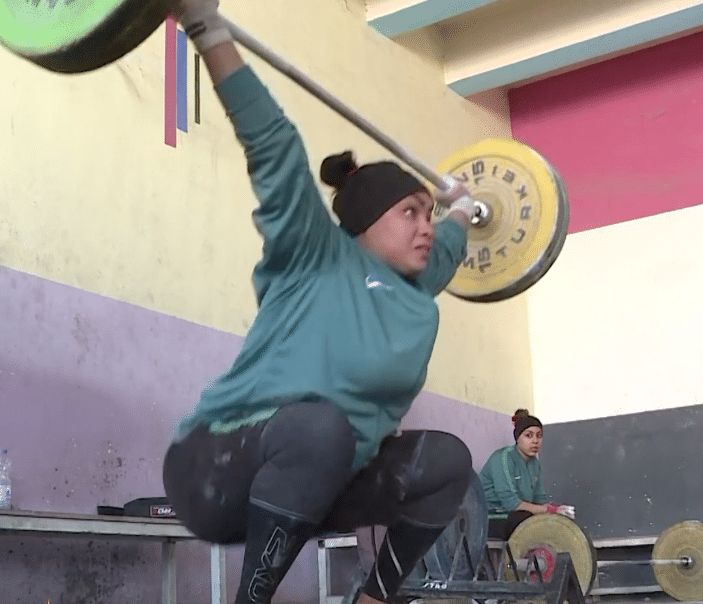 Image via Al Jazeera English on Facebook.
Iraq didn't send any women to the 2016 Olympics in Rio de Janeiro — just one male qualified, -105kg athlete Salwan Jassim Abbood, who placed ninth. But the -90kg Huda Salim won bronze at the 2017 Asian Weightlifting Championships with a 90kg snatch and set three Iraqi records at the 2017 Asian Indoor and Martial Arts Games in Turkmenistan with a 94kg snatch, 115kg clean & jerk, and 209kg total.
According to a fascinating photo essay of the gym on the Washington Post, the team trains every day for roughly three hours except on Fridays, which is usually a day off in Muslim countries.
Before lifting the most challenging weights, Salim shouts "Oh Hussain," invoking one of the main figures of Shiite Islam, Hussain ibn Ali. "It is like a blessing," she says.
Featured image via Al Jazeera English on Facebook.