On Oct. 8, 2020, the International Weightlifting Federation announced they were imposing sanctions on six Russian athletes who have been found guilty of anti-doping violations between the years 2011 and 2015. The athletes will be suspended. What's more, three other athletes will have anti-doping violations asserted against them, and their cases will be handled by the International Testing Agency. All of this information is according to a press release sent by the IWF.
View this post on Instagram

The investigation of these weightlifting athletes started back in 2017, when a "whistle-blower" sent the World Anti-Doping Agency Intelligence and Investigations Department (WADA I&I) a copy of Moscow's Laboratory Information Management System, which is essentially a database that stores important scientific data. In this case, the LIMS contained the names of Russian athletes who were caught violating the IWF's anti-doping policies.
This particular copy of the LIMS was from the years 2011 to 2015, which means the athletes being sanctioned committed their violations sometime during these years. Because the IWF did not become aware of this until the information was leaked, the athlete's sanctions start between 2017 and 2018 and are effective until dates between 2021 and 2026.
View this post on Instagram

According to public disclosure, the six athletes who have been sanctioned due to violating Article 2.2 of the IWF's Anti-Doping Policy are:
Ruslan Albegov — suspended from 12/11/17 – 12/11/2021
Egor Klimonov — suspended from 09/12/17 – 09/12/2021
Yulia Konovalova — suspended from 09/12/17 – 09/12/2021
Dmitry Lapikov — suspended from 02/08/18 – 02/08/2026
Maxim Sheyko — suspended from 09/12/17 – 09/12/2023
Tima Turieva — suspended from 09/12/17 – 09/12/2021
Albegov is a superheavyweight bronze medalist in the 2012 Olympic Games, winning with a combined total of 448 kilograms (987 pounds) between the clean and jerk and snatch — two full-body movements that have the athlete lift a barbell overhead. He has also hit a max clean and jerk of 255 kilograms (562 pounds). Also of note is Turieva, a female competitor in the 63-kilogram weight class who won the gold medal at the 2013 World Championships. As for Lapikov, this is his second offense. The 105-kilogram competitor was stripped of his 2008 Olympic bronze medal in 2016 after testing positive for steroids.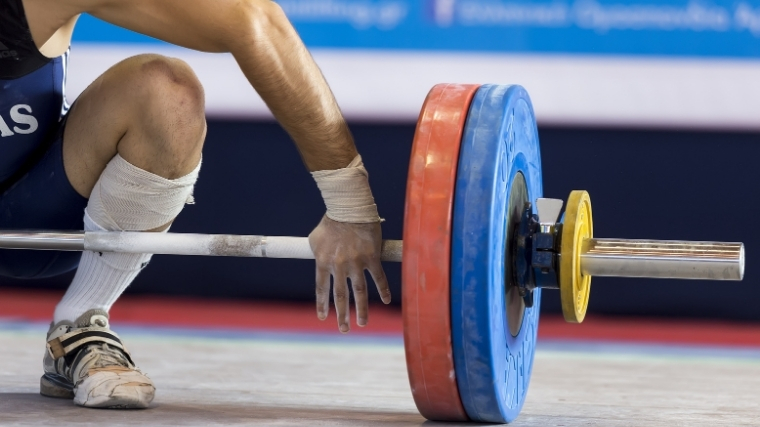 Three of these names may look familiar. BarBend reported on an investigation involving Albegov, Klimonov, and Turieva being in violation of the anti-doping policy on Aug. 13, 2019.
Upon receiving these documents, more investigations were conducted by WADA I&I. Based on the additional data dug up by WADA, the IWF decided to file three more anti-violation claims. It's important to note that these cases are ongoing, so no conclusive decision has been reached, and that the investigations are being handled by the International Testing Agency, who signed a partnership agreement with the IWF in 2019 at the SportAccord convention. These cases are against:
Aleksey Emelyanenko
Arsen Boraganov
Feliks Khalibekov
"The IWF is grateful to WADA I&I, to the ITA, external Legal Counsel and to our staff for their diligence in efficiently prosecuting these athletes for their anti-doping rule violations," Interim IWF President Ursula Papandrea said in the press release.
"The decisions are proof that the anti-doping system has become significantly stronger in recent years, notably thanks to WADA's powers to investigate."
Feature image courtesy of Ververidis Vasilis/Shutterstock