We receive free products and receive commissions through our links. See
disclosures page
.
Jabra is a company that designs wireless earbuds and headphones for a variety of settings. In this review, I take a deep dive look at the Jabra Elite 65t True Wireless Earbuds. The main focus and goal of this review was to assess how these earbuds performed in day-to-day and workout settings.
Compared to other earbuds on the market, the Jabra Elite 65t True Wireless Earbuds performed exceptionally well. They have five hours of battery life, an easy to carry charging case, and provide all around great sound quality. Overall, the Jabra Elite 65t True Wireless Earbuds were some of our favorite headphones for both daily wear and working out. 
Jabra Elite 65t True Wireless Earbuds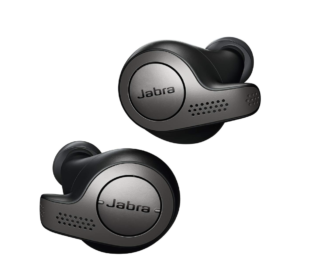 Jabra Elite 65t True Wireless Earbuds
The Jabra Elite 65t True Wireless Earbuds deliver a secure fit and great sound quality with a strong five hours of battery life.
3 Things to Love About These Earbuds
Four microphone and Bluetooth 5.0 technology for crystal clear phone calls. 
HearThrough technology to hear ambient noise during runs. 
Comfortable, durable, and have an IP55 rating. 
Design
Branding and Overall Appearance
The design of the Jabra Elite 65t True Wireless Earbuds is clean and modern. The outside features a metallic appearance with a clean black design on the interior. There's Jabra branding on each earbud with small bumps on the left earbud to highlight the buttons on the outside. On the right earbud, there's a light to indicate sync and battery life.
On the inside of the earbuds, the shape resembles the anatomical ear, so these headphones fit snuggly without any additional wing-tips, or rubber protrusions. There are holes that run down the outside of the earbuds to promote and support the HearThrough feature.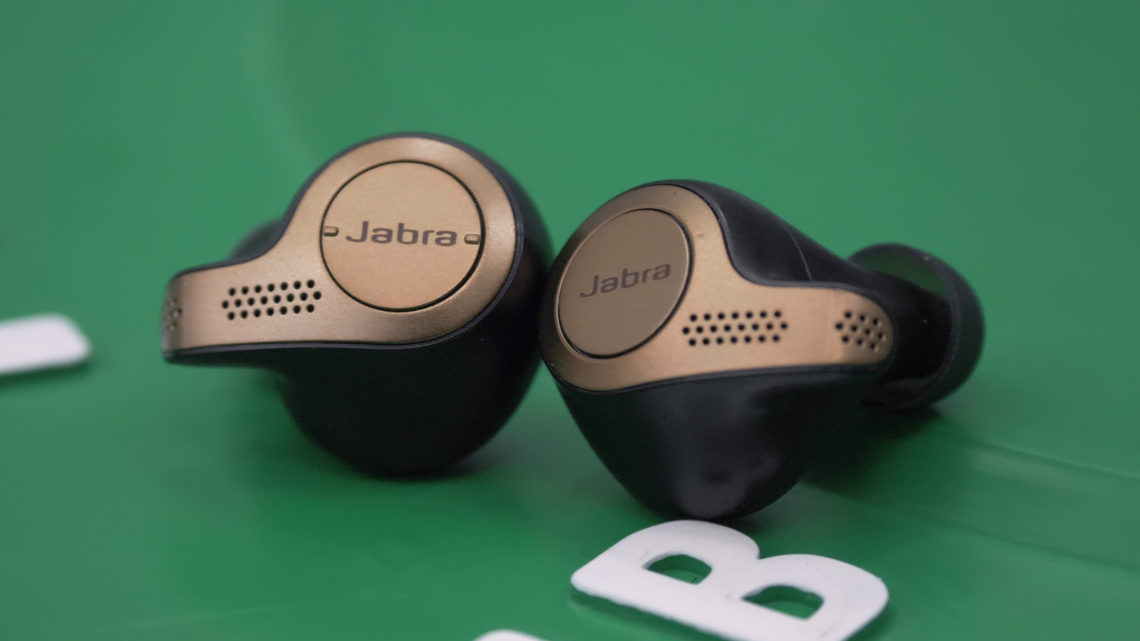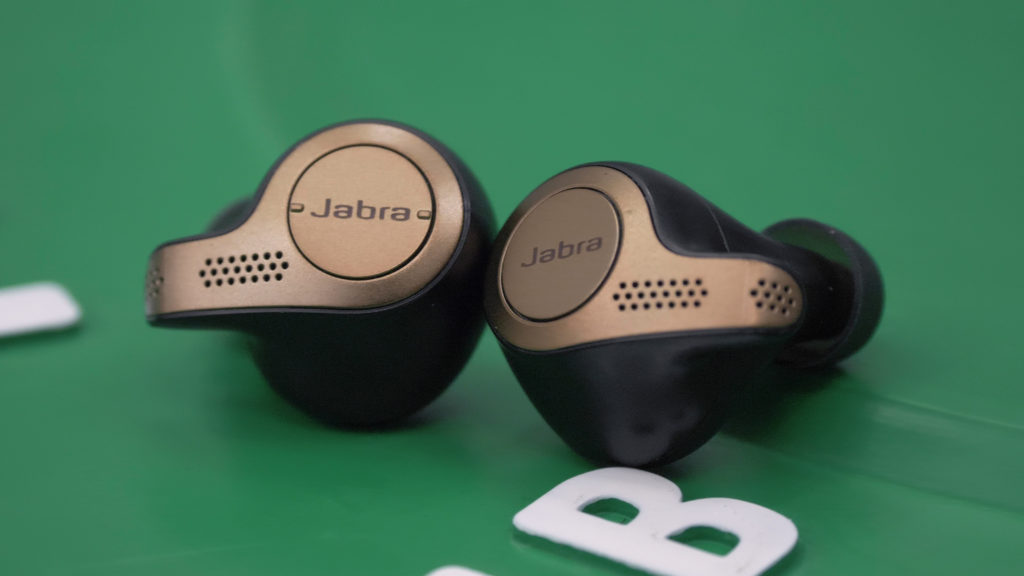 Performance
To assess these earbuds' performance in the gym, we put them through multiple workout tests. We performed powerlifting-focused workouts, dynamic workouts with multiple jumps and running sessions.
Lifting In the Gym
In the gym, these earbuds were some of our favorites by far for three major reasons. For starters, they're extremely secure and never showed any signs of movement in the ears when lifting heavy or performing explosive movements. I can wear these earbuds during power cleans and heavy squats without fear of them becoming loose and falling out.
The second reason I loved these earbuds for the gym is their Bluetooth 5.0 technology. This technology provides these earbuds with a solid range on them, so the chances of them getting disconnected from my phone when its around are slim to none. The final perks to these earbuds in a lifting setting were how loud they could get and their sound quality. These earbuds are great for the athletes that enjoy loud music during heavy working sets due to their passive noise cancellation.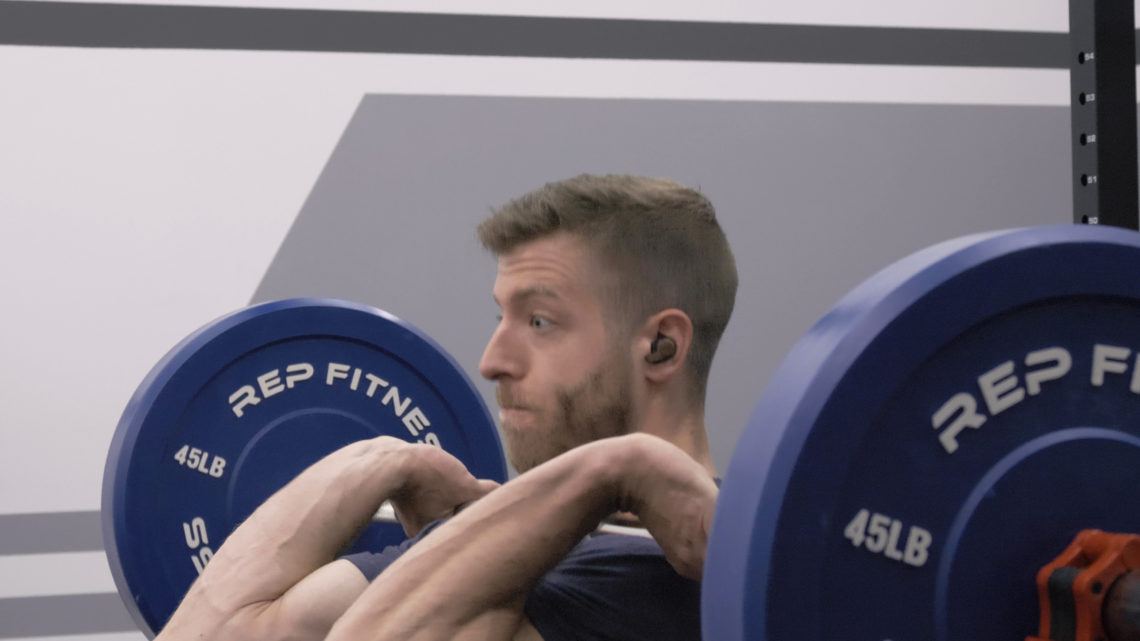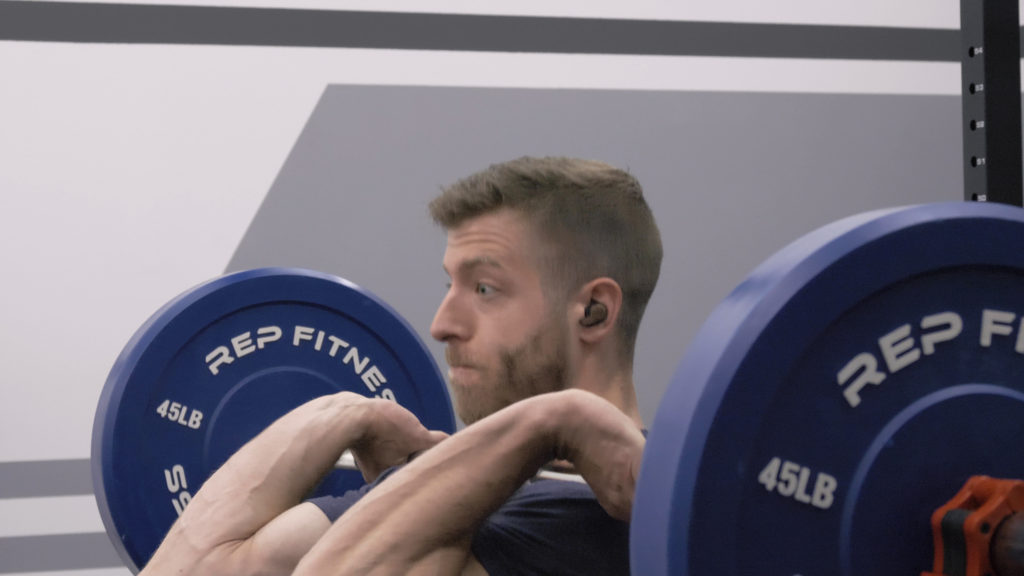 Running and Jumping
When it came to running and jumping, these earbuds excelled similarly to how they performed in the gym. Again, they were secure and resistant to falling out, even when doing longer runs and cardio-based movements like rowing. The connection was pretty good during runs, too, and never cut out or dropped like other true wireless earbuds I've tested before have. I think this is due to the Bluetooth 5.0 technology.
Another pro that comes along with these earbuds was their comfort for longer durations. Every pair of earbuds can hit a point of discomfort over an extended period of time, but these were a little more on the comfortable side compared to other pairs I've tried. I believe this is due to the lack of additional wing-tips, which can sometimes dig into the ears.
One of my final favorite perks with these headphones for running was the HearThrough technology. When in HearThrough mode these headphones allow you to hear music lightly, but also your surroundings. This is a huge perk for tanyone who likes to run outside and needs the ability to hear their surroundings for safety purposes.
Features
Bluetooth 5.0 Technology
Bluetooth 5.0 is a technology that provides Bluetooth connected devices better quality and more range. Basically, it improves sounds quality and the strength of Bluetooth signals with one another. Note, only newer mobile devices have Bluetooth 5.0 technology.
HearThrough Technology
The HearThrough technology allows passive ambient noise to be heard while wearing the earbuds. This is a great feature for anyone who needs to pay attention to their surroundings.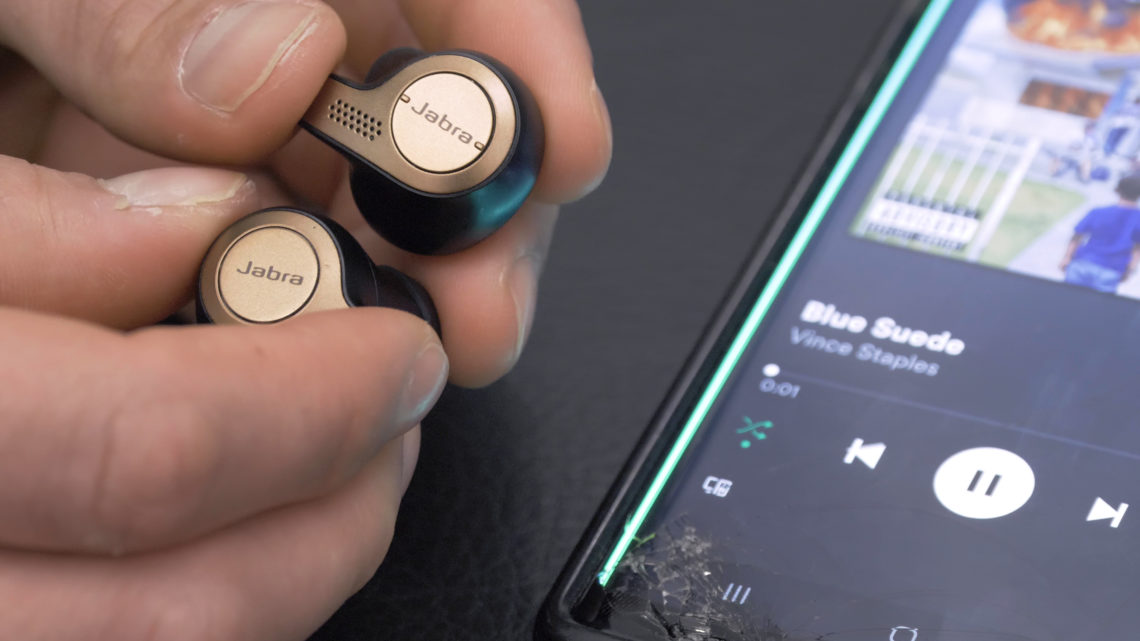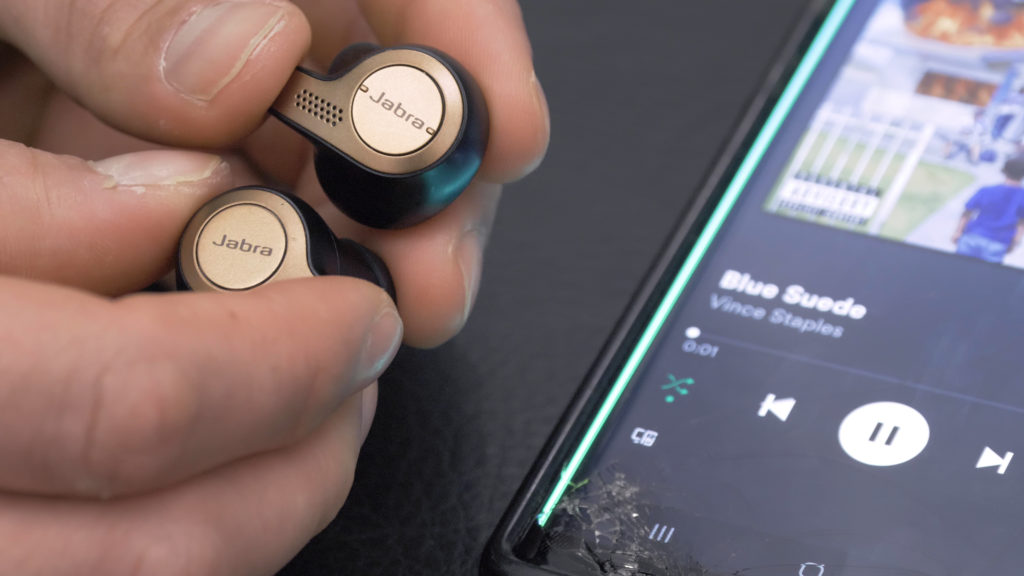 IP55 Rating
These earbuds have an IP55 rating, which means they can resist a light jet stream levels of water, and they're dust sealed. This is a great perk for those who love to workout and want a durable earbud.
Call Quality
Something unique about the Jabra Elite 65t True Wireless Earbuds is the fact that they have four microphones that are utilized for phone calls. These four microphones provide crystal clear call quality when talking on the phone to others.
Connectivity
Great All Around
These earbuds are easy to connect, and they automatically connect once they're initially synced up to your device. In terms of overall connectivity, these earbuds were solid in pretty much every setting. They performed well during my commute through busy New York City streets and subways and I never experienced any spotty connectivity.
In the gym, these earbuds also performed well and never truly had issues with connectivity. I could leave my phone at the squat rack with my gym bag, hit a set of walking lunges, or do accessory work, and never have any issues with the earbuds disconnecting. My favorite part of their workout performance was their consistent connection during runs.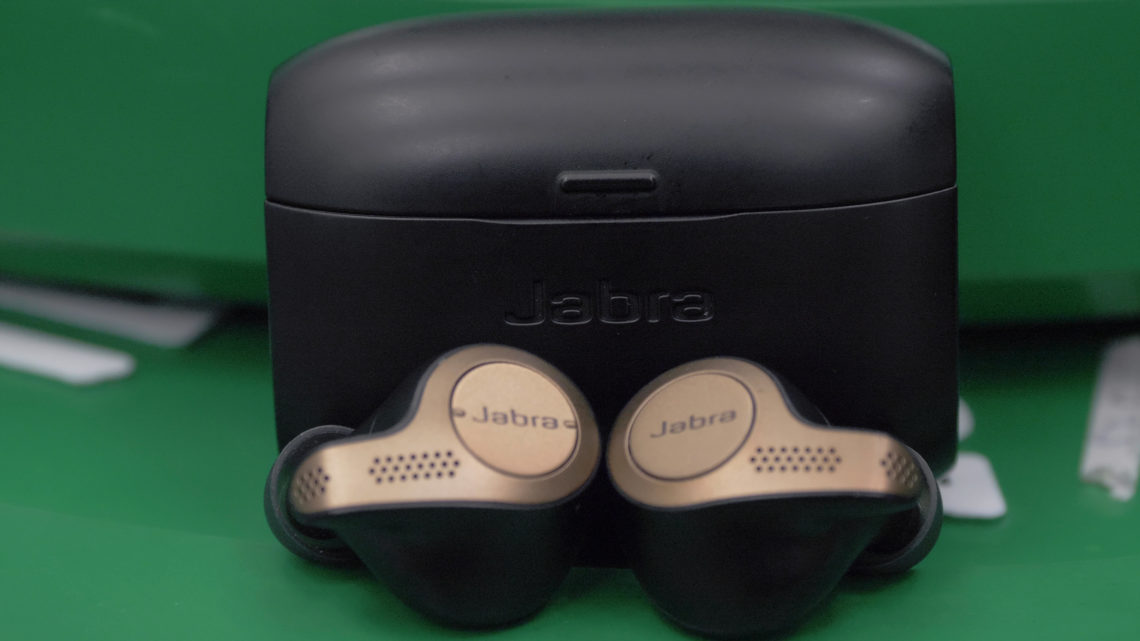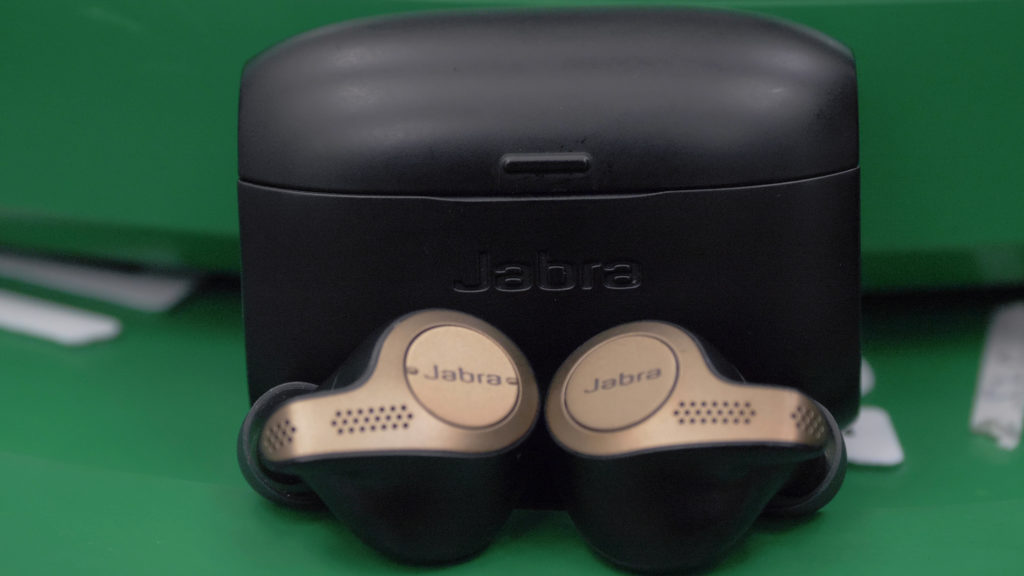 Battery Life
Jabra states that these earbuds have up to five hours of battery life, which in my tests, stands true at "standard" listening levels. In fact, I found the battery life to be slightly longer than five hours when listening at lower levels. Granted, if you're blasting music constantly, then battery life could vary slightly more. Five hours is pretty standard for true wireless earbuds.
The pocket-friendly charging case allows for seamless and passive charging and can provide the earbuds with another 10-hours of battery life. In total, these headphones have roughly 15-hours of battery life before needing to be plugged in and charged.
Price
The price of the Jabra Elite 65t True Wireless Earbuds comes out to about $169.00 USD. For what these earbuds offer, that price is pretty fair and on point with the industry standard for true wireless earbuds.
Wrapping Up
Overall, the Jabra Elite 65t True Wireless Earbuds were one of the earbuds I've reviewed to date. For their price, they offer plenty of features to love and these are one of my favorite earbuds to wear during work and in the gym. If you want a pair of earbuds that can make crystal clear phone calls and hold up in the gym, then the Jabra Elite 65t True Wireless Earbuds might be worth investing in.