Headphones are one of the most important and subtle tools for multiple athletes' successes in the gym. Great wireless workout headphone are not cheap, and there are a ton of the market, so how do you decide what is best for your needs and wallet? In this review, we take a look at the JBL Under Armour True Wireless Flash Headphones and assess what workouts they perform best in.
For a little background, JBL is a popular company that is known for their loudspeakers, and Under Armour is one of the leading shoe and apparel companies in the world — is the collaboration the perfect mix of tech and sport?
As dedicated strength athletes first, our main concern with wireless workout headphones is how they perform during heaving lifting sessions, dynamic workouts, and conditioning sessions. Without a doubt, the JBL Under Armour True Wireless Flash Headphones were some of the most secure that we've ever tried. 
JBL Under Armour True Wireless Flash Headphones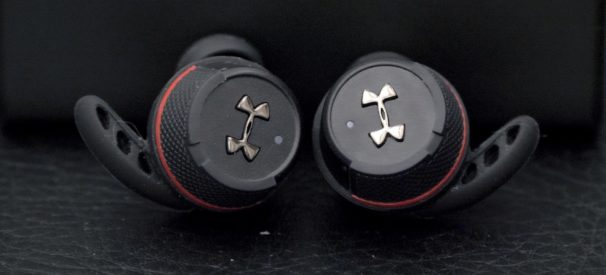 JBL Under Armour True Wireless Flash Headphones
The JBL Under Armour True Wireless Flash Headphones are extremely secure and have multiple features to enhance outdoor workouts.
Design
Branding and Overall Appearance
The design of the JBL Under Armour True Wireless Flash headphones are pretty standard when compared to other wireless workout headphones, however, there are a few unique callouts to them. For starters, these headphones feature rubber wingtips to provide a secure and anatomical fitting headphone with the concha portion of the ear.
The main base of the headphone is round and has a charcoal/black appearance with a red ring separating the inside and outside of the headphone. On the public facing side of the headphone, there's a shiny silver Under Armour branding. The Under Armour branding also serves as the button for adjusting volume, connectivity, and audio, which keeps the design clean without additional buttons.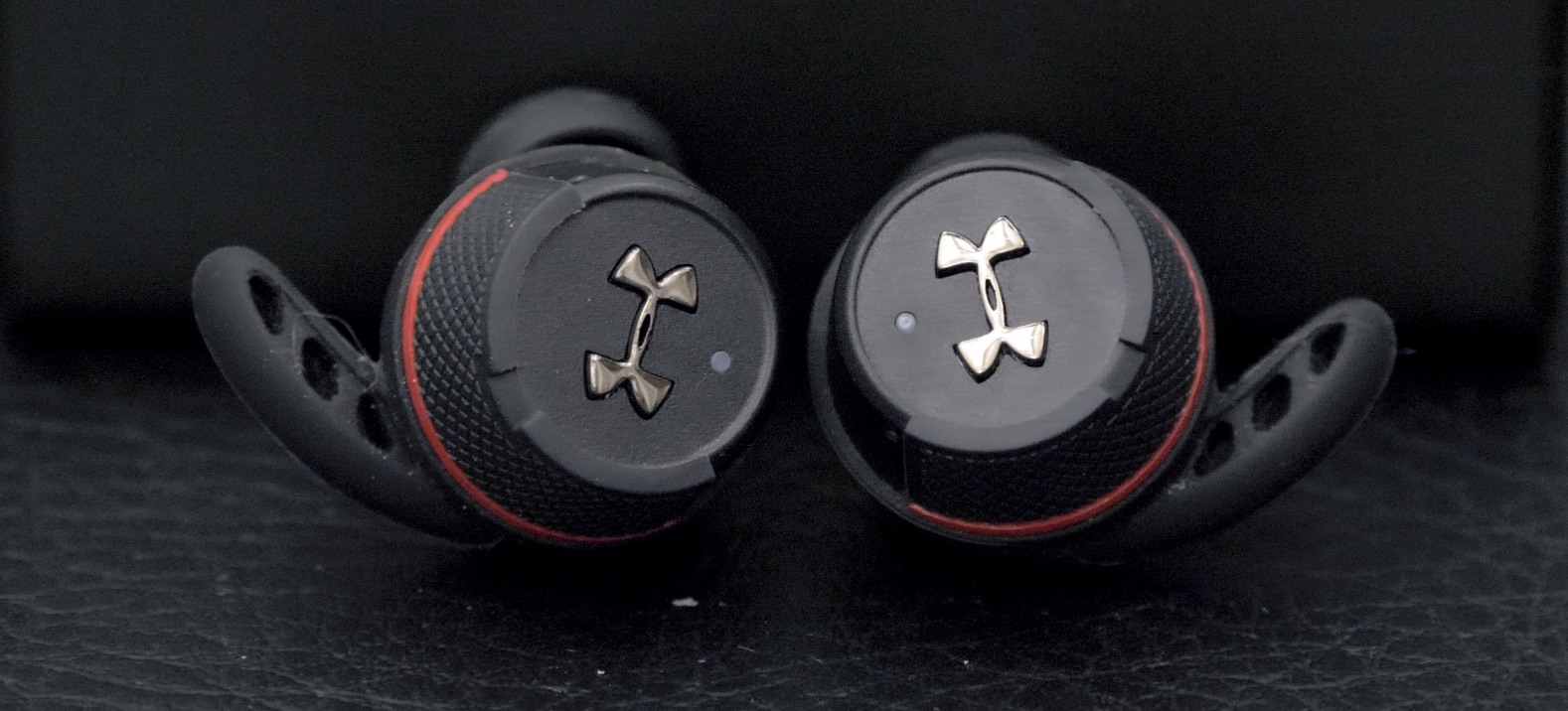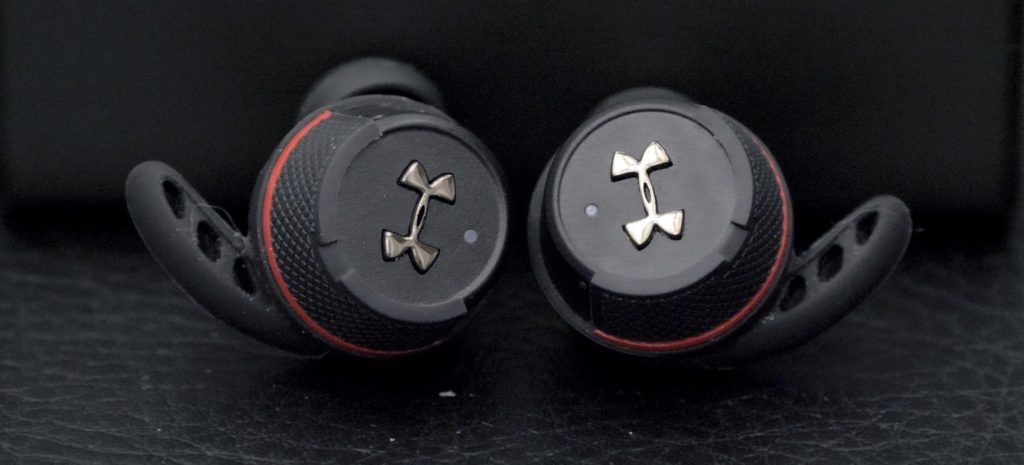 Performance
To assess these headphones' performance in the gym, we put them through multiple workout tests. We performed powerlifting-focused workouts, dynamic workouts with multiple jumps, and running sessions. I'm not an audio buff, but their sound quality was pretty great and the bass hit decently hard for being fully wireless headphones.
Lifting In the Gym
In the gym, these headphones were some of our favorites by far for two major reasons. First, they were incredibly secure and never showed any signs of potentially coming out in any lift. Whether we were squatting a heavy triple, or performing routine accessory work, these headphones stayed in the ears very well.
The second reason we liked them in the gym is that they never had connectivity issues. Some bluetooth headphones get spotty when moving even 10-feet away from them, but these remained pretty consistent up to about 25ish feet. This was great for periods of time when un-racking and putting away plates, or moving through different accessories.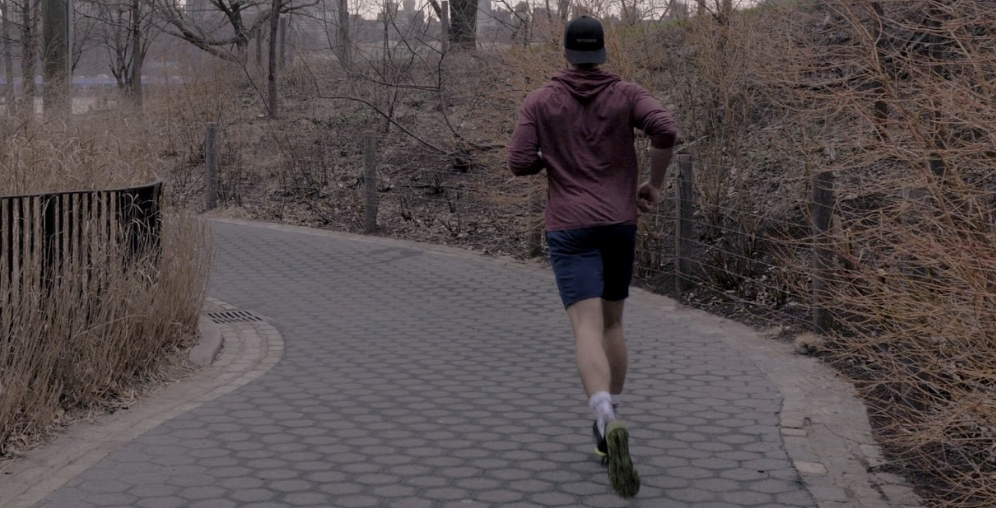 Running and Jumping
When it comes to running and jumping workouts, these headphones performed decently well, but had some trouble areas. We'll start with the positives. These headphones were great, because once again, they're incredibly secure and didn't even budge when performing multiple jumps in a row. Additionally, these headphones are waterproof, so they're great options for sweat and rain soaked runs.
Another nice perk of these headphones was their Ambient Noise feature, which allows for music to be decreased to enhance one's ability to still head their surroundings. This was a very nice feature for us, as we're based in New York City where being alert is a must for outdoor workouts.
The downfall of these headphones came when running in more urban settings. There were some periods of time when connectivity was a little spotty and the headphones would cut out from time-to-time. The cutout periods were not long, but it was still frustrating when songs cutout especially during intense parts of the workout.
Features
Ambient Aware Technology
The Ambient Aware technology decreases the sound output of the headphones to increase awareness of social surroundings. This is an awesome for folks running in urban settings that need to be alert for cars and other potential hazards.
Talk-Thru Technology
These headphones have a feature that optimizes speech and cancels noise from the environment. This was a nice feature when trying to have crystal clear conversations in busy and noisy settings.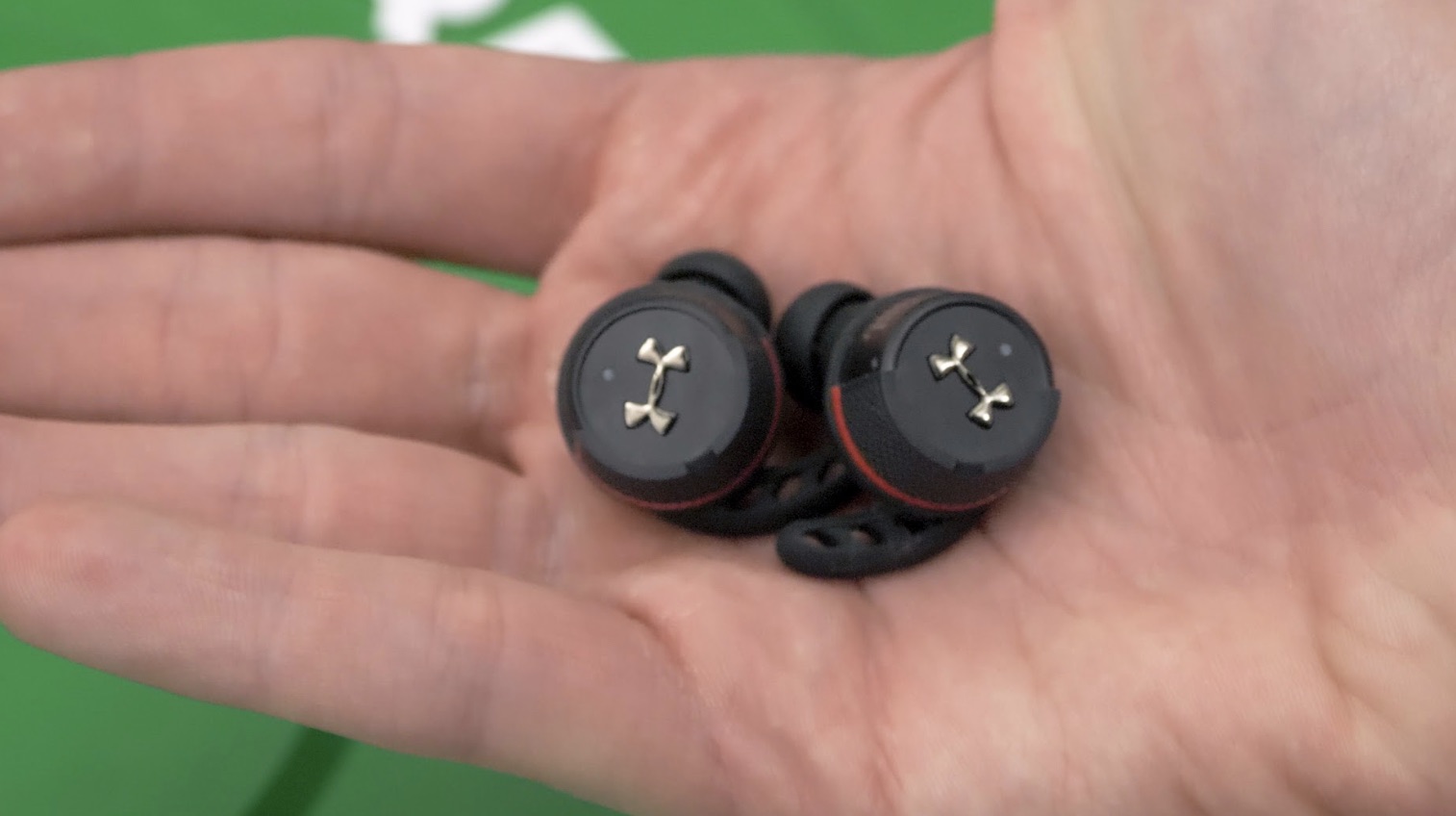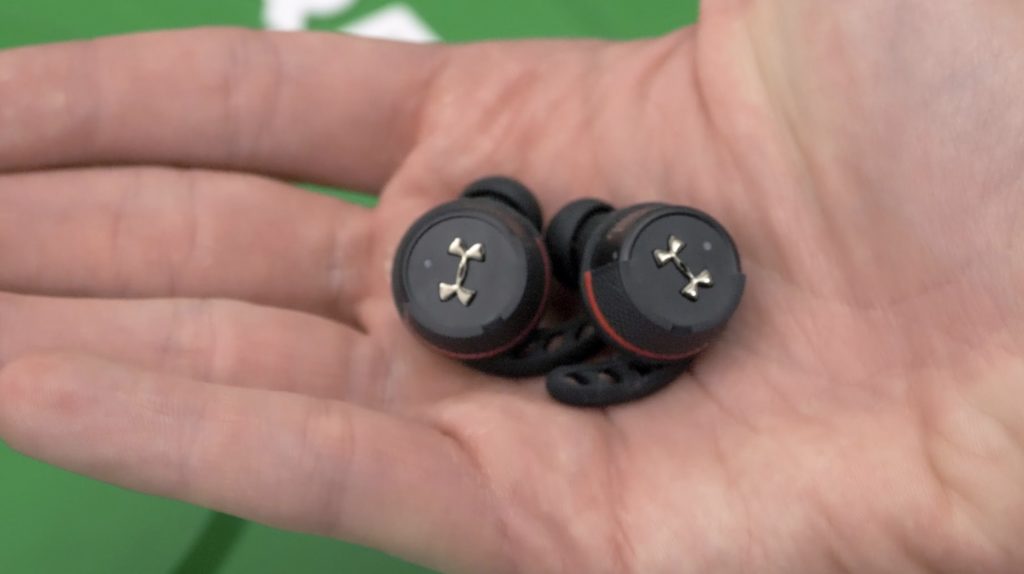 UA Stormproof Technology
These headphones have an IPX7 rating, which means they're waterproof. This is great for using these headphones in the rain, during swims, and extremely sweaty workouts.
Connectivity
Great In the Gym, Spotty On Runs
These headphones are incredibly easy to connect to a phone. Instead of syncing both at once, you simply hold down the right headphone's Under Armour emblem for 5-seconds to connect to your preferred device, and the left will connect automatically.
In terms of connectivity, these headphone were stellar in the gym when the environment was slightly less noisy, but had issues during runs in the streets of New York City. Overall, they performed decently well, but their connectivity should be a concern for those using them solely to run in urban settings.
Battery Life
25 Hours
JBL and Under Armour state that the headphones themselves have a battery life of about 5-hours and the charging case provides an additional 20-hours. Obviously, these amounts will vary based on how often and to what degree you're using the headphones, but 25-hours of battery life is pretty great.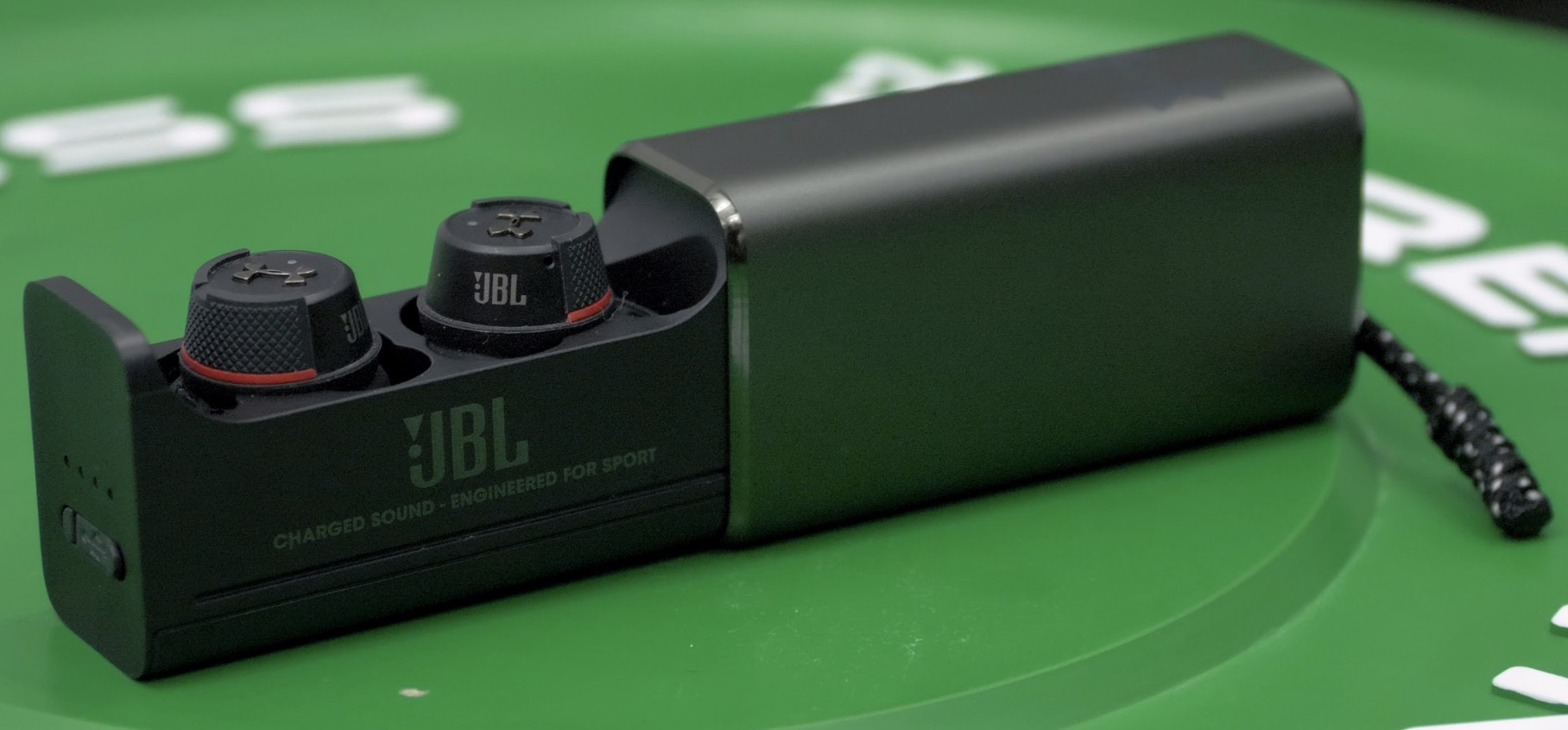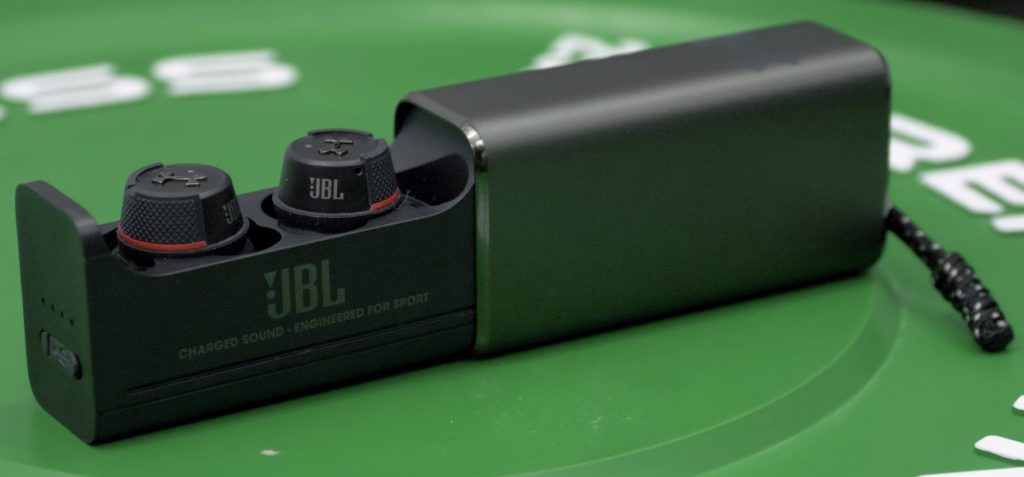 The case charges relatively quickly, too, so these are not headphones that require a full night's sleep to receive their optimal charge. The case uses a Micro USB charger, which works well in terms of speed, but personally, I would have loved to see a Micro USB Type C charger, as these are often considerably faster.
Price
In respects to price, you can expect to pay around $169.99 for these headphones. Overall, I think that price is pretty fair for their sound quality and ability to stay secure in the ears through multiple workouts. Obviously, if you want to save, then it might be worth reaching for a budget pair of headphones.
However, if your main needs a secure headphone that provides features to match multiple settings, then the JBL Under Armour True Wireless Flash headphones could be a good fit for you.
JBL Under Armour True Wireless Flash Headphones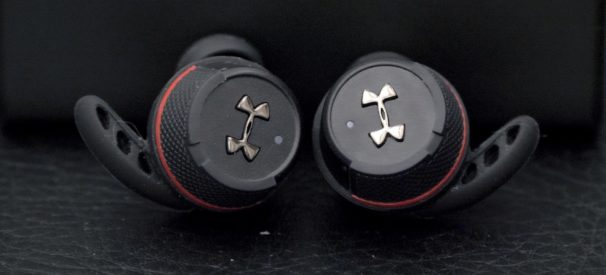 JBL Under Armour True Wireless Flash Headphones
The JBL Under Armour True Wireless Flash Headphones are extremely secure and have multiple features to enhance outdoor workouts.
Final Thoughts
All-in-all, I thought the JBL Under Armour True Wireless Flash headphones performed pretty well across the board. They didn't provide the same quality as over-ear headphones, but they did hold their own compared to other wireless pairs I've tried. My favorite part of these headphones were how secure they stayed in the ears during every type of workout. In my opinion, that's rare to find, especially for jumping movements.
My only complain, which I explained above, were the slight connectivity issues I experienced running in urban settings. However, if you're residing in a major city, then I think you'll be just fine with the overall connectivity performance of these headphones.