Editors note: After winning the Filthy 150 in 2020 Justin Medeiros (21 years old at the time) became one of five men to punch his ticket to the 2020 CrossFit Games Finals. Medeiros spoke with BarBend in an exclusive interview. Now that he's claimed the title of Fittest Man On Earth®, it's clear that Medeiros was on to something big…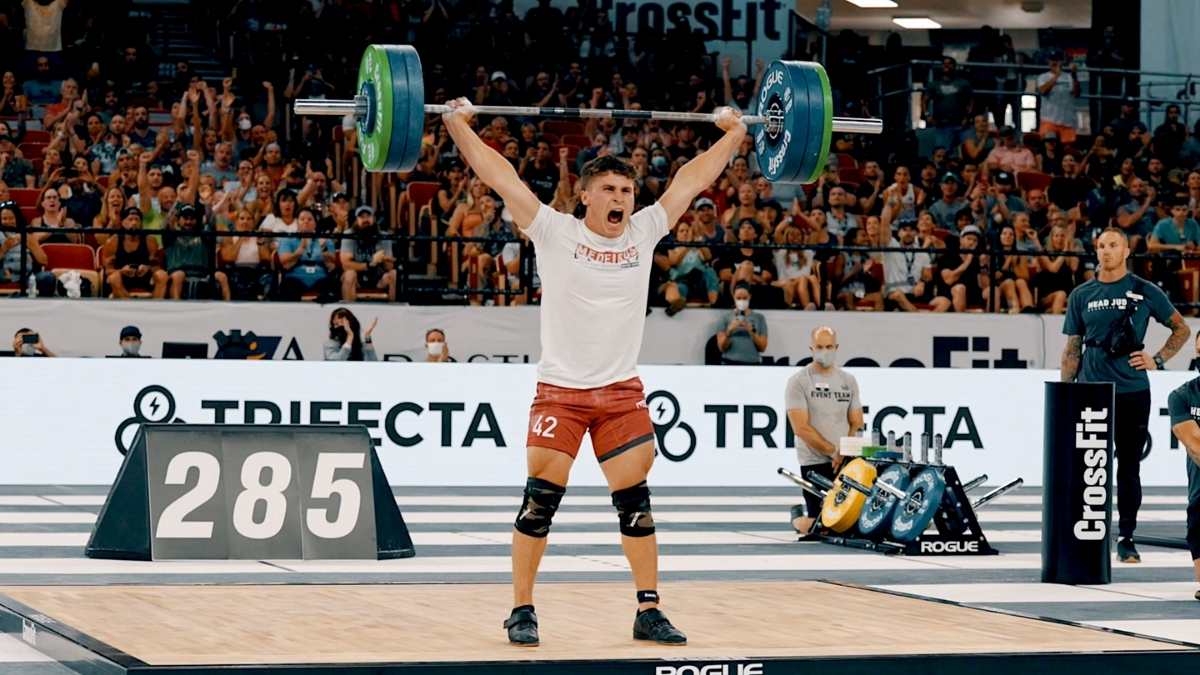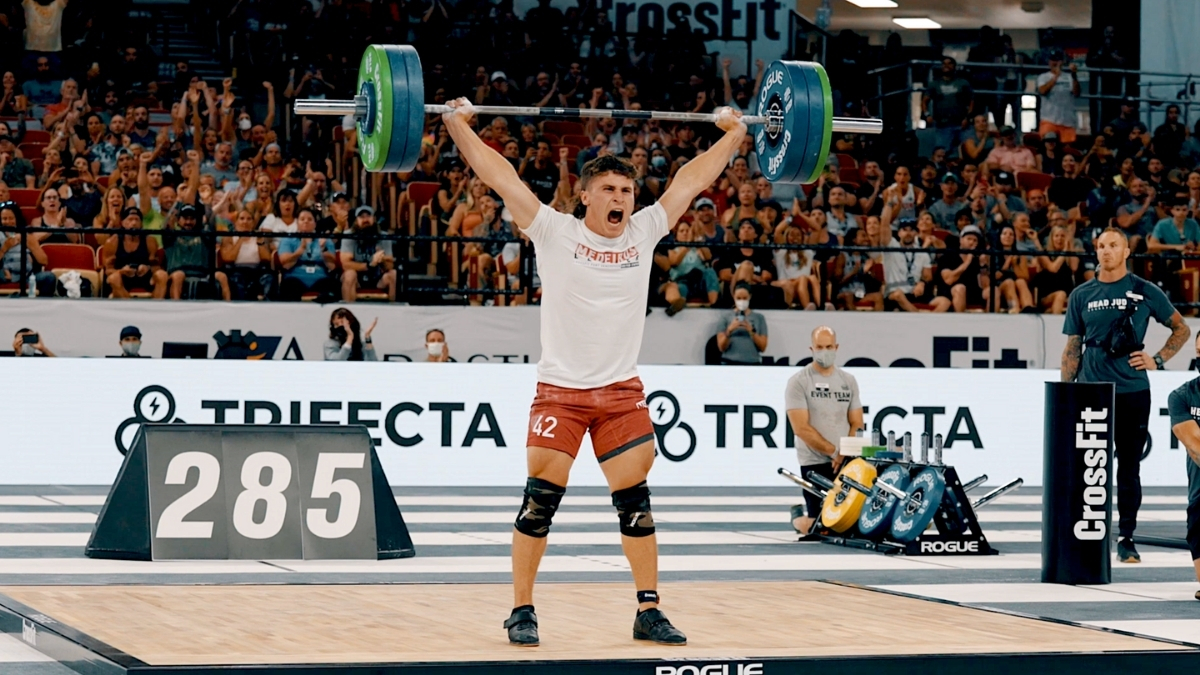 Despite being just 21 years old, Justin Medeiros is no newcomer to the bubble of elite CrossFit athletes. Medeiros, who won the 2019 Filthy 150 in Dublin, Ireland, has been quietly preparing for Games success since then, despite any and all COVID delays. He proved that by taking third place in Stage One of the 2020 CrossFit Games, securing his spot in the live Finals and earning himself a $75,000 payout (at least). It's clear that Medeiros hasn't let his guard down.
[Related: 2021 CrossFit Games Results and Leaderboard]
In fact, Medeiros might have benefitted from all of the changes brought on by pandemic delays. That's because in May, Medeiros dropped everything and moved from Boise, Idaho to Washington state to live with his coach Adam Neiffer at his box, CrossFit Fort Vancouver. And now, still enrolled as a Kinesiology major at Boise State, all of Medeiros's courses are online.
That means more time to train. "I hate to say it, but for me it was kind of a blessing in disguise," Medeiros told me on the phone.
When I spoke with Medeiros, just a few days after his Stage One workouts, it was his first day back in the gym.
"I'm feeling good, this is my first day back. It's pretty much active recovery," Medeiros said.
Before our call, for his active recovery, Medeiros had already run a 5k, then rowed it, then completed 50 wall balls with a 30# ball. He was taking a break to eat, chat with me, and complete his schoolwork for the day. Then he'd complete his second training session, which consists of one hour of weightlifting then another two of CrossFit.
At the end of it all, he heads on home with his coach. Medeiros laughs that he's "hopped onto that 8:00-bedtime-with-the-kids life."
"I moved in with Adam and his family in May, specifically to train for the Games. Then it got pushed back and pushed back and I'm still here," Medeiros laughed.
"I love it, it's like I'm one of the family. I eat dinner at the table every night with them, it's like I'm a part of the family, a big brother to his kids. I wake up at 7:00 AM and get to the gym at 8:00 and I don't get home until 4:00 PM. We eat family dinner, talk about the training that day, talk about the training for the next day, then at 8:00 I hit the hay," Medeiros said.
The routine is working for him. Medeiros successfully completed a 437 pound front squat in Event 2, earning him third in that event. He also dominated "Nasty Nancy" with a time of 18:19, earning him second place in that event. Overall, Medeiros earned 480 points, just eight points below second place, and veteran athlete, Noah Ohlsen, but still a cool 31 points higher than Sam Kwant, who finished 4th.
"It's a range of emotions, man. A whole range. I definitely don't feel like the third fittest man out there, that's for sure. I feel like I have so many spots to improve on still, and I feel like if you're competing at the top, then i'm doing okay, but I'm for sure going to work on them."
And work he will. Medeiros and Neiffer have a plan for these next few weeks, including focusing on weightlifting, lots of rucking, and fine tuning some endurance work.
One thing that won't change? Family dinners and 8:00 PM bedtimes.
Featured image: @jolenebollman