Creatine has hundreds of studies backing its effectiveness when it comes to athletic performance and body composition. Creatine can help increase your ability to improve power output in the gym, in turn, helping you get strong faster and build more muscle.
Kaged Muscle Creatine C-HCl is a creatine hydrochloride, which may absorb better than basic creatine monohydrate — plus, it only requires a 750mg dose to produce the same effects as five to 10 grams of monohydrate. Kaged makes all their products in a Good Manufacturing Practices-certified facility in Idaho, and they have an extensive line of supplements that includes citrulline, carnitine, and fat burners. Their pre-workout is one of our favorites, so we tried their creatine hydrochloride supplement. While the ingredients list is minimal, we still found Kaged Muscle Creatine C-HCl to be a high quality creatine product — especially because of its small dosage and lower price point for a creatine hydrochloride.
Main Takeaways
Kaged Muscle Creatine C-HCl may be more soluble (and thus, more rapidly absorbed) than forms of creatine monohydrate on the market, potentially making it easier to digest.
Kaged Muscle Creatine C-HCl may cause less bloating and abdominal issues, which can be associated with creatine monohydrate.
You can get more for less with this creatine. The dose for this product is much smaller than the doses for a monohydrate — just 750mg of creatine hydrochloride can offer the same effects as five to 10 grams of creatine monohydrate.
Kaged Muscle C-HCl Creatine Hydrochloride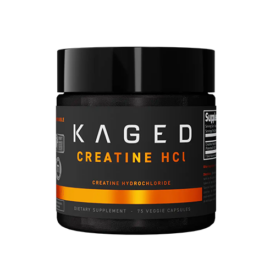 Kaged Muscle C-HCl Creatine Hydrochloride
This is a tasty option for folks who are looking for creatine hydrochloride in either pill or powder form. It's third-party tested for banned substances and competitively priced.
Kaged Muscle Creatine C-HCl Highlights
Kaged Muscle' Creatine C-HCl is a creatine hydrochloride, which may absorb better than creatine monohydrate. Not only may creatine hydrochloride digest better than creatine monohydrate, but it also requires a smaller dose to garner the same results — you only need 750mg of this product, rather than the five to 10 grams you may need from a creatine monohydrate. Kaged Muscle has a transparent label, and their product is third-party tested by Informed Choice. It's worth noting, however, that this product only comes in a Lemon Lime or Unflavored blend (as well as vegetable caps), so if you're looking for flavor variety, this product may not be for you.
Who Should Buy Kaged Muscle Creatine C-HCl
Athletes looking to build muscle more quickly and reduce the chance of injury during training may benefit from this creatine hydrochloride — creatine supplementation supports both of these goals by drawing water into the muscles.
People who prefer a smaller dose of creatine — you need only take 750mg of this creatine hydrochloride versus the five to 10 grams you may need to take with a more basic creatine monohydrate.
Anyone who has experienced stomach or bowel issues with other creatine products but still wants the muscle and recovery benefits of creatine. C-HCl may be easier on the stomach than creatine monohydrate.
Who Shouldn't Buy Kaged Muscle Creatine C-HCl
Anyone who's looking for flavor variety may want to look for a product with more than two flavor options.
Those who don't get indigestion from creatine monohydrate — hydrochloride is not necessarily a better overall supplement than monohydrate; it may just be easier to digest.
Kaged Muscle Creatine C-HCl Overall
Though creatine hydrochloride has a reputation for being more expensive than creatine monohydrate, Kaged Muscle Creatine C-HCl comes at a pretty reasonable price — it's only about 35 cents per gram. Plus, it has a tasty lemon-lime flavor, and is third-party tested for banned substances by Informed Choice. If you have tried creatine monohydrate before and ended up having digestive issues, this hydrochloride could be your solution.
Price and Buying Options
Kaged Muscle sells two forms of this creatine supplement. One option is vegetable capsules, each of which contains a single serving of the supplement (750mg of creatine hydrochloride) with 75 caps per bottle for $19.99. The supplement is also available in two powdered forms, an Unflavored and a Lemon Lime option — both of these sell in a 75-serving tub for $19.99. Subscribing for a repeating shipment can save you two dollars per order. But even alone, this product is mid-range when it comes to the cost of creatine hydrochloride.
Formulation
The patented formula used in Kaged Muscle Creatine HCl is simple. The supplement consists of creatine hydrochloride (HCl lowers the pH of the creatine, thereby making it more soluble and potentially quicker to absorb by cells in your body), and in the lemon lime option, it also contains stevia, sucralose, and natural flavoring for taste.
Creatine
One scoop of Kaged Muscle Creatine C-HCl contains 750 milligrams of creatine hydrochloride. What is creatine hydrochloride? It's creatine that's been bound to parts of hydrochloride molecules (technically the creatine molecule is bound to a hydrochloride "moiety"). That lowers the pH of the creatine and makes it considerably more soluble in fluid — you're unlikely to find a little pile of powder at the bottom of your shaker when you are using HCl.
Creatine HCl is also (likely) easier on the stomach. Some people experience cramps when they take a teaspoon of your standard creatine monohydrate, and HCl may relieve that issue for certain people.
There's also a theory that creatine HCl absorbs more easily in the stomach, therefore we need less of it to achieve the same results. That's why creatine HCl typically comes in scoops of 750mg, while regular creatine monohydrate is recommended in doses of five to 10 grams.
Flavorings
The other ingredients (specifically in the Lemon Lime flavor) are natural flavors, stevia, and sucralose, an artificial sweetener that's also called Splenda®. Note that there are sulfites in this product — under 10 parts per million — but this may be an issue for people with very sensitive allergies.
If you opt for the vegetable caps, you'll also find vegetable cellulose as it is used to make the outer capsule.
What To Consider Before Buying Kaged Muscle Creatine C-HCl
Kaged Muscle's Creatine C-HCl is a more expensive option than many creatine monohydrates, but for creatine hydrochloride, it's reasonably priced. Since hydrochloride may be quicker to absorb into muscle cells and unlikely to bother you intestinally, dishing out a little more money may be worth it for anyone committed to making creatine a consistent part of their muscle building and overall fitness routine.
Type of Creatine
When choosing a creatine supplement, you may be faced with this question: Should I buy creatine monohydrate or creatine hydrochloride? While neither is said to be a better creatine supplement than the other, creatine hydrochloride may be easier on the stomach than creatine monohydrate as it may absorb better (and quicker).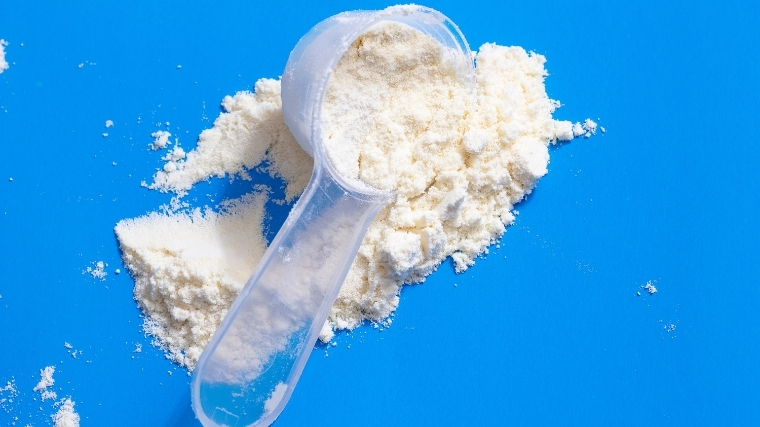 Each serving of Kaged Muscles Creatine C-HCl delivers 750 milligrams of creatine hydrochloride. While this number is lower than the five- or 10-gram doses of creatine monohydrate you may see with other products, it can be equally as effective. When deciding which type of supplement to go with, your biggest consideration should be how sensitive your stomach is to creatine monohydrate.
Price
You can pick up 75 servings of 750mg each for $20, though it's worth noting that most people will be taking two scoops (or vegetable caps, depending on which form of the product you buy) — it recommends 1 to 2 scoops per 100 pounds of bodyweight. That comes to 26 cents per serving or 34.6 cents per gram of creatine.
That's pretty expensive when compared to regular creatine monohydrate, which is usually between three and five cents per gram. Compared to other creatine hydrochlorides, it's about in the middle: the cheapest HCl we've found so far is 19 cents per gram, the priciest is 51 cents per gram.
Flavor
We tried the Lemon Lime flavor and it was great — it tasted like old-fashioned lemonade. The mixture of natural and artificial sweeteners really did the trick. It also comes in an Unflavored blend or vegetable caps, but if you're looking for flavor variety, this product doesn't have much. You'll need to be okay with Lemon-Lime or Unflavored if you want to opt for this powdered product.
Final Word
With this particular creatine hydrochloride product, there may be less of a chance of bloating and stomach pain. But overall, you may pay a little more than you would for a creatine monohydrate. There's not a ton of evidence for the superiority of creatine hydrochloride, but if that's the product you want, there's an unusual degree of quality control behind C-HCl. It's third party tested, made in a GMP facility, and is relatively well-priced for a hydrochloride. Plus, we thoroughly enjoyed the Lemon Lime flavor here in the BarBend office.
FAQs
Is creatine safe?
Myriad studies have found creatine to be safe and effective, with the only established negative side effects being stomach and intestinal discomfort. And this particular creatine comes in a hydrochloride form, which may help eliminate that.
Is creatine HCl more effective than other options?
There is no evidence to support that hydrochloride works better than monohydrate. The only proven perk to creatine hydrochloride is that it may be easier on the stomach.
What is hydrochloride?
Hydrochloride is an acid salt, which may lower the pH level of the creatine, making it more soluble in water and potentially more easily absorbed by your muscles.
KAGED MUSCLE Creatine HCl
Per Serving: $0.26