KAGED MUSCLE makes all their products in a Good Manufacturing Practices-certified facility in Idaho, and they have an extensive line of supplements that includes citrulline, carnitine, and fat burners. Their pre-workout was one of our favorites, but we wanted to try their creatine hydrochloride supplement. It's called C-HCl and it's pretty unusual in that the serving size is very small: just 750mg are recommended per 100 pounds of bodyweight.
Let's take a closer look at the ingredients.
Shop KAGED MUSCLE on Amazon HERE.
KAGED MUSCLE C-HCl Ingredients
One scoop contains 750 milligrams of creatine hydrochloride, a patented version of the stuff that's owned by KAGED MUSCLE.
The other ingredients are natural flavors, stevia, and sucralose, an artificial sweetener that's also called Splenda®. Note that there are sulfites in this product — under 10 parts per million, but this may be an issue for people with very sensitive allergies.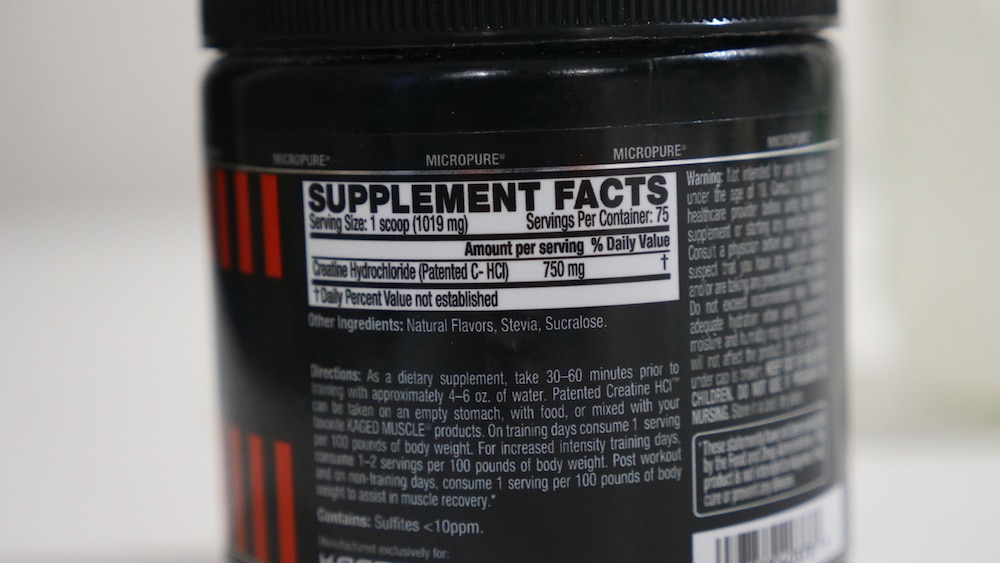 KAGED MUSCLE C-HCl Benefits & Effectiveness
So what is creatine hydrochloride? It's creatine that's been bound to parts of hydrochloride molecules (technically the creatine molecule is bound to a hydrochloride "moiety"). That lowers the pH of the creatine and makes it considerably more soluble in fluid — you're unlikely to find a little pile of powder at the bottom of your shaker when you using HCl.
Creatine HCl is also (likely) easier on the stomach. Some people experience cramps when they take a teaspoon of your standard creatine monohydrate, and HCl can relieve that issue for certain people.
There's also a theory that creatine HCl absorbs more easily in the stomach, therefore we need less of it to achieve the same results. That's why creatine HCl typically comes in scoops of 750mg, while regular creatine monohydrate is recommended in doses of 5 to 10 grams.
There really haven't been many studies that show that HCl is more effective than regular creatine. One study that was authored by the co-inventor of creatine HCl showed that after consuming it, subjects had more creatine in their plasma than they did when they consumed standard creatine monohydrate. However, that doesn't necessarily mean it's a better supplement — in fact, it may mean that it's less effective since it's possible that more creatine went to the plasma and less went to the muscles. That's not to say that it's definitely less effective than monohydrate, rather there simply isn't enough evidence to make a claim either way.
But there are still pros to this product: it's easier to digest, it's third party tested for banned substances and impurities by Informed Choice, and it's made in a Good Manufacturing Practices facility, which means it's subject to regulations enforced by the FDA to ensure purity. So the level of quality control is pretty high for this product.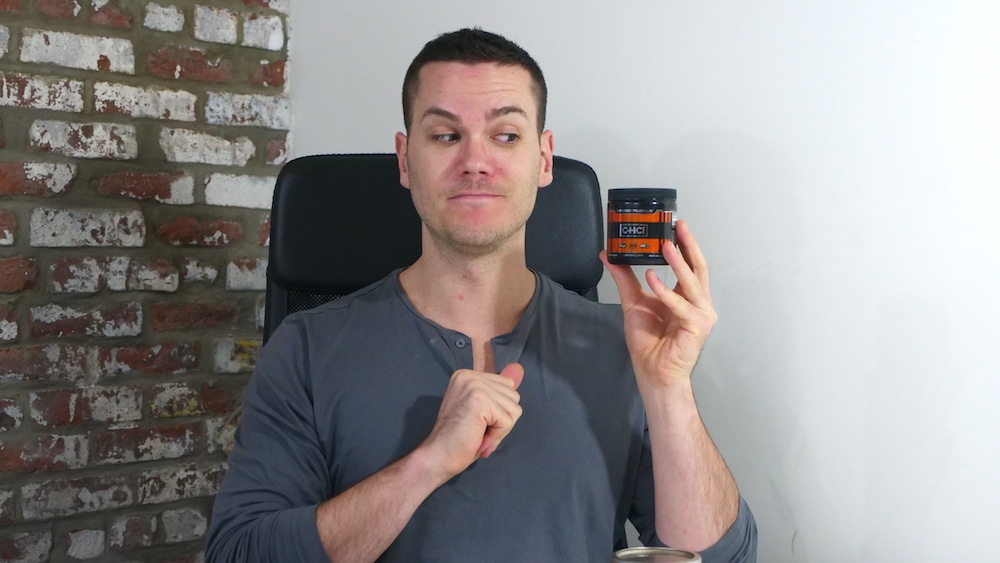 KAGED MUSCLE C-HCl Price
You can pick up 75 servings of 750mg each for $20, though it's worth noting that most people will be taking two scoops — it recommends 1 to 2 scoops per 100 pounds of bodyweight. That comes to 26 cents per serving or 34.6 cents per gram of creatine.
That's pretty expensive when compared to regular creatine monohydrate, which is usually between 3 and 5 cents per gram. Compared to other creatine hydrochlorides, it's about in the middle: the cheapest HCl we've found so far is 19 cents per gram, the priciest is 51 cents per gram.
KAGED MUSCLE C-HCl Taste
I tried the Lemon Lime flavor and it was great, it tasted like old-fashioned lemonade. The mixture of natural and artificial sweeteners really did the trick.
The Takeaway
There's not a ton of evidence for the superiority of creatine HCl, but if that's the product you want, there's an unusual degree of quality control behind C-HCl. It's third party tested and made in a GMP facility, plus it's relatively well priced for a hydrochloride.
KAGED MUSCLE Creatine HCl
Per Serving: $0.26