Kayo is a Canadian company that just offers one product right now — this protein — and while their website focuses a lot on the how they want to make it easier to include more greens in your diet,  there aren't actually any greens in it. The protein mostly comes from seeds and legumes, which makes for a pretty interesting nutrition panel.
Kayo Plant-Based Smooth Protein Nutrition
One scoop has 156 calories: 20 grams of protein, 11 grams of carbs (3 grams fiber, 6 grams sugar) and 2 grams of fat. There's no saturated fat or cholesterol.
There's not a lot to say as far as vitamins go — there's 4 percent of your daily Vitamin C — but there's a significant 18 percent of your daily iron per scoop.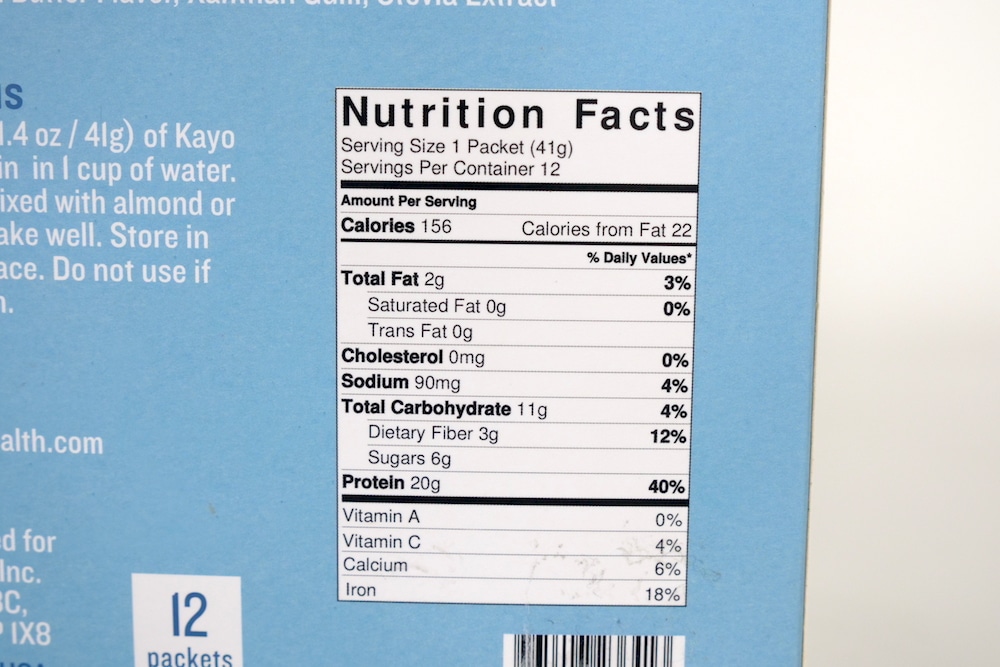 Kayo Plant-Based Smooth Protein Ingredients
The first ingredient is the Kayo Smooth Protein Blend, which comes from pea, fava bean, and hemp. The rest of the ingredients are mostly flavorings: cacao, organic cane sugar, natural chocolate flavor, natural vanilla flavor, natural butter flavor, and stevia extract. There's also a little xanthan gum, a thickener and stabilizer made from simple sugars.
Note that there are no artificial ingredients.
Kayo Plant-Based Smooth Protein Benefits & Effectiveness
There are no artificial flavors or sweeteners, plus there's no soy or gluten, so Kayo's protein should suit a wide variety of people. There's no information on the amino acid content either, so it's tough to work out if it provides a complete protein or not. (That's not important for everyone, but inquiring minds want to know.)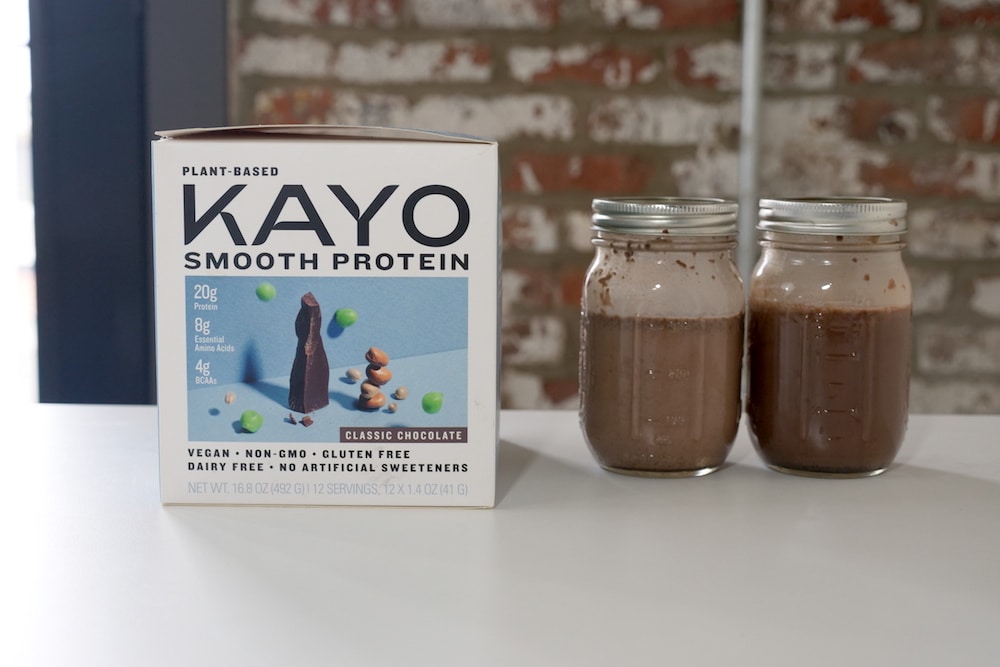 The best part of the nutrition panel, in my opinion, is the high iron content. Iron can sometimes be particularly tricky to get on a plant-based diet. It's also relatively low in sodium for a vegan protein powder with 4 percent of the RDI, but as mentioned above, there's not much else going for it as far as micronutrients go.
It's also not especially low-carbohydrate, with 11 grams of carbs per 20 grams of protein, plus 6 of them are sugar. Whether or not you see that as a "con" is up to you.
Kayo Plant-Based Smooth Protein Price
Kayo comes in a box of 12 packets, which costs $35 or $2.92 per packet. This comes to 14.6 cents per gram of protein, which is pretty expensive for a naturally-sweetened vegan protein powder, particularly one that isn't organic. Most go for around 6 or 7 cents per gram of protein.
Kayo Plant-Based Smooth Protein Taste
Terrible with almond milk, pretty great with water. This was a surprise, but this is a protein that's all about dark, earthy chocolate flavors, not milk chocolate. Adding it to almond milk made it tougher to mix and resulted in a metallic flavor lingering in my mouth after drinking. I didn't have these issues when mixing with water — it just had a dark, earthy cocoa flavor and not much else.
The Takeaway
KAYO's protein was a bit on the expensive side, and it didn't mix particularly well, so those were my main criticisms. The packets it comes in makes it pretty portable, but besides the iron content, I had a little trouble getting over the price.