We receive free products and receive commissions through our links. See
disclosures page
.
Kettle Gryp is a United States based company that offers a unique product and solution for those who want kettlebell workouts, but lack a kettlebell. Their product the Kettle Gryp is designed to allow anyone to get a kettlebell workout no matter the setting as long one has a dumbbell to hook the grip onto.
In this review, we'll be assessing how useful their grip is for achieving an adequate workout. We'll break down the Kettle Gryp's construction, performance, who could benefit, durability, and price. To keep things consistent in our kettlebell review, we held the Kettle Gryp to the same standard as our bell assessments.
Construction
Grip & Design
The Kettle Gryp is made out of a lighter weight plastic material and comes in at a total weight of less than one pound. There's a plastic latch on the bottom portion of the handle that snaps shut, so the grip doesn't come undone easily. The latch itself snaps shut and offers a pretty solid latching mechanism, although, it is fully plastic.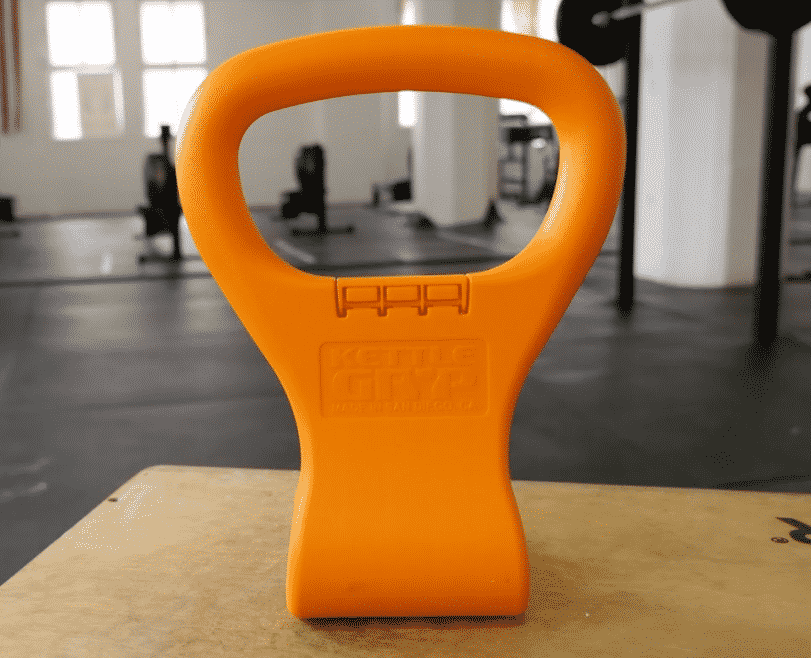 Towards the bottom of the Kettle Gryp there's a foam padding that will be in contact with the dumbbell's handle. This padding is a little thicker, so it has some leeway when it comes to the diameter of handle is grips on to. The foam is textured and does a decent job at maintaining its contact with the knurling without sliding or rotating. There's a single metal rod at the hinge point to connect the two handles.
[Need a real kettlebell? We can help out, check out our full kettlebell round-up!]
The grip itself is smaller in diameter compared to other kettlebells I've used, even lighter weight bells. If you're used to a regular kettlebell grip, which is around 35mm, so imagine a grip that's about half of that, or about two thirds of that feeling. There's a textured light material on the handle itself, so it grips pretty well. Kettle Gryp recommends using a 55 lb dumbbell or less when using this device.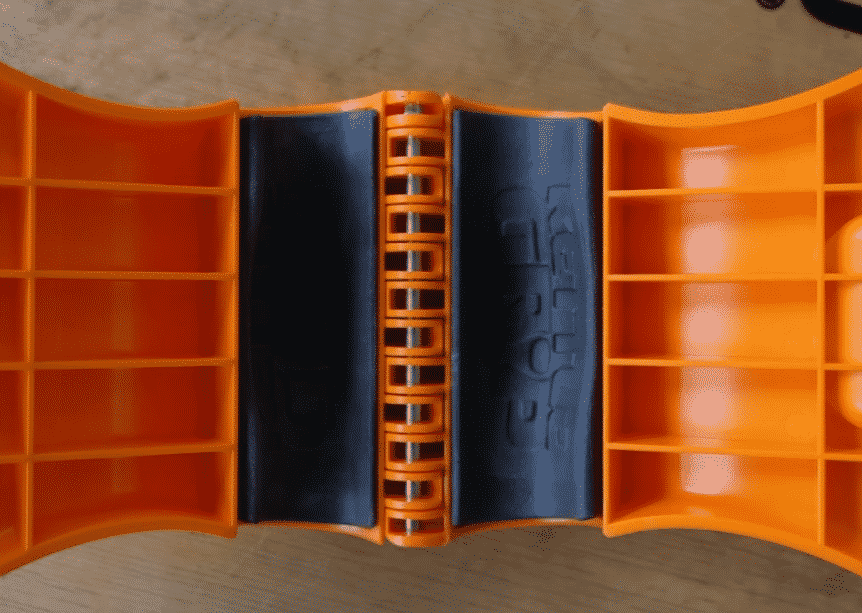 Performance
To maintain consistency with with our other kettlebell reviews, we used a 50 lb dumbbell in the Kettle Gryp. This is only 5 lbs less than the max weight they recommended using, so I was interested to how the plastic held up. In this review, we used Russian Kettlebell Swings as our main movement test.
Additionally, I didn't use chalk in our performance test because I didn't think it would be realistic to put chalk on plastic. Not to mention, most who will use this device while traveling won't have chalk available.
Kettle Gryp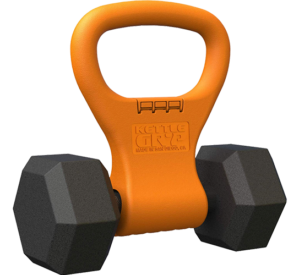 A plastic grip designed to provide dumbbells with a feeling of versatility similar to true kettlebells.
Without Chalk
When it came to performance of the Kettle Gryp I had mixed feelings. If you're serious about getting a great kettlebell workout, then the Kettle Gryp won't be your best bet for three reasons. First, the 50 lb kettlebell was a little wide in the grip, so swing work was really tough – I actually hit my hamstring in the review, which was far from a comfortable experience.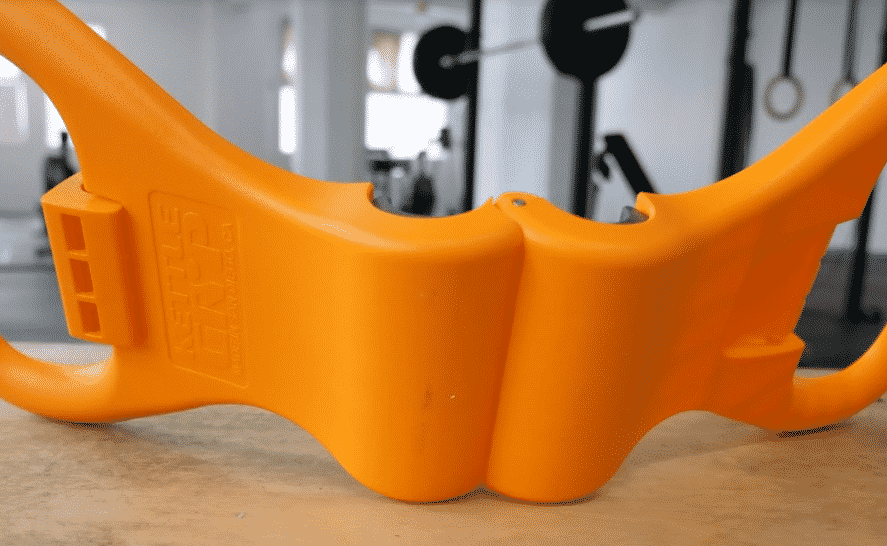 Second, the grip doesn't feel the firmest and high intensity bouts could be an issue. I actually thought it was somewhat flexible, which is less than idea for heavier movements. Lastly, it doesn't evenly displace weight as well as normal kettlebells, so it may cause inconsistent movements.
On the positive side of things, I do think the Kettle Gryp is a viable option when traveling and using lighter dumbbells. It performed well for conditioning when I used lighter weights, which for many is what's going to be the case anyways. With about 30 lb dumbbells and below, it didn't my legs during swings.
Long story short, I think the performance of the Kettle Gryp will completely come down to the setting you're in, and want you out of it. If you understand that it's obviously not a true kettlebell and account for that, then I think you could be subtly pleased with the performance.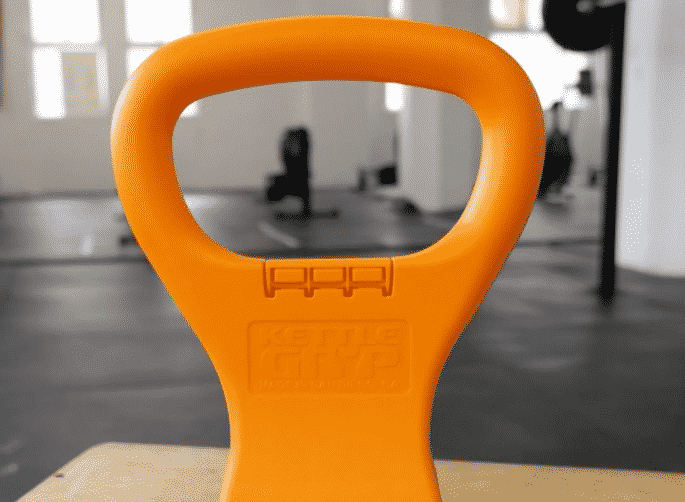 Who Could Benefit
Unlike normal kettlebells, I don't think every strength athlete could benefit with the use of the Kettle Gryp. This product is designed to fix the problem of lack of owning kettlebells, which it does, but it doesn't fix the problem of performing at a high intensity with the grip.
There's a limiting weight factor on the Kettle Gryp, so you have to stop around 55 lbs. For this reason, it's not going to be ideal for many serious strength. Although, I think two populations could benefit with the use of the Kettle Gryp. 
| | |
| --- | --- |
| Benefit to Whom | Rationale |
| Traveling Athlete | 1 lb Design, Easily Transportable |
| Home Gym Owner | Only Dumbbells Available |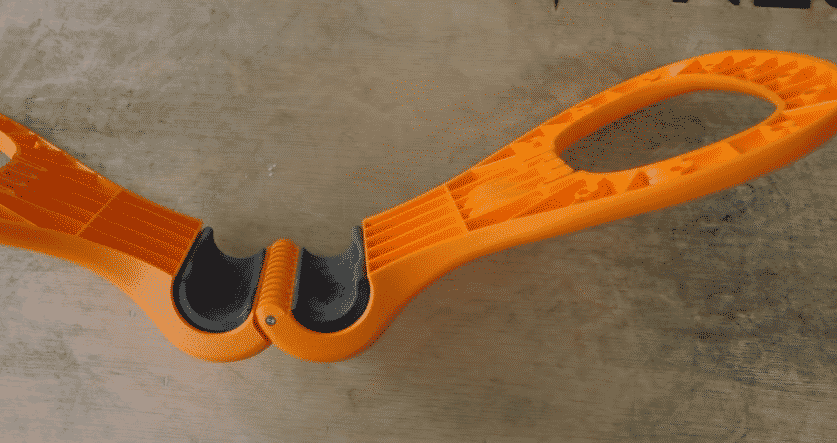 Durability
Throughout my tests, I didn't come across any durability issues with the Kettle Gryp. Although, I think there could be some long-term issues with the grip. I pointed this out in the video, but during my 50 lb swings I noticed that the plastic grip moved a little bit. Now I'm not saying that's a huge cause for alarm, yet over an extended amount of time I could see the plastic giving away due to excessive stress.
Price
The price of the Kettle Gryp comes in around $34.95. This price is cheaper than most kettlebells, but again, it's not a kettlebell and that's kind of expected. In our reviews, we've been reviewing 50 lb bells and $34.95 isn't too far off from some of the more generic name brands, so that being said, if you want the grip for the convenience, then I'd say the price is fair, but it's not too much cheaper than owning your own bell.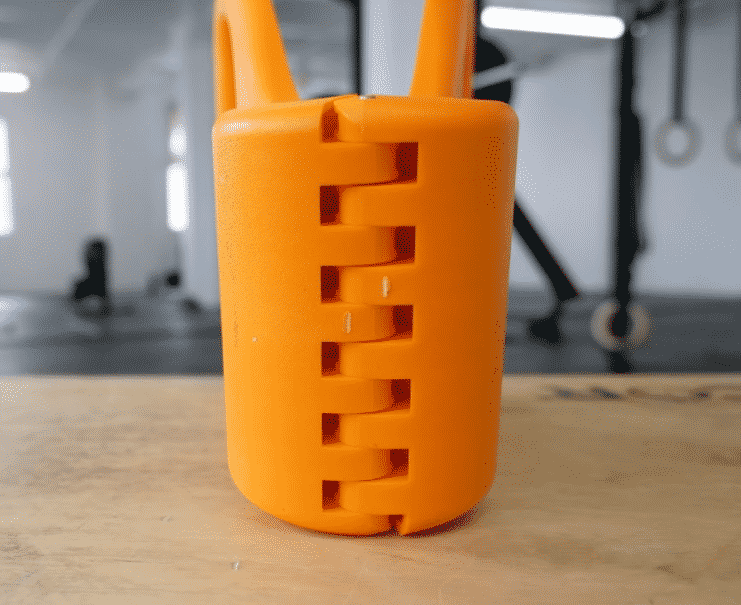 Wrapping Up
It may have seemed like I was little harsh on the Kettle Gryp throughout this review, but remember I held it to the same standard as a normal kettlebell. Personally, I think this product is unique and offers a lot of special attributes to help out the traveling athlete. If you're on-the-go and need something lightweight to throw in a backpack, then I'd recommend checking out the Kettle Gryp. Yet, if you're needing something for serious workouts, then look into investing in your own kettlebell, or even set for that matter.
If you're on-the-go and understand that the Kettle Gryp has a maximal weight limit, then I think this option could be a good fit for you.