We're not entirely sure of the origins of the exercise name "clean". But we reckon some old-time gym bro saw their fellow lifter hoist a kettlebell from the floor to the front rack position in one swift motion and they couldn't help but utter, "Man…that was clean."
The clean—this article focuses on the clean with a kettlebell—is a lift that combines explosive hip power, core, and back strength into a symphony of coordination and full body connection.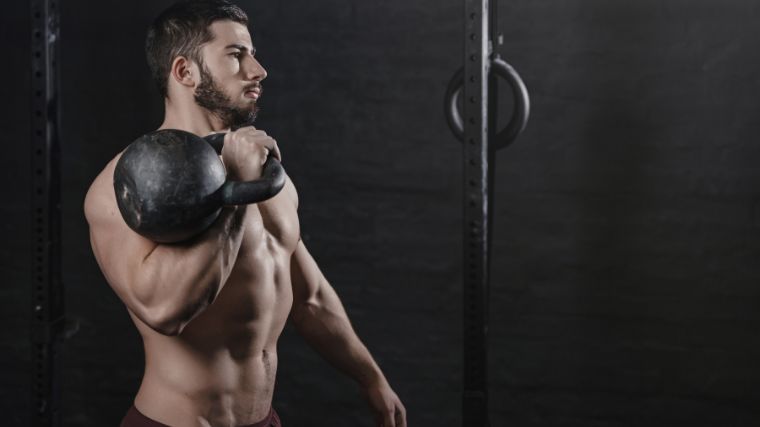 It is a powerful skill for building muscle in your glutes, core, back, and arms. It's also a great transition movement that truly makes kettlebell exercises like kettlebell complexes, chains, and flows fun. Keep reading to learn how to do the kettlebell clean.
How to Do the Kettlebell Clean
The kettlebell clean is when a lifter executes an explosive hip hinge to lift a kettlebell from the floor to the rack position. Let's break down the steps to a collision-free clean:
Step 1 — Get Set, With Square Hips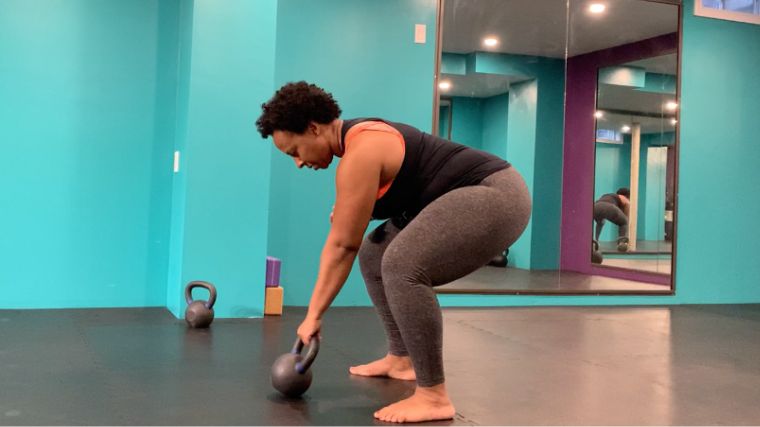 Set a kettlebell about a foot distance in front of you. It sits a touch closer to the side of the arm your plan on executing the clean with. With your feet slightly wider than hip distance, hinge at the hips and grab the kettlebell handle with an overhand grip so that it sits loosely in the "hook" of your fingers. Gently pull the kettlebell; so it leans slightly towards you.
Coach's Tip: Your arm should be straight but elbow soft and shoulders packed. Make sure you can bend your elbow; this will help guide the kettlebell, especially if you have a larger belly or chest.
Step 2 — Hike the Kettlebell Back Between Your Legs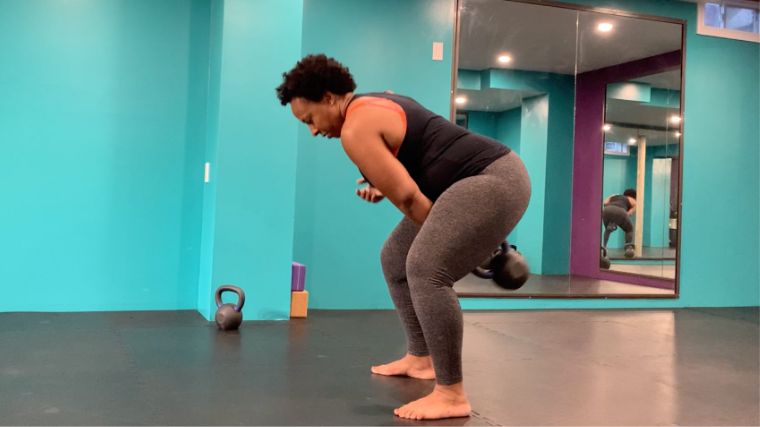 The clean starts with a back-swing called a hike — because the movement mimics that of an offensive lineman hiking a football to a quarterback. There should be no gap between the groin and the inside of your wrist at the top of the hike when you hike the kettlebell between your legs.
Coach's Tip: As you hike, think "thumb to bum." This is a great way to remember how to turn your arm inward. Doing this creates more space between your thighs.
Step 3 — Extend Your Hips and Stand Tall
Drive your feet into the ground and explosively drive your hips forward, as you would during a deadlift. As you extend your hips, tuck your elbow in and allow the kettlebell to continue its trajectory upwards toward your chest.
Coach's Tip: During the hike don't raise your hips, this will ensure all the power from your legs supports the vertical float of the kettlebell.
Step 4 — Bring the Kettlebell to the Front Rack Position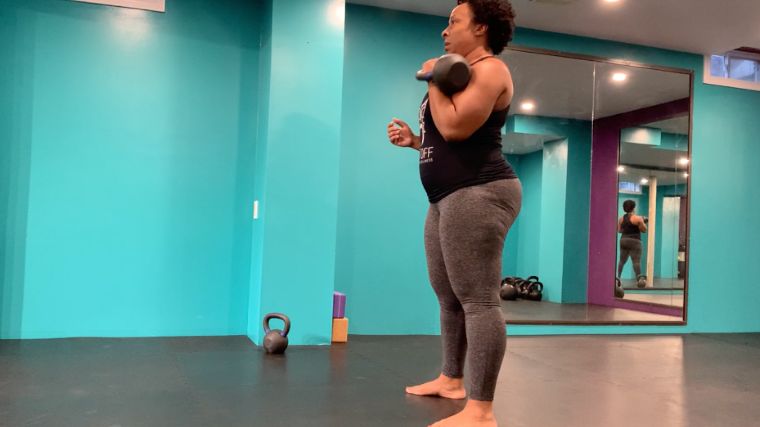 Once you're standing, squeeze your forearm to your biceps; so you finish with your elbow connected to your torso and the kettlebell sitting in the rack position. You have now guided the kettlebell to pivot onto the forearm with the hand deep in the kettlebell handle and a straight wrist position.
Coach's Tip: The clean happens fast. Remember to squeeze your glutes, brace your core with an exhale as you come to standing. And never lean back; your goal is to stand tall like there is a string connected to the crown of your head.
Step 5 – Reverse the Movement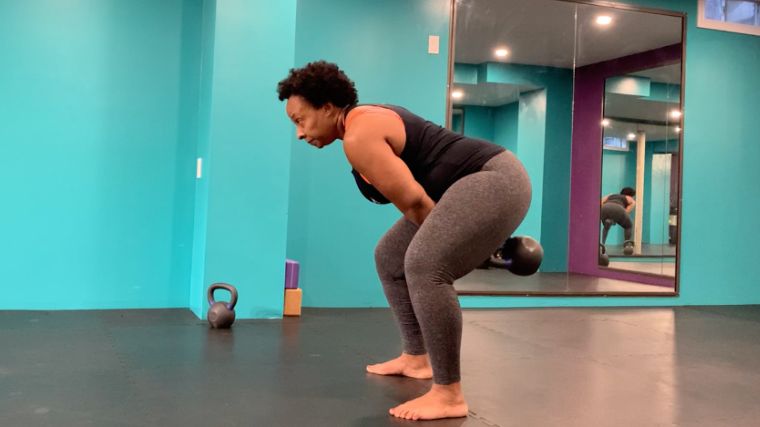 Start your descent by pulling your elbow back and dropping the kettlebell into the hike reversing each of the previous steps.
Coach's Tip: Remember the clean is not a swing; you should not cast the bell out in front of you before you hike.
Kettlebell Clean Variations
There are so many ways you can explore cleans. Boost your cleans with double the weight, adding variations in grip and challenging set-ups for more power generation, core strength, and full-body stability.
Double Clean
The double clean is performed in the same way as the single-arm kettlebell clean, but you hold a kettlebell in each hand. Adding another kettlebell allows you to scale the amount of weight you can load this movement with. For example, progressing from a 35-pound kettlebell in one hand to a 70-pound kettlebell may be too much for you. You may not be able to grip the bell. However, you can load your body with 70 pounds by opting to clean two 35-pound kettlebells.
[Read More: The 12 Best Supplements for Muscle Growth]
Functionally, your form is identical, though you'll need to widen your stance to hike both bells between your legs. The kettlebells may collide, don't be worried if they make a sound; they are strong.
Bottoms-Up Clean
The bottoms-up kettlebell clean variation challenges your grip and lights up your core. Instead of finishing in the rack position, you will grab the handles tightly and finish with the forearms completely vertical and kettlebells balanced with the base up.
[Read More: The Best Protein Intake Calculator for Muscle Gain and Fat Loss]
You'll need to lift a significantly lighter kettlebell for this clean variation. The center of gravity shifts as you invert the kettlebell, creating an unusual and near-unmanageable level of instability. Aim to perform this exercise for higher repetitions.
Barbell Hang Clean
This is a great option when looking to build more explosive power. For this clean you will line up the kettlebells between your ankles, not in front. You will need the wide stance you use for double kettlebell cleans.
[Read More: The Best Full-Body Bodybuilding Workout for Beginner to Advanced Lifters]
Setting up will begin with a quarter deadlift. Lift and hold the starting position to where your fists are lined up with your knees. Everything else is the same, except there is no hike or back-swing. Drive your feet through the ground to standing with maximal glute squeeze while drawing the elbows back. Finish with the barbell loaded in the front rack position.
Kettlebell Clean Alternatives
Here are a few alternatives that can replace cleans but also help you establish a stronger foundation to clean from.
Gorilla Row
From a bent-over hinge position, line the kettlebells up between your ankles with the corners pointing forward. To get the gorilla effect, you will perform kettlebell rows alternating sides.
[Read More: Get Freakishly Strong With the 5×5 Workout Program]
This exercise gets its name from the working position it puts the lifter in, mimicking that of a gorilla's posture. Starting each row from the floor will allow you to generate more power compared to continually suspending the dumbbells. And rowing one weight at a time will slightly challenge your core stability as your body resists the rotational force of the moving weight.
Mid-Pull
This alternative is an amazing drill if you are trying to master the timing of drawing your elbow back with your hip extension.
[Read More: What Are Workout Splits and Which Is the Best One?]
Take a break from the pressure of the rack position with this explosive hip hinge exercise. Each time you come to standing, your finish will be at an 80-degree angle with your elbow behind the midline of your torso.
Who Should Do the Kettlebell Clean
Kettlebell cleans offer many benefits for beginners, elite weightlifters, and powerlifters. Although your goals may differ, there are many ways to integrate the kettlebell clean to suit your goals
Beginners
The dynamic nature of kettlebell cleans make them a great way for you to increase your cardiovascular and strength endurance. You will also get a full-body workout since cleans engage multiple muscle groups, including your legs, core, shoulders, and back, making them an efficient full-body exercise.
Olympic Lifters
Improve the speed and power of your snatch, clean & jerk with kettlebell cleans. Kettlebell cleans can also provide supplemental training for shoulder stability vital to your overhead positions.
CrossFitters
CrossFit encompasses a little bit of everything—and that includes cleans of all types. Considering cleans prepare your body for the technique of, well, cleaning a barbell, kettlebell, or dumbbell, it's an important movement to have in your training arsenal. It's also a great full-body movement that can be used to enhance your conditioning and stamina.
Kettlebell Clean Sets and Reps
Once you're familiar with the kettlebell clean technique, it's time to reference programming recommendations for different goals. These are general guidelines and should not supersede a comprehensive program designed for your needs.
Build muscle mass: Perform moderate to heavy double kettlebell cleans if your goal is muscle hypertrophy. You should feel like you have a few reps left after each set.
4-6 x 8-12; rest 30 to 90 seconds between sets.
For strength: For strength gains, heavy kettlebells are a must. Perform these in a dead-stop manner, setting the kettlebell back down to the floor and pausing between reps.
5 x 5; rest 2 to 3 minutes between sets
For endurance: You'll want to pick up a light kettlebell and do continuous kettlebell cleans in a long cycle approach
6-10 x 1 min.; rest 30 to 60 seconds between sets
Benefits of the Kettlebell Clean
Short on time? Looking for a full-body blaster? Kettlebell cleans bring together explosiveness, power development, strength, and flexibility.
Dynamic Flexibility
Kettlebell cleans involve triple extension of your hips, knees, and ankles. Your clean starts in a deep hip hinge, stretching your hamstrings before you explosively move into full hip extension. The ballistic speed of kettlebell cleans make them a great tool to improve your flexibility and mobility.
Explosive Power
As you improve your kettlebell clean, your coordination and speed will allow you to generate more power that translates to faster lifts.
Functional Strength
Kettlebell cleans utilize movement patterns that reflect movement in everyday life, combining a hip hinge that you'd use to pick up your groceries with the bonus of increased horizontal pulling power of a row. Improving your cleans will help you move stronger, with more ease in daily living, with a stronger core and more shoulder stability.
[Read More: Use the Bent-Over Row to Make Big Gains With Big Weights]
Coach's tip: Kettlebell cleans have many benefits; however, it is crucial for everyone, regardless of their training level, to learn the proper technique from a qualified instructor to help minimize the risk of injury.
Muscles Worked by the Kettlebell Clean
Your posterior chain contains the central muscles needed for strong kettlebell cleans. You can't leave out the work of the upper body muscles like the biceps, deltoids, trapezius, and trunk stabilizers. Overall, it's a fantastic way to get a full-body workout and improve your posture.
Glutes
The gluteus maximus is the primary mover in your hip extension, while your gluteus medius stabilizes your pelvis. The heavier the kettlebells, the more the glutes are recruited.
Hamstrings
The hamstrings are the prime mover of your hip hinge; they work with the gluteus to extend the hip and stabilize the knee.
Biceps
The explosive movement of the kettlebell clean creates activation of the fast-twitch fibers of the biceps and brachialis muscles. This will help you build thicker biceps creating arm definition.
Trunk Stabilizers
The rotational forces of kettlebell cleans work your core stability as you fight to resist falling off-balance mid-movement. The erector spinae, transversus abdominis, and pelvic floor muscles work to stabilize the lumbar spine.
Common Kettlebell Clean Mistakes
The thing about the kettlebell clean is; you will know it's not working well if it hurts. Flipping the kettlebell is the enemy, so here are a few errors to avoid for a more pleasant kettlebell clean experience.
Your Grip is Too Tight
If you're nervous when you start, you may have a death-grip on the kettlebell handle. You might think this would help control the kettlebell, but that is the last thing you want to do.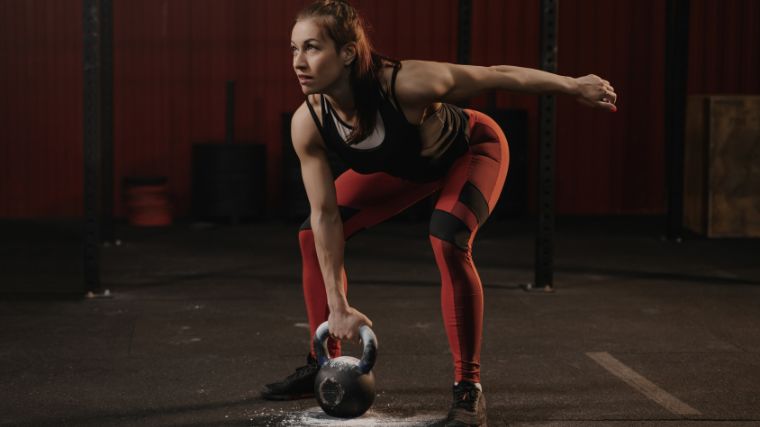 [Read More: How to Do the Goblet Squat — Variations, Benefits, Mistakes, and More]
The kettlebell has an offset center of mass, and holding the kettlebell too tightly delays the bell from pivoting with momentum; instead it's like slamming on the brakes then dropping the bell onto your forearm once released. Keeping a loose grip will allow the kettlebell handle to rotate through your hand quickly to softly reposition the handle.
You Cast the Kettlebell Out
The clean should be a vertical trajectory of the kettlebell. When you cast the bell away, you create an arc that circles back with a lot of force due to the speed the kettlebell travels.
You Curl the Kettlebell
This might seem like the way to reduce the impact but instead will burn out your upper biceps. Trust the power and speed created by your hips to avoid trying to bicep curl the kettlebells into the rack position.
Final Takeaway
Now that you have all the information needed, you can start using the kettlebell clean to draw together more dynamic workouts with chains, flows, and complexes, all while building muscle and having a good time.
FAQs
Are you ready to start cleaning? Here are the answers to a few additional burning kettlebell clean questions before your next workout.
Featured Image: Arsenii Palivoda / Shutterstock