The Austin, Texas based company Kettlebell Kings create a variety of kettlebell focused equipment. They create individual kettlebells, sets, racks, and produce kettlebell training content. In this article, we took a closer look at and reviewed the Kettlebell Kings Steel Standard Kettlebell. 
With companies like Kettlebell Kings, we like to really focus on the smaller details of their products. Since they're a company that produces niche products, we always like to see how they differentiate themselves from some of the bigger companies. Throughout our review, we look at the Kettlebell Kings' Steel Standard Kettlebell's construction, price, durability, and more. 
Best for Small Hands
Kettlebell Kings Steel Standard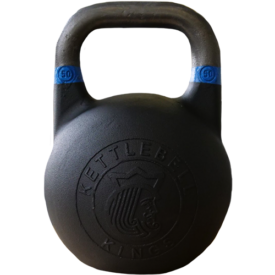 Kettlebell Kings Steel Standard
A steel kettlebell with a slightly smaller handle that is designed for versatile workouts and comes with a lifetime warranty.
Construction
Finish & Design
The Kettlebell Kings Steel Standard Kettlebell is single-cast, which means it's created out of one piece of steel. Some steel kettlebells have their handles welded on and this can lead to premature wear and tear, or early breaking. I thought this kettlebell was constructed really well and felt solid throughout. The mold of the bell is similar in size to other kettlebells in this product line, so it's consistent with other bells.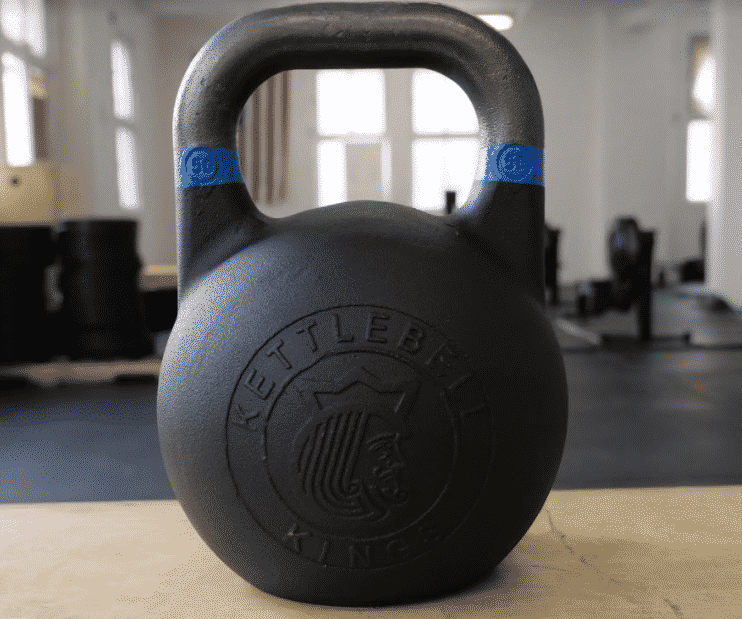 The height of this kettlebell comes in at 280mm, the diamete 210mm, and the handle width 185mm. I like these measurements because they're similar to what competition kettlebells offer on the market, so an enthusiast can use this bell to practice for competition, and that's exactly what this bell is designed after.
On the surface of the bell it feels pretty smooth, as the steel isn't crazy rigid and there's lack of a thicker powder coating. Personally, I liked how the bell felt. It wasn't incredibly smooth like some steel bells can be, but it also wasn't crazy rigid like a fresh iron bell. I think a wide variety of users can use this bell with comfort on their grip and forearms.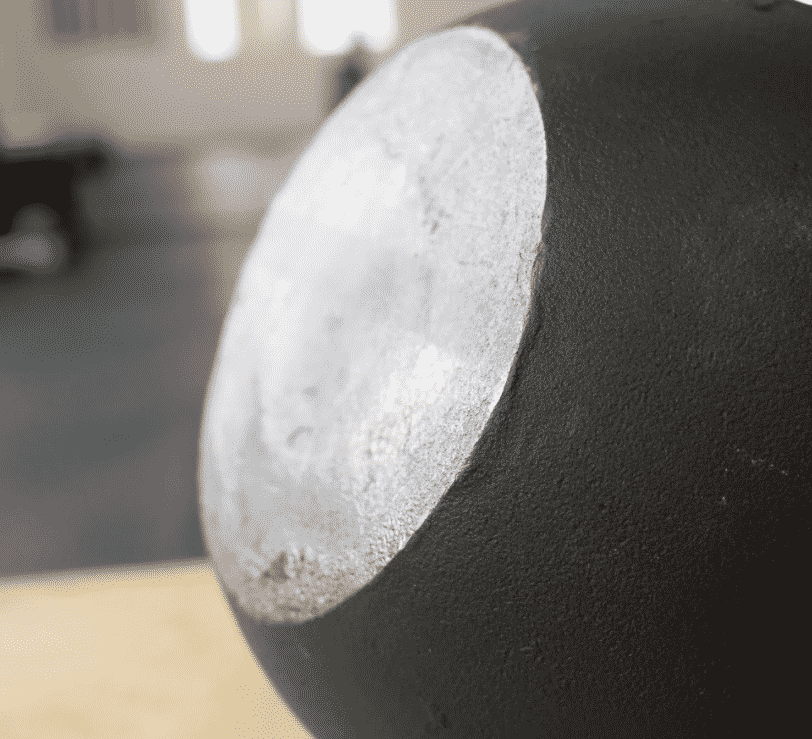 Another nice feature this kettlebell offers is the flat bottom finish. A consistent perk of single-cast kettlebells is that they typically have a flat bottom, which is ideal for anyone that wants their bell to sit flat at all times. I thought this was one of the flatter finishes I've seen to date on a kettlebell.
[Like this kettlebell's handle? Check out the other 33mm handles on the market!]
Handle
Possibly my favorite part of this kettlebell's construction was the handle. Kettlebell Kings use a 33mm diameter handle on this kettlebell, which is meant to take after normal competition kettlebells. A 33mm diameter is beneficial for multiple users and even those with smaller hands can easily grip this bell with ease.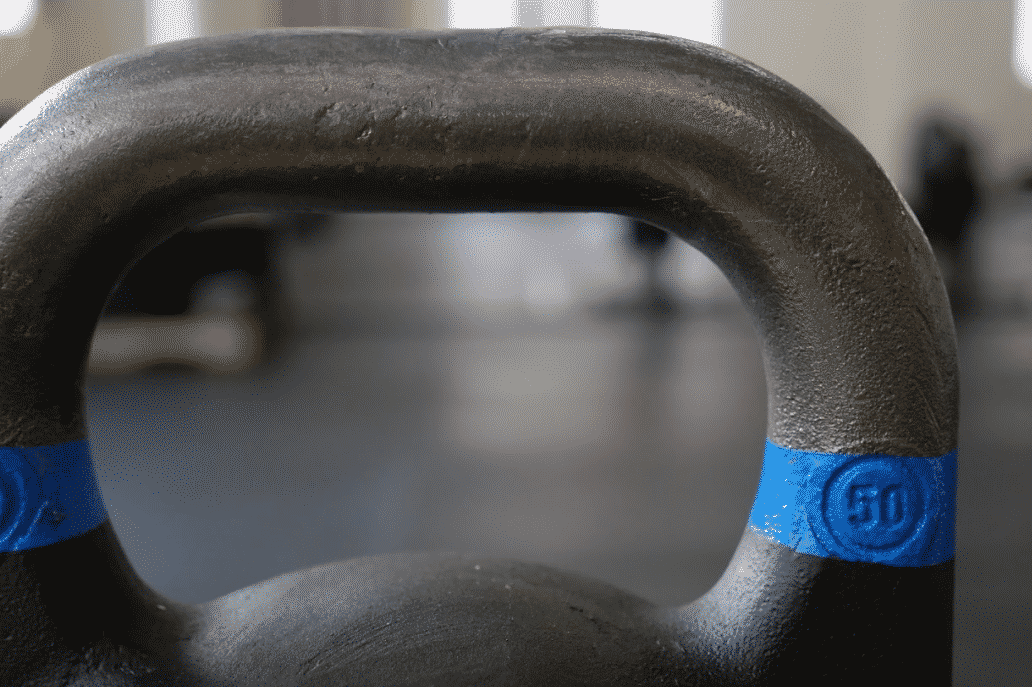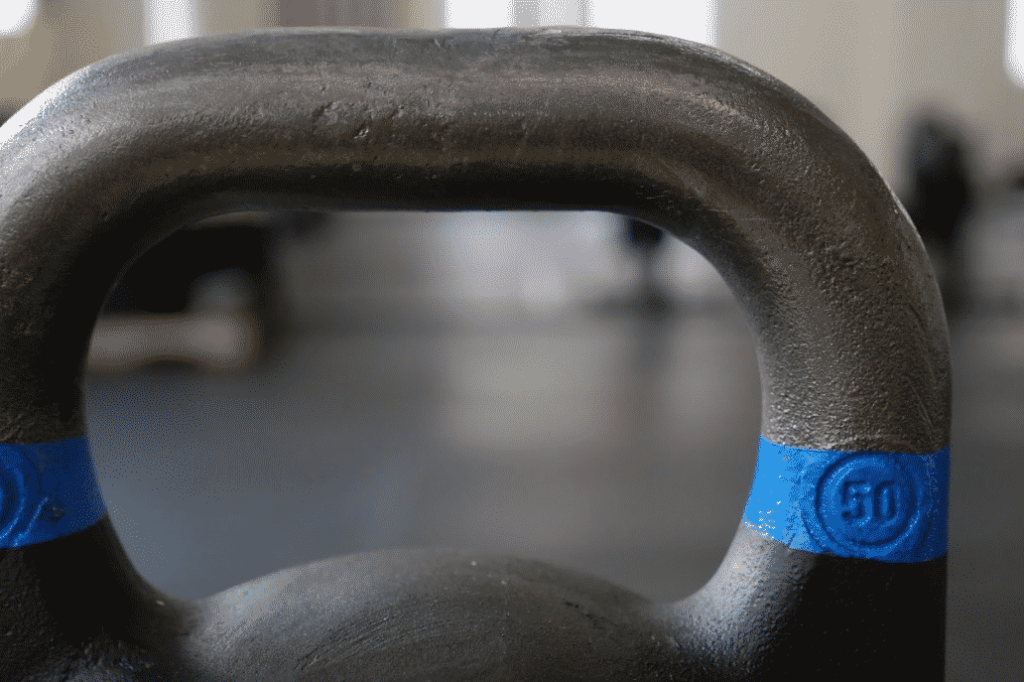 On the bottom of the handle, there are blue rings that are used to indicate that the kettlebell is 50 lbs. This is useful for those in a class setting, or needing to find the right kettlebell weight quickly. Under the blue paint, there is a 50 lb engraving, so if the paint fades you can still tell the weight.
In addition, the steel wasn't too smooth, so the bell felt good in the hand with and without chalk. This is a great perk for those who compete with kettlebells and need to practice with a bell similar to how they compete. I also liked how they handle provided ample room to grip with two hands.
Performance
To this kettlebell's performance, we performed Russian Kettlebell Swings with and without chalk. One of Kettlebell Kings' construction features on their site is how this handle is designed to promote one's performance, that being said, I was curious how it would feel in both chalk and non-chalk settings. Some steel handles can have a tough time accepting chalk, so I was most interesting in this feature.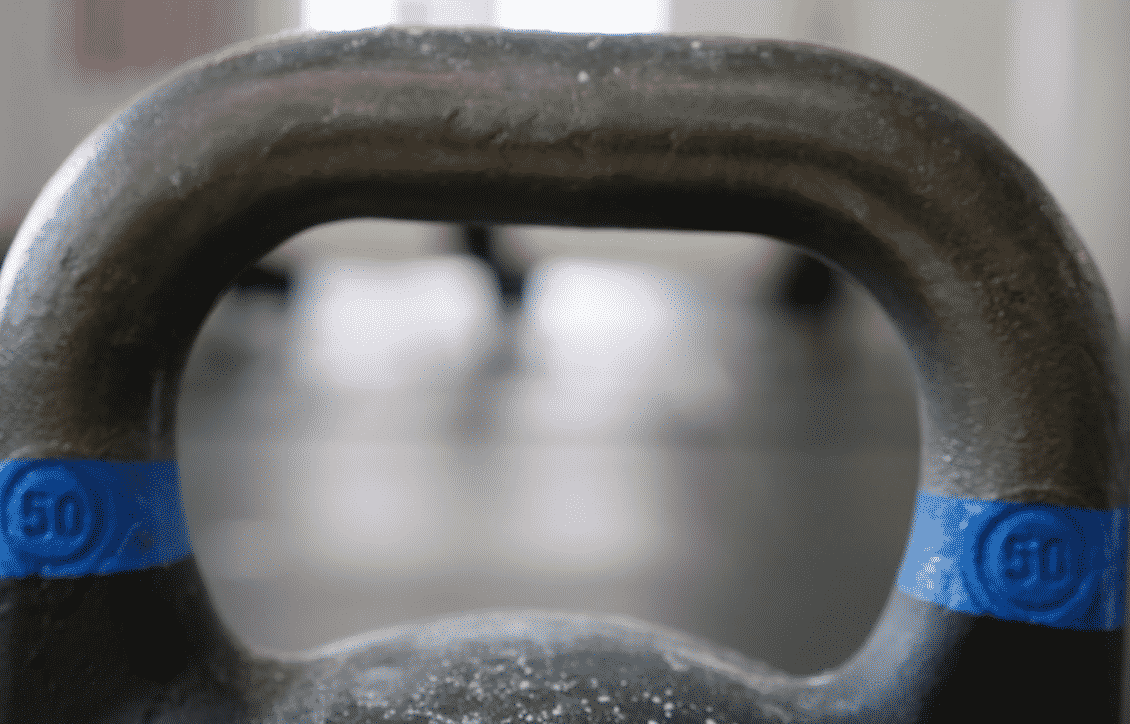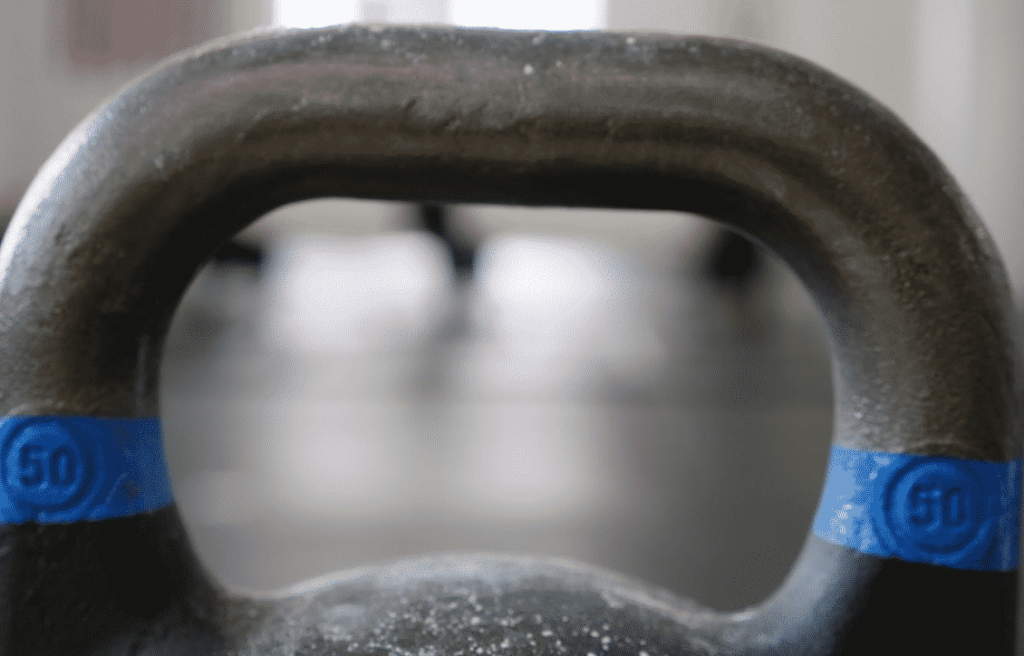 Without Chalk
Out of all the steel kettelbells I've used, I thought their handle was one of the best for long duration use. It's smooth, but not overly finished, so you can really dig your hand into the handle. In addition, the handle is made consistently wide with a 33mm diameter, so one or two hands can be used on the bell with ease.
With Chalk
Okay, the moment I was most interested in, how did the handle accept the chalk. All-in-all, I was pleasantly surprised with how this handle felt in both settings. Obviously, chalk is intended to promote grip and it did just that with this bell, and I didn't notice any form of slippage over long duration workouts. If you're a chalk fan, then you'll like how this kettlebell feels with it.
Who Could Benefit
Kettlebells are great pieces of equipment because almost every strength athlete could benefit using them when programmed correctly. Although, not every kettlebell is created equal, so some niches may benefit more than others when using a certain kettlebell. For this kettlebell, I think two populations could benefit with its use.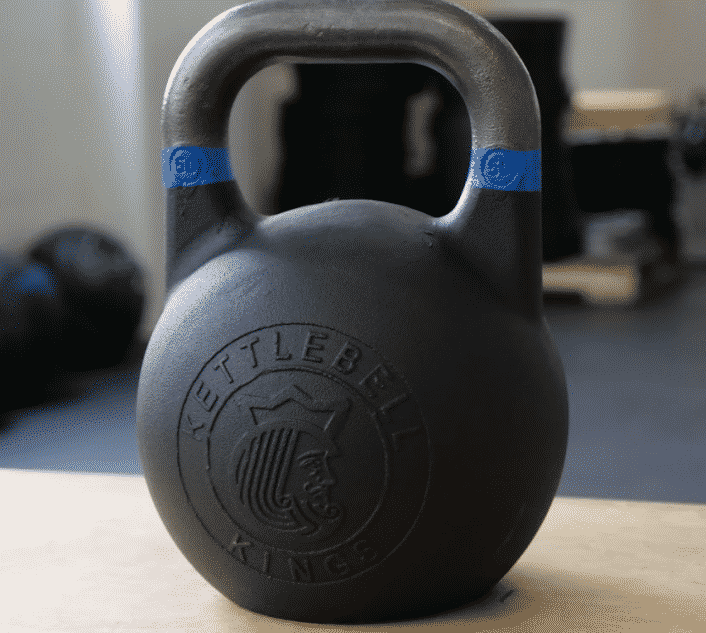 First, the home gym owner or someone who likes to exercise at home. The biggest perk purchasing this kettlebell is the lifetime warranty that comes with it. This is a big deal for getting the most out of your investment. Second, the gym owner. I like he color coated rings to help other find the correct weight bell, plus the lifetime warranty is nice incentive when letting other use your equipment.
| | |
| --- | --- |
| Benefit to Whom | Rationale |
| Home Gym Owner | Lifetime Warranty |
| Gym Owner | Color Rings & Lifetime Warranty |
Durability
To no surprise, I didn't find any durability issues over the course of my use with this kettlebell. The single-cast steel indicates that this kettlebell is going to last a long time, and the chances of it breaking are very slim, in my opinion. In addition, the finish of this bell is slightly more rigid, so I don't foresee it chipping or scratching easily. Lastly, it's worth noting again that this kettlebell comes with a lifetime warranty. Personally, I think that speaks volumes about how confident Kettlebell Kings are in their product.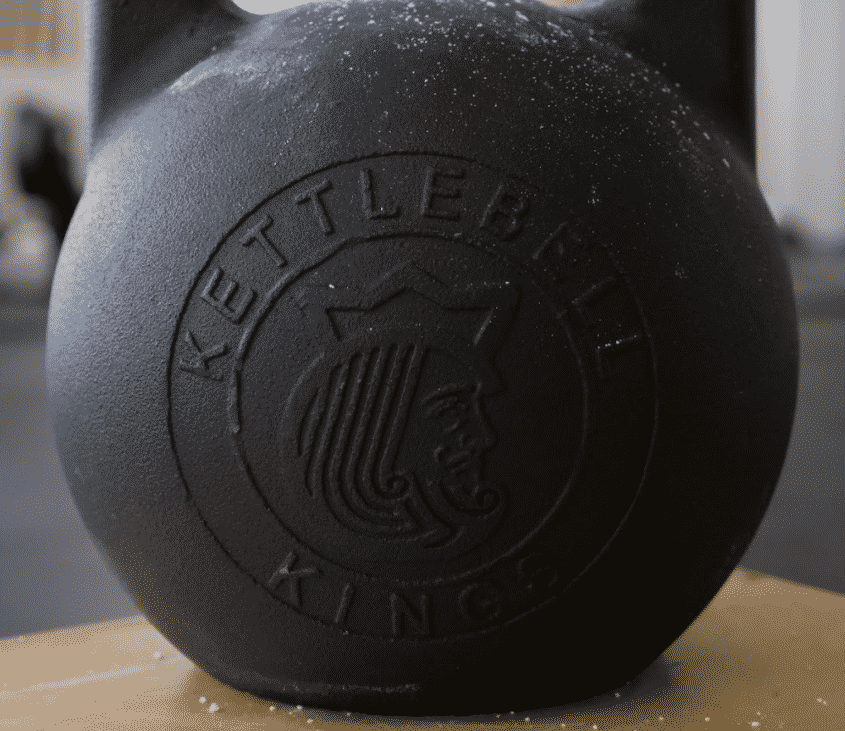 Price
In terms of price, you can expect to pay between $97.00 and $117.00 for this kettlebell. Compared to other 50 lb kettlebells, this option is slightly more expensive. Although, in my mind, the lifetime warranty justifies the slightly more expensive price. If your only goal is to save money, then you may want to explore other options, but this bell offers plenty of perks for its elevated price.
Best for Small Hands
Kettlebell Kings Steel Standard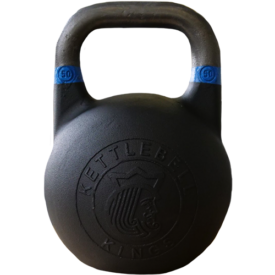 Kettlebell Kings Steel Standard
A steel kettlebell with a slightly smaller handle that is designed for versatile workouts and comes with a lifetime warranty.
Final Word
Overall, I was impressed with how the Kettlebell Kings Steel Standard Kettlebell performed in our tests. I was a fan of the construction and thought that it's a bell that will benefit multiple types of athletes. In addition, the lifetime warranty is a pretty big perk that's pretty unique to the Kettlebell Kings. The only potential con I found was the slightly more expensive price.
If you need a consistent steel kettlebell with a competition-esque handle diameter, then the Kettlebell Kings Steel Standard Kettlebell could be a good fit for you.