We receive free products and receive commissions through our links. See
disclosures page
.
Kettlebells USA is a company that designs a variety of different pieces of fitness equipment. As their name states, one area of equipment they specialize in is kettlebell production. Their company offers a wide variety of kettlebell products and designs bells for every level of strength athlete from the beginner to kettlebell competitor.
One things to note about Kettlebells USA is that they state to strive to produce the highest quality bells on the market by utilizing a couple unconventional processes. For example, Kettlebells USA say they are the first company to apply advanced automotive parts manufacturing to the creation of their kettlebells.
Interested and intrigued by their kettlebell claims and reputation, we wanted to put one of their most popular models to the test. In this review, we looked at the 24kg Kettlebells USA Metrixx® Classic E-Coat Kettlebell. In our assessment, we looked at this kettlebell's construction, performance, durability, price, and who could benefit best.
Shop Kettlebells USA for best prices HERE.
Construction
Finish & Design
The Kettlebells USA Metrixx® Classic E-Coat Kettlebell comes with multiple construction call outs worth noting. First, their kettlebell is constructed with an advanced gravity die cast technology, which provides the bell with a consistent finish. In addition to their gravity casting process, Kettlebells USA use a single cast virgin cast iron, and that's a nice nod to this kettlebell's durability. A single casting means it's a bell composed of one piece of iron, and doesn't included welds, inserts, or additional materials.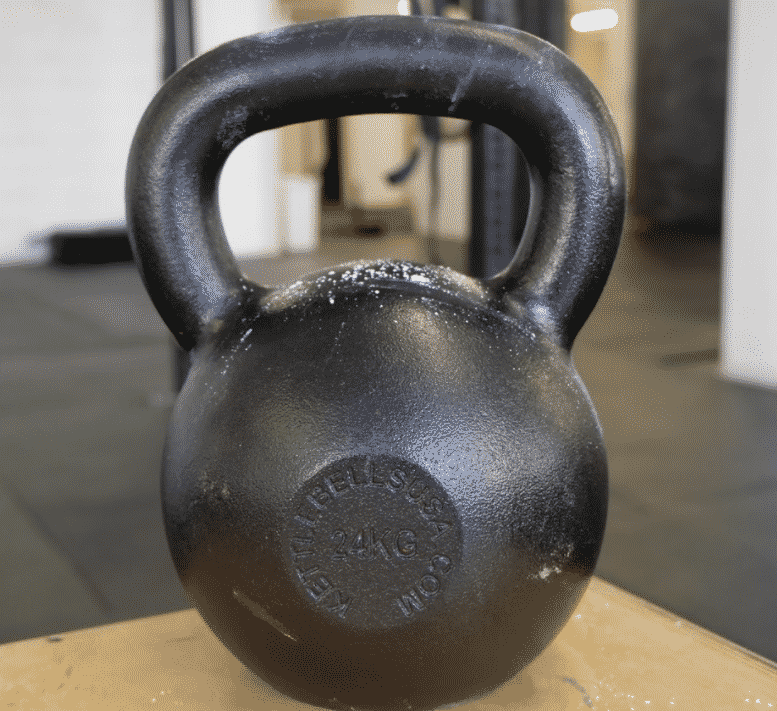 On the outside of the bell is a rust resistant military grade E-coating. In layman's terms, an E-coating is a hybrid between plating and painting. Basically, the item being E-coated is submerged into water based solution containing a paint emulsion, which then receives an electrical voltage so the emulsion hardens on the item.
[On the market for other kettlebells? We built out an in-depth list of the best kettlebells in the strength industry.]
On their site, Kettlebells USA states that their bells are constructed under a strict ISO 9001 quality control. This means that their manufacturing follows a set of high-quality guidelines and practices to ensure consistent products of quality.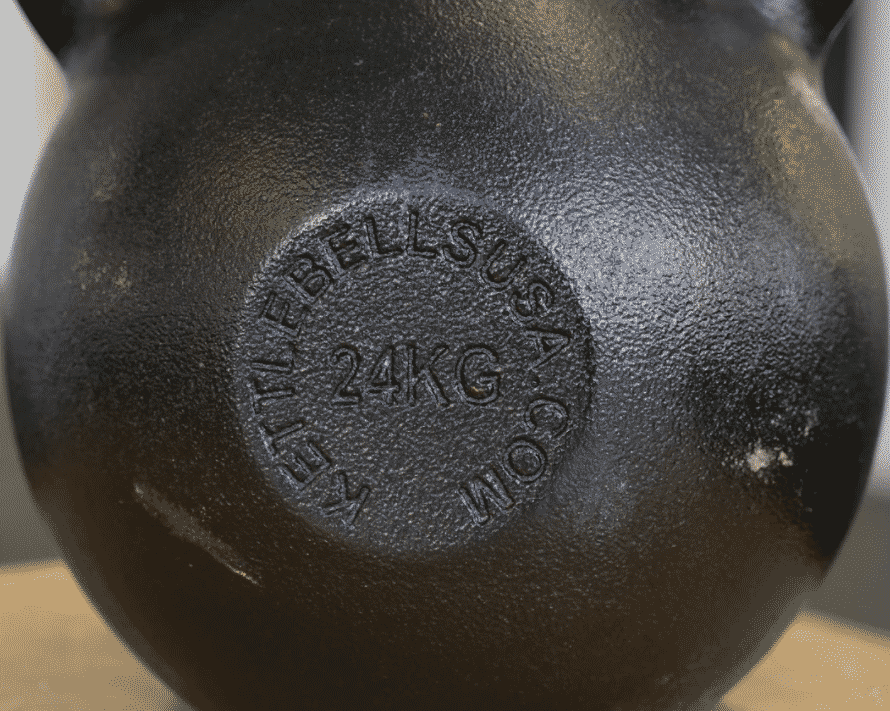 The bottom of the bell is machine bottom finished, and aesthetically, there's one site that provides you with the weight and Kettlebells USA branding.
Handle
The handle on this bell is covered with the Metrixx® Classic E-Coating, which I'd describe as a slightly less rigid powder coating, and I mean very little. It provides the tougher powder coat feeling, but isn't as gritty as some powder coat bells. I thought it was a good option for providing that grittier feeling many athletes like, but not being too incredibly rough on the hands.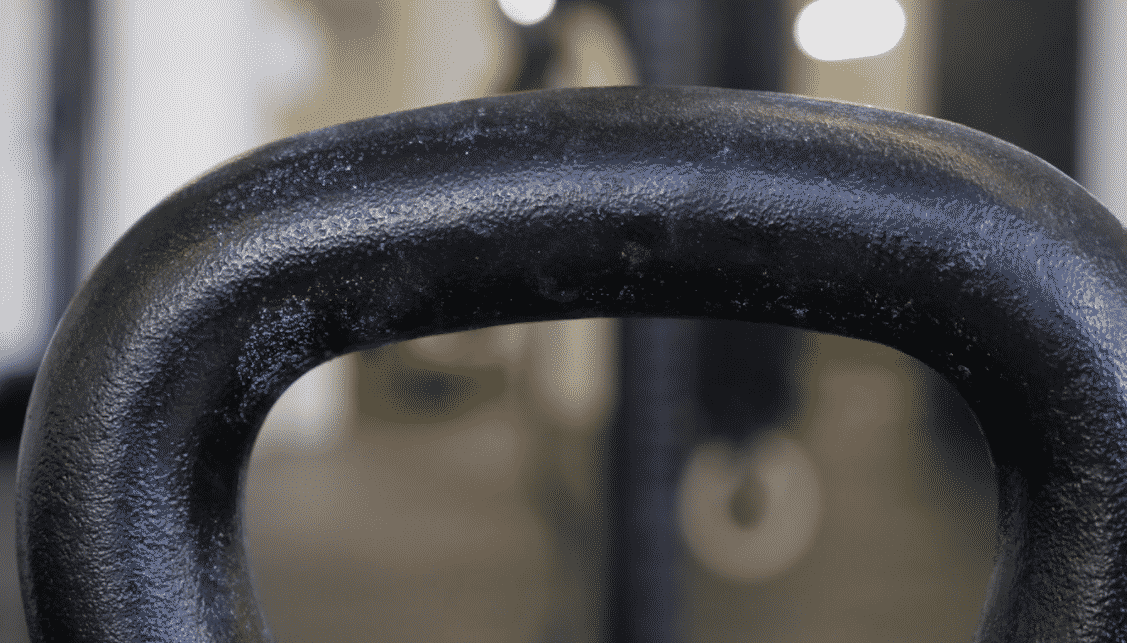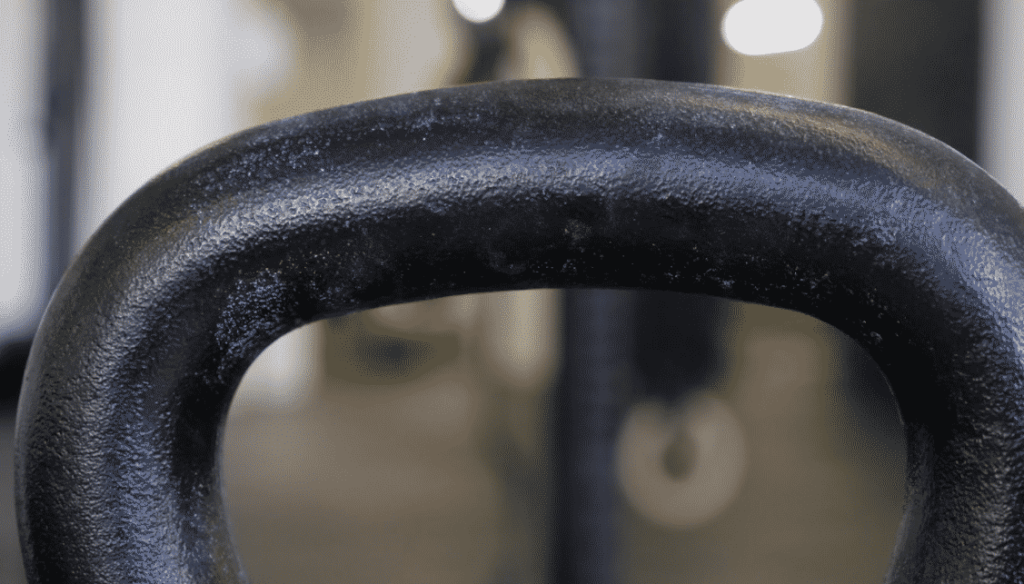 In terms of diameter, this handle is thicker than what you'd experience with a 33mm competition handle, but skinnier than some of the generic big box gym bells. It was a nice in-between and I think it will benefit multiple hand sizes. The grip width isn't as wide as some bells, although, it provided enough space to comfortable fit both of my hands on the handle for swings. 
Performance
To test this kettlebell's Metrixx® Classic E-Coat Kettlebell handle we performed multiple movements to assess how this bell takes chalk. In our review, we do a mini-test with Russian Kettlebell Swings because it's a widely used dynamic movement. My main concern was how the E-coating felt compared to other powder coats on the market.
Without Chalk
In my tests, this bell's performance without chalk was consistent in every movement. I really liked how the E-coat felt on the hand sans chalk, and think it's a bell that could holds its own in a long workout if chalk isn't available. Personally, I can't see anyone having an issue with losing grip due to excessive hand sweat, or moist climate.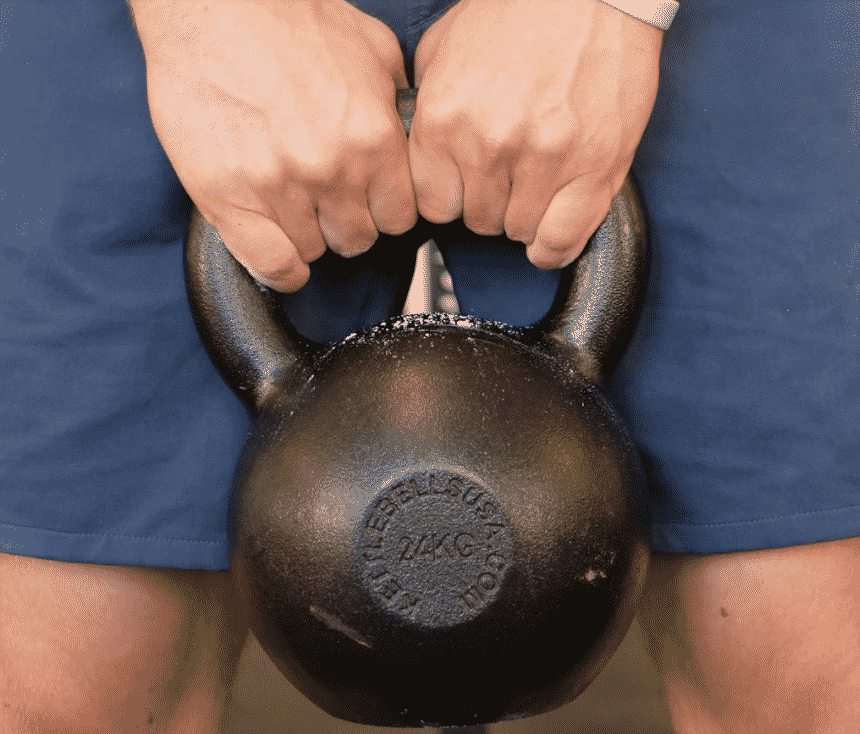 With Chalk
In my chalk performance tests this bell demonstrated characteristics that I expected. Since it's a slightly more rigid grip and material, then it's usually customary for the kettlebell to take chalk well. I thought this kettlebell provided a solid "locked in" feeling with chalk, and would even compare it to a light knurling that you'd feel on a barbell. If you have chalk present, or like using it in workouts, then you'll be pleasantly happy with how the bell performs.
Who Could Benefit
I really liked this kettlebell for a variety of strength athlete populations, and I think every leveled athlete could benefit with its use. It's a solid, consistent kettlebell that offers durability, so it will work in multiple settings. If you asked me to narrow down the strength athlete population, then I think this kettlebell is perfect for two niches.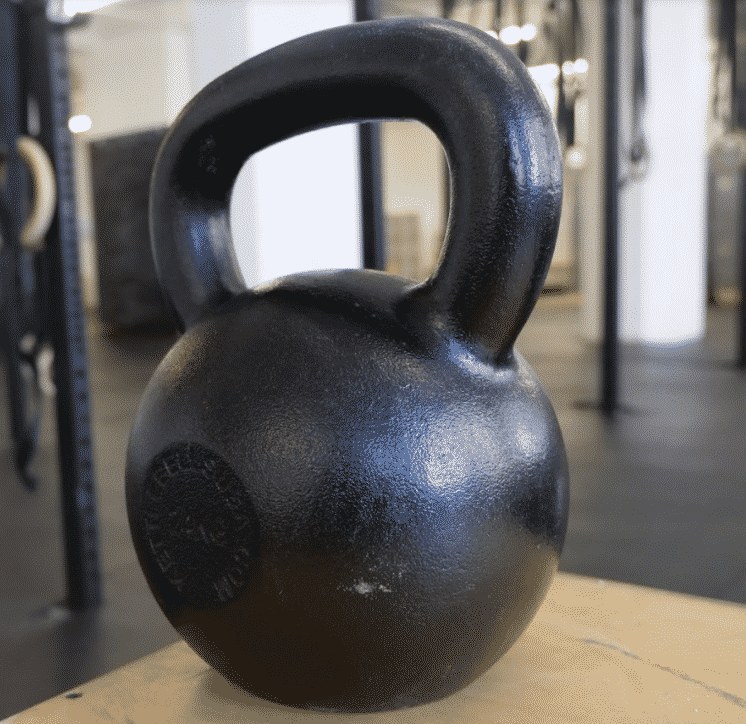 First, I think the home gym owner can benefit with this kettlebell. The gravity casting single cast iron suggests this kettlebell will be very durable, so I think it's a safe investment for home gym equipment. Second, I think the kettlebell enthusiast can benefit with this bell. This bell is extremely simplistic in design and checks all of the performance boxes, so every level athlete could benefit.
Durability
Throughout my kettlebell tests with this bell, I never sensed any sign of premature breakdown or durability issues. In fact, I think this is one of the most durable kettlebells I've tried in all of my testing. Kettlebells USA have three big factors going for them with in durability.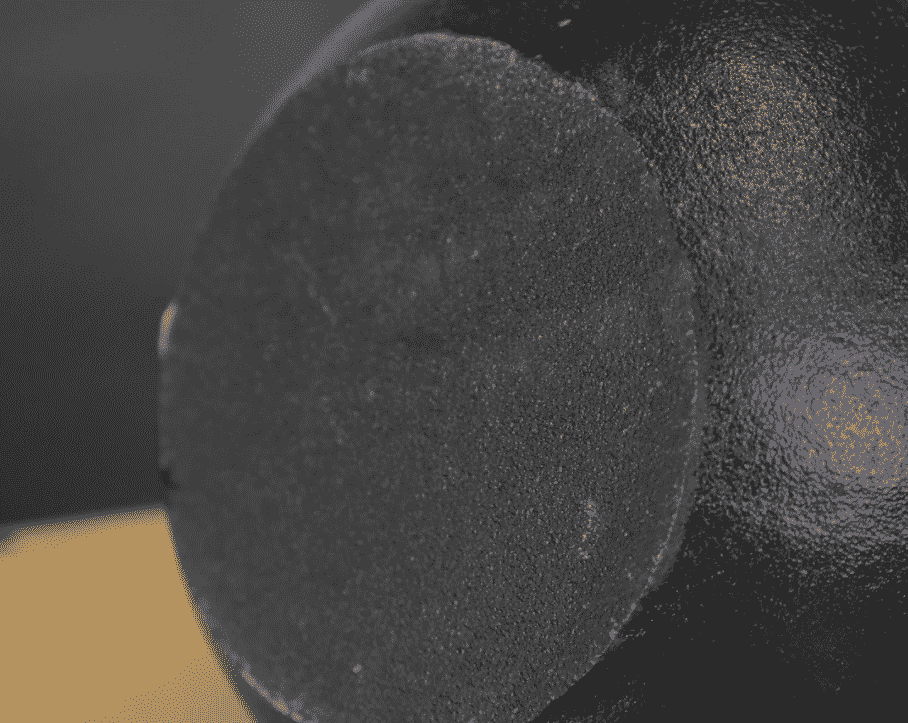 First, the single cast virgin cast iron supports a well-made solid bell. Second, the gravity casting provides a consistent finish, which can help with premature breaks from dropping. Third, the E-coating feels like it will do a really good job resisting rust, and that's a nice sign since this is a true cast iron bell.
Price
The price for this kettlebell ranges from $104.99 – $125.99. For a kettlebell at this weight, this price is slightly on the higher end. If price is your main concern, then I'd recommend looking into more cost efficient bells. Although, I think this bell's construction and durability justify the price, as this bell is going to last a long time, and I'd feel confident that your investment will go the distance. 
Wrapping Up
All-in-all, I was a big fan of the Kettlebells USA Metrixx® Classic E-Coat Kettlebell. Their kettlebell offers multiple stand out construction features that make it slightly different than others on the market. In addition, the performance of this bell was consistent across the board, along with the durability. The only discrepancy I could see one having is the price, but in my opinion, the durability justifies the extra money.
If you need a consistent, durable kettlebell, then the Kettlebells USA Metrixx® Classic E-Coat Kettlebell could be a good choice for you.