In 1979, Dr. Kenzo Kase (some people consider him the originator of kinesiology tape) founded Kinesio, who today manufactures kinesiology tape for athletic applications. One of the leading tapes by Kinesio is the Kinesio Tex Gold Tape, which is made of 100% cotton and offers lightweight to medium support for nearly every athletic endeavor.
After my previous experiences with cotton kinesiology tape from a variety of manufactures, I was eager to see how this roll held up during sweaty, explosive, and full range of motion training sessions to then share my experiences and feedback. The Kinesio Tex Gold 100% cotton tape is one of the most comfortable cotton tapes we've ever tried. 
Kinesio Tex Gold Cotton Tape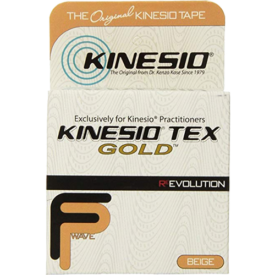 Kinesio Tex Gold Cotton Tape
A cotton based tape that will last through sweaty work outs, and will be forgiving on the skin when removing.
Stability
Kinesio Tex Gold cotton is a fairly low profile tape when applied, and offers the amount of support I was expecting from kinesiology tape. I was initially drawn to the adhesive abilities of this tape, especially when compared with other 100% cotton and less adhesive rolls. The tape stayed in place, offered good support, and was much appreciated after my first experience with another leading 100% cotton tape.
Applying the tape to the skin was as easy as peeling and sticking. Once in place, the tape stayed put and offered a light and noticeable pull to trigger better movement patterning. I personally found this tape to offer a fair amount of support and pull, which I preferred as compared to lighter less adhesive tapes on the market. Lifters who are looking for a less noticeable tape (feel on skin) may want to opt for another version or brand, as I did feel the tape and it's pull, however at no point did it hinder my movement in anyway.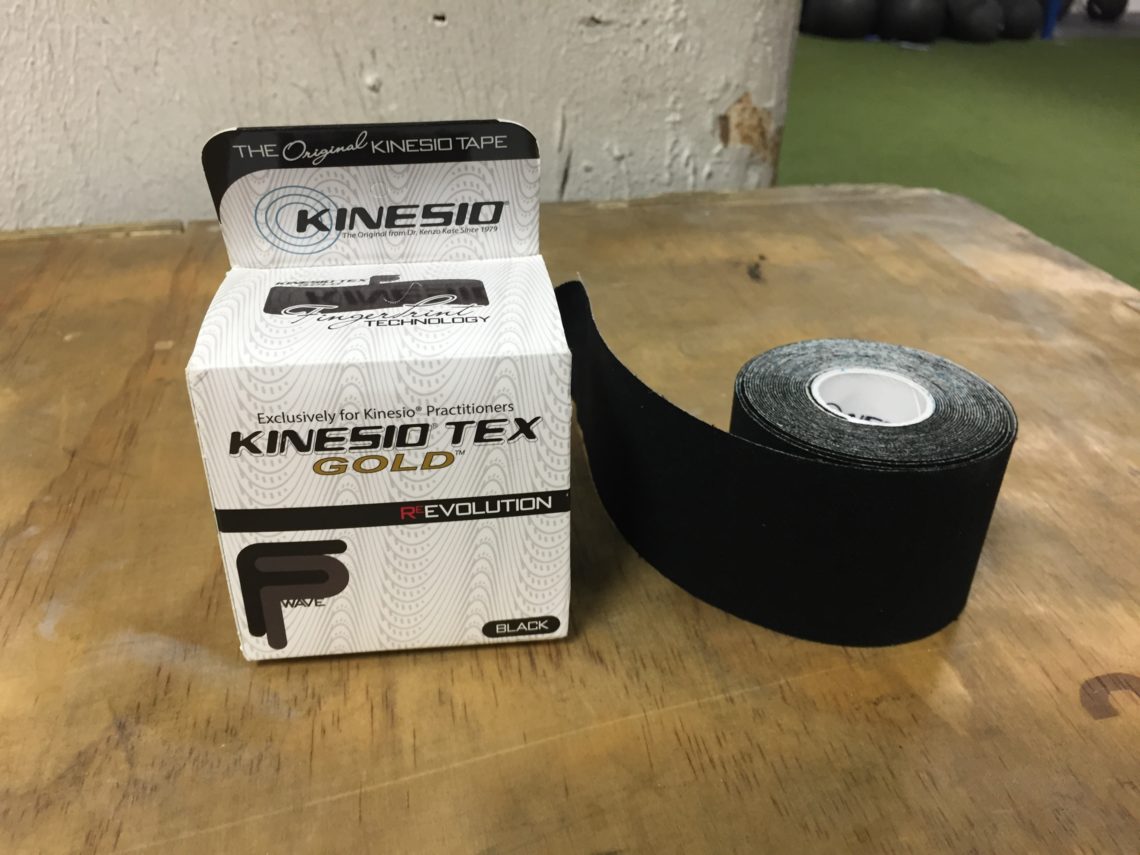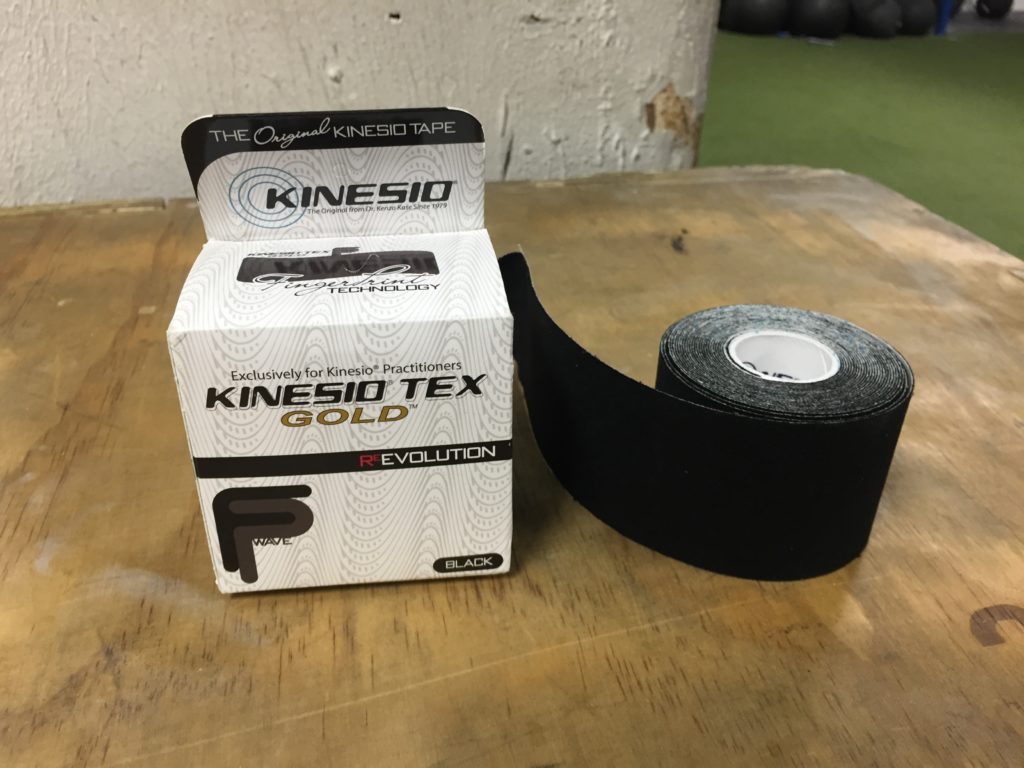 Comfort and Fit
Kinesio Tex Gold is constructed of elastic cotton material, which offers lightweight support. The material is soft on the skin, and really stayed put which is highly beneficial during more intense training sessions involving fuller range of motion movements.
Unlike other versions, this tape did not come in pre-cut strips, however,I found this tape to be very tear-able, and the additional markings on the back of the tape made it easy to measure lengths. While I would say pre-cut is a plus, this tape was tear-able, measured well, and stayed in place.
I found applying the tape to be pretty easy, and didn't have any issues tearing it or getting strips the same length (thanks to the grip on the back of each strip). I found the cotton tape to be pretty comfortable on the skin, and didn't really absorb the sweat, which is a good thing, as this helped it stay adhered.
I applied the tape across the bicep/elbow, as well as on the upper trap and shoulder complex. I was actually surprised at how quickly I felt some relief from some weird trap alignment I have going on, and found it to provide good feedback during pull ups and push ups.
Material
This material is comprised of latex free 100% cotton fibers, that are very stretchy allowing for full ranges of movement yet still was able to stay adhered and firm to the skin, which is a must for a no fuss tape. I didn't have any issues during most of my training, which was much appreciated, unlike some other versions of cotton kinesiology tape.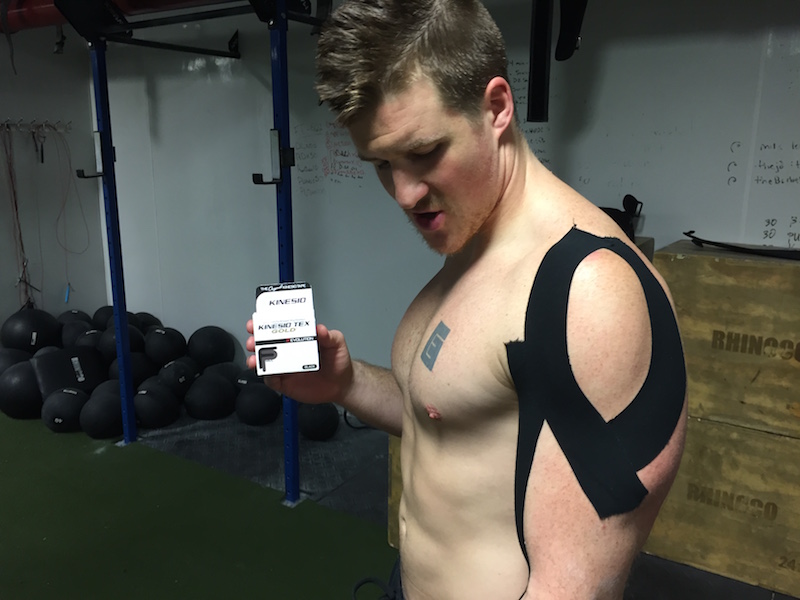 Durability
I personally found this tape to adhere well during training involving snatches, overhead pressing, and even back squats (bar on the shoulder strips). They stayed in place, didn't lose firmness and feel, and lasted the entire training session. Granted, I do not wear kinesiology tape often, and if I do I use for only single use, as I sweat, a lot.
Price
These rolls of the tape vary based on thickness and size. Sold on Amazon, as well as the company website, you can expect to get the 1 or 2" rolls for $14.95, and the thicker 3" roll for $21.95. I found the price to be warranted when compared to more popular and well-known brands that may lack the adhesive properties that Kinesio Flex Gold provides.

Kinesio Tex Gold Cotton Tape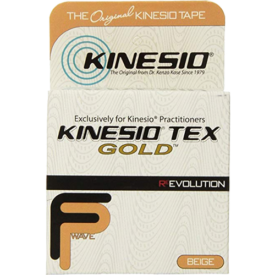 Kinesio Tex Gold Cotton Tape
A cotton based tape that will last through sweaty work outs, and will be forgiving on the skin when removing.
Final Words
I found the Kinesio Flex Gold tape to be a good all-around kinesiology tape that offered midrange support, great adhesiveness, and had a smooth, natural feel.
A potential drawback of this tape is that some people may want less of a supportive and adhesive feeling tape, which in that case may make this not the best option. For the price, and the qualities of adhesiveness and firmness, I would recommend this product to budget shoppers and high end athletes alike.