Kinesiology tape is an elastic sports and fitness tape designed for pain relief and support of muscles, ligaments, and tendons. Kinesiology tape is an external tool that can be applied to the body along the muscles, connective tissues, and joints to send neuromuscular feedback (proprioception) to inhibit and/or promotes muscular activation and firing patterns during movement.
In this article, we are reviewing the Cotton Kinesiology Tape by KT Tape, designed for power, strength, and fitness sports. KT Tape is one of the most established producers of kinesiology tape, offering a number of designs, cuts, colors, materials, and products. How did the tape hold up after extended use? Read below for our full take!
Click HERE to buy KT Cotton Kinesiology Tape.
Stability
The cotton version of KT tape is soft, flexible, and pretty low-profile when applied. The adhesive properties are slightly lesser than synthetics versions, however does have some water resilience and adhesiveness during wetter/sweatier environments.
That said, I had some difficulties with the adhesiveness during my explosive, sweaty training (formal Olympic weightlifting and functional fitness WODs). The overall supportive effect that I personally experienced was negligible do to the lack of adhesiveness.
In this case, KT Tape does offer a more adhesive synthetic version, which I'll review soon, that the company claims can stay on skin for up to seven days. For many athletes without hairy and/or sweaty skin, the cotton version could be a viable option when first experimenting with KT Tape for supporting and pain relief applications. But for me, it didn't have enough stickiness for use beyond a few movements.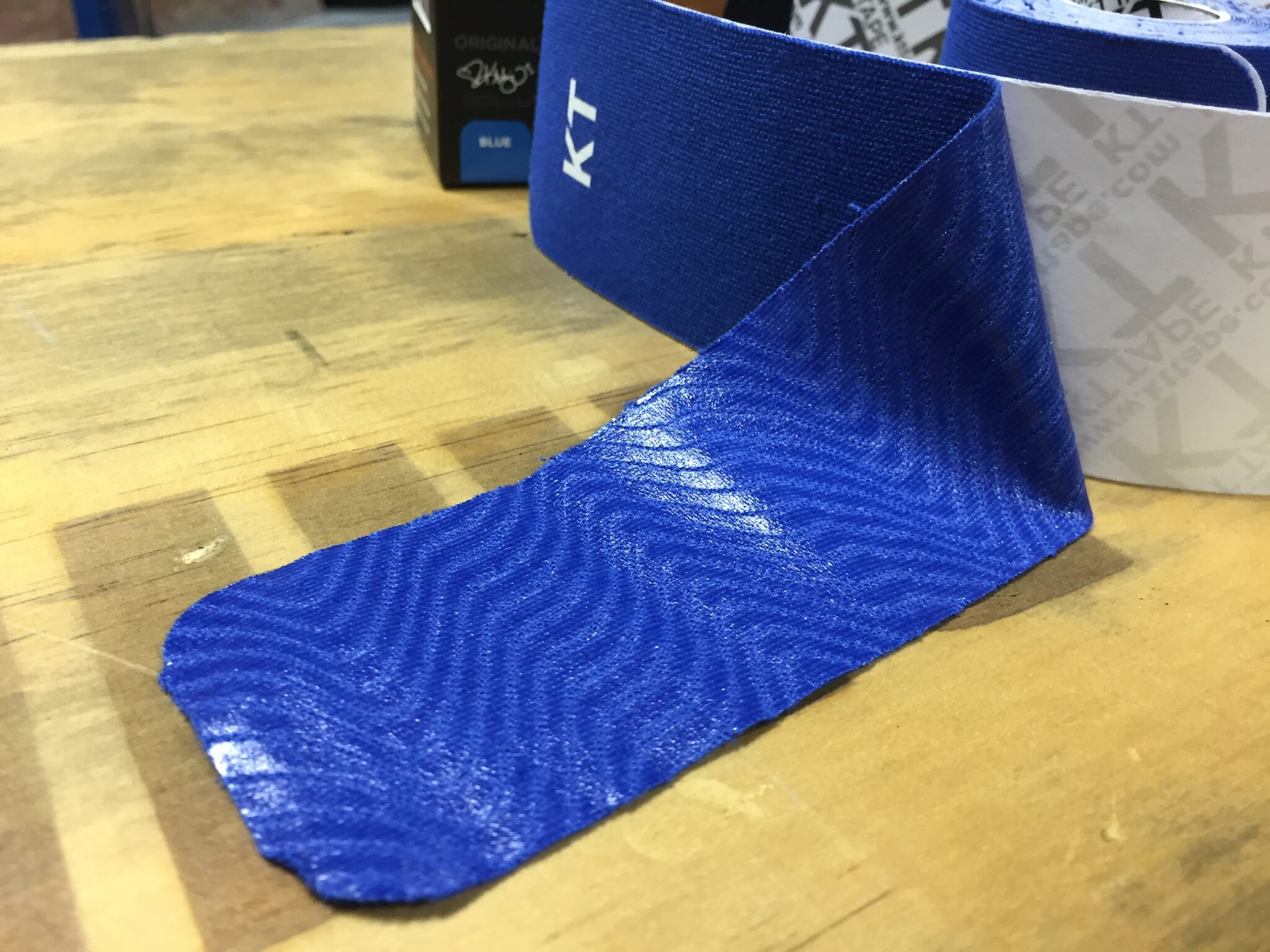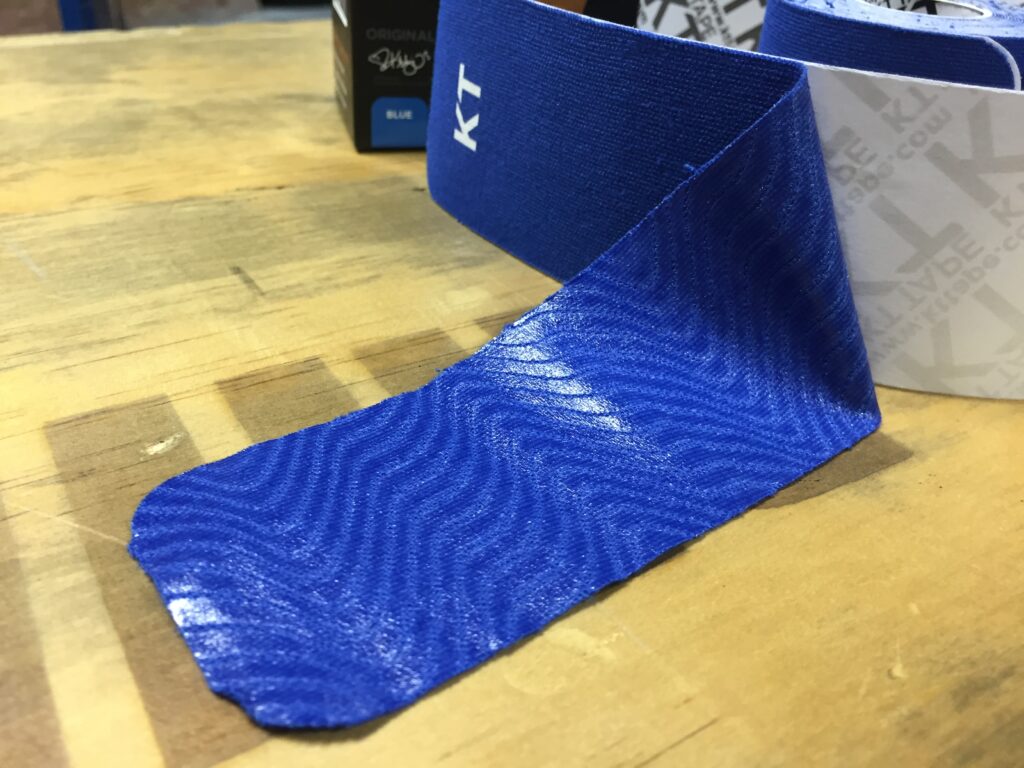 Comfort and Fit
KT's cotton tape is constructed of elastic cotton material, which offers lightweight support. The material is soft, comfortable, and allows an unrestricted full range of motion. Applying the tape to the skin was fairly easy, and KT Tape provides both instructions in the box and online tutorials, offering applications for knees, shoulder, elbow, back, and lumbar issues (just to name a few).
I found applying the tape to be pretty straight forward and intuitive, however I did have some issues applying the tape (and having it stay put) to my skin. Sweat and body hair can impede the effectiveness of the application to the skin, making other synthetic versions (non-cotton, more adhesive) a viable option for hairier/sweatier athletes. Once the cotton tape was in place (I placed it on my arm, shoulder, and knee), I found it to offer subtle, yet noticeable feedback, however I did find it hard to stay put during more intense weightlifting and metabolic sessions.
The tape comes in pre-cut strips elastic and adhesive strips that can be applied in a variety of positions depending on the intended applications; this is one plus, as the pre-cut strips make it easier to handle.
I used the tape on my knee (to assist in patellofemoral pain) and across the elbow (bicep) to help increase feedback for bicep and back contraction during chin ups. Once again, the elasticity and comfort of the cotton material was there, however the lack of adhesiveness on my arm and legs actually impeded the maximal potential training effect.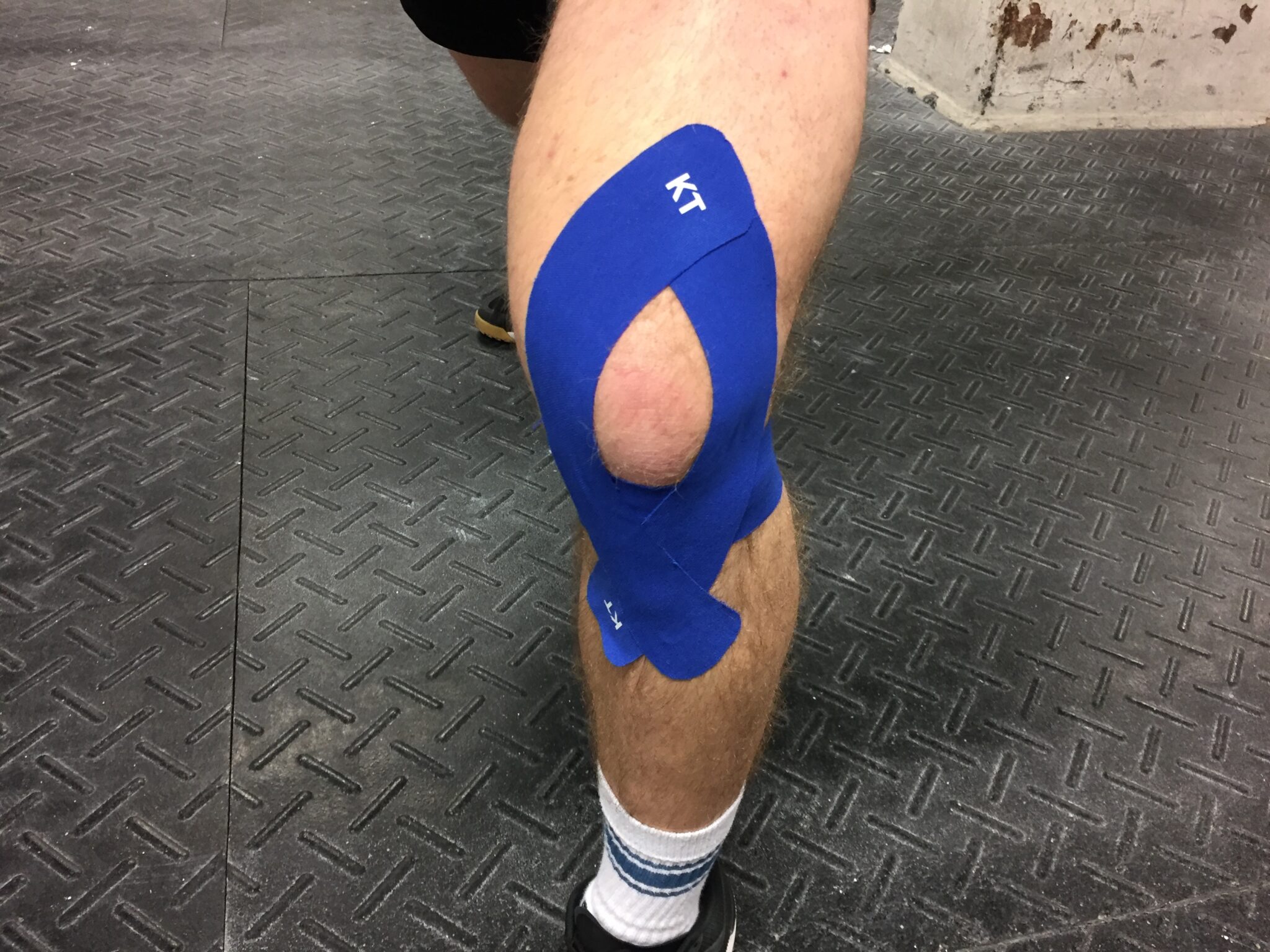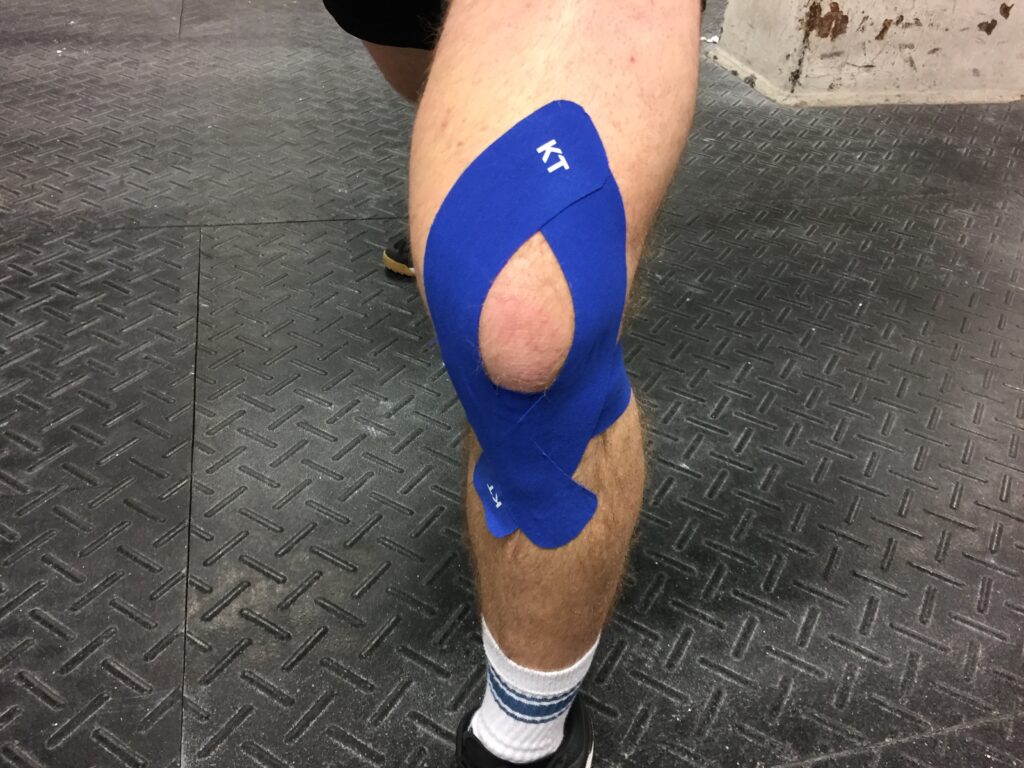 Material
This cotton version of KT's kinesiology tape is woven into a stretchable fabric, allowing for the tape to be stretched length-wise to move with extension and flexion of the joints.
I found the material to be comfortable and lightweight, allowing for full range of movement while offering support and feedback. To reiterate, however, I did find the cotton version to be less adhesive to my skin (hair and perspiration) during more intense workouts.
Durability
I personally found the durability of the tape to be low, as it did not have the greatest adhesive abilities (as discussed throughout this piece). That said, I have used it in the past for an Achilles/calf issue, and had to shave my lower leg, and the tape lasted a few days during every day use.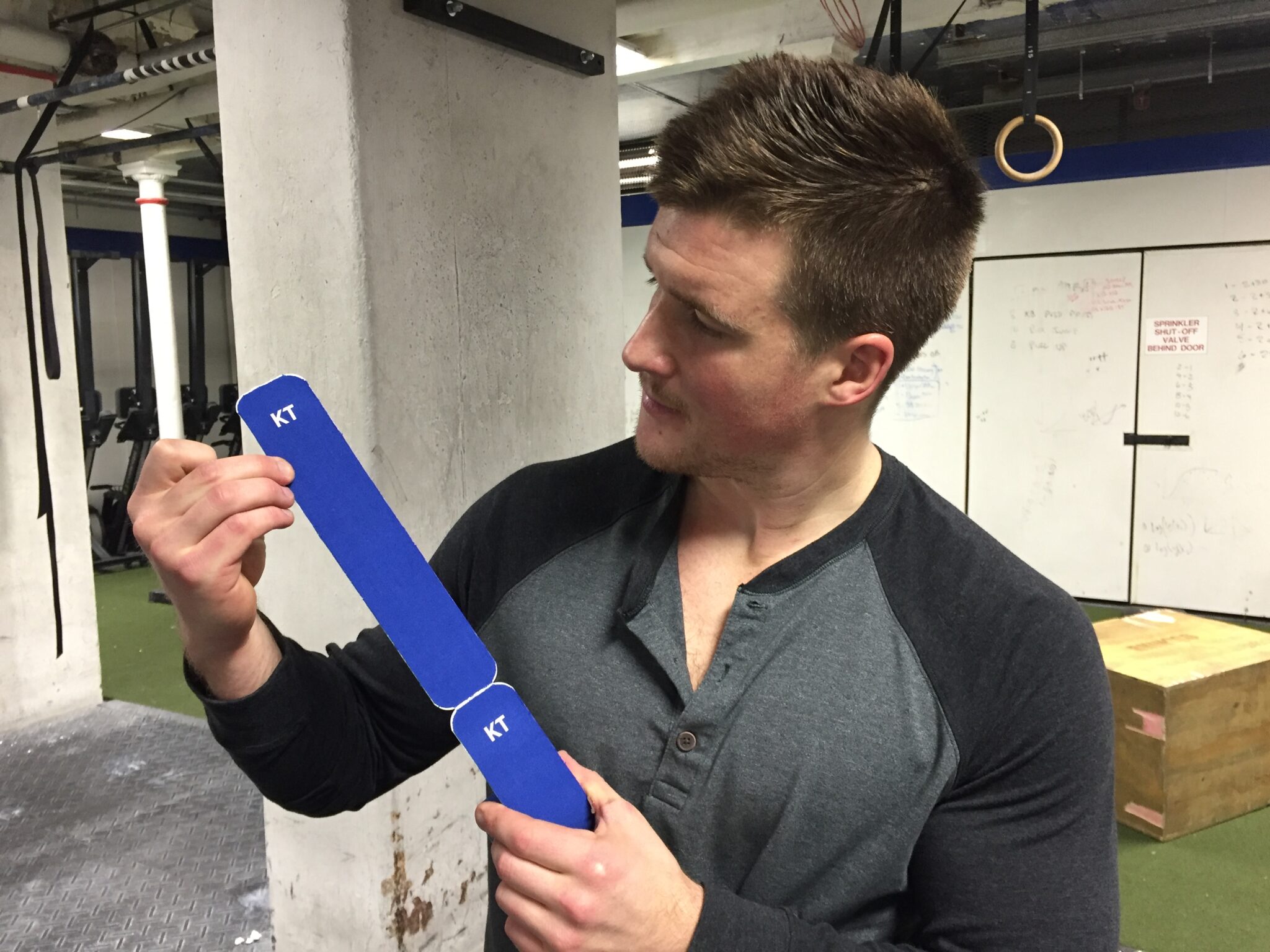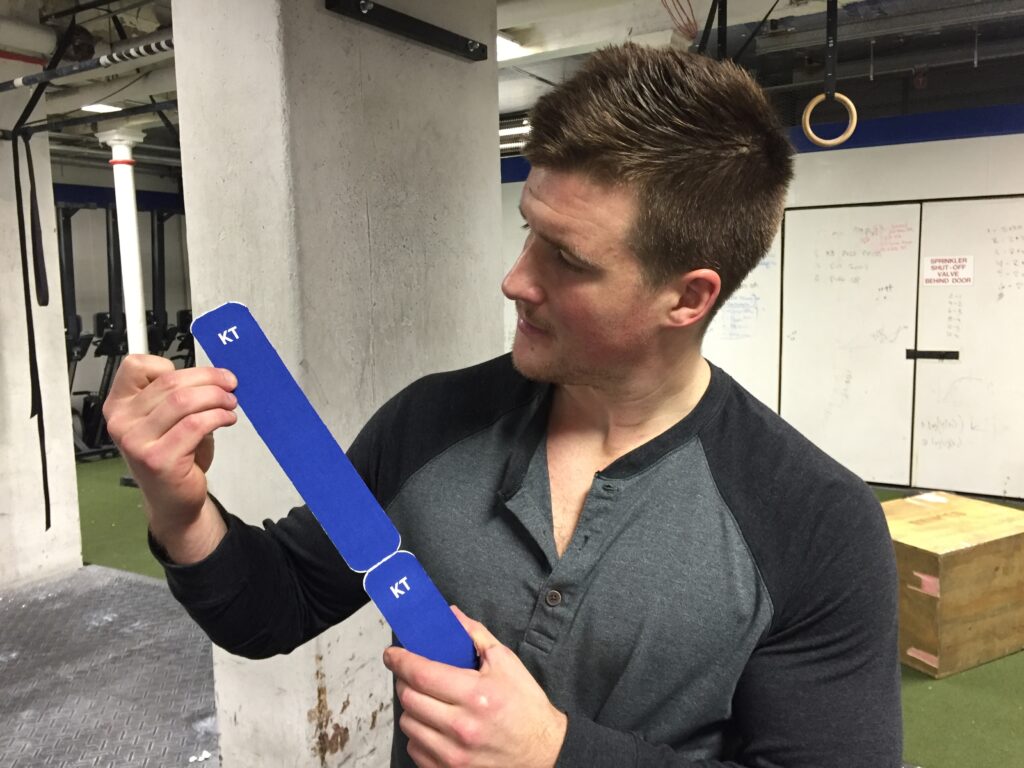 Price
The cotton version KT Tape is listed at $12.99, which comes with a roll of twenty 10″ adhesive strips and a step-by-step instruction manual. This price is pretty standard comparable to other cotton kinesiology tapes on the market, which are normally cheaper than synthetic materials. KT Tape also offers a variety of colors, and their synthetic tape sells for $19.99 per roll.
Rating 1-5 (5 being the highest)
Stability: 2.1
Comfort and Fit: 2.8
Material:3.8
Durability: 2.4
Price: 3.9
Final Words
Personally, I found little benefit from using KT's cotton kinesiology tape solely due to the lack of adhesiveness during training. While I do feel there is some benefit of neuromuscular feedback for activation, rehabilitation, and performance effects, I personally would suggest a synthetic alternative if adhesiveness is an issue.