We receive free products and receive commissions through our links. See
disclosures page
.
KT tape is one of the most established kinesiology tape producers, offering numerous products in varying colors, designs and materials. In this article we will be reviewing the Pro Synthetic version of kinesiology tape by KT Tape, designed for enhanced durability, adhesiveness, and support for power, strength, and fitness athletes.
This particular version is constructed out of synthetic fibers, and will be compared throughout to a previous review of the cotton kinesiology tape by KT Tape.
How did the synthetic version compare to the cotton tape? Read below for our full take.
Click HERE to buy KT Pro Synthetic Kinesiology Tape.
Stability
The synthetic KT tape offers a flexible, low profile, and soft tape option for lifters and athletes. The adhesive properties of the synthetic version were far more effective than the cotton version (I personally found limited to no effectiveness of the KT Tape cotton version due to lack of adhesiveness) in both dry and wet conditions. The synthetic version stayed in place during far better than the cotton version during sweaty conditioning WODs with full range of motion movements.
When compared to the KT Tape cotton version, I found the synthetic tape to also provide good stability and feedback, primarily due to the strong adhesive abilities. While one may think comfort and flexibility have been sacrificed for a far more adhesive tape, I didn't notice any significant differences in flexibility and comfort of the synthetic version.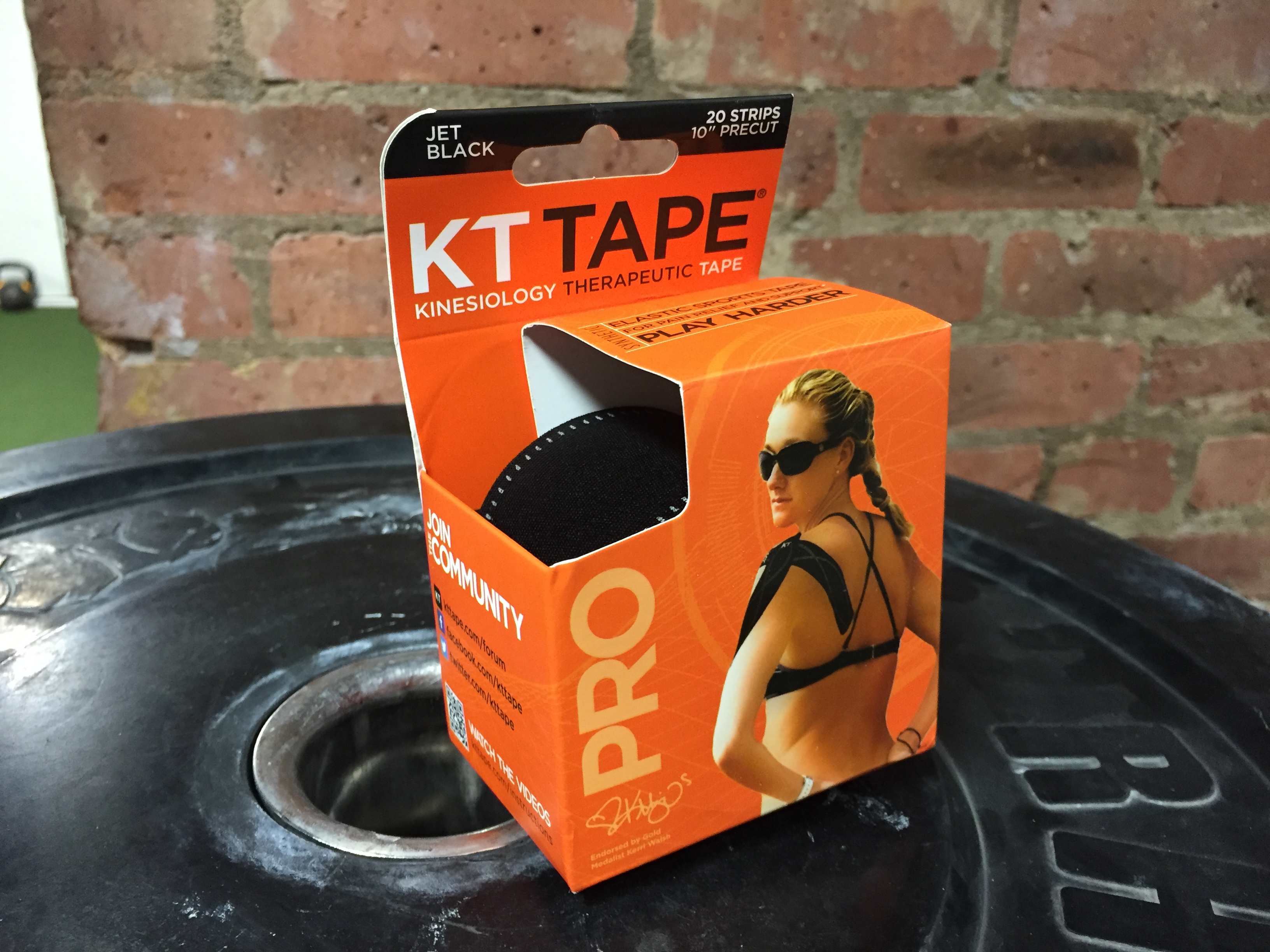 KT Tape claims the synthetic version can stay in place for up to seven days, and has increased adhesiveness in both wet and dry environments (swimming, sweating, outdoors, etc). When compared to the cotton version, I found the synthetic version to be a more rigid, adhesive, and supportive tape, especially for athletes who sweat more, are in more outdoor and wet environments, or have more body hair. 
Comfort and Fit
KT's synthetic tape is constructed of elastic 100% synthetic and latex free material, which offers lightweight support, and the company claims that gives it superior weight to strength ratios. Applying the tape to the skin was fairly easy, and KT Tape provides both instructions in the box and online tutorials, offering applications for knees, shoulder, elbow, back, and lumbar issues (just to name a few).
I found applying the tape to be pretty straight forward and intuitive as it was far more adhesive than the KT Tape cotton version, making it stay in place longer and offer immediate support.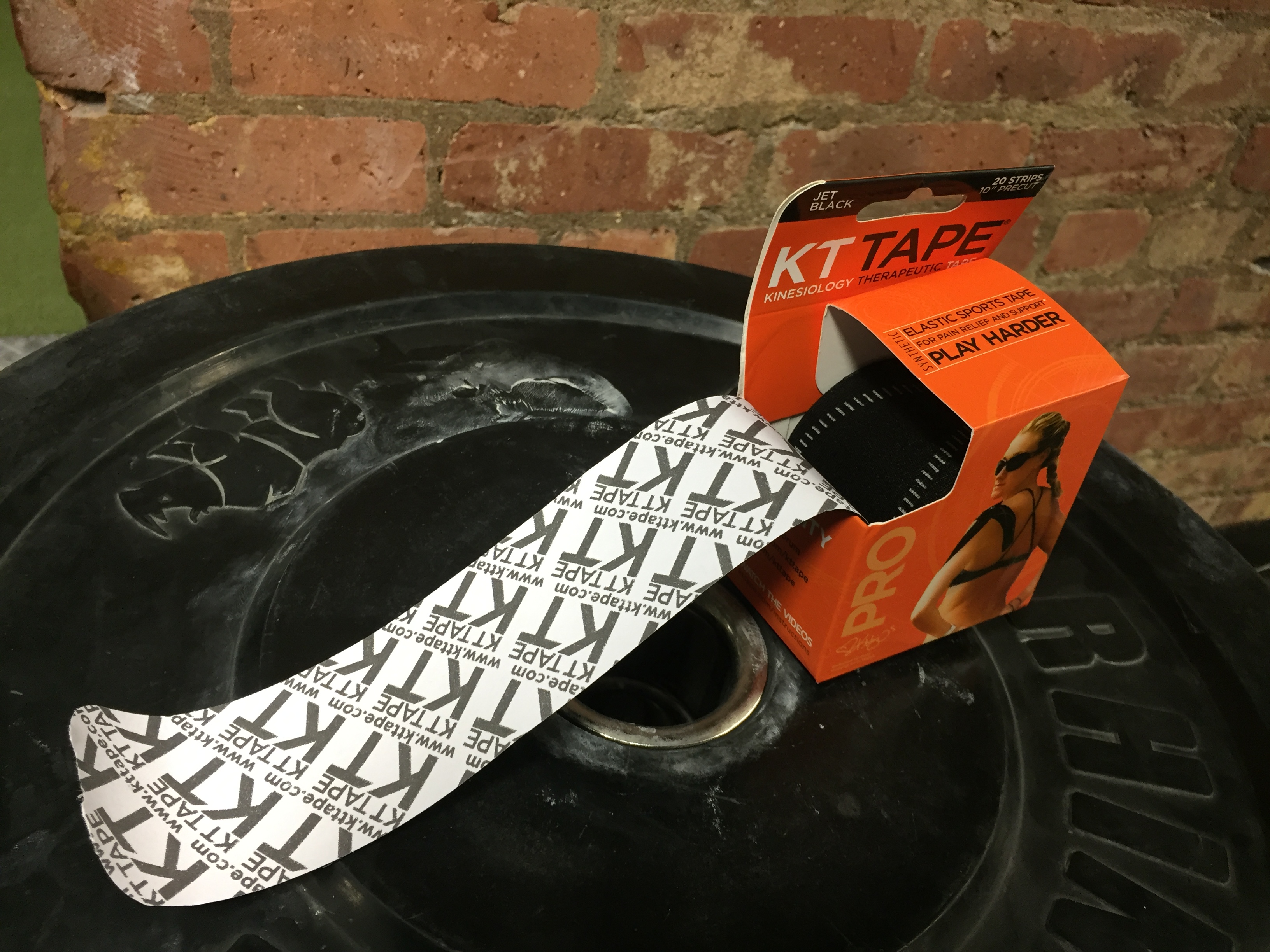 The tape comes in pre-cut strips elastic and adhesive strips that can be applied in a variety of positions depending on the intended applications; this is one plus, as the pre-cut strips make it easier to handle.
For testing, I applied the tape to my upper arm and shoulder region during push-ups. The tape was applied to provide added feedback and support of the shoulder complex and to reinforce sound scapular stabilization and retraction.
One potential downside of this synthetic tape version is that the added adhesiveness and stability offered results in a more noticeable feel of the tape pulling on the skin. While I personally did not find it as a drawback, many lifters may opt for a less noticeable tape option, potentially making this not the most suitable option.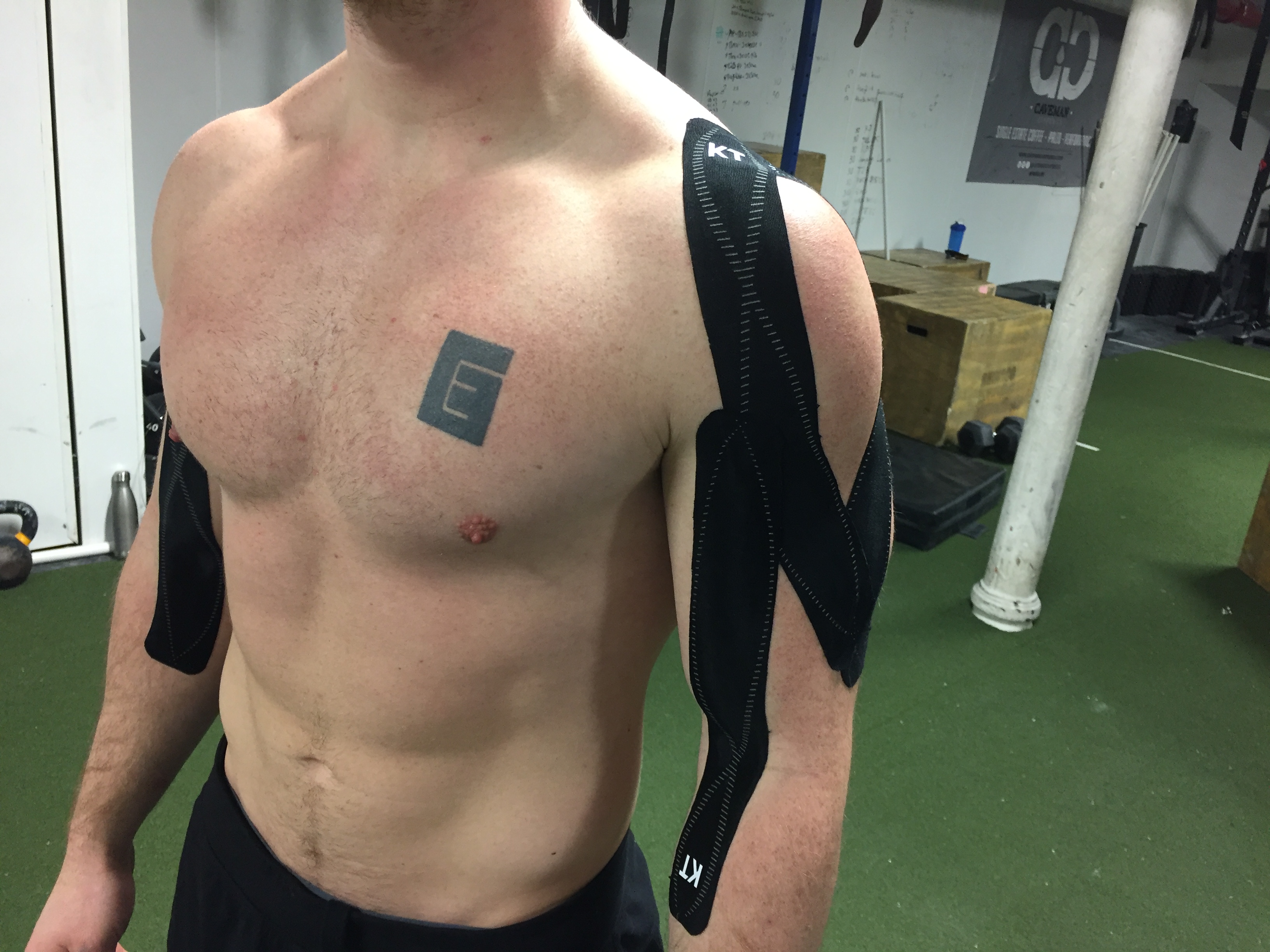 Material
This version of the tape of comprised of a stretchable and woven 100% synthetic fibers (also 100% latex free), claiming to have "superior weight to strength ratios", provide longer lasting support, and is anti-microbial. This alignment of the fibers allows for the tape to be stretched lengthwise to move with the flexion and extensions of the joints.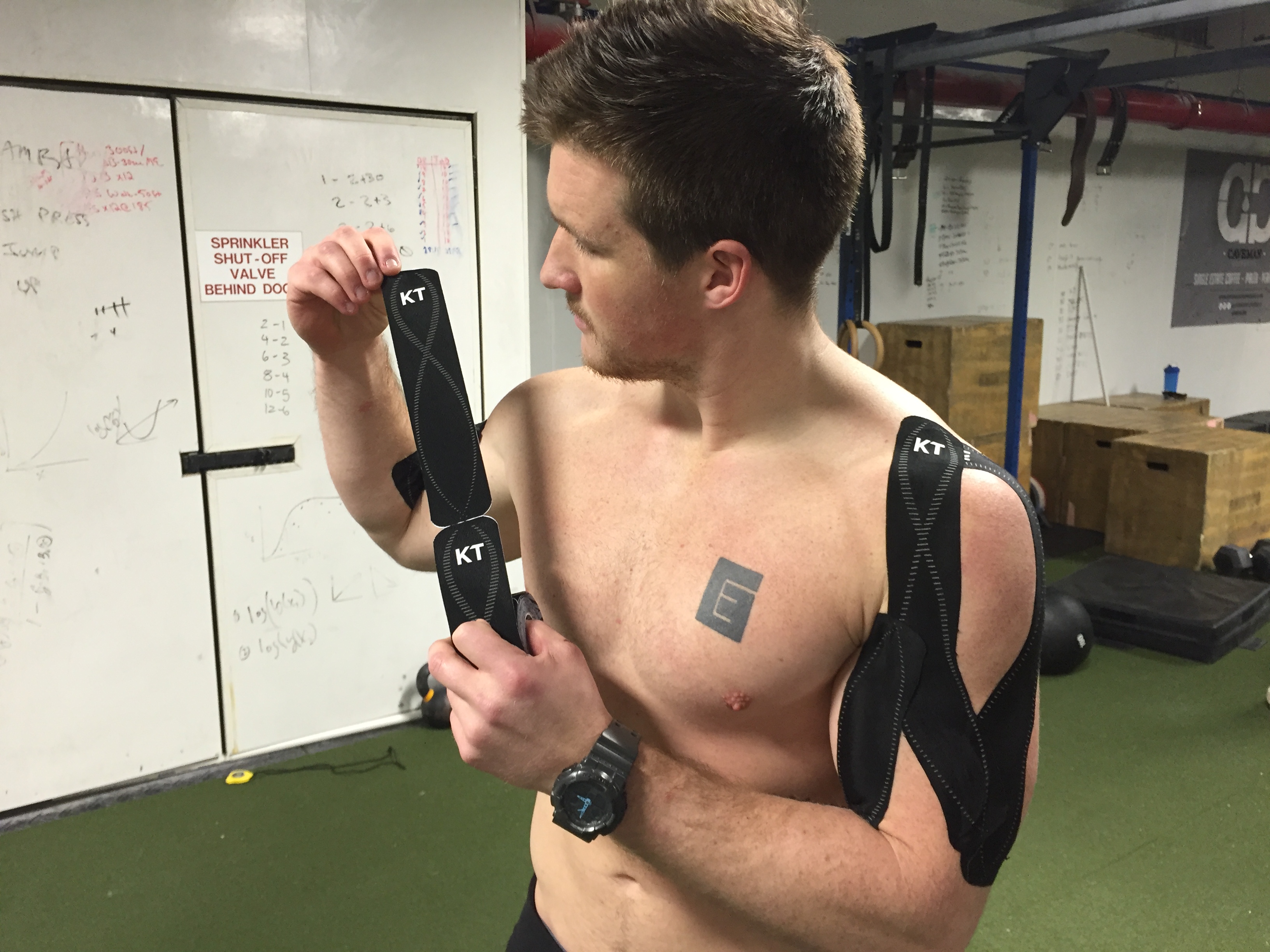 I found the synthetic version to be comfortable and very adhesive, allowing it to stay in place during training. While the synthetic version was much more noticeable on the body (you can really feel the tape working), I didn't notice any restrictions in range of motion of comfort.
Durability
I was pleasantly surprised at the durability and adhesiveness of the synthetic version of KT Tape. The added durability allowed me to have the tape not only stay in place, but have a noticeable stiffness and supportive rigidity during bodyweight and weighted movements, regardless of sweat and/or body hair (which posed issues with the adhesiveness of the KT Tape cotton version).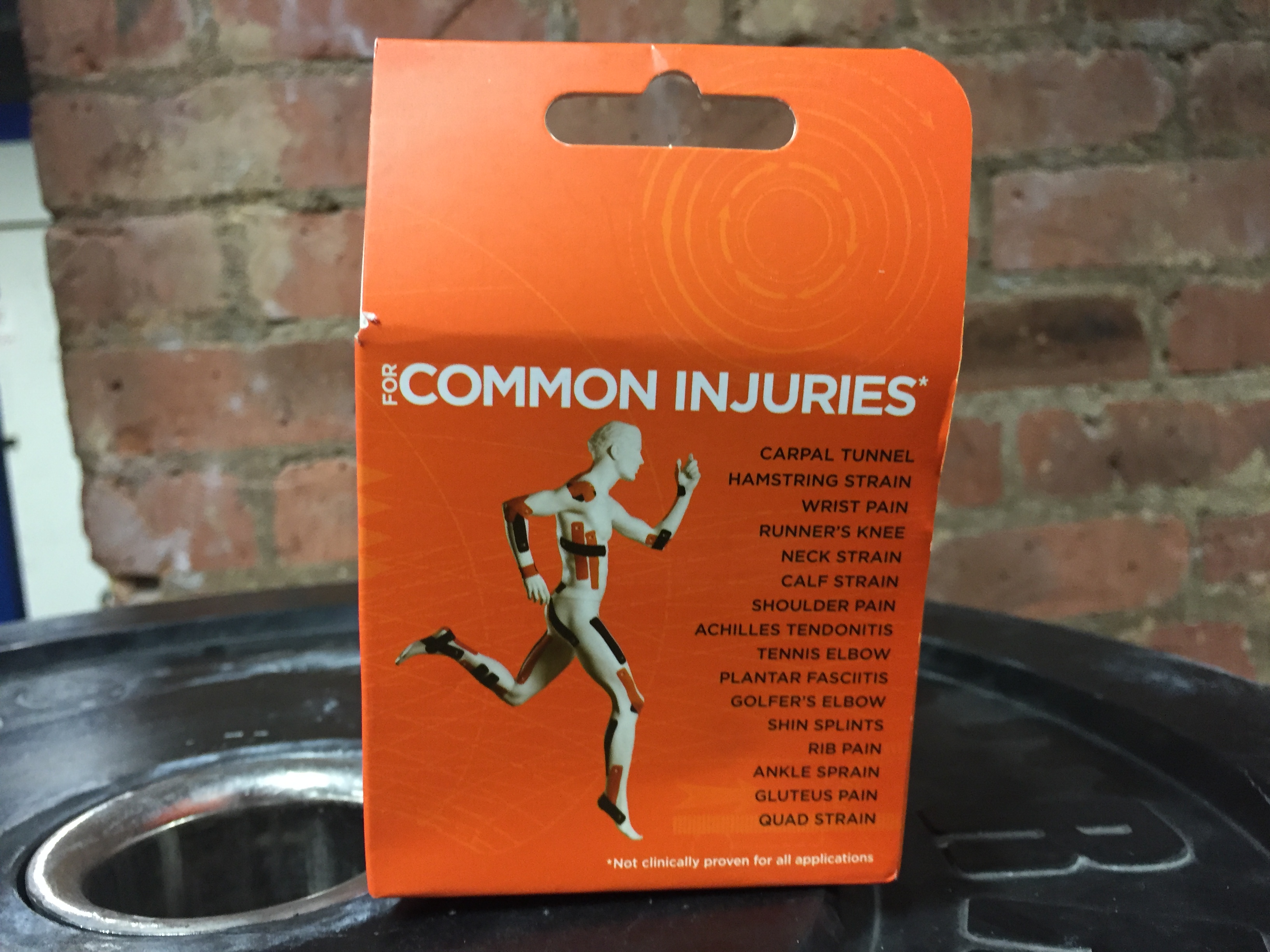 Final Words
Personally, I found the synthetic version to be far more supportive and adhesive than the KT Tape's cotton version, which was a great improvement from my first experience.
The added adhesiveness offered significantly more neurological feedback and awareness than the KT Tape cotton version, as I could feel the tape pulling more due to that added adhesive and supportive properties. This could be a downside for people who don't want to actively feel the tape on their skin.
For athletes looking to experiment with kinesiology tape and/or are firm advocates of it's usage, I would normally opt for a synthetic version instead of the KT Tape cotton version, as the extra cost is normally justified.