Based in Fort Lauderdale, Life Extension has been a brand for over 35 years. They've got their own magazine, they sell dozens of products related to nutrition, and their site says many of their strategies are "so advanced they're probably 10 to 20 years ahead of the medical mainstream."
I decided to take a closer look at their Creatine Capsules. Here's what's in 'em.
Life Extension Creatine Capsules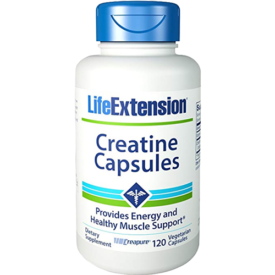 Life Extension Creatine Capsules
One of the few creatine capsule products that are vegetarian-friendly, these pills use high quality creatine that's third party tested for purity.
Life Extension Creatine Capsules Ingredients
A serving size is two pills, which contains one gram of Creapure® brand creatine monohydrate. (Technically, one gram of creatine monohydrate delivers a little less than a gram of pure creatine, and they've listed two pills as delivering 879 milligrams of actual creatine.)
There's also 12 milligrams or 20 percent of your daily intake of Vitamin C in two pills.
The rest of the ingredients are mostly for anti-caking and preserving: stearic acid, rice bran, and silica. Note that the capsules are made from vegetable cellulose so they're vegetarian, unlike a lot of creatine capsules.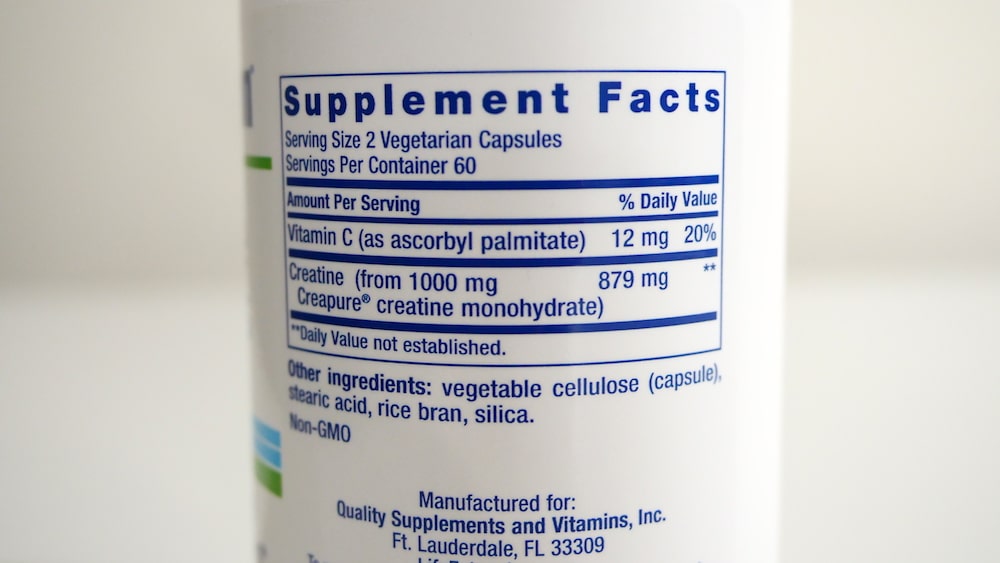 Life Extension Creatine Capsules Benefits and Effectiveness
Many customers will be glad to see that these pills are made from Creapure, which is a very reputable German brand known for their extensive quality control. It's made in a dedicated facility, tested for impurities and banned substances at the German Olympic Training Center in Berlin, and the brand is sought out by a lot of people who really value purity in their product.
Why the Vitamin C? It's an antioxidant and obviously nutritious, though the only study I could find on combining creatine and Vitamin C was about how it improved survivability in rats treated with a toxin commonly used in chemotherapy. That's not why it's in this product, though — Life Extension told me it's used as a flow agent, meaning it helps to stop the creatine from sticking to the machinery in the facility in which it's processed. The extra nutrition is just a bonus.
Otherwise it's worth pointing out that while their facility isn't certified Good Manufacturing Practices, this product is 3rd party tested by Consumer Labs, which adds another layer of quality control and may be good news to folks who are particularly concerned about impurities and banned substances.
Life Extension Creatine Capsules Price
You can pick up 120 capsules for around $8.50, so it's about 7 cents per pill or 14 cents per gram of creatine monohydrate. That's a little expensive for Creapure, which is usually about 4 or 5 cents per gram. It's usually a little pricier to get creatine in pills, plus you get some extra Vitamin C and the pills are vegetarian, so you may be comfortable with the price.
The Takeaway
Personally, I'm a fan of creatine in pill form because they're more portable and it's easier to take with you to the gym or on a trip. That said, the main issue I had with this product is that you need to consume ten pills to hit a standard serving size of five grams, which isn't very convenient.
This is also relatively expensive for creatine at 14 cents per gram. But I liked the extra Vitamin C and the fact that it's vegetarian — in fact, this may be the cheapest vegetarian creatine capsule I've seen. If that's important to you, you may be satisfied with the product.