With heavy hearts we report on the passing of Mario Martinez, one of America's most decorated weightlifters of the past 40 years. USA Weightlifting and Martinez's long-time coach, Jim Schmitz, both announced his passing on Sunday.
Martinez was born on July 6, 1957 in Salinas, Califronia, and had his initial brush with weightlifting at a rather young age. After seeing the 1972 Olympic team coached by weightlifting legend Schmitz in California, Martinez soon found himself smitten with the Olympic dream.
Fast forward some years later, and Martinez found himself on the platform being coached by Schmitz at the age of 16 where he snatched 107.5kg at a bodyweight of 80kg. His career lasted over 20 years, and throughout this time Martinez would break many American records, while also earning a considerable number of medals. In fact, to this day Martinez still holds the accolade of being the last American male to medal at an Olympics, which he did in 1984 with his silver medal.
Check out Martinez' silver medal performance at the 1984 Olympics Games below.
Throughout his career, Martinez competed in three Olympic Games (1984, 1988, and 1992), along with medaling at multiple Pan Am Games, which included a gold in 1987. At a national level, Martinez was a dominate force and a 10-time national champion.
On top of his multiple career medals, Martinez held the American snatch, clean & jerk, and total records for many years before having them broken by Shane Hamman. And in addition to the medals and records, Martinez was named USA Weightlifting's Lift of the Year four times throughout his career.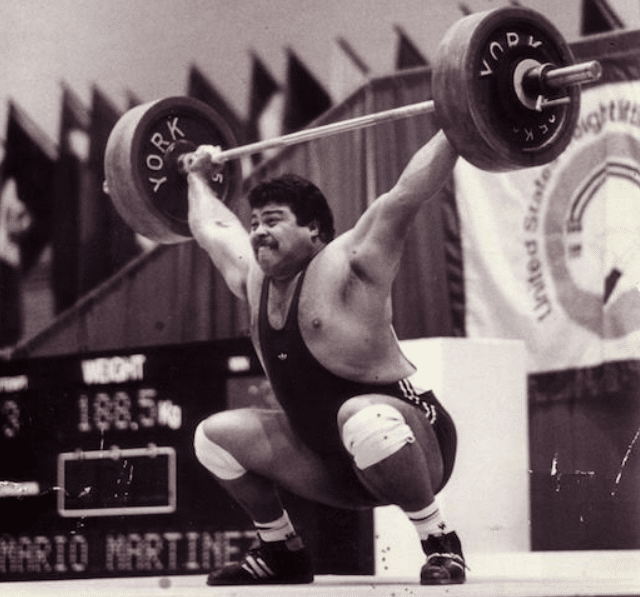 Martinez will be remembered as one of America's most decorated weightlifters. With heavy hearts we send our condolences to his family and loved ones.
Feature image from Jim Schmitz Facebook page.